WWE RAW March 28, 2021- Results & Live Updates- WrestleMania RAW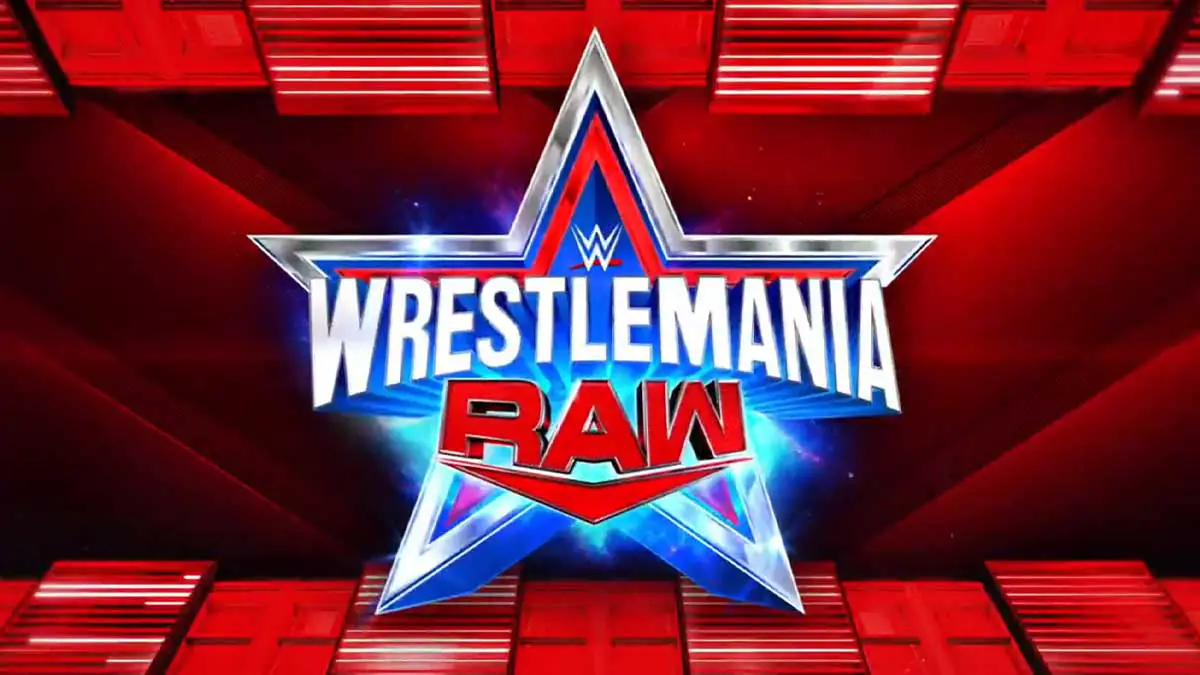 Welcome to the live results blog for WWE WrestleMania RAW episode of March 28, 2022, from PPG Paints Arena, Pittsburgh, PA, which will be the go-home edition of WrestleMania 38.
WWE Universal Champion Roman Reigns and WWE Champion Brock Lesnar are both announced to be under the roof at the event. WWE RAW Women's Champion Becky Lynch and SmackDown Women's Champion Charlotte Flari will take on Ronda Rousey and Bianca Belair in a tag team match. All four teams from the Women's Tag Team Championship match at WrestleMania will be involved in an 8 women's tag team match.
Additionally, both challengers for RAW Tag Team Championship – The Street Profits and Alpha Academy – will face each other. RAW Tag Team Champion RK-Bro will face SmackDown Tag Team Champion The Usos. Rey Mysterio will take on The Miz after he unmasked him last week in the build-up to WrestleMania 38. Expect more from Seth Rollins, Kevin Owens, Edge, AJ Styles, and Austin Theory in WrestleMania week. Check the preview here.
Tuen in as we bring the complete results from WWE Monday Night RAW March 28, 2022 episode with live updates, highlights, winners, and complete action.
WWE RAW Results from March 28, 2022
Rey Mysterio defeated The Miz in a singles match via pinfall.
Omos defeated The Viking Raiders(Erik & Ivar) in a 2-on-1 Handicapped Match via countout.
Sasha Banks, Rhea Ripley, Naomi & Liv Morgan defeated Shayna Baszler, Natalya. Queen Zelina & Carmella in a tag team match via pinfall.
Austin Theory defeated Ricochet in a singles match via pinfall.
Drew McIntyre defeated Happy Corbin & Madcapp Moss in 2-on-1 Handicapped Match via pinfall.
RK-Bro(Randy Orton & Riddle) defeated The Usos(Jey Uso & Jimmy Uso) in a tag team match via Disqualification.
Live Updates
Brock Lesnar!
WWE Champion Brock Lesnar comes out to open the show. We cut to a recap of what happened last Friday at SmackDown. Lesnar takes the mic and shouts Welcome to the Monday Night RAW. He says this was not good and won't do it again. Lesnar then says he does not suck at a**kicking. He gives the spoiler that he will take Roman to suplex city. He continues to talk about their title unification match. Lesnar says there will be no more hiding at WrestleMania this Sunday, and he will stand on top of Roman with the announcement that your reigning, defending unified Heavyweight Champion of the World is Brock Lesnar. Lesnar exits.
Rey Mysterio vs The Miz
The Miz takes the mic and says he is opinion that Rey Mysterio has a terrific outfit planned for WrestleMania, before talking about unmasking him last week. Miz says he does not have the mask as he has given it away. He brings out Lucha Logan. Logan Paul comes with Rey's mask on. Miz says taking away the mask was the most disrespectful thing he could have done, but respect needs to be earned, and that's what he is doing every week.
Rey Mysterio's music hits and he comes out with Dominik. Dominik takes down Miz immediately as he enters the ring and unloads. Rey chases Logan as he gets to the floor. Logan gets back to the ring but Dominik is stopped by the referee. The referee ejects Dominik from ringside for the match.
Miz unloads with big blows as the bell ring. Rey with a leapfrog and hits a hurricanrana. Rey goes after Logan on the floor and chases him around the ring. Miz cuts him off with a spinebuster on the barricade. We cut to a break.
Rey fights back as we return. Rey hits a big kick to the face. Miz hits a kick at his midsection. Miz goes for the slingshot powerbomb but Rey flips him in a cradle to get the pin.
Winner – Rey Mysterio
After the match, Dominik runs about and goes after Logan. Rey drops him to the ropes as he gets into the ring. Logan avoids 619 and gets to the floor. Miz gets up and Dominik nails him with a superkick. Rey drops him to the ropes for 619 and The Mysterios hit double 619 and double splash to end the segment. Logan could only watch from the floor. Rey snatches his mask from Logan's face.
Rollins' WrestleMania
We are told that Seth Rollins arrived at WWE Headquarters this morning a bit early at 6:57. He arrives and had to wait till 9 to get his meeting with Vince McMahon. Rollins enters his office excited, but Vince does not look too excited to meet him. Rollins sits on a chair and puts his feet on the table. McMahon tells him to get his feet off the table. Seth wonders why Vince has brought him today, and whether he is banned from RAW or WrestleMania, or he is fired.
Vince McMahon says he did not bring in Seth to fire him. He wonders why Rollins was not able to make it to WrestleMania. Vince says Rollins did not have to jump all those hoops. Vince says this year's WrestleMania is different as it is two nights of stupendous WrestleMania, and Rollins is gonna have his own main event. Rollins is surprised. He then asks who his opponent will be. Mr McMahon says that will be someone of his choosing and Rollins will get to know only when he is in the ring. Rollins is elated and starts dancing around before getting on the table.
Omos vs The Viking Raiders(Erik & Ivar) – Handicapped Match
Erik starts with shots at Omos' body. Omos runs him over with a big clothesline. Erik slips to the floor and is withering in pain. The referee starts counting to 10. Ivar goes to check on his partner. The referee counts to 10 and calls for a count-out win for Omos.
Winner – Omos
Kevin Patrick gets in the ring to interview Omos. Patrick asks whether there is anyone in WWE that he fears. Omos says he does not fear anyone. Bobby Lashley's music hits to interrupt him. Lashley comes out to the ring and paces in front of Omos. Omos shoves him away. Lashley goes to attack him with a tackle but Omos no-sells him. Lashley ducks a clothesline and hits a big tackle to bring down Omos. Omos slips to the floor and points at WrestleMania sign.
24/7 Proposals
Backstage, Reggie wants to have a talk with Dana Brooke, but things go sideways every time he gets to talk to her. Reggie gets on his knees and proposes to Dana for marriage. Dana says yes and Reggie puts a ring on her finger.
Tamina attacks both of them before Reggie takes Dana away. Akira Tozawa comes in, suited up. He tells Tamina that he heard earlier about Reggie proposing, so he thought about it. Tozawa proposes to Tamina and she says yes after intimidating him for a while. R-Truth is watching all of this from a distance. He says he has an idea by the power vested in him.
It's Always Personal for Roman!
Roman Reigns makes his entrance with The Usos and Paul Heyman. He asks the crowd to acknowledge him. Roman says the Tribal Cheif has done everything except smacking Steve Austin and Brock Lesnar. He says he has never beaten Brock at WrestleMania and this pisses him off. Roman says what really bothers him about Brock is that it was personal for him.
Brock has already spilled his blood at WrestleMania when he was defeated in 2018. Roman says his family was doubting him after that loss. He became the Tribal Cheif and is smashing everyone. At this Sunday, he will make his final move by beating Lesnar. Roman says it was personal for him.
Sasha Banks, Rhea Ripley, Naomi & Liv Morgan vs Shayna Baszler, Natalya. Queen Zelina & Carmella
Zelina and Carmella are talking backstage. Shayna Baszler and Natalya come in and talk about their cheap shot at them at SmackDown. Natalya and Shayna tell them to follow their lead in the match later tonight. A bit of quarrel as we cut to Sasha & Naomi's entrances. We cut to a break.
Liv starts against Natalya. Liv drops Natalya with quick moves. Rhea comes in to beat Natalya up a bit. Naomi tags in. Natalya is able to bring in Zelina. Naomi sends her to the corner and brings in Sasha for a double running boot. Everyone starts to get involved in the match with big moves to drop each other. Zelina sends Sasha into the barricade and hits a running knee to take us to the break.
Carmella has Sasha in a chinlock as we return. Sasha gets to her feet and fights out everyone on the apron. Sasha hits a backstabber on Carmella. Sasha drags herself to her corner. Her team is swept from the apron. Shayna tags in and brings Sasha back to the middle. Shayan sends her to the corner. Sasha tries to fight back before Natalya tags in to hit Hart Attack.
Shayna and Natalya get in an argument with Carmella and drop her. Zelina gets distracted by this. Sasha tags in Naomi who drops Zelina. Rhea tags in and hits Riptide on Zelina for the pin and the win.
Winner – Sasha Banks, Rhea Ripley, Naomi & Liv Morgan
One True King of Stunner!
We get a video package for "Stone Cold" Steve Austin Hall of Fame WWE career. Kevin Owens is in the ring for a promo. He says that was a great video package but it was not as good as the tribute that he gave Austin last week. He knows everyone is excited that Stone Cold is his guest at WrestleMania, but everyone forgets that Austin is not Austin anymore and has been gone for 19 years.
Owens says, at WrestleMania, it's not gonna be Stone Cold, it's just gonna be Steve. Owens mocks Austin by saying that he has been drinking himself into oblivion for 19 years and begs everyone to come on his little podcast to talk about the old days. That Austin is not coming to the KO show to pick a fight. He is coming on to have a nice little chat and because Kevin is such a nice guy he is going to a nice chat to him.
Owens says he hates beer but he will toast to Austin finally officially passing the torch to him as the new Stone Cold and the one true master of the Stunner. Owens 3:16 says his Stunner is better than Austin's and then once that is done, Austin can be on his way. Owens says at the end that if Austin would try to get funny, there will be a Stunner waiting for him.
Ricochet vs Austin Theory
Austin Theory with early advantage with his power. Ricochet gets his boot up in the corner. He hits more quick moves including a dropkick, springboard clothesline and a standing shooting star press. Ricochet drops Theory again. Theory trips him as he goes to the top and hits ATL quickly to get the pin and the win.
Winner – Austin Theory
Braids and Hairs!
Bianca talks about how Becky stooped so low two weeks back when she attacked her and tried to injure her to take her away from WrestleMania. She has tried to take away her reputation. But, Becky was able to take her out only for a week, and she is back tonight like she did not even left. Bianca starts to talk about everything that Becky has tried against her since SummerSlam, but has not been able to keep Bianca from going after the title.
Bianca says there is nothing Becky can do to stop her from winning the title on Saturday. Becky's music hits. She slips in a chair in the ring. Bianca stops her from using the chair and attacks her in the corner. Becky turns it around and hits her with a steel chair to the back. Becky brings in a scissor and tries to cut Bianca's braids. Bianca picks her up and hits KOD. Bianca is enraged and hits another KOD.
Bianca picks up the scissors and starts cutting Becky's hair. WWE crew comes out and tries to control Bianca but she goes on and on. Bianca finally stops and leaves. Becky realizes what happened and starts screaming. She mutters that she will finish Bianca. The crowd chants at her, "You deserve it!"
Back from the break, Becky is watching her hair in the mirror. Sarah Scrieber rolls in for an interview. Becky gets enraged and says she will kill Bianca.
Drew McIntyre vs Happy Corbin & Madcapp Moss – Handicapped Match
Corbin tells Moss in an inset promo that Moss should just him handle things tonight and follow his lead. Moss jokes about Corbin getting hit with a Claymore. Corbin is not happy with the joke.
The match starts and Corbin locks up with McIntyre who shoves him away easily. Corbin gets afraid and tags in Moss. Drew drops Moss with clotheslines and suplexes. McIntyre sends Moss to his corner and asks Corbin to tag in. Corbin leaves his corner and goes away. McIntyre hits Moss with Claymore kick to get the pin.
Winner – Drew McIntyre
After the match, Corbin attacks McIntyre from behind as he was celebrating. Corbin hits McIntyre with End of Days. He takes away McIntyre's sword.
---
Edge is sitting in a dark room sitting. There are some scales at his table. He says last week he had a choice to make whether to hit Seth Rollins with a chair and give him another beating, but he decided to take fate into his own hands and wanted AJ Styles at WrestleMania. Edge says this will be a match for the ages, but he knows he's already in his head after the look in AJ's face last week. He adds that it is Styles' judgment day on Sunday, and the judgment is already sealed.
RK-Bro(Randy Orton & Riddle) vs The Usos(Jey Uso & Jimmy Uso)
Rick Boogs comes out with Shinsuke Nakamura for this match. The Usos enter and send us to the break. We get a WrestleMania video package before RK-Bro enter.
Orton and Jimmy start with back and forth shots. Orton brings in Riddle for an assisted moonsault. Jey tags in and the Usos avoid double RKO. They go to the floor and RK-Bro slams their head into the announce tables. We cut to a break.
The Usos are in control as we return. Orton hits a clothesline on Jimmy. Orton stomps on Jimmy before he brings in Riddle. Riddle hits a gutwrench suplex. Jimmy takes Riddle to his corner and Jey tags in for a forearm. Riddle hits running forearms on both opponents. He follows with a running moonsault on Jey. Jey hits a Samoan Drop for a two-count. Jimmy comes in to beat up Riddle more.
The Usos keep Riddle in the corner and under control. Riddle tries to fight back with punches but Jey sends him to the corner. Jimmy comes in and puts on a chinlock briefly. Riddle fights back against Jey again with flurry of shots. Jimmy hits a gamengiri from the apron after a blind tag and then throws Riddle over the timekeeper's area to send us to another break.
Riddle hits a kick to the jaw as we return. Orton and Jimmy come in. ORton with clotheslines before a body slam and a draping DDT. Jey gets a tag and gets hit by a bodyslam. Riddle hits Jimmy with a moonsault on the floor. Randy hits a draping DDT on Jey in the ring. Randy was going for the RKO when the Street Profits attack to cause the DQ.
Winner – RK-Bro
Profits beat up Orton and Riddle in the ring. Boogs and Nakamura attack The Usos. Boogs takes Jimmy to the stage. Ford gets on the top for a splash but Riddle comes in to save Orton and throws Dawkins to the floor. Orton hits RKO on Ford. RK-Bro celebrate for a while. We have some time left on the clock. The crowd cheers one more time. So, Orton hits Ford with another RKO. Riddle then hits Dawkins with an RKO. The show goes off the air after a recap of WrestleMania match card.