WWE RAW July 17, 2023 Results & Live Updates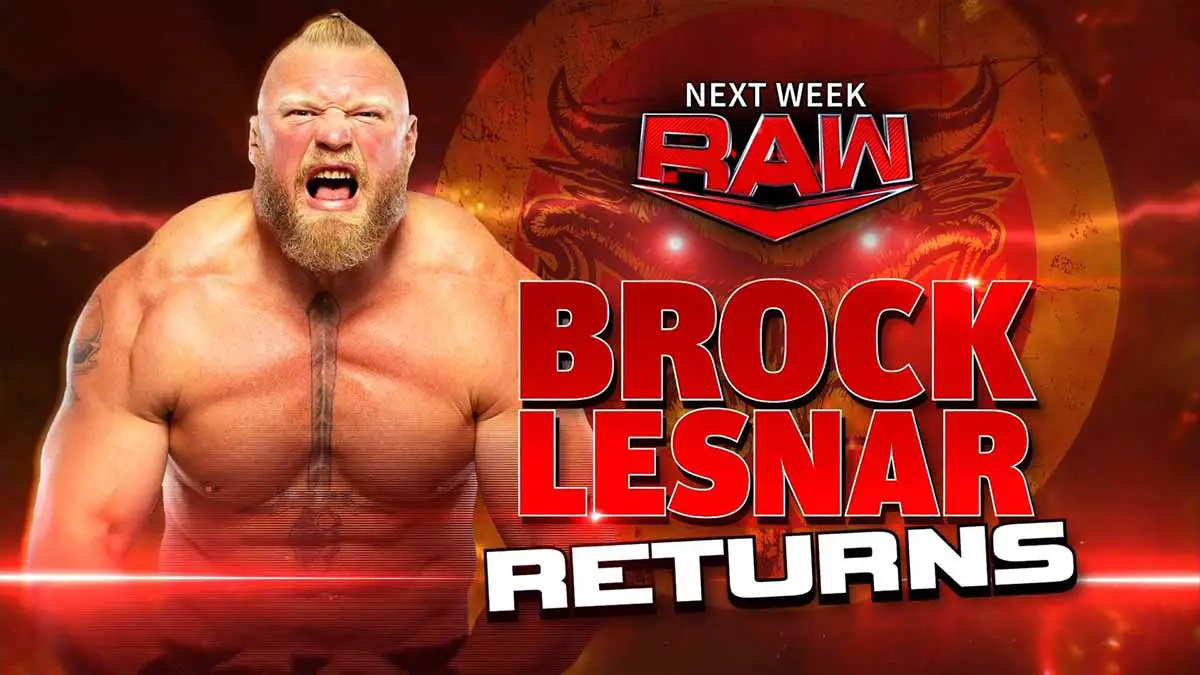 Welcome to the live results blog for WWE RAW July 17, 2023 episode, which was live from State Farm Arena in Atlanta, GA.
Brock Lesnar returned to RAW to answer to Cody Rhodes' challenge for a match at SummerSlam 2023 PLE. Women's Tag Team Championship was on the line as Raquel Rodriguez and Liv Morgan defended the title against Chelsea Green & Sonya Deville.
Men's counterpart, WWE Tag Team Champions Kevin Owens and Sami Zayn faced Judgment Day's Damian Priest and Domink Mysterio in a non-title match. Matt Riddle took on Intercontinental Champion Gunther in another non-title match. Alpha Academy and The Viking Raiders clashed in a Viking Rules match.
Tune in below as we post results live from WWE Monday Night RAW July 17, 2023 episode with live updates, winners and highlights.
RESULTS
Gunther defeated Matt Riddle in a singles match via pinfall.
Chelsea Green & Sonya Deville defeated Raquel Rodriguez & Liv Morgan(c) in a tag team match via pinfall to win WWE Women's Tag Team Championship.
The Viking Raiders(Erik & Ivar) defeated Alpha Academy(Otis & Chad Gable) in a Viking Rules match via pinfall.
Shayna Baszler defeated Nikki Cross in a singles match via pinfall.
Bronson Reed defeated Shinsuke Nakamura in a singles match via disqualification.
Kevin Owens & Sami Zayn(c) defeated Judgment Day(Damian Priest & Dominik Mysterio) in a tag team match via pinfall to retain WWE Tag Team Championship.
LIVE UPDATES
Does Lesnar Accept Cody's Challenge?
Cody Rhodes comes out to open the show. Cody says they really don't have to talk as there is already a large shadow that looms over the arena tonight in Brock Lesnar. He says Lesnar should come out and accept his challenge for Summerslam. He asks Lesnar to come out. No show from Brock. Cody says he will be in this ring wait any time of the night.
Cody gets emotional saying that his mother is in the front row. He comes back to Lesnar and says their relationship is complex and he has just two words for it – Hard Times. But, tonight it will be hard times for Lesnar. Cody gets out of the ring and meets his mother and friends in the front row. Lesnar's music hits and Cody gets alert and ready to face him. But, Lesnar does not come out.
Cody is waiting for him outside the ring. The music stops. The music starts again and Cody gets to the stage. Lesnar's music starts again, and Cody gets behind the stage looking for him. We hear a chair shot before Lesnar brings out Cody. He beat up Cody and brings him to ringside. He hits an F5 in front of Cody's family. He puts Cody into Kimura lock. He takes Cody into the ring next and puts on Kimura once again. He punishes Cody for a while and pops his arm before screaming that he accepts the challenge.
We return to get a recap of the segment and additional footage of Brock hitting Cody with a chair shot.
Gunther vs Matt Riddle
Gunther goes for a waistlock. Gunther pushes him to the corner to hit a couple of big chops. Riddle fires back with forearms and kicks. Gunther puts him in a sleeper choke. Riddle rolls over to break free. Riddle puts on an arm triangle. Gunther overpowers him and they end up falling to the floor. Riddle goes for a jumping knee off the steel steps but Gunther catches him midair with a shot. We cut to a break.
They trade big chops as we return. Riddle hits an exploder suplex next. Gunther catches his kick and fires a big chop. Riddle answers with a kick to the chest. Gunther hits him with a German suplex and a lariat. Riddle hits the final flash knee to the face. Another knee strike to the face before a shining wizard on the back of the head. Riddle goes to the top and hits floating but Gunther gets his knees up. He hits a shotgun dropkick and a powerbomb to get the pinfall.
Winner – Gunther
After the match, Gunther stands on top of the announce table. He says the crowd can boo him all they want, but tonight is the greatest night of their sad night as they got to see the greatest Intercontinental Champion of all time. He says Drew McIntyre can be his guest if he wants to come after him but he will also fall.
---
Liv Morgan and Raquel Rodriguez are backstage and are asked about their match tonight. They say they do not back down from a challenge whether it is from their tonight's opponent or other teams like Shayna and Ronda, or any other team. Rhea Ripley comes in and asks they will not back down even from her? Rhea has a face-off with Rhea as Liv repeats that they will not back down. Rhea hits a headbutt on Liv to start a brawl. Rhea attacks Raquel's knee before leaving.
Judgment Day Want Titles!
Judgment Day are out in the ring. Rhea wonders if anyone really thought they would break up. They are the best together, and no one's ego is so fragile to be wounded. They just do not run RAW but dominate it together. She claims that she is the most dominant woman and Raquel Rodriguez just found about it. She says her "Dirty Dom Dom" will become North American Champion tomorrow.
Dominik takes the mic, but the crowd does not let him speak. Damian Priest has to intervene and say that his MITB case confirms that he will become World Champion, but they have agreed that Finn Balor will get first crack at Seth Rollins. Balor says he will be waiting to hear what Rollins has to say later tonight.
Sami Zayn and Kevin Owens come out to the stage. Sami says he can feel the crowd and can comfortably say that fans did not buy tickets tonight to listen to Dominik but to see him getting punched in the face. Priest interrupts and says they are focused on individual titles, but tag team titles will also look good on them. Priest challenges them to put their tag team titles on the line. Sami says he will let Owens answer this. Owens is frustrated by all the talks and snaps to accept to make it a title match readily.
Backstage, medical personnel tells Raquel that she is cleared but her knee is in bad condition. Raquel says he will compete because they had to give up their titles due to injury once, and would not let it go again.
Raquel Rodriguez & Liv Morgan(c) vs Chelsea Green & Sonya Deville – WWE Women's Tag Team Championship
Sonya starts with a pump kick on Liv. Chelsea comes for a delayed double suplex. Chelsea hits an elbow drop to get a two-count. Liv is slammed into the corner before Sonya teas off on her with punches. Liv fires back with punches. She hits an enzuigiri and tags in Raquel who hits clotheslines before a body slam. Another clothesline before the fallaway slam from Raquel. She knocks off Chelsea from the apron but she misses a running shoulder tackle and crash into the ring post. Sonya puts her in a single leg crab to try and take advantage of the knee injury. Liv has to come in to break the pin.
Liv hits running tackles on Chelsea after they get the tags. Liv hits a running knee in the corner before a codebreaker off the top rope. She hits Oblivion but Sonya breaks the pin with a running knee. Sonya goes to pull Raquel off the apron and hits a chop block. Liv blocks Unpretty-her and hits a kick. Sonya takes a cheap shot at Liv from outside. Chelsea hits Unpretty-her but Liv kicks out. Sonya tags in and Liv blocks the shinning wizard and counters with a roll-up to get a two-count. Chelsea hits Liv with Unpretty-her. Sonya hits the shining wizard to get the pinfall.
Winners – Sonya Deville & Chelsea Green
Raquel is down on the floor clutching her knee. Chelsea and Sonya celebrate their win as pyro goes off.
---
A recap of Brock Lesnar's attack on Cody Rhodes earlier. The commentary team makes it official for Summerslam.
---
The new champions are interviewed backstage and will not hear anything about Raquel being injured. Chelsea goes on to thank a bunch of random people but Sonya cuts her off as they have to go and celebrate.
---
A recap of Jey Uso from Smackdown.
---
World Heavyweight Champion Seth Rollins is backstage being interviewed by Bryson Saxton in a room. Rollins says he has big plans for Summerslam. He says World Heavyweight title deserves a marquee match at Summerslam. He talks about list of challengers which includes Finn Balor, Damian Priest, Gunther…. Finn Balor comes in and makes Saxton leave. Balor says he wants his rematch, and Rollins has to make it happen. Rollins tells him to get over the past. Balor says he is over it but he will do the same thing Rollins did to him- he will hurt him and take the title away from him. Rollins says World Heavyweight Championship is bigger than Balor's agenda. He tells him to take his shot right away if he wants to. Balor teases leaving but attacks Rollins with a chair shot. He tells Rollins to make the title match at Summerslam.
Alpha Academy(Otis & Chad Gable) vs The Viking Raiders(Erik & Ivar) – Viking Rules match
They brawl on the long boat part outside the ring Erik throws Ivar on top of Otis on the floor. Gable blocks a powerbomb and puts Erik in an ankle lock. Gable hits a senton on Ivar on the floor. Otis gets up and asks Gable to bring out a table. Erik runs at him with an elbow shot and Erik also runs over Otis from behind. Back in the ring, Otis runs over Erik to take us to a break.
Erik stops a pin from Gable on Ivar. Gable takes Erik to the floor. Otis is hit with a slam by Ivar before Ivar hits a moonsault from the top. Gable hits senton to break the pin and hits a deadlift German suplex. Erik comes back and trade shots with Gable. Gable drops him and hits a diving headbutt. Valhalla breaks the pin and Maxxine comes to tackle her. Gable gives an Alpha Academy jacket to Maxxine.
Valhalla tackles Maxxine through a table set up in the corner. Gable is also sent into a shield and is dumped to the floor. Otis is livid as he gets into the ring. Otis hits clotheslines and body slams on both opponents. Otis hits a caterpillar. Otis gets to the second rope for Vader's bomb, but Valhalla hits him with a staff. The Viking Raiders hit Otis with The Ragnarok to get the pinfall.
Winners – The Viking Raiders
Shayna Baszler vs Nikki Cross
Nikki tries to rush Shayna and gets some shots. But, Shayna quickly sends her into the corner and puts on kirafuda clutch to get a tapout.
Winner – Shayna Baszler
Ronda Rousey is in the skybox just and interrupts her. She recounts her journey in judo, MMA and WWE and claims that she is the greatest combat sports athlete of all time while Shayna is just a knockout version of her. Shayna says it is very easy to talk from all the way up there and tells her to get down and fight. Ronda says she will not unless Shayna makes her. Shayna exits the ring and starts to climb the stairs. Ronda interrupts and tells her that she will throw her a favor and get her booked for Summerslam.
---
Ricochet is interviewed backstage after we get a recap of his segment with Logan Paul backstage. Ricochet says Logan does not understand it, and thinks Ricochet is a joke. Ricochet says Logan is the joke in this world, and he proved it last week when Logan was laid out. He challenges Logan to come out next week so that he can hurt him once again.
Miz TV with Becky, Trish & Zoey!
The Miz brags about his win over Tommaso Ciampa last week and praises himself for a while before bringing out Becky Lynch. Miz asks her if she has lost a step. Becky gets up and throws Miz's chair. Becky snaps at Miz and tells him that she has lost a lot of things in the last year but she has not lost a step. She tells Miz to bring out his other guest before she busts his tiny testicals. Miz brings out Trish Stratus and Zoey Stark come out.
Trish says Becky should calm down because she once thought it was Ru in the ring. Becky tells her to keep her daughter's name out of her mouth. Trish says they both have already beaten her, and they are moving on. Trish says this is the perfect platform for Becky to say, "Thank You, Trish". Becky says she let Trish back in and let her know when she was most vulnerable and Trish hit her when she was vulnerable. Becky says Trish should give her a one-on-one match with Zoey and prove that she is the best of all time.
Trish gives into Becky's passionate taunting. Zoey pulls Trish back. Trish gets her wits back and says there are a few conditions for Becky to get a rematch. She says Becky has to beat Zoey first, and if she loses, she will have to get on her knees and say, "Thank you, Trish". And last, Becky will need to get a tattoo of the same across her chest if she loses. Becky accepts the conditions. Zoey and Trish laugh before attacking Becky. Becky gets the upper hand in the brawl. She removes Trish's mask but Zoey saves Trish. Becky drops Zoey. She puts on the mask and hits a headbutt on Zoey to close the segment.
Shinsuke Nakamura vs Bronson Reed
Reed pushes Nakamura to the ropes as they lock up. Nakamura hits a single leg dropkick. Reed hits back with a clothesline quickly. Reed stomps on Nakamura in the corner. Nakamura comes back with some kicks. He sets up Reed on the ropes with some kicks. He goes to hit a knee drop on the apron but Reed gets out of the way and Nakamura hurts his knee. Reed hits a tackle off the apron on the floor. Reed hits a senton on the floor. We cut to a break.
Nakamura hits an enzuigiri as we return. He nails an elbow, some kick and another enzuigiri. Reed misses a corner splash before Nakamura takes him down with a dragon screw leg. He nails a roundhouse kick to the face to get a two-count. Nakamura puts on a sleeper but Reed picks him up and hits a Death Valley driver to get a near fall. Reed gets to the top but Nakamura nails him with a kick. Nakamura hits a knee strike from the second rope to get another near fall. Reed hits a crossbody to stop kinshasa. Tommaso Ciampa attacks Reed to cause a DQ.
Winner – Bronson Reed
Nakamura is frustrated after the match and kicks Ciampa in the face.
Kevin Owens & Sami Zayn vs Judgment Day(Damian Priest & Dominik Mysterio) – WWE Tag Team Championship
Finn Balor and Rhea Ripley are out with Judgment Day. Seth Rollins hits a suicide dive on Balor out of nowhere. Balor and Rollins brawl to the back. Sami hits an elbow from the second rope. Priest nails him with an uppercut to stop him from a tag. Dominik comes in amid the boos from the crowd. Sami hits him with a punch to cut off his charge off the ropes. Sami drops him with a drop toe hold before Owens hits him with back-to-back sentons. Owens stomps on Dominik in the corner before hitting an elbow drop from the second rope.
Sami tags back and Dominik pushes him towards his corner to tag in Priest. Priest nails Sami with another uppercut. Sami hits Dominik with a back body drop. Dominik rolls to the floor. Sami slams his face into the announce table. Dominik is thrown back into the ring but Rhea distracts Sami. Dominik hits a baseball slide dropkick on Sami. Priest tags and hits a chokeslam on the apron. We cut to a break.
Sami fights off Dominik as we return and tags in Owens. Owens knocks off Dominik before tackling Priest. He clotheslines Priest out of the ring. He hits running tackles on both opponents before a standing splash on the floor on Priest. He hits a cannonball back in the ring. Priest gets his knees up when Owens hits a Swanton bomb. Dominik hits a splash off the top but Sami breaks the pin. Sami and Priest are dumped to the floor. Dominik blocks the Stunner but Owens hits a pop-up powerbomb. Priest breaks the pinfall.
Sami and Priest get the tags. Sami hits a tornado DDT but Priest kicks out of near fall. Rhea is out of her breath as she sits on the apron. Sami gets to the top. Priest nails Sami and Owens with uppercuts. Priest hits Sami with an avalanche hurricanrana to get a near fall. Priest hits some sidekicks to the chest. Dominik gets a blind tag and hits dropkick from behind to set up 619. Sami sends him to the floor with a back body drop. Owens hits a senton on Priest while Sami hits Dominik with a suicide dive.
Rhea sends Owens into the steel steps. Priest nails Sami with a cheap shot and Dominik rolls him up for a near fall. Liv Morgan attacks Rhea on the floor. She manages to send Rhea into the barricade. Sami hits an exploder suplex. Priest blocks a Helluva kick, but Owens hits him with a stunner. Sami hits a Helluva kick on Dominik to get the pin and the win.
Winners – Kevin Owens & Sami Zayn
Judgment Day regroup on the floor while Owens and Sami celebrate their win to close the show.