Top 5 John Cena Biggest Wins in WWE
John Cena is one of the biggest superstar in WWE's history. He sits on top with Ric Flair in the number of world title wins, 16. But his effect on WWE, good or bad, was far more. John Cena was the undisputed face of the company for almost a decade since his WWE Championship title win at WrestleMania 21 in 2005.
Cena got that status from WWE management almost overnight after that fateful day in 2005, but they had to prove to the fans that he belongs there. And in order to put him over, he got the wins over all the other contemporary greats and sometimes even over some greats of yesteryears.
Here is the list of 5 such biggest of John Cena's wins from his WWE Career.
Bonus – John Cena vs John Bradshaw Layfield(c) – WWE Championship, WrestleMania XXI
This was the match that turned John Cena from a fan favourite to the company's face. But also the one which actually saw the end of the quasi-heel, badass version of Cena and turned him into a Superman-style character. After keeping the WWE United States title with him for almost a year after WrestleMania in 2004, it was time for him to advance to the upper echelon of WWE and after the WWE Championship. After coming out second best in the Royal Rumble match to Batista, Cena went on to win the #1 contender tournament to earn the title shot at WrestleMania 21.
During the build-up, JBL and his goons would torment Cena. Orlando Jordan even managed to take away the United States title from Cena with help from JBL. But Cena held onto his own in the feud. The match at WrestleMania was not a classic which could be remembered for any classic in-ring action. After the initial burst from Cena, JBL dominated the match. That was until Cena ducked a clothesline from hell, performed FU to win the match and start a run which would be unheard of.
5. John Cena vs AJ Styles(c) – WWE Championship, Royal Rumble 2017
This was actually the third singles match between John Cena and AJ Styles in a space of 8 months. The previous two bouts were won by Styles at Money in the Bank and then at SummerSlam. As Styles won the WWE Championship from Dean Ambrose, Cena would still be involved in the drama and was once again pinned by Styles in a triple threat match between them. After that loss, Cena went on a 3 month long hiatus. But as soon as he returned, he once again challenged Styles in search of the title.
This match was also another adrenaline-filled affair just like their previous matches. Cena performed an Attitude Adjustment and Styles a Phenomenal Forearm fairly early for both to score near falls. They went on to trade several submission maneuvers and reversals. Styles was finally pinned after Cena performed two back to back Attitude Adjustments and won the elusive 16th World title, equalling Ric Fair's record.
4. John Cena(c) vs Triple H – Wrestlemania XXII, 2006
In an attempt to get a win for Cena over a star from the attitude era, Triple H was booked to win the Road to WrestleMania tournament for #1 contender for the WWE title. Triple H was portrayed as the heel but getting cheered due to Cena regaining the title from Edge just in three weeks. This was the starting point of fans starting to turn on Cena. The buildup was also fairly basic and could not muster any support in favour of Cena.
The main event of the WrestleMania 22 was evenly matched with both men getting the advantage over each other. In a frantic ending, Triple H's Pedigree was countered by Cena into an FU but Hunter kicked out. Cena locked him into the STF quickly only for Hunter to break the hold. However, Cena countered another Pedigree into STF again and forced him to tap out, thus, getting a win over one of the most prominent names of the time.
3. John Cena vs Brock Lesnar – Extreme Rules 2012
Nearly a decade after Cena and Lesnar's last meeting, Brock Lesnar made a surprising return on RAW after WrestleMania in 2012. Brock Lesnar attacked and delivered an F5 to John Cena to announce his big return after a successful MMA career. and cleared his intentions that he wants to fight with John Cena, and their match was fixed for Extreme Rule 2012.
Lesnar dominated the match hard-hitting offence so much so that Cena had to be checked by the Medics twice. Lesnar even brought the steel steps in the ring and slapped on a kimura lock on Cena while on the steps, but Cena eventually lifted and slammed Lesnar to break the hold. Lesnar continued with his utter dominance until Cena hit with the metal chain and split open his head. Cena then fired up, delivered an Attitude Adjustment to Lesnar onto the ring steps and pinned him. This was Cena's first win against Lesnar.
2. John Cena(c) vs Shawn Michaels – Wrestlemania 2007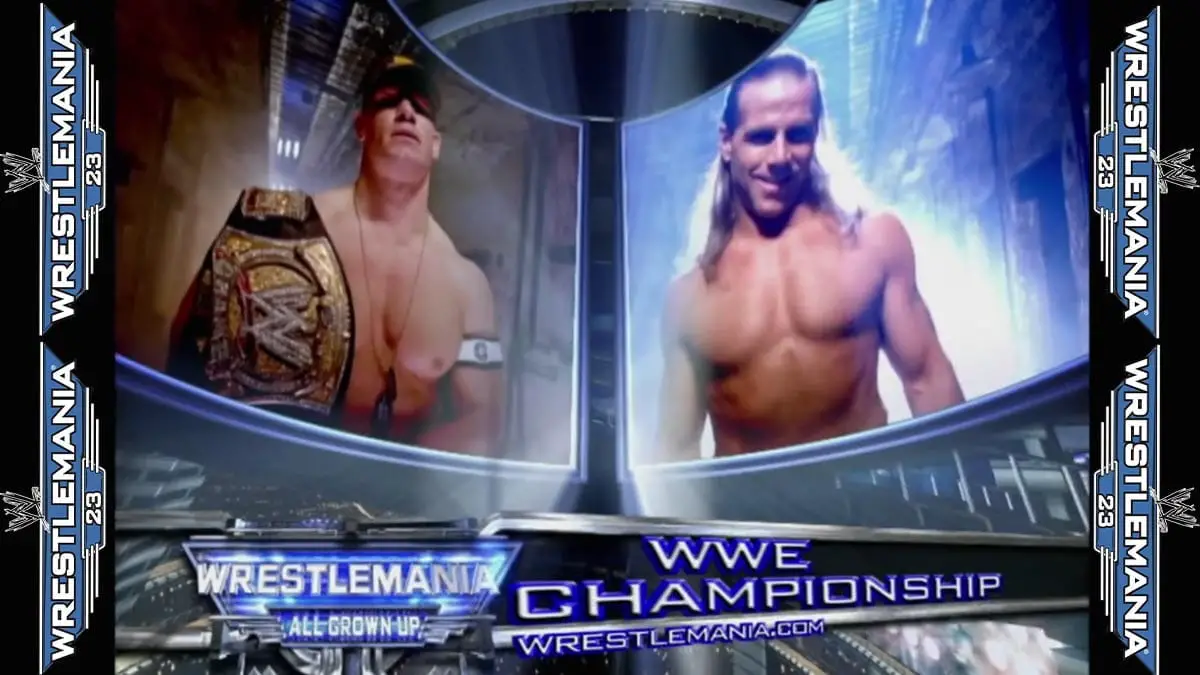 The main event for 2007 WrestleMania was supposed to be a rematch between HHH and Cena from last year. However, with Hunter getting injured, WWE replaced him with his tag team partner in that spot. Shawn Michaels became the #1 contender after defeating Randy Orton and Edge. On the road to WrestleMania, Cena and Shawn Michaels were actually working as tag team partners, defeating Batista and Undertaker at No Way out and saving each other from attacks by Randy Orton and Edge. But soon Michaels turned on Cena.
The match at WM contained several notable spots, including Michaels hitting a Piledriver on Cena onto steel steps outside the ring. Cena was unable to execute an FU during the match, and Michaels also failed to execute Sweet Chin Music several times. Later in the match, Cena managed to place Michaels in the STFU submission hold, only for Michaels to reach the ropes to break the hold. Cena then managed to place Michaels in the STFU again, and as a result, Michaels tapped out and Cena retained the WWE Championship.
1. John Cena vs The Rock – Wrestlemania 2013
This match was the culmination of 3 years of the storyline. In 2011, Rock returned to RAW after 7 years and insulted Cena in a promo. He then cost Cena the WWE Championship match at Wrestle Mania 27 against The Miz where he came out as the special referee and hit Cena with a Rock bottom, allowing Miz to pin Cena. Rock then faced Cena again at WM 28 in 2012 and the match was dubbed as "Once in a Lifetime". Rock countered the People's Elbow from Cena to hit Rockbottom and win the match.
Rock then won the WWE Championship from CM Punk at Royal Rumble to win a WWE title after 10 years and then defended it at Elimination Chamber. Cena had won the Royal Rumble in 2013 to set up a match between them at WrestleMania 29 for WWE Championship. As they build up towards the match, Cena kept blaming his loss to the Rock last year for all his troubles ever since, something that he wanted to make right this time around.
This being the peak time of "Cena Sucks" chants, he was being booed throughout the match whenever he got any offense on the Rock. Although this was still a good match, it was not as good as their previous encounter and suffered from slow pacing at times. Still, both men were shown as the superman as their characters were and it took multiple counters, near falls, and finally 3 Attitude Adjustments from Cena to get the win. After three WrestleManias, Cena finally came on top and also got a huge win over one of the legendary characters in WWE.
---
See Also:
---