WWE SmackDown 12 February 2021: Live Results, Winners, Updates, Highlights
Welcome to ITN's Live blog for WWE Friday Night SmackDown episode of 12 February 2021(2/12/2021) as we bring you the Live Results, Updates, Winners and Highlights from the show.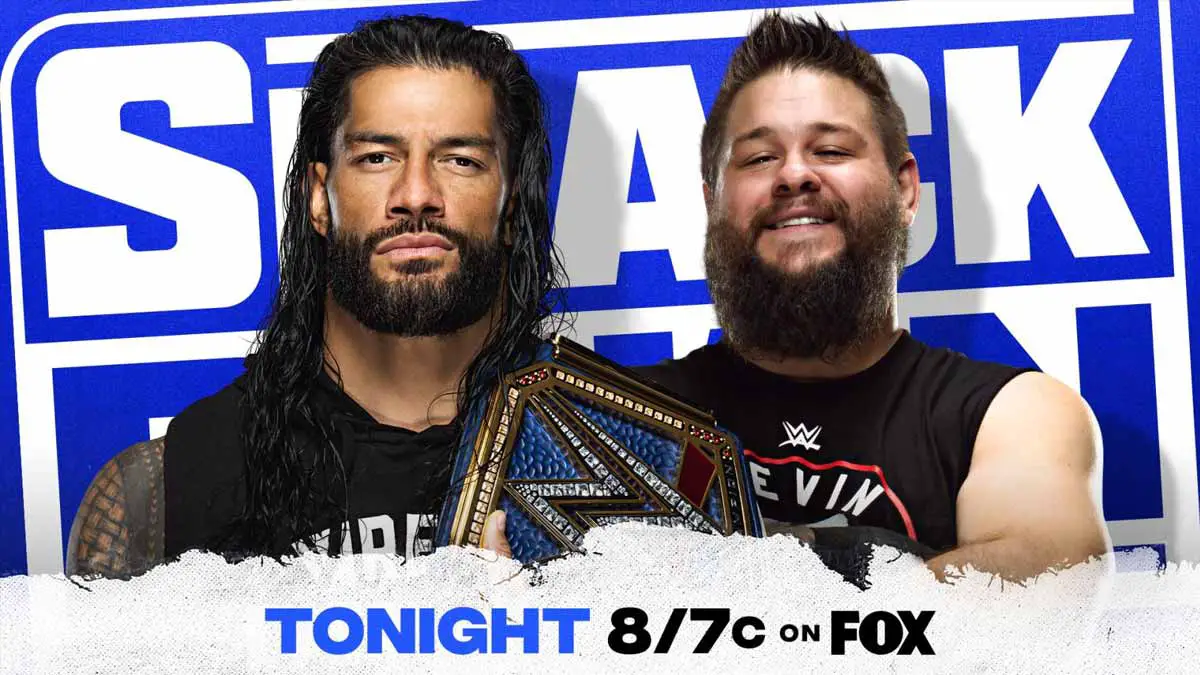 Roman Reigns & Kevin Owens rivalry is set to continue as per the official tease. Seth Rollins is set to return to tonight's show. The Road to WrestleMania will continue as well as build up for Elimination Chamber. Check the preview for this show here.
Elimination Chamber Match
WWE Universal Champion Roman Reigns comes out with Paul Heyman and Jey Uso. The commentary team tells us that Roman is mad because Edge refused to choose him as his WrestleMania opponent and then Edge doubled down on RAW saying that he will make his choice after Elimination Chamber. Roman enters the ring and the crowd from Thunderdome starts to boo him.
Adam Pearce is already in the ring, with some contract in his hand. Roman berates Pearce for a while before moving onto Edge. Roman says Edge got scared last week because he is going to beat him down so much. He will beat so much that Edge will not be WWE Embassador anymore. Roman then asks Pearce to talk about why he is here.
Pearce reveals that he holds the contract for Elimination Chamber for Roman to defend the title inside the Chamber. Roman asks Heyman to take over. Heyman says Roman has contract with WWE to appear at major events like Elimination Chamber, but he does not neccessarily have to defend the title inside the chamber itself. Heyman says 6 men will compete in the Elimination Chamber match, and the winner will get the Universal title shot on the spot.
Pearce says he will make the changes to the contract and there will be qualifying matches. But he can name two wrestlers already for the match. Pearce moves out to the floor as he announces the names. First will be Main Event Jey Uso, and the second will Kevin Owens. Roman gets pissed off and goes to the floor to go in Pearce's face. Heyman and Uso beg Roman to head back.
Adam Pearce and Sonya Deville are backstage. Deville gives kudos to Pearce on standing up to Reigns. Deville says she has an idea for Elimination Chamber qualifying. She wants to do a tag team qualifier where both members of the winning team qualify for a spot. He says he thinks that works, she says she already told everyone, and he thanks her for her quick thinking.
King Baron Corbin & Sami Zayn vs Dominik & Rey Mysterio (Elimination Chamber Qualifying Match)
Sami Zayn cuts a promo during his entrance, mostly complaining about having to qualify for the Elimination Chamber match.
Rey and Corbin start. Corbin cuts Rey off, but Rey pops him onto the second rope with a dropkick. Zayn trips him up and Dominik dives takes him out with a suicide dive. Rey suplexes Baron over the ropes and to the floor. Mysterios stand tall in the ring as we go to break.
Corbin is in control against Corbin as we return. Rey counters a chokeslam and headscissors Corbin into the turnbuckle. Tags made and Dominik runs riot against Sami- dropkicks, DDTs, headscissors counters and more. Sami catches him with the blue thunder bomb to get a near fall. Dominik counters but Corbin hits the ring. Rey ends up dropping Corbin to the ropes. Rey and Dominik hit Corbin with double 619, and Rey takes Corbin to the floor. Sami counters Dominik with an exploder suplex and hits the Helluva Kick to get the pin.
Winner – Sami Zayn & King Corbin
Sonya Deville and Adam Pearce are backstage with SmackDown Tag Team Champions Robert Roode and Dolph Ziggler now. They want to be in the Chamber match. This goes on until Pearce and Deville say they have to beat Daniel Bryan and Cesaro to get in the match.
Back from the break and we see Bianca Belair whipping Carmella's sommelier Reginald with her braids last week. Reginald walks up on Sasha Banks backstage as she was talking to Kalisto, and offers her a glass of champagne. He apologizes to Banks and says he will never drop the ball again. Banks asks if he really meant what he said when he said she can beat Carmella? Banks laughs and sends Carmella her regards.
Big E Open Challenge
Big E makes his entrance before the break. He takes the mic after we get the replay of his win in triple threat title match last week. Big E says odds were against him and makes a Tom Brady reference. He made a vow to be a fighting champion, and much like the bond between hair follicles and Gorilla Glue, that bond is strong.
Big E wants to leave Apollo Crews chapter behind him. Crews cuts him off as he enters. Crews says since Big E is about to issue an open challenge, he is here to accept. Big E says he will take anyone from the locker room and even Michael Cole.. Anyone but Apollo Crews. They start bickering off the mic until Shinsuke Nakamura enters.
Big E vs Shinsuke Nakamura – WWE Intercontinental Championship Match
The match is already started. Nakamura hits a running knee and boots him in the corner. Big E explodes out of the corner to take him down with a clothesline. E takes Nakamura to the apron and hits a splash on the chest. Apollo Crews comes to the apron and runs his mouth. Nakamura blindsides Big E. E counters the exploder suplex but Nakamura ends up putting him on the top turnbuckle for a knee strike.
Nakamura with a clothesline from the top but only gets a two-count. Nakamura goes for the Kinshasa. Big E ducks but Nakamura still hits him with enziguiri. Nakamura goes for the Kinshasa again, and again Big E counters, this time with an Urinagi. Big E was looking for the Big Ending but Apollo Crews hit the ring to attack him.
Winner- Big E(via DQ)
After the match, Crews runs off to the ramp as Big E watches him from the ring.
SmackDown's Savior Returns
The whole of locker room is out to the ringside to hear to Seth Rollins. Rollins' music hits and he comes to the ring. He gets a great reaction from the audience. Rollins says it feels to be good to back to Thunderdome as the crowd gives him big cheers. A lot has changed since he sacrificed himself at Survivor Series, but the thing that has changed the most is himself. He became a parent for the very first time and his daughter has changed his perception and that has given him a new vision. As he looks around the ring, there are many talented wrestlers and he wonders where he fits in.
Rollins continues by saying he is the great leader that SmackDown needs to push it in the future and make it greater. Wrestlers start to move back from the ringside to the back as Rollins continue. Rollins ends the promo saying that all they need to do is embrace him and join him. Rollins did not realise that everyone is gone until the lights come on. Only Cesaro is left at the ringside. Rollins says he knew Cesaro will understand. Cesaro looks at him but then starts to walk off. Rollins attacks Cesaro at the ramp and takes his knee out. Rollins continue to unload until WWE Officials and Daniel Bryan come out to save Cesaro.
Bayley vs Liv Morgan(w/ Ruby Riott)
Morgan starts off with a dropkick but Bayley turns it around in the corner. Morgan with a forearm and trips Bayley on the ropes. Morgan with a missile dropkick now. Bayley moves out of the ring. Morgan charges at her and jumps from the steel steps. Bayley sidesteps and sends her into the barricade. Bayley takes her to the ring and starts to work on her arm. Morgan with some punches to the gut.
Morgan hits a facebuster from the springboard. Bayley catches her on the rope. She hits Morgan with a shoulder breaker. Bayley goes to work but Morgan hits an enziguiri. Morgan hits her finisher but Bayley kicks out. Billie Kay comes out to apologize to Ruby. Ruby gets mad at her and her flyers end up in the ring. The referee goes to clear the flyer when Bayley rakes Morgan's eyes and hits her finisher to get the win.
Winner- Bayley
Daniel Bryan and Cesaro are interviewed backstage. Cesaro says he is going to compete tonight because he is not going to waste his time like Seth Rollins did earlier tonight. Bryan says Cesaro is tough.
Street Profits vs Otis & Chad Gable
We get a replay from Street Profits visit to Daytona 500 car racing event. They also get an inset promo talking about how Ford is not injured anymore. After the break, Otis and Gable get another one of their training promos. Otis wants the smoke and Gable uses the fire extinguisher to create the smoke.
Gable gets the waistlock on Dawkins to start. They jockey for position for a while before Dawkins slams his face to the mat. They start to hit arg drags on each other turn by turn until they come to stalemate. Ford tags in now. Gable works on Ford's left arm. Ford does some theatrics before Gable takes him down. Gable with an armdrag and puts on the work on Ford's shoulder. Ford with an armdrag and tags in Dawkins. Dawkins comes in and runs over Gable for a two count.
Otis with shoulder tackles on Dawkins. Ford gets planted to the mat and thrown out. Otis hits Dawkins with an overhead throw before hitting the caterpillar. Gable tags in and asks Ford to clothesline Dawkins. Ford ducks the ropes to trip Otis out of the ring. Dawkins tags in Ford and he hits the splash from the heaven to get the pin.
Winners- Street Profits
Sasha Banks, Bianca Beliar, Nia Jax and Shayna Baszler
SmackDown Women's Champion Sasha Banks is wrapping up her entrance. Banks says everyone is talking about Bianca Belair's big decision because we're on The Road to WrestleMania 37. Banks likes Belair a lot because she's like a little sister. Banks says there's just one decision for Belair to make, and that's her. The music interrupts and out comes Belair. Belair sees Banks and heard her, she likes her too. Belair enters the ring now and says no, Banks is not the boss of her. Belair says it's her time and she's enjoying every second of it, and everyone is talking about her WrestleMania decision.
The music interrupts and out come the WWE Women's Tag Team Champions – Nia Jax and Shayna Baszler. They start knocking Belair and Banks on the way to the ring. They wonder why no one is talking about their title win, which came the same night Banks beat Carmella and Belair won the Rumble. Banks shows footage of Naomi beating Baszler on last week's RAW and then puts up Nia's "My hole!" footage. A brawl breaks out now. Jax gets taken out and sent to the floor, clutching her backside. Baszler then gets double teamed as Jax clutches her backside at ringside. Baszler stumbles over to check on Jax as Banks and Belair dance together in the ring.
Robert Roode & Dolph Ziggler vs Daniel Bryan & Cesaro – Elimination Chamber Qualifier
The bell rings as Bryan and Ziggler go at it. They run the ropes and Ziggler hits a big shoulder for a 2 count. Bryan ends up dropping Ziggler with a kick. Cesaro tags in for a big double team slam. Cesaro covers for a 2 count. Ziggler turns it around on Cesaro for a close 2 count. Roode tags in and they quickly double team Cesaro. He drops Roode with a shot to the face and in comes Bryan.
Bryan with kicks around the ring. Roode ducks a kick and rolls Bryan for a 2 count. Bryan goes for the Yes Lock but Roode easily gets the bottom rope to break it up. Roode works Bryan over and knocks Cesaro off the apron with a cheap shot. Bryan ends up sending to the floor next to Cesaro. Bryan runs for a big dive but Roode moves and Bryan hits the barrier next to Cesaro.
Roode and Ziggler keep control, sending their opponents into the steel steps, and then return to the ring together, standing tall. Sami Zayn and King Baron Corbin come walking down the ramp as we go back to commercial.
Back from the break and Ziggler has Bryan grounded as Cesaro reaches for a tag. Sami and Corbin watch the action from ringside. Ziggler takes Bryan back to the corner and in comes Roode. They unload on Bryan in the corner. Ziggler with a cheap shot as Roode distracts the referee. Roode with a suplex to Bryan for a 2 count.
We see WWE Universal Champion Roman Reigns and Paul Heyman watching backstage. Ziggler drops a big elbow on Bryan for a 2 count. Ziggler brings it back to the corner and takes Bryan up. Ziggler climbs up for a superplex but Bryan fights him, headbutting him to the mat. Bryan nails a missile dropkick. Fans rally with a "yes!" chant. Roode gets the hot tag and runs in to knock Cesaro off the apron. Bryan rolls Roode for a 2 count from behind. Bryan fights back with uppercuts now. Roode comes right back with a big Spinebuster for a close 2 count.
Bryan gets away in the aftermath and makes the tag! Cesaro in hot, uppercuts in the corner, Swiss Death to Dolph… NOT ENOUGH! The match breaks down into "everybody do something cool" stuff, superkick blocked, Cesaro gets the backbreaker rack and drops it into the backbreaker, Giant Swing, step through. Cesaro puts on the Sharpsooter on Ziggler and gets the win.
Winer- Cesaro & Daniel Bryan
Post-match, Jey Uso attacks Cesaro with a steel chair! Baron Corbin and Sami Zayn attack Daniel Bryan until the commentary talks about the Chamber being every man for himself! Bryan recovers, Busaiku Knee on Sami, Kevin Owens runs down, Stunner on Corbin! One for Bryan, too! And Cesaro! And Jey Uso! We see Paul Heyman and Roman Reigns watching backstage as Owens stares the camera down and asks if he's watching before saying he's coming for Roman.