Roman Reigns WWE Universal Championship Title Defenses 2nd Reign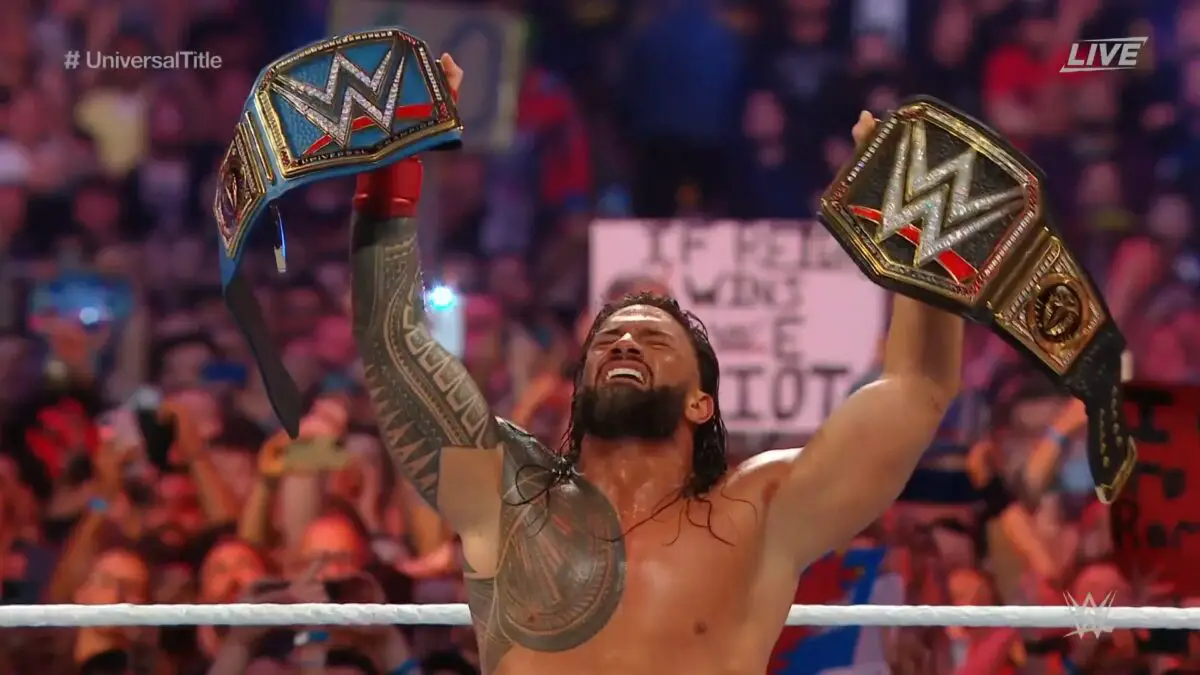 Roman Reigns' second reign as WWE Universal Champion has been a record-breaking reign and a milestone in many ways.
The title reign started at Payback 2020 event where he defeated "The Fiend" Bray Wyatt and Braun Strowman in a triple threat match. He has held the title for more than 2 years since while also unifying it with WWE Championship at WrestleMania 38. Roman has defended the title 30 times during this time and has defeated several former World Champions like Brock Lesnar, John Cena, Daniel Bryan, Edge, Kevin Owens, Rey Mysterio, Finn Balor, Goldberg and Drew McIntyre.
Not only did he become the longest-reigning Universal Champion, but he also holds the record for the longest single title reign since Hulk Hogan's run from 1984 to 1987. Overall, this reign is now the fifth longest reign in WWE History, and the longest single reign in WWE in the 21st century. Below is the list of all the title defenses that have come during this reign.
No.
Against
Event
Match Type
Date
1
Jey Uso
Clash of Champions 2020
Singles Match
September 27, 2020
2
Braun Strowman
SmackDown
Singles Match
October 16, 2020
3
Jey Uso
Hell in a Cell 2020
Hell in a Cell I Quit Match
October 25, 2020
4
Kevin Owens
TLC 2020
Tables, Ladders & Chairs Match
December 20, 2022
5
Kevin Owens
SmackDown
Steel Cage Match
December 25, 2020
6
Kevin Owens
Royal Rumble 2021
Last Man Standing Match
January 31, 2021
7
Daniel Bryan
Elimination Chamber 2021
Singles Match
February 21, 2021
8
Daniel Bryan
Fastlane 2021
Singles Match
(Special Enforcer: Edge)
March 21, 2021
9
Daniel Bryan & Edge
WrestleMania 37 Night 2
Triple Threat Match
April 11, 2021
10
Daniel Bryan
SmackDown
Singles Match
(Bryan's SmackDown Career
on the line)
April 30, 2021
11
Cesaro
WrestleMania Backlash 2021
Singles Match
May 16, 2021
12
Rey Mysterio
SmackDown
Hell in a Cell match
June 18, 2021
13
Edge
Money in the Bank 2021
Singles Match
July 18, 2021
14
John Cena
SummerSlam 2021
Singles Match
August 21, 2021
15
Finn Balor
SmackDown
Singles Match
September 3, 2021
16
Finn Balor(Demon)
Extreme Rules 2021
Extreme Rules match
September 26, 2021
17
Brock Lesnar
Crown Jewel
Singles Match
October 21, 2021
18
Sami Zayn
SmackDown
Singles Match
December 3, 2021
19
Seth Rollins(lost via DQ)
Royal Rumble 2022
Singles Match
January 29, 2022
20
Goldberg
Elimination Chamber 2022
Singles Match
February 19, 2022
21
Brock Lesnar
WrestleMania 38 Night 2
Singles Match
(WWE & Universal
Championship Unification)
April 03, 2022
22
Matt Riddle
SmackDown
Singles Match
(Riddle's Last Chance at Universal Title
until Roman remains champion)
June 17, 2022
23
Brock Lesnar
SummerSlam 2022
Last Man Standing match
July 30, 2022
24
Drew McIntyre
Clash at the Castle 2022
Singles Match
September 03, 2022
25
Logan Paul
Crown Jewel 2022
Singles Match
November 05, 2022
26
Kevin Owens
Royal Rumble 2023
Singles Match
January 28, 2023
27
Sami Zayn
Elimination Chamber 2023
Singles Match
February 18, 2023
28
Cody Rhodes
WrestleMania 39 Night 2
Singles Match
April 2, 2023
29
Jey Uso
SummerSlam 2023
Singles Match
August 5, 2023
30
LA Knight
Crown Jewel 2023
Singles Match
November 4, 2023