WWE RAW 22 February 2021: Live Results, Updates, Winners & Highlights
Welcome to ITN's Live blog for WWE Monday Night RAW episode of 22 February 2021(2/22/2021) as we bring you the Live Results, Winners, Updates, Highlights and videos from the show.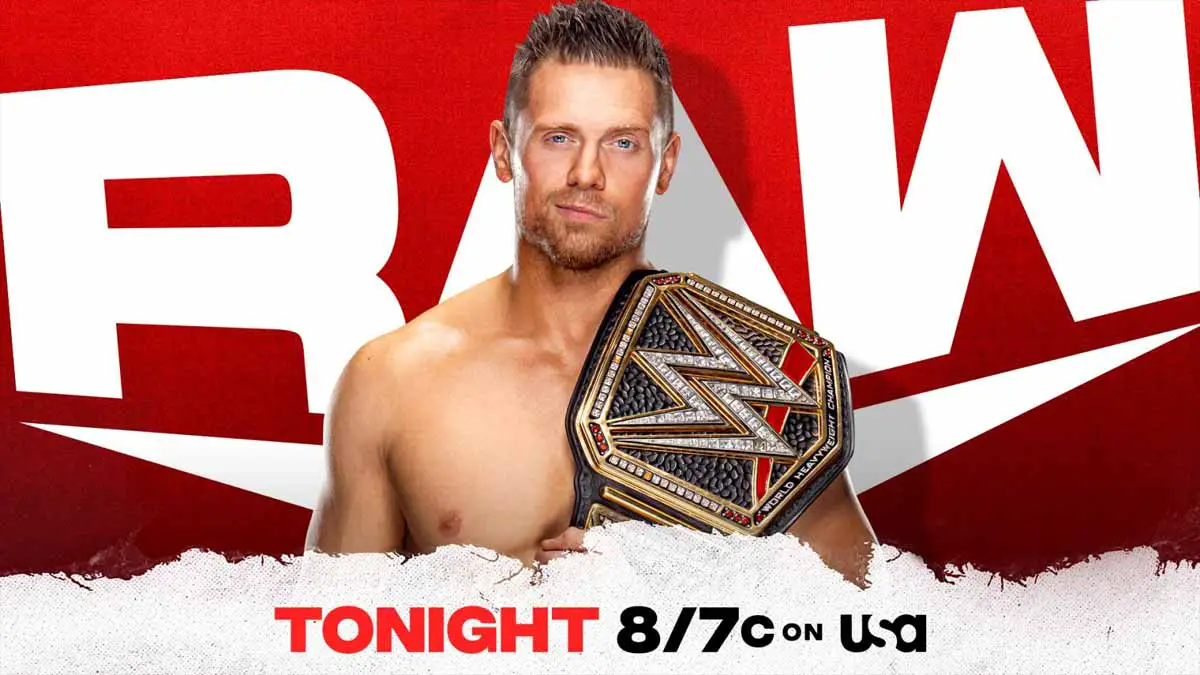 The only segment advertised is the Miz TV segment with the new WWE Champion Miz. Other than that, a lot is expected from the show which will deal with the fallout from Elimination Chamber PPV. Check the preview here.
Miz's Deal with Hurt Business
The show starts with the replay of how Bobby Lashley attacked Drew McIntyre after the WWE Championship match at Elimination Chamber and Miz cashing in MITB before winning the WWE title. We are in the ring now and John Morrison introduces our new WWE Champion The Miz. Miz comes out with a pyro. He starts his promo and talks how he was told that he would be fired in 3 months when he started in WWE, but he is here as the WWE Champion today. He takes shots at John Cena, Batista, Triple H, and others saying that nobody has longevity. He continues the promo for a while as the crowd continues to boo.
Bobby Lashley comes out with MVP in tow with crutches. MVP congratulates Miz for the title win on behalf of Hurt Business, and reminds how Lashley destroyed McIntyre before the cash-in. MVP then reveals their deal from last night where Miz promised Bobby Lashley being the first in line for WWE title shot. Miz tries to deflect the issue saying he is currently busy with press and other stuffs, but Lashley will surely be the first in line. Lashley grabs him and tells him that he has one hour to decide on the title shot.
Backstage, Riddle is with Lucha House Party, talking about his US Title win. LHP reminds him that he has a match against John Morrison soon. Riddle brings out a scooter and heads for the ring.
Matt Riddle vs John Morrison
Riddle starts with a waistlock takedown into an armbar. Morrison turns it into a pin attempt. Morrison with a kick before a flying shoulder tackle. Riddle catches him in hold early but Morrison grabs the ropes. Back and forth continues with both men avoiding moves. Morrison hits a kick before Riddle hits a gutwrench suplex.
Morrison rakes the eyes and puts Riddle on the apron with a dragon suplex. A kick sends Riddle to the floor before hitting a corkscrew dive. Back to the ring, Morrison's clothesline is turned into head scissors by Riddle to take him to the apron. Riddle hits an exploder suplex on the apron as we go to the break.
Riddle unloads on Morrison as we return. Morrison turns it around and takes him down for a two-count. Morrison puts on a headlock before unloading in the corner. Riddle comes back with kicks and punches to the gut. Riddle with running forearm, exploder suplex, misses Penalty kick and standing moonsault as Morrison rolls out. Riddle with a dive on the outside and takes Morrison back to the ring for a two-count.
Morrison hits Spanish fly from the top turnbuckle for a near fall. Riddle hits Bro to Sleep. He hits a shoulder tackle from the apron. Morrison takes himdown in the ring and goes for the starship pain. Riddle catches him to hit the Broton to get the pin.
Winner- Matt Riddle
We get a promo for Rhea Ripley coming soon on RAW.
Bad Bunny is backstage with Damian Priest. R-Truth was lurking around with a referee. Preist calls him and Truth does some comedy, saying Bunny took his baby to SNL. Priest intimidates him and tells him not to try to win the title.
The Miz is with WWE Official Adam Pearce complaining about Bobby Lashley. Pearce asks him whether he really made a deal. Miz says he did but the timing is not right for it. Pearce tells him that he should be taking on all the challenges as the WWE Champion and face Lashley.
Kofi Kingston & Xavier Woods vs T-Bar & Mace(w/ RETRIBUTION)
T-Bar starts with big blows on the back. Woods comes back with punches in the rib. Kofi comes in with a double ax handle. T-Bar picks him up for a power slam. Mace comes in and drives Kofi into the mat multiple times before T-Bar runs him over with a big boot. T-Bar hits a backbreaker now to get a two-count. T-Bar runs down Woods with a big boot from the apron.
Mace tags in for double chokeslam. Mustafa Ali asks them to beatup Kofi some more and not to go for the pin. Woods get back to the apron. Mace goes after him but Woods gets the ropes down to send him out. Kofi hits SOS and Trouble in Paradise on T-Bar to get the pin.
Winners – Kofi Kingston & Xavier Woods
After the match, New Day quickly gets away from the ring and celebrates. Ali snaps on T-Bar and Mace in the ring and asks them how many times will they fail him.
Who get WWE Title Match?
Adam Pearce is in the ring and says the time limit for Lashley's Ultimatum for Miz is over and presents Lashley. Lashley comes out with the Miz. Pearce calls out Miz now and he comes out with John Morrison, still in a suit. Miz says he needs more time. Lashley tells him to quit stalling and wasting time and money. Miz tries to explain to them that there are others coming for the title.
MVP snaps at him and says he did not have a deal with other superstars. Miz asks for more time, atleast a week. Braun Strowman's music hits and he comes out. Strowman says if there is anyone getting the title match, it is him. Pearce tells him he can't just come out and ask for the title match. Strowman replies that he would do whatever he wants. Miz tries to get Strowman and Lashley fight. Surprise, Surprise! Shane McMahon is here. Shane tells Pearce to tighten things up here. He tells Strowman that the concept of the Elimination Chamber was for former WWE Champions but he was a Universal Champion.
Strowman says they all suck and he wants a WWE Title match. Shane declines. Strowman says then he wants a match against the challenger. Shane agrees and says if Strowman wins, next week it will be Lashley vs Strowman vs Miz for the WWE Championship. Shane leaves the ring and Lashley hits a chop block to Strowman's knee. Lashley leaves the ring and stares at Strowman as he recovers in the ring.
Cedric Alexander & Shelton Benjamin vs Gran Metalik & Lince Dorado
Benjamin and Alexander unload on LHP to start. Alexander hits a big dropkick on the back of Lince's head while Benjamin dropped Metalik in the middle. Metalik tries to come back but Benjamin hits a big body drop. They start to focus on Metalik until Dorado comes back. Benjamin takes him into a position for Cedric to hit a dropkick.
Lince is thrown out of the ring. Benjamin hits a suplex on Metalik. Hurt Business continues to be in control. Alexander goes out of the ring now and sends Dorado into the barricade. Back to the ring, both men unload on respective opponents in different corners. Alexander takes down Metalik as he was unloading on Benjamin. MVP tells them not to waste time and finish them.
They go for the double team on Metalik but Lince grabs Alexander near the ropes. He hits an enziguiri to Benjamin before a splash. Metalik and Dorado both cover Benjamin for the pin but Alexander breaks the pin. Metalik drops Alexander in the corner. He gets ready for a move but Benjamin runs him over with a big tackle and sends Dorado into a knee strike from Alexander. Benjamin hits his finisher for the pin on Dorado and the win.
Winners – Cedric Alexander & Shelton Benjamin
Damian Priest(w/ Bad Bunny) vs Angel Garza
Priest starts with a clothesline and a two-count. He unloads in the corner now. Garza counters in the corner and hits a dropkick. He rips his pants off and throws them on Bad Bunny. Priest knocks him off him but Garza hits a running knee in the corner. Garza puts on the Camel clutch, but had to resort to blows on the back as Priest was getting out of it. Garza once again tries to put on the Camel Clutch. Priest gets back to his feet, but eats a punch.
Priest gets mad and cuts off a punch. A big kick and a side kick on Garza. Priest with a big back elbow and broken arrow to get a near fall. He waits for Garza to get back but Garza rolls onto the apron. Priest picks him up and ends up eating a big forearm. Garza sends Priest out of the ring with a big clothesline and mocks Bad Bunny. They have some words and Garza asks Bunny to get into the ring. Priest recovers meanwhile and hits a kick at the apron. Priest with a kick from the top turnbuckle and the Reckoning to get the pin.
Winner – Damian Priest
After the match, Priest stands tall with Bad Bunny in the ring. Akira Tozawa, Humberto Carrillo and Drew Gulak comes out to go after the 24/7 title. Priest helps clearing the ring. Bunny also decks Drew Gulak. Priest and Bunny celebrate in the ring.
Orton is Distracted!
A replay from last week where Bliss' face appeared all over the ThunderDome screens during Orton's match with Drew McIntyre last week. Orton is backstage now as fans in the arena boo. Orton says failure is not a word he's too familiar with, his track record proves it, but here lately he finds himself surrounded by it. He should've won the Gauntlet last week and that would've put him at an advantage for Elimination Chamber, but instead he was the first one eliminated.
He goes on about getting distracted, and when that happens, he takes out the source of his problem and distracted. Like he did with "The Fiend" Bray Wyatt, he set him on fire. We get a replay of The Fiend going up in flames at TLC. Orton says he took care of The Fiend and while some think he's coming back, he's not, he's gone for good. Orton asks why he can't focus on the WWE Title.
He'll tell us why… Orton coughs and stops his promo but regains his composure. Orton says he is still distracted, but not by The Fiend now, he's distracted by Alexa Bliss now. We get a partial replay of her pentagram promo from last week's RAW. Orton is having trouble with his throat now. He starts throwing up thick black liquid. Orton stumbles and quickly hurries off camera with the black liquid coming out of his mouth. That ends the segment, leaving the announcers confused.
Asuka & Charlotte Flair vs Nia Jax & Shayna Baszler
Some arm twisting to start with. Asuka turns it into a waistlock and tries to go for Octopus. The grappling continues and Asuka had to tag out. Baszler also gets free and tags in Nia. Nia rocks Flair with a chop. This angers Charlotte and who hits a series of punches and chops on Nia. A dropkick sends Nia out of the ring. Asuka also sends Baszler out on the other side. Asuka and Charlotte stands tall as we go to a break.
Jax and Baszler have Asuka cornered. Shayna with some joint manipulation and stomps on Asuka's arm as Nia tags in. Nia works more on Asuka's arm. Tags continue and they continue to work on the arm. Asuka rolls up Baszler and kicks her in the face before tagging in Flair. Flair comes in hot. Baszler eats some blows but tags in Nia. Flair with a double clothesline which downs Baszler but not Nia.
Flair continues to attack Nia. She also drops Baszler from the apron. Nia picks Charlotte and hits a powerbomb for a near fall. Flair fights out of a headlock but to no avail. Baszler comes in and works on Charlotte's arm. Flair drops Baszler from the apron and takes down Nia with a sunset flip. Flair goes to tag Asuka but Baszler tags in and drops Asuka from the apron. Flair goes for the figure four on Baszler. Nia comes in and breaks the lock with a leg drop.
Asuka finally gets the tag and dropkicks Baszler. Nia eats a sidekick from Asuka before she goes from corner to corner on both opponents. Asuka hits the running knee on Nia. Baszler breaks the pin and tries to put on the Kirifuda clutch. Flair tries to boot Baszler but hits Asuka instead. Baszler and Flair get to the floor. Nia hits a leg drop on Asuka to get the pin and the win.
Winner – Nia Jax & Shayna Baszler
Sheamus vs Jeff Hardy
Winner- Sheamus
Charlotte Flair is backstage with his father Ric Flair. Charlotte says she can't focus on due to this Lacey Evans business. Charlotte says the performer we saw out there tonight wasn't her. She tells Ric to go home. Ric says he never said the baby was his. He says he truly saw a lot of potential in a good person in Evans. Charlotte says he is still trying to be The Nature Boy on her time. She gets emotional and says she's thankful for everything he has done and the doors he has opened, but he needs to let Charlotte be herself. She tells Ric she loves him a few times and says that's it. She walks off and RAW goes back to commercial.
Lana & Naomi vs Dana Brooke & Mandy Rose
Winner- Lana & Naomi
AJ Styles vs Ricochet
Ricochet catches AJ with a kick. AJ rolls out to avoid more kicks. AJ comes back but Ricochet keeps up with the attack. AJ avoids a suplex and kicks at his Ricochet's knee. He hits a snap suplex and a backbreaker next. AJ with a headlock now. Ricochet fights out and hits a few punches, but AJ hits a dropkick.
Ricochet unleashes with more punches and the referee had to break them. AJ rakes at his neck. AJ drops Ricochet on the ropes and tries to hit Styles Clash. But Ricochet grabs the ropes and rolls him for a two-count. Ricochet tries the backslide next but again not pin. More back and forth before AJ hits a knee to the face. AJ with the Styles Clash to get the win.
Winner – AJ Styles
After the match, Omus jjoins AJ in the ring. Omus picks up Ricochet and slams him in the middle of the ring. The crowd boos Omus and AJ as the segment ends.
Braun Strowman vs Bobby Lashley
Strowman drops Lashley in the middle and unloads with punches and elbows. Lashley is whipped to the corner and gets splashed. Strowman with more elbows. Lashley goes to the outside. Strowman goes for the running train, but Lashley sidesteps and Strowman runs into the steel steps. Strowman has hurt his knee. Lashley with a clothesline on the floor. Lashley dropkicks to Strowman's knees now.
Lashley continues to unload before trying for the Hurt Lock. Strowman gets free and runs over Lashley. Strowman with a clothesline before another splash in the corner. Strowman hits the power slam but Lashley kicks out at two. Lashley hits Strowman with the chokeslam. He takes the running start by going rope to rope to hit a spear. Lashley covers and gets the pin.
Winner – Bobby Lashley
Miz vs Lashley WWE Title match confirmed for next week. Lashley hits Strowman's knee again and then puts on the Hurt Lock. Strowman fades away. Miz hits the ring with his title belt and tries to run Lashley down with it. Lashley hits the Chokeslam and then the spear on him. Lashley poses in the corner as the show goes off the air.