Asuka Retains Title Against Becky Lynch at WWE Royal Rumble 2019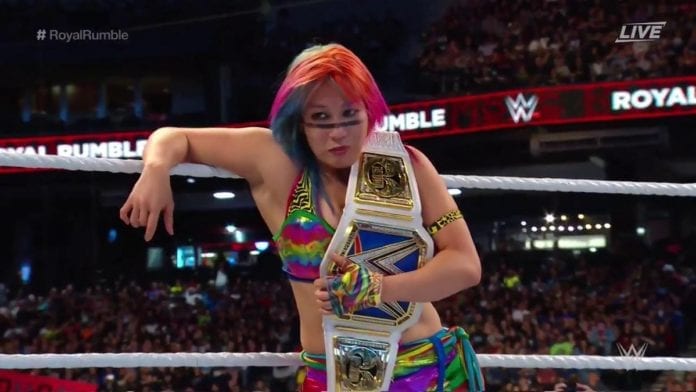 WWE Smackdown Woman's champion Asuka successfully defended her SmackDown Women's Championship by forcing Becky Lynch to tap out at the Royal Rumble 2021 event.
Asuka won the SmackDown Women's Champion in a three-way TLC match at TLC 2018 from Becky Lynch. The match also involved Charlotte Flair. Ronda Rousey pushed Becky and Flair from the ladder in that match which cleared the way for Asuka to win the match.
Becky then won the #1 contender match to get the title shot against Asuka by defeating Flair and Carmella and setting up the match at Royal Rumble. Asuka and Becky opened the main card of Royal Rumble 2019. Both women went back and forth in the match before the finish came with Asuka using a modified neck submission to force Becky into submission.
Asuka was always anticipated to retain her title and Becky later went on to win the Royal Rumble to go to the main event of Wrestle Mania. Whether she will face Asuka again or will she challenge Ronda, remains to be seen.