AEW Fyter Fest 2019 Predictions and Preview
Check out the preview and predictions for AEW Fyter Fest 2019.
After the resounding success of Double or Nothing, AEW will hold their second show Fyter Fest, a non-PPV in the US, alongside the CEO Gaming's Fight Game Championship event. It looks like another promising card that will possibly lead to another cracker of a show. Let's look at the card.
Kenny Omega & The Young Bucks Vs The Lucha Bros & Laredo Kid
Preview- The Young Bucks and the Lucha Bros battled for the AAA Tag Team Championship at Double or Nothing. Since then, the Young Bucks have lost the tag titles back to the Luchas. This match was originally supposed to feature Pac teaming with Fenix and Pentagon. However, since the situation between Pac and AEW became complicated, the AAA World Cruiserweight Champion Loredo Kid is brought in to replace him.
Prediction- If Kenny Omega was not involved in this match, then there might have been a chance of team Lucha Bros winning it. But Omega taking another loss would be unthinkable. Hence, the Elites will take the win here.
Jon Moxley Vs Joey Janela – Non Sanctioned Match
Preview- Jon Moxley pleasantly shocked the wrestling community when he appeared at Double Or Nothing. However, even before he could have his debut match at AEW, he has already become the IWGP US champion and has worked for many other independent promotions since then. Now, to top it off, he will debut with AEW in a non-sanctioned match. Surely, the wild side of both Janela and Moxley will come to the fore.
Prediction- It is a given that Jon Moxley will take the win in his AEW debut match. However, Janela could definitely impress the new fans who would see him for the first time.
Cody Rhodes Vs Darby Allin
Preview- Cody put on the best match of Double Or Nothing, probably. And at Fyter Fest, he will introduce Darby Allin as he will be making his AEW debut. He has looked promising with his promos until this point. But so has almost everyone signed with AEW.
Prediction- Will Cody Rhodes be generous enough to put over Darby Allin? I don't think so.
Adam "Hangman" Page vs Jungle Boy vs Jimmy Havoc vs MJF
Preview- Hangman Page is marked star by AEW and is on his way to competing for the AEW Championship at All Out. He originally wanted to face MJF, who is the hottest heel in the industry right now, one on one here. However, some comical cell reception led to the badass Jimmy Havoc and the lovable Jungle Boy being added to the match. AEW has a prepared a great recipe here.
Prediction- Adam Page, the soon to be AEW World Champion, will take the win but the doubt remains over who will take the pin. Probably, Jungle Boy, because he will be mainly established in the Tag Team division.
Christopher Daniels Vs Cima
Preview- Daniels' SoCal Uncensored battled Cima's Strong Hearts at Double Or Nothing's opening match. Unhappy with his team's loss, Cima challenged Daniels to a singles match at Fyter Fest. In one episode of the 'Being the Elite', Daniels told us how Cima introduced him to the Japanese Wrestling during his first tour of the country back in 1999 or something. The two veterans will take the opportunities hands on.
Prediction- Cima will face Kenny Omega next. So, giving him a win here would help legitimize him before the bigger match.
Yuza Sakazaki Vs Riho Vs Nyla Rose
Preview- This match will be nothing more than an opportunity for the women of AEW to showcase their abilities. But, will it remain a triple threat match or Brandi has another trick off her sleeves?
Prediction- With stakes not that high involved, it is hard to predict the winner. A good chance to give a win to Nyla Rose.
Best Friends Vs SCU Vs Private Party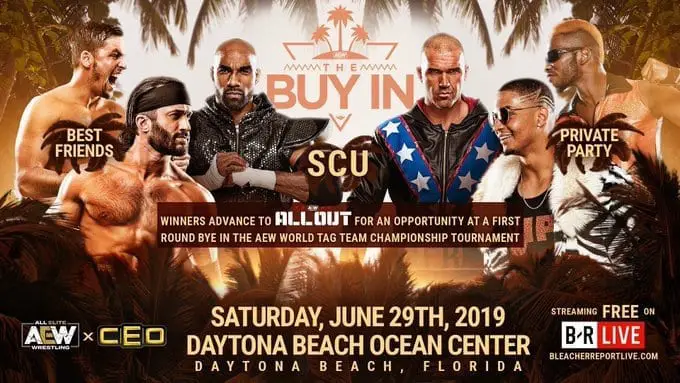 Stipulation- Winner Advances to All Out for the match to get a bye in the first round of AEW Tag Team Tournament
Preview- The stipulation is confusing to start with. Three teams will battle it out in the pre-show. The winner will advance to a match at All Out. And only after the win at All Out, they will get the bye in the first round of AEW Tag Team Tournament, which will crown the first AEW Tag Team Champions.
Prediction- After the win at Double or Nothing, Best Friends will look to continue their winning run.
Michael Nakazawa Vs Alex Jebaily
Preview- Alex Jebaily is from CEO gaming, the company AEW has partnered up with for Fyter Fest. Michael Nakazawa was previously seen at Double or Nothing. Not expecting too much from this match but since it is a hardcore bout, maybe, it will surprise us.
Prediction- Michael Nakazawa to win.
Kylie Rae vs Leva Bates (w/ Peter Avalon)
Preview- The Smily Kylie Rae will battle against the Librarian Leva Bates in a match that is not yet announced by AEW. It is pretty interesting that they are having a match due to a shush off at Double or Nothing. With another librarian in Peter Avalon in Bates' corner, it will more be about taking forward their romantic angle than the match.
Prediction- Kylie Rae is more likely win.