AEW Dynamite Live Results- 30 October 2019: Tournament Final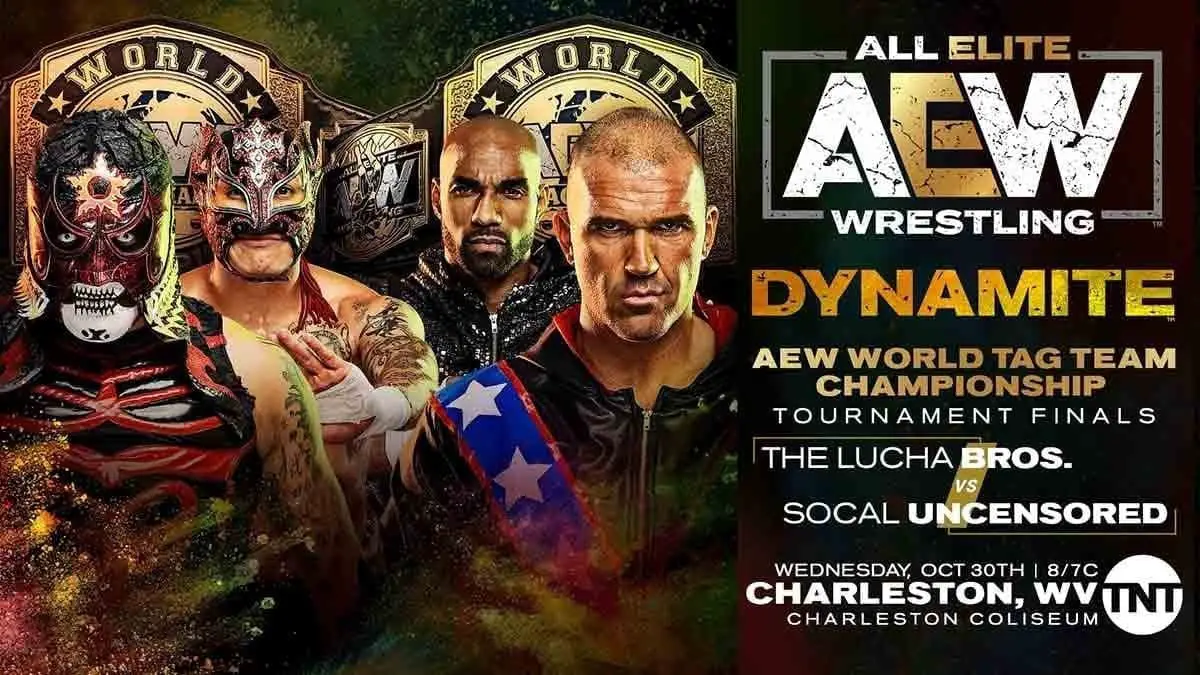 Welcome to ITN's Live Results and Updates for the AEW Dynamite episode of 30 October 2019.
Date- 30 October 2019
Time- 8 PM EST(31 October 2019 12 AM GMT/5:30 AM IST)
Location- Charleston Coliseum, Charleston, WV, US
The new AEW Dynamite episode on the eve of Halloween. The Elites will be back in action and they will take on Kip Sabian and Hybrid 2. A contract signing segment will take place between Chris Jericho and Cody Rhodes and Adam Page and Sami Guevara will continue the rivalry between the Elites and the Inner Circle. And the big event final of the AEW World Tag Team Championship Tournament and the title presentation from the Rock N' Roll Express. The show promises a lot and there will be a lot of Rick and Morty(s) present in the arena.
Tony Schiavone is near a chartered plane reminding us of the contract signing later tonight. Cody and Dustin Rhodes come out of it. They hug and Dustin leaves for somewhere. Cody and Tony get into a limousine. We get the replay of last week's PAC vs Jon Moxley match going to the time-limit and what follows. Apparently, Tony Khan has made it an unsanctioned match and the match will not be considered for the win-loss record. Moxley is pissed over this and gets off on Tony Khan. We cut to the Intro video.
Adam Page vs Sammy Guevara
Lock up and Page pushes Sammy to the ropes and they have to break. Sammy dodges a punch but Page was able to hit some chops and takes Sammy down with a suplex. Sammy hits a dropkick after some dodges. Page is looking pissed as Sammy hits a few chops. He counters the whip at decks Guevara. A powerslam and a lariat send Guevara outside. As Page was bringing him back in the ring, Guevara sweeps his leg and sends him to the barricade. Back in the ring, Guevara hits a Samoan drop and goes to the top.
As Page gets up, Guevara simply jumps off and rocks him with a punch. Page hits a few punches, Guevara hits a kick and Page hits a discus lariat after Guevara dodges his initial move. They end up on the apron. Guevara counters the Dead Eye and hits the Gama-guiri but Hangman slams him down on the apron. Another dead eye is countered but Page gets two-count anyway. Page hits a moonsault on the outside and throws Sammy back in the ring. They trade kicks and knee strikes and Page gets to hit the buckshot lariat to get the win. Post-match, Page cuts a short promo before heading back.
Winner- Adam Page
Shanna vs Hikaru Shida
Lock up transitioned to a waist lock from Shanna. Shida counters it to her waist lock. More counters and Shanna hits a few arm drags and a neckbreaker. Shida kicks her in the gut but Shanna sends her out of the ring. She was going for the suicide dive but Shida cut her off at the apron. Shida hits a knee strike, jumping off from the chair at the ringside. Back in the ring, Shida scoops Shanna to hit a backbreaker and gets one-count. Another running knee strike in the corner gets her two-count. Shanna punches in her midsection but Shida is keeping control.
Shanna rolls her up when she was going for the brainbuster and gets a two-count for herself. Shida rocks her with an elbow and we got to the break. Shanna has hit an enziguiri to take control during the break. Back from the break, Shida was in the tree of woe and Shanna hits the double leg stomp to get the nearfall. Shanna goes for the double underhook piledriver but Shida manages to hit Sunset flip. Both women were down for a bit and Shida hits a superplex to get another two-count. Shida hits a running knee and falcon arrow but once again only gets a nearfall. She hits the running knee and finally gets the pin.
Winner- Hikaru Shida
A vignette for Brandi Rhodes and Awesome Kong where Brandi is playing some sort of witch and Kong brings some blonde hair for her to cast some spell.
Chris Van Vliet is at the ramp and he introduces the Rock N' Roll Express, who will be presenting the AEW Tag Team Championship belts to the inaugural champion. Santana and Ortiz attack them. They tell Vliet to go back and continues to attack Mortin and Gibson. They hit a powerbomb on Mortin, sending him through a table near the ramp. The Young Bucks come out and Santana & Ortiz runoff. Bucks are checking on Rock N' Roll Express.
Tony Schiavone and Cody Rhodes are still in the limousine, talking about some memories from the past. Schiavone recalls meeting Willie Nelson and how he found Dusty Rhodes naked in his locker room. Tony says Dusty told him that superstars make others wait and that's what he wants Cody to do to Jericho.
Best Friends & Orange Cassidy vs QT Marshal, Alex Reynolds, John Silver
Best Friends and Orange Cassidy come out dressed like Rick and Morty for this match. Taylor and Trent drop Silver to start. Silver throws Taylor's wig off. Marshall and Reynolds knock Cassidy and Taylor off the apron. Silver charges in the corner but Trent hits a tornado DDT off the ropes. Taylor hits Marshall with slicebread. Trent tags back in with the running knee. Marshall breaks it up when they go for a hug. Cassidy rolls into the ring and hits his lazy kicks to the leg. He lands a dropkick and sends Marshall out of the ring. His glasses fall off, referee puts them back on before all three guys hug to a big pop. Cassidy hits a suicide dive with his hands in his pocket. Best Friends hits Storm Zero on Silver to get the pin.
Winners- Best Friends & Orange Cassidy
Contract signing between AEW World Champion Chris Jericho and Cody for AEW Full Gear
AEW World Champion Chris Jericho comes out to the stage for the contract signing. Cody gets out of the limo and enters to the ring. Cody signs the papers first. The coordinator hands the papers to Jericho. Jericho acts like he is going to flip the table and laughs when Cody jumps up to react. He says their match is the biggest of the year and he will teach Cody a lesson. They shake hands and Cody pulls him in to intimidate him. Jericho says Cody might be needed elsewhere and we see footage of Dustin being attacked by Jake Hager backstage. Hager hits a low blow before Cody and MJF come out running.
Kenny Omega and The Young Bucks vs Kip Sabian and The Hybrid 2 (Jack Evans and Angelico)
Kip Sabian, Angelico and Jack Evans attack while Omega and The Young Bucks are posing in the ring. Kenny takes out Evans and Angelico with a double bulldog. The Bucks hit Sabian with a double team dropkick. Things finally settle down and Sabian sets up Matt for a superplex. He changes his mind and hits a hurricanrana for two. The Hybrid2 keeps Jackson isolated with quick tags and double team moves.
Matt is in the ring as the Elites continue to dominate. Sabian hits a reverse rana as the crowd chants. Omega gets the tag and hits a snap dragon suplex on three opponents. Evans flips out of a German suplex and hits a kick. Everyone comes in and starts taking each other out. The Elite ends up getting the win after a triple superkick.
Winners- Kenny Omega and The Young Bucks
Ortiz and Santana attack The Young Bucks after the match and run-off.
Peter Avalon and Leva Bates come out. Peter carries on with the "shoosh" thing and was saying something about the Library. Jon Moxley comes out through the crowd and hits him with a DDT. He says his Full Gear match is now an unsanctioned match. That means no count-outs, no disqualification, no rules and officially this match will not count. This means even when Moxley defeats Omega, it will be like it never happened. He feels like AEW is trying to treat him like a freak and say to him that he is a different kind of cat. Moxley says it is an insult to him. Moxley tells AEW to shove their win-loss record up their bottom and he will beat Omega regardless.
SoCal Uncensored(Scorpio Sky & Frankie Kazarian) vs Lucha Brothers(Rey Fenix and Pentagon Jr.) – Final, AEW World Tag Team Championship Tournament
The crowd is doing the dueling chants. All four men face off in the ring. Kazarian and Pentagon start with trading strikes. Sky and Fenix also come into the ring and SCU wins that contest. Lucha Bros turns it around pretty quickly. They take down Kazarian and sends Sky out of the ring. Pentagon hits a Meltzer driver and gets two-count. Sky comes back in the ring and starts taking it against Pentagon. Pentagon gets better of him with a sling blade while Fenix runs on the top rope to hit a kick for a near fall.
Kazarian is able to turn the tables with some quick offense. He throws Fenix head over heels for a two count. Pentagon drills Sky with a superkick at ringside while Fenix backdrops Kaz out of the ring. Pentagon and Fenix break Kaz in half with a double team leg drop as we go to a commercial.
Scorpio gets the tag and take it to both Lucha Bros. He hits a headscissor takedown on Pentagon and a dive over the top rope. Kaz botches a hurricanrana from the top rope to the apron but he seems ok. He and Sky hit a couple of DDTs for a two count. Fenix hits Sky with a cutter for his own near fall. Sky and Fenix take each other out while Pentagon powerbombs Kaz through a table at ringside. Sky ends up pinning Pentagon with an inside cradle to win the match.
Winners- SoCal Uncensored(Scorpio Sky & Frankie Kazarian)
Socal Uncensored are the inaugural AEW World tag team champions.