AEW Dynamite Live Results- 30 October 2019: Tournament Final
Welcome to ITN's Live Results and Updates for the AEW Dynamite episode of 30 October 2019.
Date- 30 October 2019
Time- 8 PM EST(31 October 2019 12 AM GMT/5:30 AM IST)
Location- Charleston Coliseum, Charleston, WV, US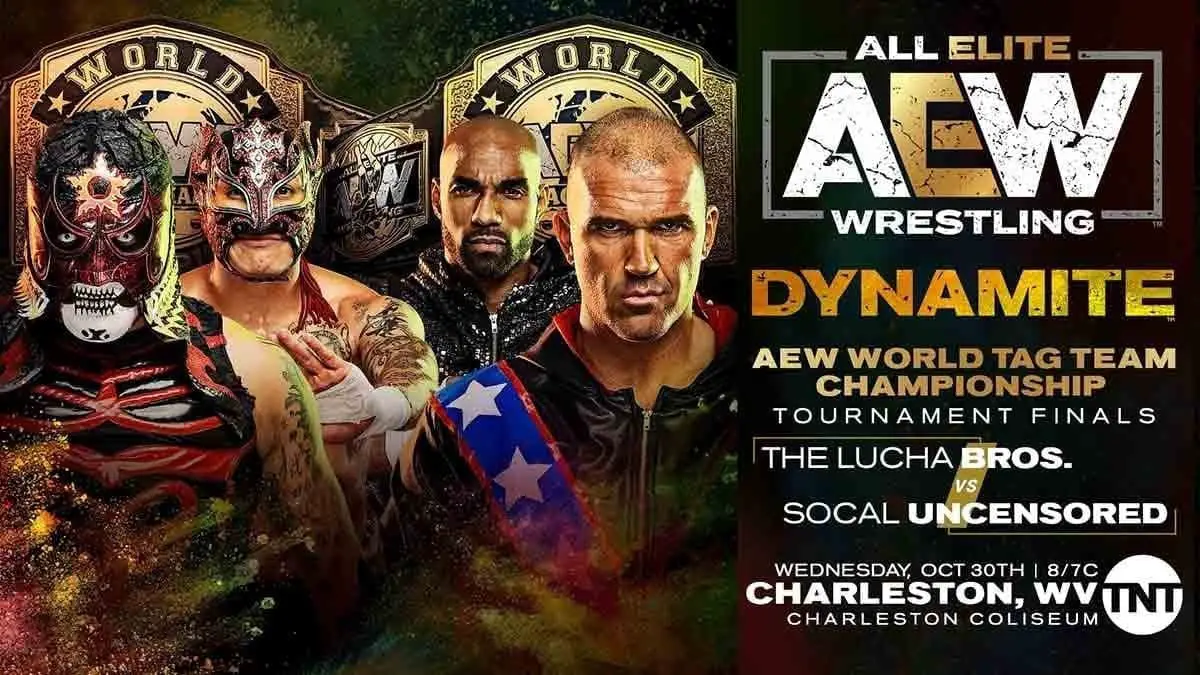 The new AEW Dynamite episode on the eve of Halloween. The Elites will be back in action and they will take on Kip Sabian and Hybrid 2. A contract signing segment will take place between Chris Jericho and Cody Rhodes and Adam Page and Sami Guevara will continue the rivalry between the Elites and the Inner Circle. And the big event final of the AEW World Tag Team Championship Tournament and the title presentation from the Rock N' Roll Express. The show promises a lot and there will be a lot of Rick and Morty(s) present in the arena.
Tony Schiavone is near a chartered plane reminding us of the contract signing later tonight. Cody and Dustin Rhodes come out of it. They hug and Dustin leaves for somewhere. Cody and Tony get into a limousine. We get the replay of last week's PAC vs Jon Moxley match going to the time-limit and what follows. Apparently, Tony Khan has made it an unsanctioned match and the match will not be considered for the win-loss record. Moxley is pissed over this and gets off on Tony Khan. We cut to the Intro video.
Adam Page vs Sammy Guevara
Lock up and Page pushes Sammy to the ropes and they have to break. Sammy dodges a punch but Page was able to hit some chops and takes Sammy down with a suplex. Sammy hits a dropkick after some dodges. Page is looking pissed as Sammy hits a few chops. He counters the whip at decks Guevara. A powerslam and a lariat send Guevara outside. As Page was bringing him back in the ring, Guevara sweeps his leg and sends him to the barricade. Back in the ring, Guevara hits a Samoan drop and goes to the top.
As Page gets up, Guevara simply jumps off and rocks him with a punch. Page hits a few punches, Guevara hits a kick and Page hits a discus lariat after Guevara dodges his initial move. They end up on the apron. Guevara counters the Dead Eye and hits the Gama-guiri but Hangman slams him down on the apron. Another dead eye is countered but Page gets two-count anyway. Page hits a moonsault on the outside and throws Sammy back in the ring. They trade kicks and knee strikes and Page gets to hit the buckshot lariat to get the win. Post-match, Page cuts a short promo before heading back.
Winner- Adam Page
Shanna vs Hikaru Shida
Lock up transitioned to a waist lock from Shanna. Shida counters it to her waist lock. More counters and Shanna hits a few arm drags and a neckbreaker. Shida kicks her in the gut but Shanna sends her out of the ring. She was going for the suicide dive but Shida cut her off at the apron. Shida hits a knee strike, jumping off from the chair at the ringside. Back in the ring, Shida scoops Shanna to hit a backbreaker and gets one-count. Another running knee strike in the corner gets her two-count. Shanna punches in her midsection but Shida is keeping control.
Shanna rolls her up when she was going for the brainbuster and gets a two-count for herself. Shida rocks her with an elbow and we got to the break. Shanna has hit an enziguiri to take control during the break. Back from the break, Shida was in the tree of woe and Shanna hits the double leg stomp to get the nearfall. Shanna goes for the double underhook piledriver but Shida manages to hit Sunset flip. Both women were down for a bit and Shida hits a superplex to get another two-count. Shida hits a running knee and falcon arrow but once again only gets a nearfall. She hits the running knee and finally gets the pin.
Winner- Hikaru Shida