AEW Dynamite January 18, 2023 Live Results- Bryan vs Bandido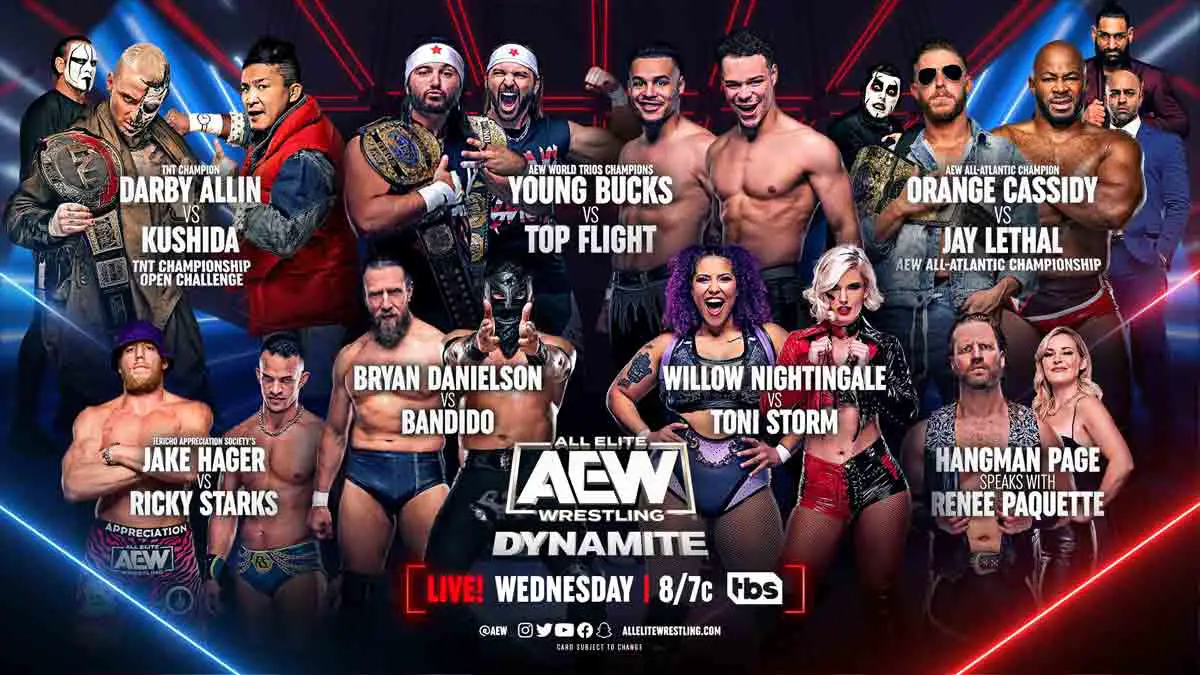 Welcome to the Live Results blog for AEW Dynamite January 18, 2023 episode which will air from Save Mart Arena in Frenso, CA.
Bryan Danielson will continue to make his way towards the #1 contender status as he faced Bandido in a singles match. Ricky Starks will face Jake Hager in a singles match as his rivalry with the Jericho Appreciation Society continues.
Willow Nightingale will face Toni Storm just fresh out of a big tag team street fight last week on Rampage. The Young Bucks will return to tag team action as they take on Top Flight. "Hangman" Adam Page will sit down with Renee Paquette for an interview a week after beating his husband Jon Moxley.
Two title matches are also announced. Darby Allin defends TNT Championship against Kushida while Orange Cassidy defends All Atlantic Championship against Jay Lethal. Expect to know about what is next for Kenny Omega as well.
Check below as we post results and live updates from AEW Dynamite January 18, 2023 episode with winners and highlights.
RESULTS
Orange Cassidy(c) defeated Jay Lethal in a singles match via pinfall to retain AEW All-Atlantic Championship.
Top Flight(Darius Martin & Dante Martin) defeated The Young Bucks(Matt Jackson & Nick Jackson) in a tag team match via pinfall.
Ricky Starks defeated Jake Hager in a singles match via pinfall.
Bryan Danielson defeated Bandido in a singles match via pinfall.
Toni Storm defeated Willow Nightingale in a singles match via pinfall.
Darby Allin(c) defeated Kushida in a singles match via pinfall to retain AEW TNT Championship.
LIVE UPDATES
Orange Cassidy(c) vs Jay Lethal – AEW All-Atlantic Championship
All Atlantic Championship match is opening the show. The commentary team tells us that Tony Khan has put out a decree that if any of Jeff Jarrett, Sonjay Dutt or Satnam Singh intefere in this match, Sonjay Dutt will be suspended. They come through the crowd anyway and take their seats in the front row.
The bell rings and Cassidy ducks a lariat before Lethal picks his leg. More running around before Lethal gets a two-count with a backslide. Lethal hits a big punch to knock OC off the apron. Danhausen comes to Jarrett and company to check their tickets and sends them away. Best Friends come to the first row with their drinks and popcorn. OC hits a suicide dive on Lethal as he gets distracted by all this.
Lethal drops Cassidy to take control of the match. Danhausen comes to ringside now. Lethal throws OC to the floor and drives his spine into the apron before throwing him into the ring post. Back to the ring, Lethal hits a snap suplex for a two-count. Lethal hits a body slam after keeping OC down on the mat for a while with a chinlock. OC changes his position as Lethal goes to the top. Lethal comes to the other corner for the elbow drop but OC changes his position again.
OC gets hits legs up to counter before building momentum to hit a DDT. Lethal misses Lethal Injection. He manages to duck OC's Orange Punch and drops him in the middle. Lethal hits Lethal Injection but OC rolls out of the ring. Best Friends have thrown popcorn on Sonjay Dutt. The referee goes to warn Sonjay for causing a commotion. Jarrett comes to ringside but Danhausen steals his guitar. Lethal chases him down and runs into OC who brings him down with a wheelbarrow. OC hits Orange Punch to get the pinfall.
Winner- Orange Cassidy
After the match, Sonjay Dutt is trying to stop Satnam and Jarrett from attacking Best Friends and Cassidy. Cassidy mocks Sonjay with his lazy kicks. Lethal has to hold back Sonjay Dutt after this.
The Young Bucks(Matt Jackson & Nick Jackson) vs Top Flight(Darius Martin & Dante Martin)
Nick starts with an arm wringer. Dante reverses it. Nick puts on a chinlock but Dante comes out of it and they collide with each other with dropkicks. Matt tags in and Dante and Darius bring him down with a trip and a kick combo. Bucks trip Dante to send him into their corner. They hits some quick double team combos on both opponents to keep control and take us to a break.
Dante fights back with a big boot but Nick pulls Darius off the apron to stop the tag. The Young Bucks hit corner clothesline and gamengiri combo. More double team work from The Bucks before Dante brings them down with a double armdrag. Darius gets the tag and hits 5 punches in a row before a clothesline on Matt. He hits Spanish fly on Matt before a suicide dive on Nick on the floor.
Darius hits a crossbody for a two-count. Darius hits more punches before Nick tags in and hits a superkick. Dante tags in and they run around. The Bucks go for spiked piledriver on Dante but Darius saves him. Top Flight send Nick to the floor and hit a powerbomb/nose dive combo on Matt. Nick saves the match by breaking the pin.
Nick tags in and sends Dante to the floor before hitting a facebuster on Darius. He hits a Canadian Destroyer on Darius but he kicks out of the pin. The Young Bucks give their tribute to The Briscoes by hitting the Doomsday Device on Darius. Dante breaks the pin now. Darius goes for a suicide dive but The Young Bucks hit him with double superkicks. Darius ducks BTE Trigger which leads to Nick and Matt's legs hitting each other. Darius rolls up Matt for a pin.
Winners – Top Flight
The Acclaimed were supposed to come out but it is the Gunn Club who come out. The crowd is booing them heavily. The Gunns say The Acclaimed humiliated them last week, but we are forgetting that they made Acclaimed popular, made them champions, and even give them their dad. The Acclaimed come out but the Gunns ask to cut their music.
Max Caster gets his music restarted and starts to rap. Caster says The Gunn Club only has a job here because of their dad and that they are the worst kids since Hunter Biden. The Gunns and the Acclaimed start to brawl but Billy Gunn separate them.
---
Adam Page is backstage with Renee Paquette. Page says he has his word back as he was able to beat Jon Moxley last week. Renee reveals that Moxley said that Page brings out the best and worst in him. Page says he is ready to go again whenever Moxley wants. Page also says there have been some conversations that he has avoided until now and would like to address them.
Jake Hager vs Ricky Starks
Hager takes Starks to the corner and hits punches to midsection. Hager drops Ricky with a big tackle. Starks hits a big boot and a chop. Ricky goes the old school but Hager picks him up from the ropes. Ricky uses a low bridge to send Hager to the floor. Hager stops him suicide dive and throws him into the ring post. We cut to a break.
Starks is on the second rope, unloading on Hager. Hager picks him in powerbomb position but Starks slops out. Hager is end to the floor where Starks also deals with Angelo Parker and Matt Menard. Ricky hits a clothesline on Hager in the ring. Hager sends him to the corner but Ricky blocks Hager bomb.
Ricky hits a DDT to get a near fall. Menard eats a punch when he comes to the apron. Parker grabs Ricky as Hager charges. Ricky sidesteps and Hager knocks Parker off the apron. Ricky hits Hager with a spear immediately after it to get the pinfall.
Winner – Ricky Starks
Jericho Appreciation Society tries to attack Starks after the match, but he runs away into the crowd.
After the break, Jericho says he and Sammy Guevara will take on Ricky Starks and Action Andretti next week on Dynamite. Daniel Garcia says he wants to his tag partner. Sammy says Garcia can have his spot in the tag team match if he beats Andretti on Rampage this week.
Bryan Danielson vs Bandido
Bryan starts with an arm wringer. Bandido comes out of it with flips. The crowd is behind Bandido. Bryan gets him to the mat with a side headlock. Bryan changes to a leg lock briefly. Bandido brings him down with a drop toe hold and puts him in the Romero special. Bryan breaks it but picking his leg. Bryan also goes for the Romero special but Bandido keeps his arms apart to block it.
Bryan stomps his knees to the mat. Bandido signals double-finger guns at him. Bryan hits a headbutt and a kick before getting a quick two-count. Bryan hits sidekicks to his arms. Bandido hits a stalling hip toss. Bandido puts Bryan in an impressive hold. Bryan breaks free and goes to the floor. Bandido hits Bryan with a suicide dive. We cut to a break.
Bandido rolls up Bryan for a two-count before dropping him with a slam. They get and start to trade chest slaps and chops. Bryan takes Bandido to the corner and hits sidekicks. Bandido hits a thrust kick and tornillo. He ducks a clothesline and hits a roundhouse kick. Bandido hits a leaning tower delayed vertical suplex for a two-count. Bryan gets his knees up and Bandido goes for a frog splash.
Bryan puts on the crossface. Bandido tries to drag to the ropes but Bryan picks his hands and work on them. Bandido gets his legs to the bottom rope to break it. Bryan hits "Yes Kicks" to the chest. Bandido picks him up to hit GTS. Bryan lands on his feet when he hits 24 plex. Bryan rolls him up with Mahi stroll for a two-count. Bandido counters with a Mahi stroll of his own for a near fall.
Bandido unloads with combination attack in the corner. Bryan sends him to the floor with a back body drop. Bryan hits a suicide dive and a jumping knee on the floor. Bryan goes to the top and Bandido decks him with a big right. They trade punches on the top. Bandido hits a Spanish fly from the top rope. Bandido hits 24 plex but Bryan kicks out of the pin.
They trade slaps before Bryan hits a roundhouse kick. Bandido hits back with a thrust kick. Bryan puts him in an arm triangle but Bandido powers up to pick him up. Bryan breaks free and hits Busaika knee to get the pinfall.
Winner – Bryan Danielson
MJF appears on the big screen and says the fans are not appreciating him and seems to have forgotten how he became AEW World Champion. MJF says Bryan has just faced nice Max, but as he will go down this path, he will get worse.
---
We get a pre-recorded segment from Saraya, Toni Storm and Hikaru Shida. Storm intervenes when Saraya calls Shida stupid to throw a kendo stick in the ring last week. Storm says Shida did not do this intentionally. She tells Saraya that these AEW homegrown girls do not know what they know. This draws a reaction from Shida. Saraya tells Shida that she should stay back as Storm faces Willow Nightingale.
---
We get to know that Brain Cage will face Bryan Danielson next week. MJF goes to interrupt Brian Cage and says he wants to see what kind of Machine Cage is. MJF slaps him with an envelope of cash. Cage gets in his face but Prince Nana stops Cage from attacking since they wanted the cash.
Willow Nightingale vs Toni Storm
They start with side headlock takedowns. Storm gets a two-count with a backslide. Back and forth action between them before Toni manages to knock Willow off the apron with a hip attack. Toni sends Willow into the barricade. Hikaru Shida comes out with her kendo stick. Saraya tells her to just stay by her side and not do anything else. We cut to a break.
Willow hits a splash in the corner followed by a hip attack. Another corner splash before Willow hits a big spinebuster for a near fall. Willow hits a missile dropkick. She misses a cannonball in the corner before Tony hits a hip attack for a two-count. Willow tackles her after a misdirect. Willow hits a cannonball for another near fall. Saraya gets on the apron and Toni rolls up Willow and hangs onto the tights to get the pinfall.
Winner – Toni Storm
Saraya attacks Willow after the match. Storm also joins her. Ruby Soho runs out to make the save. Shida is clueless about what is going on.
Darby Allin(c) vs Kushida – AEW TNT Championship
They start with standing switches. Darby avoids some sidekicks from Kushida from the mat. Kushida puts on a headlock. Darby counters it with a headlock of his own. Kushida gets up on his feet and spme quick back and forth action follows. Kushida puts on juji-gatame and Darby gets to the ropes. He hits a hip toss and a dropkick to send Darby to the floor.
Kushida drives Darby into the barricade. Back to the ring, Kushida works on the arm with different locks. Darby comes back with some shots. Kushida hits a kick and Darby rolls him up for a two-count. Kushida rolls to the floor. Darby hits a senton on DKC and Knight on the floor who are with Kushida. Kushida drives Darby's shoulder on the exposed floor. We cut to a break.
Kushida is still working on the shoulder as we return. Darby drops him in the middle of the rope. Kushida hits a handspring tackle to send Darby to the floor. He hits a knee drop to Darby's shoulder. Darby hits a stunner on the apron. Darby sets up Kushida on a chair after battering him with forearm shots.
Darby goes for a shotgun dropkick off the top rope but Kushida counters it by putting him in an juji-gatame. Kushida gets back to the ring. Darby also breaks the countdown. Kushida picks his arm once again on the top rope. Darby brings Kushida off the top. Kushida recovers first and goes for the hoverboard lock. Darby is trying to block it by keeping his hands clasped.
DKC and Knight are getting engaged with Sting on the floor. Darby breaks the lock with a rollover and uses the inverted sharpshooter leg lock position to get the pinfall.
Winner – Darby Allin
Kushida and Darby shake hands after the match. Kushida is asking for another match and they pinky swear it. The commentary closes the show by remembering Jay Brisscoe.