AEW Dynamite 14 April 2021 Results, Updates & Highlights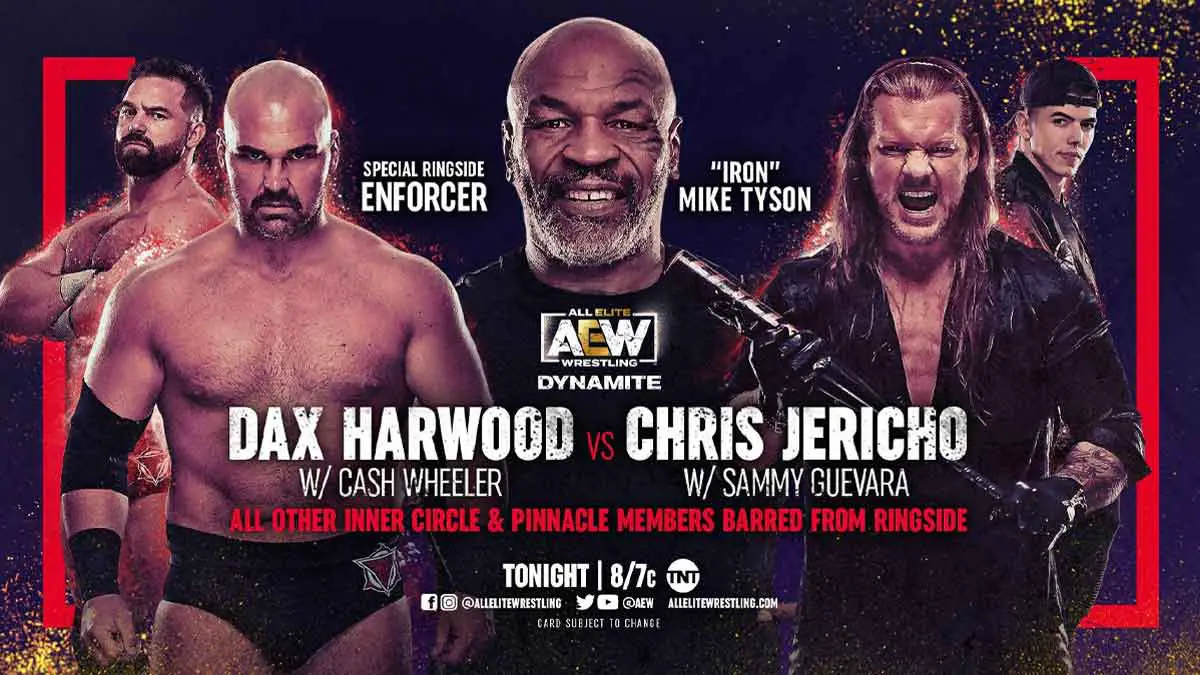 The first AEW Dynamite episode of the post-Wednesday night war will air tonight on 14 April 2021, for which AEW is advertising a packed card. You can check the complete line-up here.
AEW Dynamite 14 April 2021 Results
The Young Bucks(Matt Jackson & Nick Jackson)(c) defeated Death Triangle(PAC & Rey Fenix) to retain AEW World Tag Team Championship match
Jade Cargill defeated Red Velvet
Anthony Ogogo defeated Cole Karter
Chris Jericho defeated Dax Harwood with Mike Tyson as the Special Enforcer
Kris Statlander defeated Amber Nova
Darby Allin defeated Matt Hardy in a Falls Count Anywhere Match to retain AEW TNT Championship
The Young Bucks(Matt & Nick Jackson)(c) vs Rey Fenix & PAC – AEW World Tag Team Championship
The Young Bucks are in new white gears. Don Callis comes out with them and heads to the commentary. Back and forth action to start the match. Matt put PAC down and goes to the face corner to tag but realizes he is in the wrong corner. Nick comes in to hit a kick on Fenix and then a few clotheslines.
PAC & Fenix get the control back and ends up taking down the brothers on the floor. They keep Matt in their corner with double-team moves. Nick comes in for a facebuster on Fenix. PAC runs it with dropkicks on both brothers. Nick pulls out PAC and Matt hits with a kick. Fenix also gets beat up before Young Bucks hits the stereo powerbombs on the apron.
Young Bucks keep control over PAC. PAC fights back but couldn't tag since Fenix is yanked from the apron. PAC nails Matt with a big lariat as Matt wasted time with celebration. Fenix gets the hot tag and ran over Nick. PAC joins him for more attack. The chaos continues for a while.
PAC hits black arrow on Matt, and Nick had to break the pin. Fenix gets superkicked midair. Nick removes his mask and throws it away. Double superkicks to Fenix and he gets pinned.
Winner – The Young Bucks
Backstage, Adam Page(with Dark Order) is asked about Kenny Omega and Good Brothers by Alex Marvez. Page avoids that question and talks about John Silver's injury. Silver is going through some exercises for rehab.
Inner Circle and Mike Tyson are with Marvez now. Chris Jericho says he realized how he may have wronged many after he was attacked by the Pinnacle. He then called Tyson and made amends. Jericho then asks Tyson to be fair in his role as the special enforcer later tonight.
Jade Cargill vs Red Velvet
Velvet starts with some punches before Cargill hits a running knee to her face. Velvet ducks to send Cargill to the floor. Velvet hits a suicide dive to send Cargill into the barricade. Cargill throws Velvet into the barricade before hitting her with a fallaway slam into a group of people in the audience. Back into the ring, Cargill hits a delayed vertical suplex. Velvet recover to hit a spinning kick. Velvet hits back-bo-back clotheslines followed by a facebuster and a moonsault. Velvet goes to the top but misses the moonsault. Cargill hits the Jaded for the pin.
Winner- Jade Cargill
Anthony Ogogo (with Nightmare Factory) vs Cole Karter
Ogogo pushes his opponent to the corner and referee calls to break. Karter goes for the waistlock but Ogogo switches it and throws down Karter to the mat. Ogogo with a knockout punch in the midsection and Karter is down. The referee calls for the bell.
Winner – Anthony Ogogo
Miro gets a pre-recorded promo addressing Kip Sabian. Miro says he has been trying to contact Kip since their match at Archade Anarchy match but is not getting any response. He tells Kip that he does not like wasting time, and will move forward with or without him to fulfill his destiny of becoming the AEW Champion. He warns Kip to totally disappear before he finds him.
Chris Jericho vs Dax Harwood – Mike Tyson As Special Enforcer
Mike Tyson is out first. Jericho comes out with Sammy Guevara. Dax Harwood comes out with Cash Wheeler and Tully Blanchard. The referee Audrey boots Tully from the ringside since only one member is allowed at ringside from each side.
Jericho and Harwood start landing blows. Jericho sends Harwood to the floor with big strikes. Jericho grabs a chair but Tyson takes it away. Harwood decks Jericho and grabs Jericho's bat. But Tyson takes the away. Harwood is sent into barricade by Jericho. Back to the ring, Jericho with some chops and punches. Harwood goes to the floor to get himself checked to the doctor. He smacks Jericho with a mic.
Harwood throws Jericho around for a bit. Back in the ring, Jericho gets the control back. Jericho with move after move on Harwood. Wheeler almost had to break the pin. Harwood hits a powerbomb. Jericho turns it around and locks in the Liontamer. Wheeler decks him to break the lock. Tyson goes to take down Wheeler but Sammy gets there first and runs him over.
Jericho looks for the Judas effect but Harwood ducks and hits the brainbuster on him. Jericho replies with the codebreaker. The Pinnacle comes out to attack but the other Inner Circle members were already behind them and neutralize them. Wheeler goes to hit Jericho with the bat but Tyson drops him with a big punch. Jericho hits the Judas effect for the win.
Winner – Chris Jericho
After the match, the whole Inner Circle gets into the ring with Mike Tyson. Jericho announces that Mike Tyson is now an ancillary member of the Inner Circle.
Kris Statlander vs Amber Nova
They start and go to the corner. Nova misses a move from the top. Statlander hits armdrags. Statlander with big strikes to the face and a spinning powerslam. Nova hits some forearms as she gets agitated. Statlander with a drop from military press and few more moves in quick succession before hitting the piledriver to get the win.
Winner – Kris Statlander
Will Christian Join Team Taz?
Backstage, Team Taz is with Dasha to talk about their invite to Christian about joining the team. Ricky Stark gets agitated that they should wait for an answer for so long. Taz asks him to stay back. Brian Cage agrees but Taz tells him to stay back as well.
Christian Cage is with Tony Schiavone in the ring now. They get interrupted by Taz who comes out with Hobbs and Hook. Taz asks him what he has decided. Christian tells him that they can talk in private later but Taz insists on an answer right away. Christian tells his answer is no and takes a shot at Taz. Taz says he never liked Christian anyway and credits Edge for his success.
Hobbs has entered the ring by then and attacks Christian now. Christian with big strikes but Hobbs fires back. Christian tries to get behind Hobbs but Hook distracts him and Hobbs slams him. Hobbs drives him into the barricade. Hobbs then drops Christian into the steel steps.
Darby Allin(c) vs Matt Hardy – Falls Count Anywhere for AEW TNT Championship
Matt Hardy comes out swinging with the chair. Hardy wit all the action to start with in the opening sequences and uses that chair to good effect. Ethan Page and Scorpio Sky were watching from the rafters. Allin comes back with punches now but eats a neck breaker. Hardy goes for the Twist of Fate with the chair around the neck. Allin counters and slams that chair into Hardy.
Butcher throws a garbage can at him while he was laying the chair on Hardy. Matt Hardy Office comes into the match to beat up Allin. Sting and Dark Order come out to neutralize. Ethan Page & Scorpio Sky try to get involve but Lance Archer cuts them off. Archer takes on Private Party now. Sting throws his bat to Allin and goes away. Allin goes for the bat shot but Hardy lures him in a low blow.
Hardy beats up Allin on the stage. Hardy hits the Twist of Fate with the chair on but Allin kicks out of the pin. Hardy hits a leg drop from a ladder for another near fall. Hardy goes for a powerbomb but Allin now hits a low blow kick. Allin grabs Sting's bat and choes Hardy out. Allin sets up Hardy on a table. He climbs on a struce and hits the coffin drop from there to get the pin.
Winner- Darby Allin