Fyter Fest 2019: Adam Hangman Page Wins Fatal 4-Way Match
Adam "Hangman" Page pinned Jimmy Havoc to win the fatal 4-way match against Jungle Boy, Havoc and MJF at Fyter Fest 2019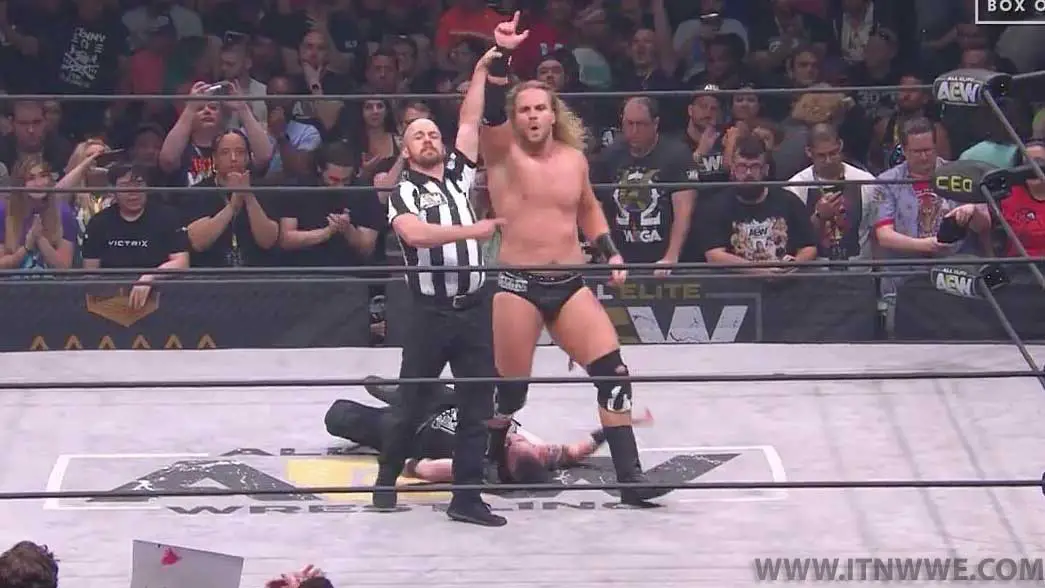 Match Description
Adam Page and Havoc go after each other while MJF batters Jungle Boy. Page and Jungle Boy send their opponents outside and face each other. Hangman Page knocks out Jungle Boy with a Mule Kick. JB comes back with an arm drag and a hurricanrana takes Page out of the ring. Havoc returns to the ring and strikes JB with a dropkick and the falcon arrow but the pin is broken by MJF.
Page scoops MJF for the Alabama slam but he uses ropes to move out. Page hits the Fallaway Slam on Jungle Boy followed by a Plancha on MJF before being taken out by Havoc's suicide dive. MJF sends Jungle Boy out but won't go for the suicide dive. Jungle Boy gets back to hit the dropkick before hitting the moonsault dive on everyone outside the ring.
Jungle Boy and MJF go at it in the corner of the ring. Jungle Boy uses his speed to hit a leverage Powerbomb. Jimmy Havoc hits an Uppercut on Jungle Boy and goes for a Superplex. Page comes in and takes them down in a Tower of Doom where Jungle Boy lands on MJF. Jungle Boy ducks an Acid Rainmaker and hits a Hurricanrana on Havoc.
Page hits him with a Powerbomb but MJF hits him with a move as well. Page takes out Jungle Boy again, but MJF breaks up the pin. Havoc hits the German Suplex on Adam Page. MJF takes down Havoc and goes for the pin, but this time it is Page breaking up the pin. Page and MJF brawl in the middle of the ring. Page spits on MJF, but MJF takes out the left knee of Adam Page. He locks in the Figure Four. But Page breaks out of it and locks in the Sharpshooter. MJF struggles and reaches the ropes.
Jimmy Havoc tosses Jungle Boy on to Luchasaurus who had accompanied Jungle Boy to the ring. He hits the Double Stomps on MJF for a near-fall before going for another Acid Rainmaker. MJF avoids it before Adam Page comes in and sends MJF to the outside with the buckshot lariat. Page hits the Deadeye on Jimmy Havoc to win the match.