List of Current UFC Referee in 2021-2022 & salaries
Check out the list of currently active UFC referees and their salaries per match and yearly contracts.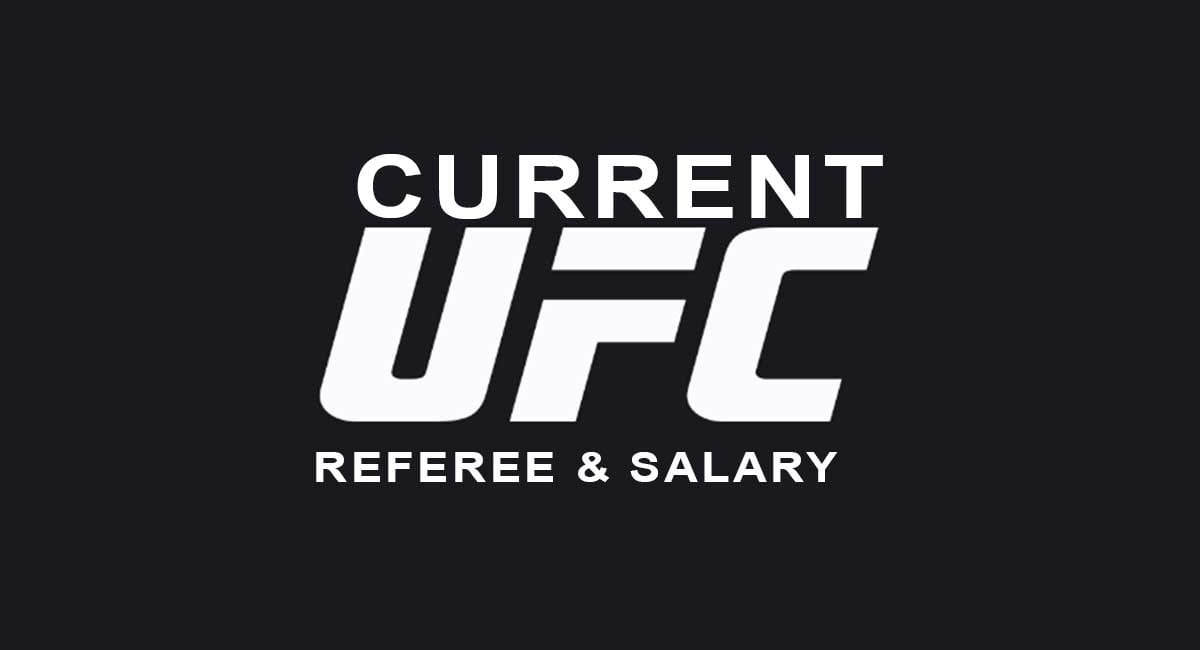 UFC Referees Salary 2021-2022
A referee is an important part of a UFC/MMA bout. UFC does not directly employ referees. Instead, Nevada State Athletic Commission(NSAC) provides the referees to different promotions.
As per the definition from NSAC, a referee takes up a lot of responsibilities during the match. He determines when to start or stop the match, tells both fighters about the rules of the bout, determines fouls- both accidental and intentional, and whether a fighter could continue in the match anymore.
With these many roles and responsibilities, how much does a UFC/MMA referee make per fight? Both per match fees and PPV fees for referees depend on their experience and expertise level. Professional referees generally get from $1000 to $2500 per fight for non-PPV matches while they get anywhere from $5000 to $15000 per fight for Pay Per Views. Entry Level Referees generally do not get called up to UFC. But they get $250 to $500 per match in other promotions. Female Referees get $1000 onwards per fight in non-PPV events and $3500 onwards for PPV events.
| | | | |
| --- | --- | --- | --- |
| | Per Match Fees | Pay-per-view Fees | Yearly Earnings |
| Professional Referee | $700 to $2,500 | $5,000 to $15,000 | $250,000 to $550,000 |
| Entry Level Referees | $250 to $500 | N/A | $15,000 to $30,000 |
| Female Referees | $1000 | $3,500  | $60,000 |
Current UFC Referees(Active)
As noted above, the Athletic Commission picks the referees for UFC. However, there are a few referees who have been regular in UFC in the last few years. Below is the list of approximate salaries for currently active UFC Referees.
*These are estimated numbers. Original figures may vary.
NAME
UFC JOIN DATE
ANNUAL CONTRACT
PER MATCH AMOUNT
SOCIAL MEDIA
Herb Dean
2004/04/02
$550,000
PPV Match: $15,000
Per Match: $1000

Twitter:

@HerbDeanMMA


Instagram:

@herbdeanmma
Jason Herzog 
2009/10/24
$320,000
PPV Match: $7,000
Per Match: $700

Twitter:

@JasonHerzogMMA


Instagram:

@JasonHerzogMMA
Mark Smith
Jan 2015
$270,000
PPV Match: $5,000
Per Match: $700
–
Chris Tognoni
12/4/10
$270,000
PPV Match: $5,000
Per Match: $700
–
Marc Goddard
N/A

$270,000
PPV Match: $5,000
Per Match: $700

Twitter:


@marcgoddard_uk


Instagram:


@marcgoddard_uk


Dan Miragliotta 
2007/11/17
$30,000
PPV Match: N/A
Per Match: $500

Twitter:


@danmira3
Keith Peterson
N/A
$30,000
PPV Match: N/A
Per Match: $500

Twitter:


@KPetersonUFC
Also Check: UFC Roster | UFC Fighters list