List of Current UFC Referees in 2023 & Salaries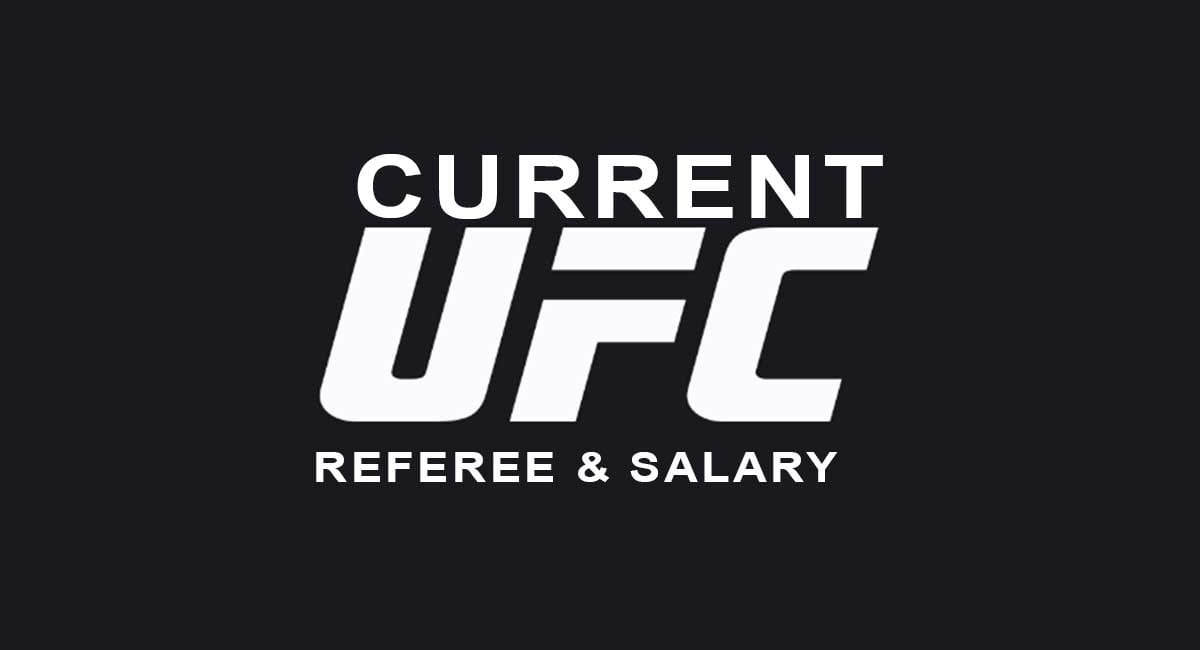 A referee is an important part of a UFC/MMA bout. Promotions like UFC do not directly hire referees. Instead, Nevada State Athletic Commission(NSAC) provides the referees for these promotions.
Promotions generally do not have a say in getting particular referees, but only some highly reputed referees get to officiate in UFC. Check below for the list of currently active UFC referees and their salaries per match and yearly contracts.
UFC Referees Salary 2022-2023
As per the definition from NSAC, a referee takes up a lot of responsibilities during the match. He determines when to start or stop the match, tells both fighters about the rules of the bout, determines fouls- both accidental and intentional, and whether a fighter could continue in the match anymore.
With these many roles and responsibilities, how much does a UFC/MMA referee make per fight? Both match fees and PPV fees for referees depend on their experience and expertise level. Professional referees generally get from $1000 to $2500 per fight while they get anywhere from $5000 to $10000(or even upto $15000) per fight as a bonus in PPV bouts. For example, Marc Goddard got $2500 for his services in UFC 279 PPV main event bout between Nate Diaz and Tony Ferguson. He would have got a PPV bonus also on top of this amount ranging around $10,000.
Entry-level referees generally do not get called up to UFC. But, they get $350 to $650 per match in other promotions. Top female referees get $1000 onwards per fight in non-PPV events and $3500 onwards for PPV events. For entry-level female referees, the pay scale is the same as for male referees.
The yearly earnings of MMA referees depend on the number of fights a referee is officiating. For example, Herb Dean was in charge of around 130 bouts in 2021, while Jason Herzog was part of only around 100 fights in 2021. Therefore, Herb Dean's yearly payout would be far more than that of Jason Herzog even if both men are on the same salary.
| Referee Level | Per Match Fees | Pay-per-view Fees | Yearly Earnings |
| --- | --- | --- | --- |
| Professional Referee | $1000 to $2,500 | $5,000 to $15,000 | $250,000 to $550,000 |
| Entry Level Referees | $350 to $650 | N/A | $15,000 to $30,000 |
| Female Referees | $1000 | $3,500 | $60,000 |
Current UFC Referees(Active)
As noted above, the Athletic Commission picks the referees for UFC. However, there are a few referees who have been regular in UFC in the last few years. Below is the list of approximate salaries for currently active UFC Referees.
*These are estimated numbers. Actual figures may vary.
NAME
UFC JOIN DATE
ANNUAL CONTRACT
PER MATCH AMOUNT
SOCIAL MEDIA
Herb Dean
2004/04/02
$500,000
PPV Bonus: $15,000
Per Match: $2,500

Twitter:

@HerbDeanMMA


Instagram:

@herbdeanmma
Jason Herzog
2009/10/24
$380,000
PPV Bonus: $10,000
Per Match: $2,500

Twitter:

@JasonHerzogMMA


Instagram:

@JasonHerzogMMA
Mark Smith
Jan 2015
$380,000
PPV Bonus: $10,000
Per Match: $2,500
–
Chris Tognoni
12/4/10
$380,000
PPV Bonus: $10,000
Per Match: $2,500
–
Marc Goddard
N/A

$300,000
PPV Bonus: $10,000
Per Match: $2500

Twitter:


@marcgoddard_uk


Instagram:


@marcgoddard_uk


Dan Miragliotta 
2007/11/17
$300,000
PPV Bonus: $10,000
Per Match: $2,500

Twitter:


@danmira3
Jerin Valel
2007/04/22
–
–

Twitter:

@Ninja_Preto


Instagram:

@ninjapreto
Keith Peterson
N/A
$380,000
PPV Bonus: $10,000
Per Match: $2,500

Twitter:


@KPetersonUFC
Kerry Hatley
October 2022
–
–

Twitter:

@HatleyKerry
Jacob Montalvo
November 2022
–
–

Twitter:

@JacobMontalvo5


Instagram:

@jakobmontalvo
Mike Beltran
N/A
–
–

Twitter:

@RefMikeBeltran


Instagram:

@referee_mike_beltran
Vitor Ribeiro
July 2014
$15,000
PPV Bonus: $5,000
Per Match: $1,500
–
Garry Copeland
March 2011
$300,000
PPV Bonus: $10,000
Per Match: $2,500
–
Wayne Spinola
Jan 2020
–
Per Match $650
–
Larry Carter
Jan 2020
–
Per Match $650
–
Also Check: UFC Roster