AEW All Out 2022 Results, Live Updates – Moxley vs Punk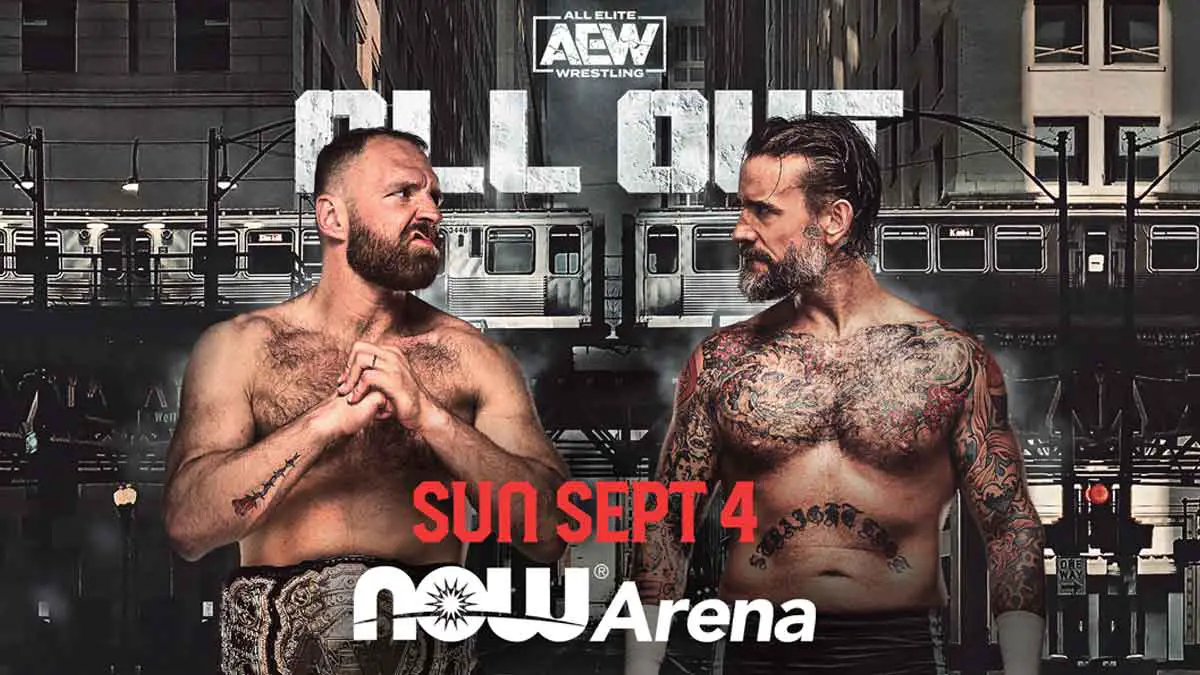 Welcome to the live results blog for AEW All Out 2022 event on September 4, 2022, which will feature Jon Moxley vs CM Punk in the main event for AEW World Championship.
AEW has announced a stacked card of 15 matches, with 4 on the pre-show. All the titles, except TNT Championship, will be on the line in different matches. A casino ladder match will establish a new #1 contender for the winner of the main event. Interim women's champion will be determined in a fatal 4-way match between Toni Storm, Jamie Hayter, Hikaru Shida and Britt Baker.
New Trios Champions will be crowned in the tournament final between The Elites' Kenny Omega & Young Bucks vs Adam Page & Dark Order. Jade Cargill's undefeated streak is under threat as she defends her TBS Women's title against Athena.
Some big singles matches include Chris Jericho vs Bryan Danielson, Powerhouse Hobbs vs Ricky Starks and Christian Cage vs Jungle Boy. FTR and Wardlow will team up to take on Jay Lethal and Motor City Machine Gun. More big names like Sting, House of Black, and Tomohiro Ishii are also on the line-up which is listed below.
Tune in as bring you results from AEW All Out 2022 PPV with live updates, winners, highlights and vidoes.
Live Updates
Sammy Guevara & Tay Melo(c) vs Ortiz & Ruby Soho – AAA Mixed Tag Team Championship Match
The pre-show opens with RJ City interviewing Sammy Guevara and Tay Melo. They keep smooching when some horn blares. They go to check who is interrupting them. It is Ruby Soho and Ortiz on a mini car. Ruby and Ortiz run over Sammy. They take Sammy and Melo to the ring and the bell rings. Ruby hits a DDT on Sammy. Ortiz hits him with a Death Valley Driver. Sammy counters and with roundhouse kick on Ortiz. Melo kicks Ruby when she was trying to hit poisonrana on Sammy. Melo hits punches on Ruby. Ruby hits a backdrop driver and tags in Ortiz. Ortiz hits back elbows and clothesline. He hits a suplex and holds down Sammy.
Melo trips Ruby on the top rope. Sammy assists Melo to hit a sunset flip. Sammy hits senton atomico on Ortiz. Ruby hits a missile dropkick on Melo. Anna Jay tries to attack Ruby but Ruby sends her into the steel steps. Ortiz and Ruby drops Sammy and Melo at the same time but they both kick out of the pin. Ortiz clotheslines Sammy to the floor. Melo superplexes Ruby on both men. Back to the ring, Ruby hits a knee on Melo. Anna Jay interrupts again and Melo drops Ruby with a buckle bomb. Melo hits Tay-KO to get the pin.
Winner – Sammy Guevara & Tay Melo
Hook(c) vs Angelo Parker -FTW Championship Match
Parker works on Hook against the ropes. Hook counters with a trip. Parker tries to get out of front chancery but Hook hangs on and takes him down. Matt Menard runs an interference and Parker tackles Hook. Parker hits a suplex to get a two-count. Hook hits body shots. Parker hits a punch and a knee to the face. He hits a single leg dropkick next. Parker talks trash now. Hook hits him with a headbutt. Hook stomps on Menard's hand when he tries to interfere again. Hook drops Parker with judo throws and exploder suplex. Parker hits a big boot. Hook hits punches to midsection. He hits another exploder. Hook counters a brainbuster and puts on ReDrum to get an immediate tap out.
Winner – Hook
Matt Menard drops Hook with a clothesline just after the bell. Menard and Parker beat down Hook. Bronson comes into the ring to make the save.
PAC(c) vs Kip Sabian – AEW All Atlantic Championship Match
PAC pushes Sabian to the ropes. A snapmare from PAC before Sabian hits a big boot. Sabian stomps in the corner before hitting a cannonball. Sabian plays with the crowd for a while. PAC catches him with a kick and hits a body slam. PAC goes to the top. Sabian nails him with sidekick. Sabian hits a punches to midsection. PAC sends him back down. Sabian hits an enzuigiri on the apron. PAC goes to protect his head and Sabian decides against a move.
Sabian low bridges PAC to the floor and hits a moonsault. PAC comes back with a brainbuster on the floor. PAC hits a big boot as they return to the ring. PAC hits a dropkick on the back of the head. PAC continues to kick Sabian around. PAC invites punches from Sabian before unloading with a flurry of shots himself. Sabian catches him with headbutt. PAC hits back with pump kick. Sabian hits an uppercut, a knee and a dragon suplex. PAC hits a snap German suplex. Both men are down now.
PAC goes to the top but Sabian rolls to the other side before he could make a move. Sabian hits a DDT and slingshot brainbuster to get a close two-count. Sabian hits a crossleg to get another two-count. PAC rips on Sabian's ear and drops him on his knees. PAC kicks at his face while Sabian is down on the mat. PAC hits Black Arrow to get the pin.
Winner – PAC
PAC is interviewed on the ramp. Before he could say much, PAC is interuptted by Orange Cassidy. PAC says they feuded earlier and we know how that ended. PAC says Cassidy is not a wrestler and leaves. Sabian is talking angrily with his box.
Eddie Kingston vs Tomohiro Ishii
They lock up and push each other. Ishii hits a chop. Eddie removes his vest and starts hitting chops of his own. They continue to trade chops for a while(more than a minute or so). Eddie slows down first. He takes a breather before they once again start to trade chops. Eddie hulks up and drops Ishii with double ax chop. Ishii gets up and hits punches. They trade chops once again. Ishii puts Eddie in the corner to hit several shots. Ishii hits a double ax handle. Eddie hits more chops before Ishii drops him with a knockout punch.
Ishii hits more punches before Eddie goes for a waistlock. Ishii hits him with a suplex to get a two-count. Eddie hits a DDT and low clothesline to get a two-count. Eddie toys with Ishii with some kicks. Ishii starts to no-sell chops now. Ishii drops him with a tackle. Ishii hits a backdrop driver to get a two-count. Ishii hits a kick to the back. They start to trade slaps as Eddie gets pissed off. Eddie botches a move as his shoulder gives out. Eddie hits an exploder but Ishii gets up quickly to hit a backdrop.
They collide in the middle with clotheslines. Ishii blocks spinning back fist and hits an enzuigiri and a lariat to get another two-count. Ishii hits a low clothesline to get another two-count. Eddie hits spinning backfist but Ishii kicks out. They trade slaps now. Eddie hits a Northern Light bomb to get the pin.
Winner – Eddie Kingston
---
The main show kicks off after the commentary team goes through the main card.
Wheeler Yuta vs Claudio Castagnoli vs Rush vs Andrade El Idolo vs Rey Fenix vs Penta Oscuro vs Dante Martin vs TBA – Casino Ladder Match for AEW World Title Shot
Yuta and Fenix start with forearms and chops. Fenix hits 619 on Yuta's shin before hitting a big shot at the chest. Rey sets up a ladder on the barricade. Yuta throws Rey onto it and then hits a tope suicida to send Rey into it again. Rush enters the match as Yuta sets up and climbs a ladder. Fenix stops Yuta from pulling down the chip. Yuta throws Fenix to the floor. Rush sends him into the ladder with a suplex. Rush hits Fenix with a headbutt on the apron and then hits a suicide dive. Rush throws Fenix into the barricade a few times.
Andrade enters the match now. Rush sets up the ladder in the middle. They fist bump and set up a ladder bridge. Rush slams Fenix into the ringpost and Andrade bridges another ladder with the barricade. Andrade and Rush climb the ladder now. Yuta trips Fenix but Andrade drops him to a ladder with a sunset flip powerbomb. Claudio Castagnoli comes in now and checks on Yuta first. He tries to climb but comes down to deal with Andrade. Claudio throws Andrade out of the ring from the top of the ladder.
Dante Martin enters the match and a ladder fall on him. He hits kicks on Claudio. Fenix and Claudio are thrown to the floor. Yuta climbs a ladder. Martin also jumps on it and kicks out Yuta. Claudio tries to hit a powerbomb but Dante takes him to the floor with a headscissor. Penta El Zero Miedo comes in and hits a Canadian Destroyer on the ramp. He drops Rush on the floor and hits a superkick on Yuta. He hits a backstabber on Claudio.
Andrade hits chops on him. Fenix cuts off Rush as Penta hits a Canadian Destroyer on AEW on a ladder. Fenix hits Rush with a frog splash through a table. Claudio, Yuta and Dante were on the ladder when a group of masked men walk in to throw them off. One man climb the ladder and brings down the chip.
It turns out to be Stokeley Hathaway and he has Gunn Club, W Morrisey and Ethan Page with him. Joker is now announced to arrive. Another masked man comes out on a Samba music theme and takes the chip and announced the winner. The Joker does not reveal himself and return to the back with his mask still on.
Winner – Joker
The Elites(Kenny Omega, Matt Jackson & Nick Jackson) vs Adam Page & Dark Order(John Silver & Alex Reynolds) – World Trios Championship Tournament Final for AEW World Trios Championship
Page and Nick start the match. Page hits a shoulder block. They duck each other to avoid their moves. Page and Nick shake hands now. Reynolds and Matt tag in. Reynolds takes down Matt in a side headlock. Matt hits a slap. Reynolds with a takedown and unloads on Matt. Silver takes a blind tag and kicks at Matt from behind. Silver and Reynolds stomp on Matt. Page stops them and tags in. Matt is not happy with Page. He tags in Kenny Omega. Omega and Page face off in the middle of the ring. They lock up but disengage immediately. Omega takes Page to opposite corner. Silver takes a blind tag and hits a punch on Omega's ribs. Silver and Reynolds double team on Omega with a leg sweep and double dropkick.
Page tags in again. Omega hits him with a chop. Page answers back with a chop. He hits a big boot and a fallaway slam. Matt mocks Page and gets knocked off the apron. Nick takes a blind tag and hits a superkick on Page. Matt knocks off Dark Order and hit them with a dive. Matt hits an elbow drop on Page to get a two-count. Matt hits an elbow to his head and Nick hits him with a senton. The Elites keep Page under pressure with quick tags and combination attack. Page avoids a move from Omega, knocks off The Bucks from the apron and hits a Death Valley Driver on Omega.
Silver tags in agianst Matt and hits quick moves. Silver drops Matt on the apron and goes on a rampage to attack everyone on the floor. Nick cuts him off with a kick. Silver counters and Reynolds helps him to take down Nick. Omega breaks a pin when Silver hits winductor on Matt. Omega tags in and hits dragon suplexes on all three opponents. The Elites corner Silver, but he explodes out of the corner to start a series of moves on Omega by Dark Order and Page. Omega kicks out of the pin despite taking so much of punishment. The Bucks save Omega and nail Page and Reynolds with superkick party. Omega hits V-trigger on Silver. Omega hits a suicide dive on all three opponents.
Reynolds is legal man. Reynolds counters to send Omega into gamengiri from the Bucks. Matt Jackson is alone in the ring after Page and Silver hit Omega and Nick with moonsaults. Dark Order and Page hit Matt with their trios finisher but Nick breaks the pin. The Bucks and Dark Order fight and drop each others with superkicks at the same time. Omega and Page have a face-off now. The referee tells them that they are not legal men. They drag their partners to the corner and tag in to start trading shots. Omega hits V-trigger and Tiger Driver 98 to get a near fall. Omega goes to the top now. Page trips him and hits avalanche exploder suplex to get a two-count.
Page hits buckshot lariat on the back of his head. Matt hangs onto his leg and stop him from another buckshot. Nick hits a buckshot lariat and The Elites BTE trigger on Page. Reynolds breaks the pin. More chaos ensues. Silver counters One Winged Angel into an inside cradle for a near fall. Page goes for buckshot lariat on Omega but Omega ducks and Page catches Silver with it. Omega pins Silver as The Bucks keeps Page away from breaking the pin.
Winner – The Elites
Silver is disheartened and so is Page. The Elites get their titles as Page watches them from the floor.
Jade Cargill(c) vs Athena – AEW TBS Women's Championship Match
Jade comes out in a green body paint as SheHulk. Athena hits several kicks to start. She hits Meteora on the shoulder. Athena hits the Eclipse but The Baddies pull him out of the ring. Athena hits a dropkick on Leila Gray. Hogan runs away. Jade drops Athena before hitting a spear, but Athena kicks out. Hogan throws Athena across the ring. Athena blocks the Jaded before hitting a crossbody. Jade avoids another eclipse but Athena drops her on his knees. Athena hits a stunner to get a two-count. Hogan stops Athena again and Athena kicks her away. Jade catches her mid air as she was going for a crossbody. Jade hits jaded to get the pin.
Winner – Jade Cargill
CM Punk is interviewed by Alex Marwez as he was entering the arena for the match. Marwez asks him if he is 100%. Punk says he is not 100% but Jon Moxley is not fighting him alone, but also fighting Ace Steel, Chicago crowd and every AEW fan behind him.
Wardlow & FTR(Cash Wheeler & Dax Harwood) vs Jay Lethal & Motor City Machine Gun(Alex Shelley & Chris Sabin)
Lethal and Wardlow start the match. Lethal ducks a shot and takes down Wardlow with a single leg. Wardlow goes for the powerbomb but gets distracted by MCMG getting into the ring. Sabin tags in and Harwood comes in from the other side. Sabin with some quick manuevers before taking down Harwood. They trade slaps which leads to Shelley and Wheeler also getting into the ring. The referee send them back. Harwood drops Sabin and Shelley with quick moves. Harwood chases Sonjay Dutt when he mocks him.
Sabin hits a cutter with some distracted from Shelley. Shelley tags in. Harwood drops him with backdrop. Wheeler is dropped on Shelley as he comes in. Shelley hit a jawbreaker but Wheeler stops him from a tag. Wardlow tags back in now. Sabin jumps in to work on Wardlow with Sabin. Wardlow hits them with double suplex. Harwood tags in again and puts on a sharpshooter. Lethal comes in and Harwood has to let go to deal with him. Sabin rolls up Harwood for a two-count. MCMG work with quick tags on Harwood.
Lethal tags in and Harwood trades chops with him. Harwood tags in Wheeler. Lethal and Sabin slams Wheeler's leg into the ring post. The referee tries to get things under control and stops all the inteferences. Lethal and MCMG continue to work on Wheeler until he counters and tags in Wardlow. Wardlow drops all three opponents one by one. He hits an F5 on Lethal to get a two-count. MCMG take down FTR from the apron. Wardlow tries to deal with them but Satnam hits him with a knockout punch behind the referee's back. Wardlow kicks out of the pin though.
Lethal and MCMG work on Wardlow with quick moves. Harwood comes in and hits a liger bomb on Sabin. FTR hit big rig on Shelley. Lethal hits Lethal Injection on FTR. Wardlow drops Lethal with a lariat. He starts powerbomb symphony and hits 5 powerbombs to get the pin.
Winner – FTR and Wardlow
After the match, Satnam, Lethal and MCMG try to surround Wardlow and FTR. Samoa Joe comes out and hits Satnam with his ROH TV title. MCMG and Lethal are sent packing. Sonjay Dutt is surrounded in the ring now. Harwood's daughter Finlay is brought in to pin Sonjay Dutt.
Ricky Starks vs Powerhouse Hobbs
Ricky starts with quick strikes. Hobbs presses him against the ropes. Hobbs kicks at Ricky in the corner before hitting a suplex. Hobbs mocks him by doing his signature pose. Hobbs avoids a charge and sends him into the ring post and to the floor. Hobbs throws Ricky into the barricade. Starks avoids a slam but Hobbs hits him with a big boot immediately. Hobbs puts on a chinlock now. He works on it for a while. Hobbs misses in the corner and Ricky swings at him wildly. Ricky hits a jumping back elbow and a tornado DDT. Hobbs avoids a spear and hits a spinebuster to get the pin.
Winner – Powerhouse Hobbs
Swerve in Our Glory(Keith Lee & Shane Strickland)(c) vs The Acclaimed(Max Caster & Anthony Bowens)- AEW World Tag Team Championship Match
Bowens starts with waistlock takedown on Swerve. Swerve counters by working his leg. Swerve runs the ropes and goes for single leg again. Bowens gets a two-count with a roll-up. Headscissors from Swerve before he tags in Lee. Bowens slips to his corner to tag in Caster. Lee and Caster stare down for a while. Lee tries to throw him but Caster lands on his feet. Caster runs the ropes and Lee expertly avoids his charge multiple times. Caster hits a dropkick and then hits a hurricanrana. Lee eats another dropkick. Swerve comes in and eats a dropkick from Bowens. A double dropkick sends Lee to the floor. Acclaimed pose in the ring to get the crowd going.
Lee returns to the ring and unloads with punches on Caster. He hits a low crossbody on the backside. Swerve tags in and works on Caster for a while. Lee puts Caster on the top rope. Caster fights him with back elbow and then hits a crossbody. Bowens and Swerve tag in. Bowens hits a neckbreaker after some punches. He goes with momentum with elbow strikes and a brainbuster. Swerve ducks a jump and Bowens has injured his knee. Bowens goes to the floor to recover. Swerve hits him with a basement slide and kicks at his knee. He works on the knee after returning to the ring. Lee comes in and continues attacking the knee with kicks and a splash.
Lee hits a corner splash now. Bowens counters with a DDT and tags in Caster. Caster hits quick moves in momentum. Lee ends up tackling Swerve and Bowens hits Lee with a knee strike. Caster covers him but Lee kicks out. Lee throws Caster out of the ring after Bowens tags in. Lee tackles Bowens to the mat now. Bowens and Caster work on Lee on the top and hit him with superplex. Swerve has taken a blind tag and hits a double stomp on Bowens for a near fall. Swerve viciously works on Bowens' knee until Caster hits him with a dropkick.
Caster tags in and Swerve hits him with back heel kick to get a near fall. Bowens holds Swerve on the apron as Caster hits Mic Drop on him. Lee comes back in. Caster hits a superkick and Death Valley Driver. Bowens hits an Urinage on Swerve and Caster hits Mic Drop. Lee breaks the pin. Swerve hits Caster with Death Valley Driver on the apron. He hits a backbreaker on Bowens. Lee takes a blind tag. Swerve ends up catching Lee with a roundhouse kick. Bowens drops him to the mat and rolls up Lee for a near fall. Lee and Swerve hits powerbomb/swerve stomp combo to get the pin.
Winner – Swerve in Our Glory
After the match, Lee asks Billy Gunn to scissor him. Gunn goes and scissors him.
Toni Storm vs Hikaru Shida vs Britt Baker vs Jamie Hayter – Fatal 4-way match for Interim AEW Women's Championship
Hayter and Storm brawl while Shida goes after Baker. Baker leaves to the floor and Shida is also thrown out. Toni hits a dropkick on Hayter. Baker pulls out Storm. Shida hits Baker. Shida hits a knee strike on Hayter. All four women trade pin attempts. Shida and Storm puts on locks on Hayter. Baker breaks it with a superkick. Storm hits a dropkick on Shida before Baker hits him with a slingblade. Shida sends Baker to the floor.
Hayter beats up Shida and Storm and then hits a double suplex and double clothesline. She hits chops on Storm on the ropes. Storm sidesteps to send her to the floor and hits a suicide dive. Baker hits Storm with a slingblade. Storm sends Baker into the barricade. Shida and Storm fight in the ring now. Back and forth action between them. Rebel tries to talk with them and they drop her with headbutts. Baker and Hayter attack them from behind. Shida is thrown to the floor. Storm is sent into the corner.
They take Shida to the ramp and Baker hits her with a curbstomp on the stage. Trainers are out to check on Shida. Hayter and Baker work on Storm in the ring. They send her to the corner. Storm hits a big boot on Hayter and drop toe hold on Baker. Hayter and Baker take the control back. They hit Storm with a double suplex. Shida comes back with a couple of kendo sticks and unloads on them. Shida sends Baker to the floor and hits Hayter with a superplex. Baker hits Shida with a superkick. Storm drops Baker with a dropkick. Hayter drops Storm.
All four women trade shots now. Hayter boots Storm. Shida hits a knee on Baker. Shida hits falcon arrow on Hayter. They trade big moves now for pin attempts. Baker hits the curbstomp on Shida but she kicks out of the pin. Baker brings out her glove but Toni throws her to the floor. Hayter hits Shida with powerbomb and stacks Shida, only for Baker to pull out the referee. Storm hits Piledriver on Hayter. Baker throws Storm out and goes for the pin. Hayter kicks out. Storm throws out Baker and hits Storm Zero on Hayter to get the pin.
Winner – Toni Storm
AEW Full Gear is announced for Prudential Center in Newark, NJ, on November 18 & 19.
Christian Cage vs Jungle Boy
Christian makes his entrance. He talks trash to Jungle Boy's mom who slap him. Jungle Boy comes out and waits for Luchasaurus to come out. Luchasaurus comes out from the other tunnel which is for heels. Luchasaurus chokeslams JB from the stage. He brings JB to the ringside and puts him through a table with a chokeslam, right in front of his family. Christian asks Luchasaurus to throw JB into the ring now. Christian asks JB to get up. The referee asks him if he wants to continue. JB says yes. Christian hits a spear but JB kicks out of the pin. Christian hits Kill Switch now and gets the pin.
Winner – Christian Cage
Bryan Danielson vs Chris Jericho
Some mat wrestling to start. They go back and forth. Jericho nails him with a big chop in the corner. Bryan takes Jericho to the corner. Jericho ducks the chop and hits another one of his own. Bryan dusts it off. Bryan puts on an arm wrench. Jericho reverses it. Bryan hits him with a suplex. Bryan transitions to work on the leg now and puts on the Romero special. Bryan puts on an inverted figure four now before transitioning to an armbar. Jericho brings him down with a Russian leg sweep. Bryan puts on the Indian death lock. Jericho reverses it with a pin attempt.
They resort to trading chops. Jericho hits a backbreaker. A backdrop suplex follows. Bryan tries to fight back but a dropkick sends him to the floor. He catches Jericho mid-air with a knee. Bryan hits a knee strike from the apron. Back to the ring, Bryan hits a missile dropkick. Jericho counters and attempts Boston Crab. Bryan avoids it and sends Jericho into the turnbuckle. Bryan goes for a hurricanrana from the top but Jericho counters to put on Liontamer. Bryan struggles for a while but rolls through to break the move.
Bryan sends Jericho to the corner. He hits a tope suicida next. Chops and sidekicks follow. Bryan misses a diving headbutt back in the ring. Bryan counters the Lionsault by getting his knees up. Bryan goes for the labell lock but Jericho catapults him to the ropes. They counter each other before Jericho hits a tombstone piledriver. Jericho hits Lionsault to get a two-count. Jericho hits a punt kick before Bryan counters Judas Effect.
Bryan hits It kicks before several stomps to his face. He puts on the labell lock. Jericho tries to reach the ropes and Bryan rolls him back to the middle of the ring. Jericho tries to reach the ropes again. Bryan rolls him again but Jericho manages to break the lock in the process. Bryan stops him from putting Liontamer. Bryan goes for an arm triangle. Jericho nails him with punches and reaches the ropes. Bryan holds onto the lock and Jericho catapults him to the bottom rope to break it. Bryan hits chops and sidekicks in the corner.
Jericho hits him with Codebreaker to get a two-count. Jericho puts on the Liontamer again now. Jericho puts his knees into Bryan's neck to put more pressure. Bryan reaches the ropes to break it. Jericho hits a German suplex. He nails hammer elbows to Bryan's neck and shoulder. Bryan lands on his feet when Jericho goes for a suplex. Bryan hits Busaiku knee. He puts on the Cattle Mutalation breifly before resorting to elbow shots to neck and elbow. Bryan puts on the Cattle Mutalation again. Jericho puts his legs on the ropes to break it.
Bryan hits sidekicks against the ropes. Jericho drops to his knees and Bryan hits more elbow to neck and shoulder. Jericho hits a low blow behind the referee's back. Jericho hits Judas Effect and gets the pin.
Winner – Chris Jericho
Garcia watches the ending unfold from backstage in disappointemnt.. JAS, except Daniel Garcia, comes out to celebrate with Jericho.
House of Black(Malakai Black, Buddy Mathews & Brody King) vs Miro, Sting & Darby Allin
Miro and Black start with some back and forth action. Black hits kicks and elbows. Miro hits a belly-to-belly on Mathews as he tags in. Miro denies Darby a tag when he asks for it. Miro drops Mathews to the mat again. Mathews nails him with punch, a kick and jawbreaker. Darby takes a blind tag. He counters Mathews with a roll through to get a two-count. Mathews kicks him to midsection. Black stops Code Red with roundhouse kick after getting the tag. Black hits a penalty kick before tagging in King.
King hits big chops before throwing Darby from corenr to corner. Brody sends Darby to the floor with a big chop on the ropes. He throws Darby into the barricade a few times on the floor. Back to the ring, Brody tags in Black who hits kick to spine and puts on a chinlock. Darby counters but Black nails him with a forearm strike. Mathews hits chops after tagging in. He stops Darby's attempt to tag with a knee strike. Mathews drops Sting from the apron. Darby goes through his leg and tags in Miro, but the referee did not see it and sends Miro back.
Mathews knocks off Miro from the apron. Sting gets the tag when Darby slips through. He hits big punches before hitting corner splashes on Brody and Mathews. He avoids Brody to send him into Mathews. Brody is thrown to the floor. He asks Black to come in. Black follows suit and starts to trade strikes with Sting. Sting puts on the Scorpion Death Lock. Mathews tries to break it with a pump kick but Sting holds onto it. Brody also comes in but his kick also does not break the lock. Mathews and Brody both hit kicks to break Sting's lock.
Black puts on a lock now. Miro is kicked on the floor by Mathews. Sting avoids Dante's Inferno. Darby tags in as Sting kicks Mathews and Black off before hitting Brody with Scorpion Death drop. Darby hits Coffin drop on Brody but Mathews breaks the pin. Miro runs into stick shot from Mathews. Darby hits a stunner on Mathews and then hits him with a suicide dive. Black waits for Sting who hits him with the Black mist when he was going for the Black Mass. Darby is the legal man and he uses an innovative cover to get the pin.
Winner – Miro, Sting & Darby Allin
Miro is on the stage after the match and does not join Sting and Darby in celebration.
---
Daniel Garcia is interviewed backstage by Tony Schiavone, who asks him about not joining Chris Jericho's win celebration with JAS. Jericho comes in and asks him why he was not there. Jericho then tells Garcia that he has biggest match of his career vs Wheeler Yuta on Dynamite next week and now, he also had to go alone for that match.
Jon Moxley(c) vs CM Punk – AEW World Championship Match
They tangle again in the corner. Punk hits him with chops. Mox replies with some shots. Punk catches him with a roundhouse kick. A couple of knee strikes from Punk before hammer elbows on the neck. Punk hits GTS but Mox kicks out. Mox goes to the floor for a breather. Punk hits him with a suicide dive. They brawl into the crowd now with Punk hitting most of the shots. They return to the ringside and Punk whips Mox into the steel steps. Mox counters and sends Punk into the barricade.
Mox breaks the referee count and goes back to the floor to nail Punk with elbow shots. Punk's head is split open. He comes into the ring now. Mox nails him with more shots in the corner. Punk hits back and hits a knee in corner. Mox stops the bulldog and grabs his leg to work on it. Mox hits a kick to his stomach. Mox puts on a single leg crab now. Punk rolls over to break the lock. Mox puts his leg on the ropes and hits knee strike. Mox puts on the figure four leg lock. Mox hits a piledriver to get a two-count. Punk drops his arm on the ropes. He hits a big boot before throwing Mox into the turnbuckle
Punk hits stomps to his face and then puts on Anaconda Vice. Mox comes out of it and hits stomps on his face. Punk hits a leg lariat and a body slam. Punk goes to the top now. Mox counters the elbow drop but putting on bulldog choke. Punk gets to his feet to counter it. Punk puts on armbar before Moxley puts on the bulldog choke again. He switches to an ankle lock and Punk breaks it by getting to the ropes. Punk hits a roundhouse kick and Mox immediately replies with a lariat. Mox blocks GTS. Punk blocks paradigm shift.
They trade punches now. Mox breaks the pattern with a calf kick. Punk hits a neckbreaker but Mox blocks GTS and hits Death Rider. Punk kicks out of the pin. Mox hits hammer elbows to his neck. Punk gets him up on his shoulder and hits GTS. Mox drops to the ropes and lands back on top of Punk. Punk hits another GTS to get the pin.
Winner – CM Punk
Punk gets the title. Suddenly, the lights go out. A voice over from Tony Khan plays where he says he is ready to swallow the bitter pill for the sake of fans. Tony says this person he does not need to sign an extension and he will pay "x" amount of money for him to show up at All Out. Tony also says that he will put this person in Casino Ladder match. A clip of CM Punk from ROH play on the big screen saying that the greatest trick Devil played was to convince everyone that he never existed. The winner of Casino Ladder match appear on the big screen now and it is MJF, who says he is the devil himself. MJF comes out to the stage as his music hits. He signals for the belt and shows middle fingers to the crowd. Punk raises his titles as the show closes.