India vs England 2021 live streaming online Free, Telecast Channel
Check the online live streaming (free & paid) and tv telecast details for India vs England series in 2021(test, ODI, and T20I).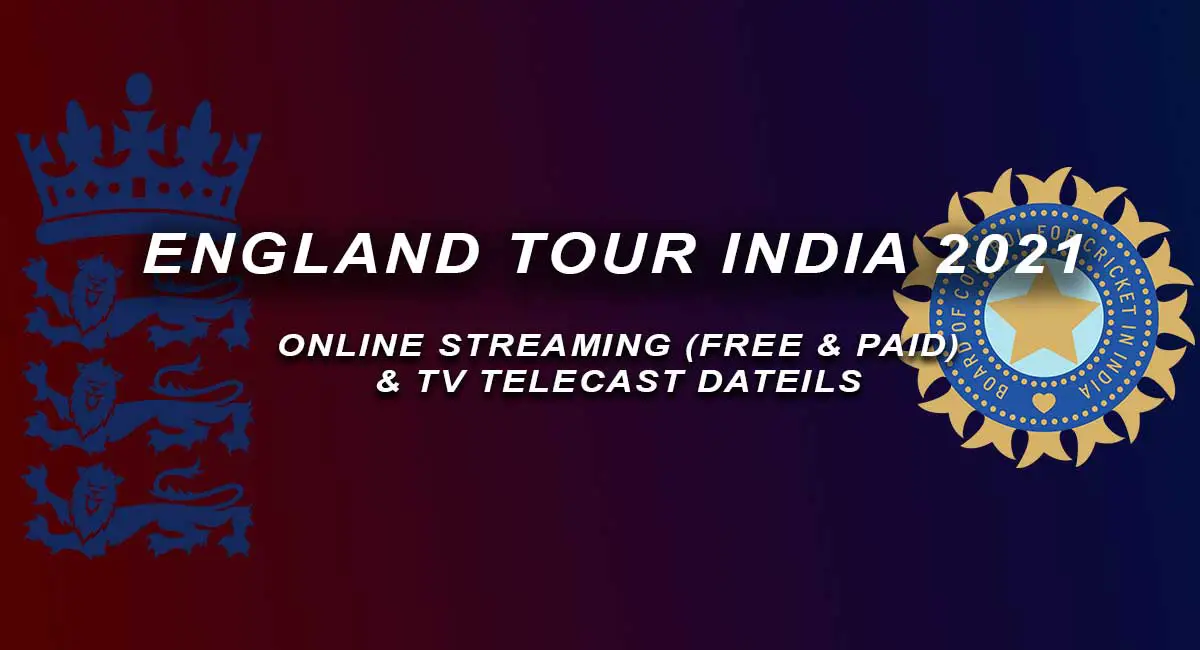 England cricket team is on a complete tour of India which consists of T20I, ODI, Test Series. This will be the first tour of India by an international team during the COVID-19 era. All three series are important due to some reason. The place in the final of the test championship is on the line during the test series with both India & England still in contention. While the T20I series is seen as a preparation series for the T20I world cup which will take place later this year, the ODI series will have the ODI ranking & ICC world league standings on the line.
Here, we will cover all the broadcasting details for India vs England 2021 series for Test matches, Day-Night Test, and where you can watch the series on cable TV as well as online streaming free & paid.
How To Watch India vs England 2021 Live Stream Online in India? (Free & Paid)
Free: JioTV App(Only for Jio Network Customers): Jio TV provides the live stream of 600+ channels in India which also includes Star Network. India vs England Series will air on Star Sports 1, Sports 1 Hindi, and their HD channels. Jio TV will provide all these channels for free in India for its mobile user.
Paid: Disney+ Hotstar App and website is the official broadcaster for BCCI. Hotstar will air the series between India and England in 2021. Hotstar VIP package is available for Rs 399 per year to stream India vs England 2021 series as well as the upcoming IPL 2021.
How To Watch India vs England 2021 Live Telecast in India on Cable TV (TV Channel)?
Paid: All the matches- Test, ODI, T20I- between India & England in 2021 will air on Star Sports Network for BCCI. All the Matches will be available on Star Sports 1 for all English, Hindi, and other Indian languages.
Free: DD Sports will air ODI and T20I matches between India and England on DD DTH service.
India vs England 2021 Live Telecast- Date & Start Time in India
India vs England Test Matches 2021 Live Telecast Timings
England will play a 4 test match series in India, including one Day-Night test match. The dates for all 4 tests are as follows:
1st Test: From 5 February to 9 February
2nd Test: From 13 February to 17 February
3rd Test: From 24 February to 28 February
4th Test: From 4 March to 8 March
Session wise timings are as below:
| | |
| --- | --- |
| Toss | 3:30 AM GMT / 9 AM IST |
| Session 1 | 4-6 AM GMT / 9:30 AM – 11:30 AM IST |
| Session 2 | 6:40-8:40 AM GMT / 12:10 PM – 2:10 PM IST |
| Session 3 | 9-11 AM GMT / 2:30 – 5 PM IST |
India vs England Day-Night Test Match 2021 Live Telecast Timings
The first day-night Test match in India will take place between England and India between 24 February to 28 February. The session timings for the Day-Night test will be as follows:
| | |
| --- | --- |
| Toss | 8:30 AM GMT / 2 PM IST |
| Session 1 | 9-11 AM GMT / 2:30 AM – 4:30 AM IST |
| Session 2 | 11:40-1:40 AM GMT / 5:10 PM – 7:10 PM IST |
| Session 3 | 2-4:30 AM GMT / 7:30 – 10 PM IST |
India vs England 2021 T20I Matches Live Telecast Timings
England will play a 5-match T20I series on their tour of India in 2021. The tour is seen as a preparation ground for the upcoming T20 World Cup 2021. The matches will start at 7 PM EST(1:30 PM GMT). Dates and timing details are for T20I matches are as follows:
T20I match dates are as below:
1st T20: 12 March 2021
2nd T20: 14 March 2021
3rd T20: 16 March 2021
4th T20: 18 March 2021
5th T20: 20 March 2021
| | |
| --- | --- |
| Toss: | 1 PM GMT / 6:30 PM IST |
| Innings 1: | 1:30 – 2:50 PM GMT / 7 PM – 8:20 PM IST |
| Innings 2: | 3:10 – 4:30 PM GMT / 8:40 PM – 10 PM IST |
India vs England 2021 ODI Matches Live Telecast Timings
England will play 3 day-night ODI matches on their tour to India in 2021 which will all start at 1:30 PM IST(8 AM GMT). Dates and timing details for ODI matches are as follows:
1st ODI: 23 March
2nd ODI: 26 March
3rd ODI: 28 March
| | |
| --- | --- |
| Toss: | 7:30 AM GMT / 1 PM IST |
| Innings 1: | 8 – 11:30 AM GMT / 1:30 PM – 5 PM IST |
| Innings 2: | 12 – 3:30 PM GMT / 5:30 PM – 9 PM IST |