WWE WrestleMania 39: Gunther Retains IC Title in a Brutal Triple-Threat Match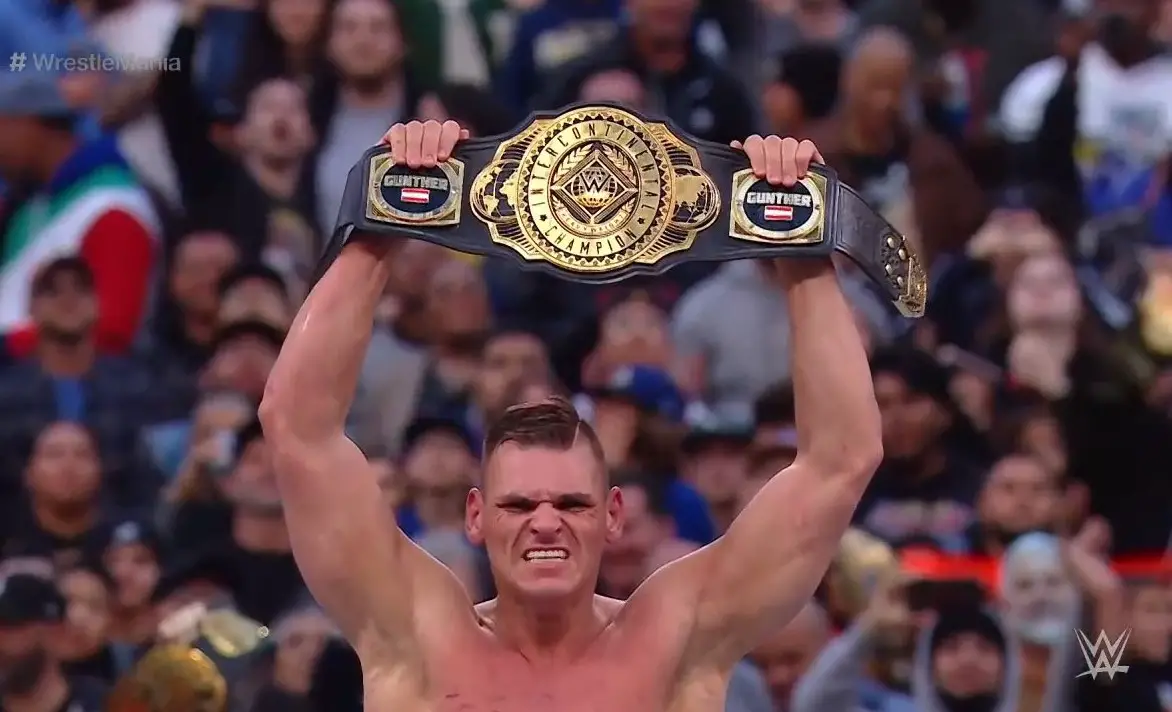 The Ring General Gunther will continue his historic intercontinental championship reign as he defeated Sheamus & Drew McIntyre in a triple-threat match at WWE WrestleMania 39.
Storyline
Drew McIntyre wanted to challenge Gunther for the Intercontinental title at WrestleMania, but his tag team partner Sheamus took this as backstabbing as he already had a rivalry with Gunther over the title. On the other hand, Gunther asked Adam Pearce to bring him a title contender for WrestleMania 39. Pearce booked a fatal-5-way no 1 contender match. However, Drew McIntyre and Sheamus scored a pinfall at the same time to end this match. 
The following week, a match between Sheamus and Drew McIntyre was announced to determine Gunther's WrestleMania opponent. But, this match ended in a no contest after Imperium attacked both participants. As a result, Pearce announced that Gunther would defend the Intercontinental Championship against both Sheamus and Drew McIntyre in a triple-threat match.
Live Update
Drew McIntyre is the first one to make his entrance. He is followed by Sheamus who is accompanied by the Brawling Brutes. The Ring General Gunther is the last one to enter the ring. He is introduced by Ludwig Kaiser & Giovanni Vinci of the Imperium.
Gunther tells Sheamus & Drew to take on each other as soon as the bell rings. McIntyre takes Gunther out before colliding with Sheamus. The latter hit him with an Irish curse break breaker. 
Sheamus tries to hit McIntre with ten beats, but Gunther returns and takes both of them out with chops. He soon drives McIntyre into the ring before he kicks Sheamus followed by several chops and then a boot to the face. 
It infuriates Sheamus and he fights back with several punches, but Gunther stops him with a knee to his spine. Gunther puts him in a submission, but McIntyre breaks it. Now, Gunther and Drew Mcintyre trade several chops before Sheamus stands up and fights back again. 
There is some back-and-forth action as all three of them are hitting each other with punches, chops, and kicks. Both Sheamus and Drew McIntyre hits Gunther with several beats. Now, the Celtic Warrior locks McIntyre's hands as well, and he hits him with 30 beats and receives a standing ovation.
Gunther returns to the ring and hits Sheamus with a big boot. He measures Sheamus and then hits him with a lariat for a near fall. McIntyre shocks Gunther as he attacks from the second rope followed by a neck breaker. McIntyre throws Sheamus on Gunther in the corner and then hits Gunther with a future shock DDT. 
He goes for the claymore, but Gunther counters it and hits McIntyre with a powerbomb for another near fall. Gunther climbs to the second rope, but Sheamus catches him and then hits White Noise from the second rope followed by the Celtic Clutch for a near fall. Sheamus puts Gunther in a cloverleaf submission, but McInture breaks it with a sleeper hold. 
Sheamus takes out McIntyre and then hits Gunther with the brogue kick. However, McIntyre breaks the pin by sliding Sheamus outside the ring. The two brawl outside before McIntyre jumps over the rope to take out Sheamus. They get back inside and McIntyre measures Sheamus for a claymore, but Sheamus hits the brogue kick instead. However, McIntyre kicks out at two. 
After some back-and-forth, McIntyre finally hits Sheamus with a claymore. But, Sheamus kicks out at two as well. Sheamus and McIntyre trade punches and then Sheamus catches McIntyre with another brogue kick. However, Gunther breaks the pin this time. Gunther hits Sheamus with a powerbomb on McIntyre. Then, he hits McIntyre with a powerbomb as well to get the pinfall.