Bobby Lashley vs Drew McIntyre WWE WrestleMania 37 Storyline, Betting Odds & Winner Prediction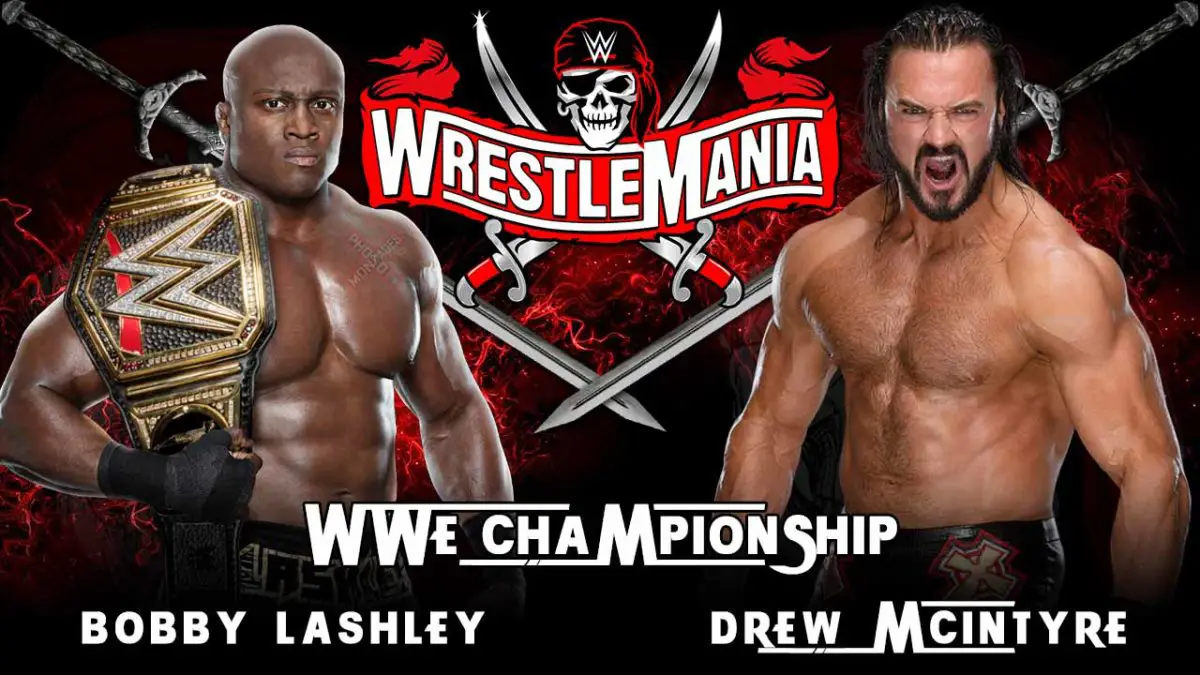 Check out the details for Bobby Lashley vs Drew McIntyre match at WrestleMania 37 for WWE Championship- storyline, date, betting odds and winner prediction.
Tale of the Tape
| Attribute | Bobby Lashley | Drew McIntyre |
| --- | --- | --- |
| Role | Champion | Challenger |
| Country | United States | Scotland |
| Age | 44 | 35 |
| Weight | 124 Kg | 120 Kg |
| Height | 6 feet  3 inches | 6 feet 5 inches |
| WWE World Titles | 2(ECW Championship, WWE Championship) | 3(NXT Championship, WWE Championship) |
On which night is Bobby Lashley vs Drew McIntyre WWE Championship match at WrestleMania 37 taking place? The answer is Night 1 on 10th April 2021.
Storyline
Elimination Chamber 2021: 21 February 2021– Bobby Lashley lost the United States Championship to Matt Riddle in a triple threat match at Elimination Chamber PPV after Riddle pinned John Morrison. Later in the show, MVP, from Lashley's Hurt Business stable, was seen discussing something with the Miz who was the Money in the Bank briefcase holder.
On the same night, Drew McIntyre was able to retain WWE Championship in the Elimination Chamber match. Lashley attacked McIntyre after that match and beat him up at the ringside before making him sleep with the Hurt Lock. Miz came out and cashed in his MITB briefcase on McIntyre and pinned him to win the WWE Championship.
RAW: 22 February 2021– MVP revealed how Miz promised a title shot for Lashley in lieu of taking out McIntyre. Miz tried to stall but Lashley gave him an ultimatum of 1 hour to face him in the ring. Miz once again tried to stall the match and was successful when Braun Strowman came out and asked for a title shot for himself.
Shane McMahon then announced a match between Strowman and Lashley with the stipulation that Strowman will be added to the WWE title match between Lashley and Miz next week if he defeats Lashley that night. Lashley defeated Strowman in the main event match that night and fixed a one-on-one clash with Miz.
RAW: 1 March 2021– Drew McIntyre addressed his title loss before Miz tried to make him attack Lashley. McIntyre refused to get involved in their match. McIntyre defeated Sheamus in a singles match that night.
Miz stalled the title match by complaining of stomach cramps. When the match was rescheduled for the next hour, Miz ran away and lost by count-out, but, was able to retain the title. A lumberjack rematch took place between them and Lashley defeated Miz to win the WWE Championship.
RAW: 8 March 2021– Bobby Lashley defeated Miz in the title rematch. Drew McIntyre was attacked by Sheamus backstage which led to a No Disqualifications rematch between them. The match ended in no-contest.
RAW: 15 March 2021– The WWE Championship match between Drew McIntyre and Bobby Lashley was confirmed for WrestleMania. Bobby Lashley faced Sheamus in a singles match in the main event and defeated him to earn a hard-fought victory.
Fastlane: 21 March 2021– Drew McIntyre defeated Sheamus in a No Holds Barred Match.
RAW: 22 March 2021– Bobby Lashley faced Sheamus in another non-title match. Lashley's Hurt Business teammates – Shelton Benjamin and Cedric Alexander interfered during the match but Lashley did not like it and told them not to engage. Lashley was able to get another win over Sheamus. Post-match, Shelton & Cedric attacked Sheamus. McIntyre came out and took them down. He went into the ring to have a face-off with Lashley. MVP told Lashley not to engage with McIntyre till WrestleMania.
MVP told Shelton and Cedric that they made Lashley look weak by helping him out and they should think about what they have done. Shelton & Cedric faced McIntyre in a handicapped match where McIntyre was able to get the win. Enraged with his, Lashley announced that he would offer WWE Title match to anyone who would take out McIntyre.
RAW: 29 March 2021– MVP and Lashley remind everyone of the bounty that Lashley put on McIntyre. Lashley then snapped at Shelton and Cedric and threw them out of Hurt Business. Ricochet challenged McIntyre for a singles match in order to take him out. After McIntyre defeated Ricochet, Mustafa Ali attacked him, but lost the match. Lashley distracted McIntyre to give Baron Corbin the chance to attack him from behind. Lashley and Corbin beat down McIntyre to end the show.
Betting Odds
The current betting odds are making Drew McIntyre favorite to win the WWE Championship back from Lashley. McIntyre is a favorite with a slight margin of -130 while Lashley is the underdog going into the match with +100.
Prediction
The whole storyline, starting with McIntyre losing the title, looked like giving McIntyre his moment in front of the fans at WrestleMania which he was robbed off last year. At one time, it seemed that Hurt Business and Bobby Lashley are too important now to lose. However, half of the faction has changed last week. This tilts the chances for Drew McIntyre to win the title some more.
Also Check