List of Asuka WWE WrestleMania Matches & Win-Loss Record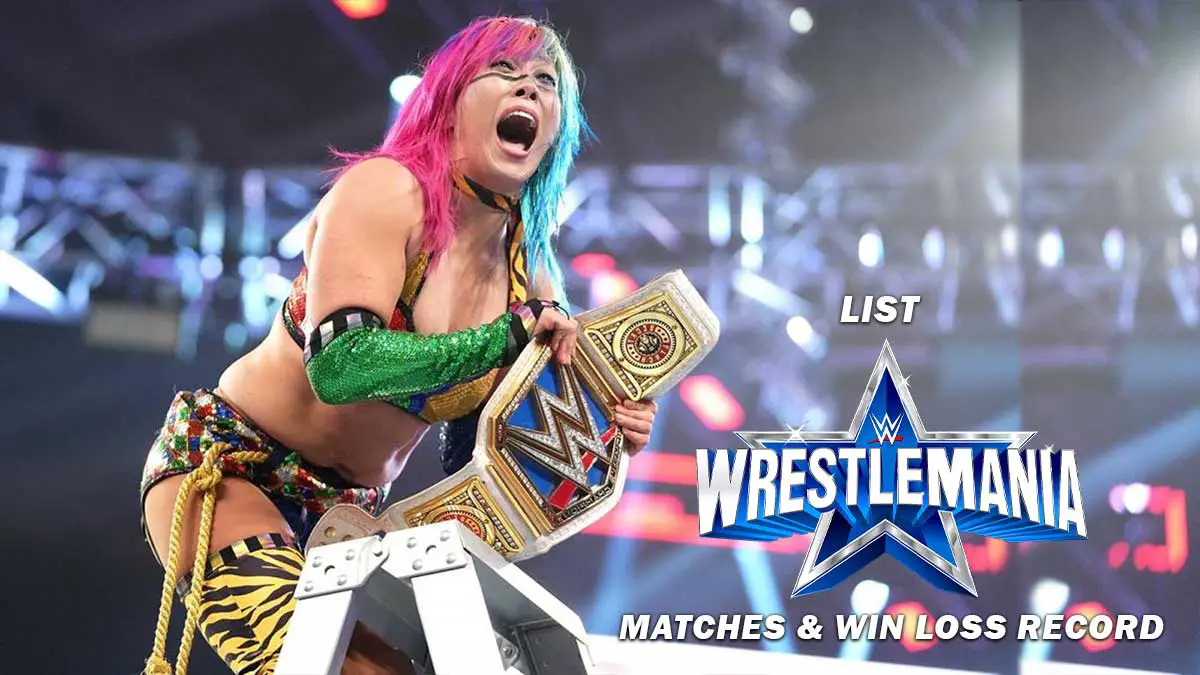 Asuka is one of those few women in WWE who has won almost everything in the promotion. Asuka is the very first woman to win Royal Rumble match, she has won RAW, SmackDown and NXT Championship along with women's tag team championship while also being a Money in the Bank winner.
However, the one thing that Asuka never had is her WrestleMania moment. She has competed at the grandest stage of them all several times, but she is yet to win a match. So, against whom have all these losses have come? Below is the list of all of Asuka's WWE WrestleMania matches.
Asuka WrestleMania Win-Loss Record
Asuka has only 4 matches at WrestleMania so far and she has lost all of them. All four matches have been title matches. She has entered these matches twice as a champion and twice as a challenger.
| Matches | Wins(%) | Loss(%) |
| --- | --- | --- |
| 4 | 0 | 4(100%) |
1. Asuka vs Charlotte Flair – SmackDown Women's Championship – WWE WrestleMania 34
Asuka was having the dream run of her career as she was undefeated in NXT and WWE for 914 days. Meanwhile, she also won the first-ever women's Royal Rumble and earned an opportunity to face the champion of her choice at WrestleMania 34. Asuka waited till Elimination Chamber 2018, and then finally chose Charlotte Flair after the latter successfully retained her title at the PPV. Asuka said that she wanted to face the best women's champion in WWE whereas Charlotte Flair wanted to be the one to break Asuka's undefeated streak. 
It was an evenly contested match where both women used several different submission maneuvers. Asuka was in control during the initial part of the match as she was trying different submission moves on Charlotte. Even the latter fought back with moves of her own. Charlotte went for a moonsault and Asuka converted it into Asuka lock. Charlotte managed to get out of this move with her swiftness. She eventually put Asuka in the figure-eight lock and forced her to submit. Charlotte retained her title and finally ended Asuka's undefeated streak. 
Winner – Charlotte Flair
2- The Kabuki Warriors(Asuka & Kairi Sane)(c) vs Alexa Bliss & Nikki Cross – WWE Women's Tag Team Titles – WWE WrestleMania 36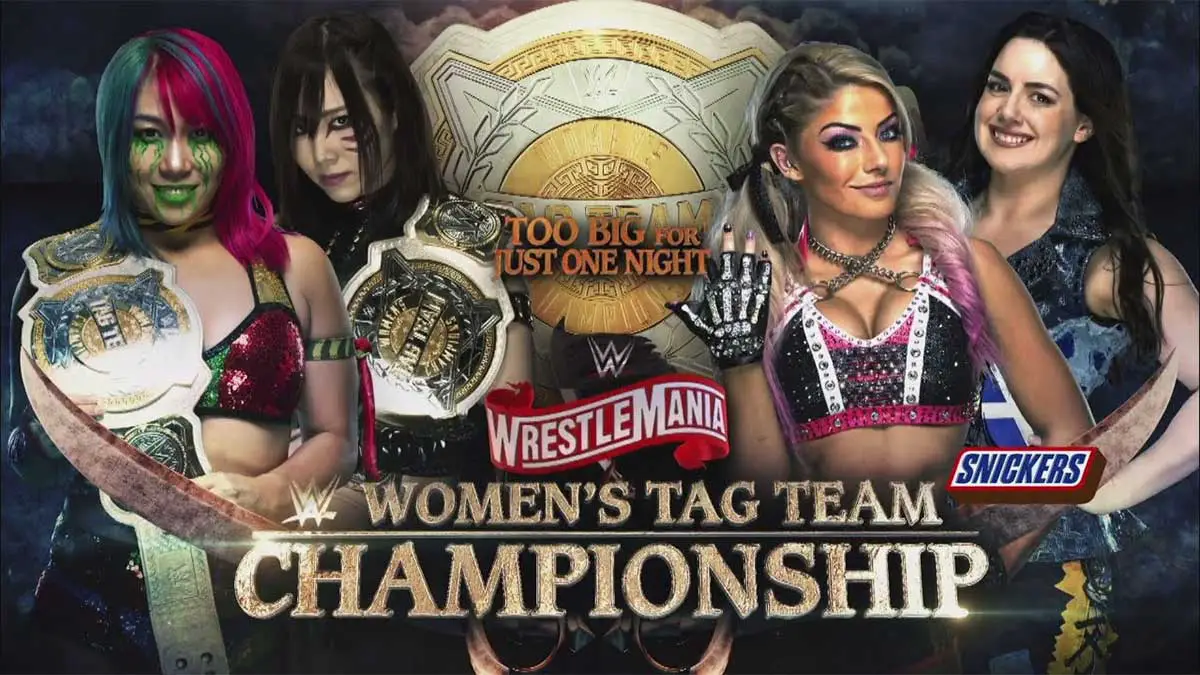 Asuka & Kairi Sane defeated the team of Alexa Bliss & Nikki Cross to win the WWE women's tag team championship after feuding with them for a while. The Kabuki Warriors then moved on and defeated several other tag teams in the women's division. However, their feud with Alexa Bliss & Nikki Cross reignited right during the WrestleMania season. The team of Bliss & Cross was hungry to get the titles back at WrestleMania 36 whereas The Kabuki Warriors were the longest-reigning women's tag team champion at that time.
It was a highly competitive contest where both the teams showed some impressive moves. In the ending moments, Cross & Sane were brawling on the top when Asuka also joined them and tried to hit the sunset flip powerbomb. Kairi Sane leaped and they knocked off Cross with a modified Doomsday device for a near fall. Asuka then went on to hit Cross with the shoulder in the corner but missed. Nikki Cross hit Kairi Sane with the spinning neckbreaker followed by a twisted Bliss for the pinfall. 
Winner – Alexa Bliss & Nikki Cross
3- Asuka(c) vs Rhea Ripley – Raw Women's Championship – WWE WrestleMania 37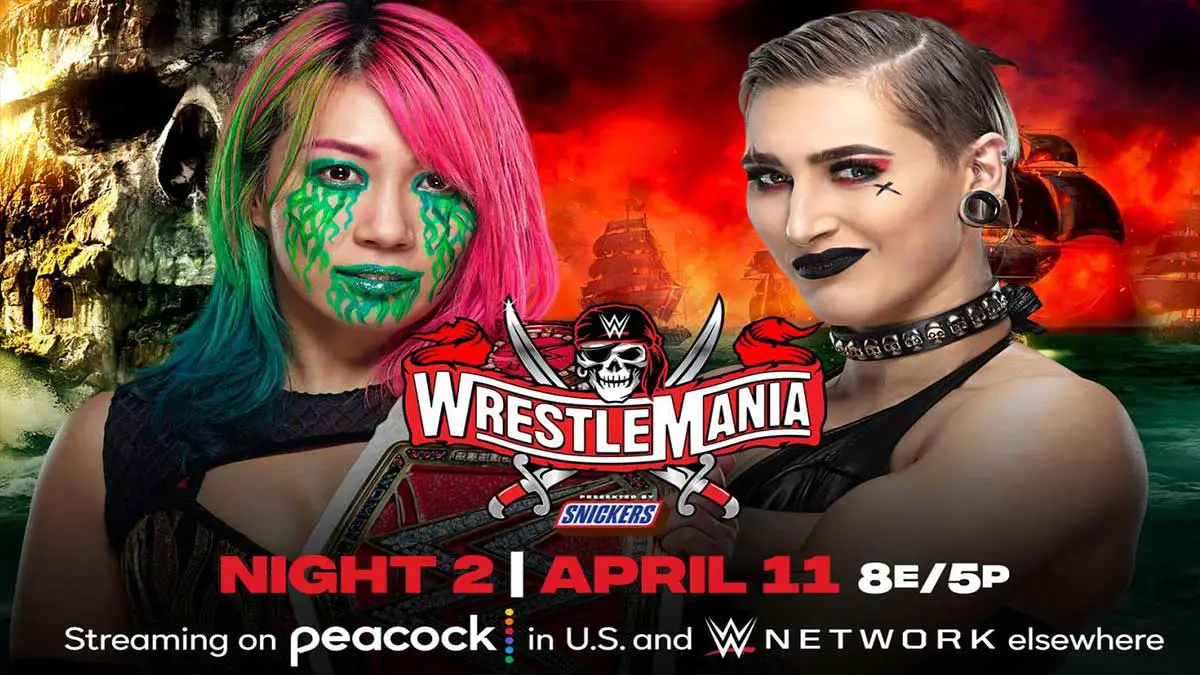 Rhea Ripley's main roster debut has been teased for a while. However, the Nightmare didn't arrive on Raw until the March 22 episode of Raw, where she confronted Asuka after her successful title defense and challenged her to the Raw women's title match at WrestleMania. Asuka accepted the challenge and the match was made official for WrestleMania 37. 
Rhea Ripley and Asuka were involved in a back-and-forth action right from the beginning of the match. Both are hard hitters and they proved the same that night. Rhea Ripley tried several different maneuvers on Asuka but the latter survived. On the other hand, Rhea managed to escape the lethal submissions of Asuka. In the ending moments, Asuka wanted to hit the running knee but failed and Rhea improvised into Riptide to pin the champion. 
Winner – Rhea Ripley
4- Asuka vs Bianca Belair – Raw Women's Championship – WWE WrestleMania 39
Bianca Belair successfully retained her title at Royal Rumble 2023 against Alexa Bliss. Since the Royal Rumble match winner chose the SmackDown Women's Champion, WWE decided to book a #1 contender Elimination Chamber match for the RAW Women's Championship. Asuka won the match by pinning Carmella and became the next challenger for Bianca Belair at WrestleMania 39. During the feud, Asuka also stated that she has to win this match as she did not have her WrestleMania moment yet.
Winner – Bianca Belair