WWE WrestleMania 39 Night 2 Results & Live Updates, Sunday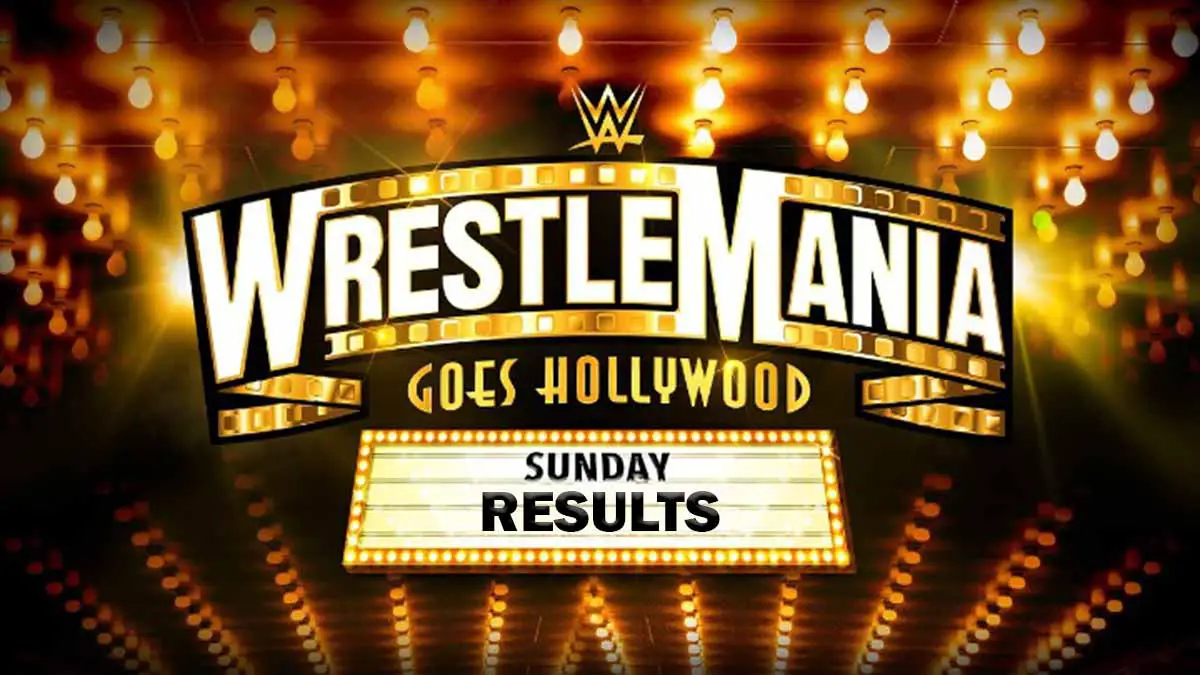 Welcome to the live results blog for WWE WrestleMania 39 night 2 on Sunday, April 2, 2023, as WWE attempted to continue on from the excellent night 1.
Sofi Stadium in Inglewood, CA, hosted night 2 of WrestleMania 39. The main event saw Roman Reigns creating history as he headlined WrestleMania for the third year in a row. He was defending Undisputed WWE Universal Championship against Cody Rhodes, the 2023 men's Royal Rumble Winner. Roman Reigns was moving towards 1000 days as Universal Champion. Was Cody able to stop him from getting there? Was Roman able to avoid losing the title like The Usos did on night 1?
The card featured a colossal clash as Brock Lesnar took on Omos in a singles match. WWE RAW Women's Champion Bianca Belair defended the title against Asuka. A triple-threat match featuring former tag team partners Drew McIntyre and Sheamus saw them challenge Intercontinental Champion Gunther.
Ronda Rousey was the biggest star in Women Tag Team Showcase match as she teamed up with Shayna Baszler. Liv Morgan & Raquel Rodriguez, Chelsea Green & Sonya Deville and Natalya & Shotzi were the other 3 teams in the match.
Hell in a Cell match returned to WrestleMania for the first time since WrestleMania 32. Edge took on "The Demon" Finn Balor inside the famous structure. But, were there any more surprises that await us on night 2 of WretleMania 39, just like Pat McAfee vs The Miz? Check below for results from WWE WrestleMania 39 Night 2 with live updates, winners, highlights and complete action.
WRESTLEMANIA 39 RESULTS NIGHT 2
Brock Lesnar defeated Omos in a singles match via pinfall.
Ronda Rousey & Shanya Baszler defeated Liv Morgan & Raquel Rodriguez, Shotzi & Natalya and Chelsea Green & Sonya Deville in Women's Showcase Tag Team Match via submission.
Gunther(c) defeated Drew McIntyre & Sheamus in a triple threat match via pinfall to retain WWE Intercontinental Championship.
Bianca Belair(c) defeated Asuka in a singles match via pinfall to retain WWE RAW Women's Championship.
Edge defeated "The Demon" Finn Balor in Hell in a Cell Match via pinfall.
Roman Reigns(c) defeated Cody Rhodes in a singles match via pinfall to retain Undisputed WWE Universal Championship.
LIVE UPDATES
The pre-show is live now with Kayla Braxton, Wade Barrett, Booker T and Kevin Patrick. Peter Rosenburg will join us later as he is working on a surprise. We get a recall of the match card for tonight. They start the discussion with Intercontinental title triple threat match.
Peter Rosenberg is giving us a glimpse of backstage. He meets Liv Morgan who is escorted in a Golf Van. He takes an elevator to an upper floor and runs into Bronson Reed. Reed tells him to watch himself backstage. Rosenberg heads towards the Gorilla Position but meets The Street Profits before that. He heads into Gorilla Position before he walks out to the stage. We get another run of WrestleMania by the number video before a recap of John Cena's entrance with Make-A-Wish kids. The panel discuss women's showcase match tonight.
Cathy Kelley catches up with Paul Heyman and asks him if the fall of The Usos will lead to the fall of Roman Reigns. Heyman says Dusty Rhodes, his mentor, would say he is a great promo but always asks where the money is. Heyman says the answer to that question is Roman Reigns. Roman is at the top for the highest-grossing WrestleMania and when WWE & sports entertainment is the hottest ever. Heyman says Cody didn't crumble under the light and is not wilting under pressure, but he is ready to lose to The Tribal Cheif, "The Money" Roman Reigns.
We get a special video package for Edge forming Judgment Day and how the group turned on him. The panel discuss the Hell in a Cell match. Next up is the recap of Logan Paul's entrance, followed by a special vignette for a recap of the best action from night 1. Greg Miller joins the panel to discuss his favorite moments from night 1. We see Cody Rhodes getting out of his bus with Brandi Rhodes and their daughter and entering the arena.
A recap of Seth Rollins' entrance is followed by a video package highlighting the tale of the tape for Brock Lesnar vs Omos. A recap for WWE Hall of Fame 2023 ceremony before we get a promo for WrestleMania 40. George Kittle joins the pre-show and talks about his involvement last night in Pat McAfee vs The Miz match. We discuss the RAW Women's Championship match. We get a recap of Rey Mysterio's entrance from last night. The panel go through the complete match card for tonight before they discuss Roman Reigns vs Cody Rhodes. The pre-show goes off the air.
---
Night 2 main show opens with "Then, Now, Forever, Together" vignette. Jimmie Allen performs America the Beautiful on the stage. Kevin Hart delivers another cold open. The Miz and Snoop Dogg are in the ring now. Miz welcomes us to WrestleMania once again. Snoop Dogg asks to fire it up and Omos starts his entrance.
Omos vs Brock Lesnar
Omos comes out with MVP. Huge cheers as Brock Lesnar makes his entrance next. The size difference is clear once again as Lesnar stands toe to toe with Omos. Lesnar goes for a tackle as the bell ring. Omos throws him away. Lesnar goes for running tackles but is unable to bring down Omos. Omos misses a swing but Lesnar is unable to hit German Suplex. Omos hits a body slam on Lesnar. He hits another body slam. A couple of big right hand to the kidney from Omos before he puts on a bear hug.
Lesnar starts to attempt a break but Omos slams him to the corner. Omos hits another body slam. Omos puts on another bear hug. The crowd is getting behind Lesnar as he screams. Lesnar hits back elbow but Omos hits him with a chokeslam when Lesnar goes for a clothesline. Omos whips Lesnar to the corner but misses a corner splash. Omos's face lands into the ringpost. Lesnar hits a German suplex on Omos.
Lesnar follows up with another German suplex and another one. Lesnar picks up Omos for F5 but his back gives out. Omos goes for double handed chokeslam but Lesnar counters to pick up Omos once again and hits an F5. Lesnar covers Omos and gets the pinfall.
Winner – Brock Lesnar
Omos is not happy but MVP tries to console him. Lesnar sells his injuries as he leaves to the back.
Liv Morgan & Raquel Rodriguez vs Shotzi & Natalya vs Ronda Rousey & Shanya Baszler vs Chelsea Green & Sonya Deville – Women's Showcase Tag Team Match
Liv and Sonya start the match. Liv hits a backstabber before Sonya fires back with a big kick. Liv hits double knees before Sonya tags in Natalya. Natalya drops Liv before hitting a dropkick. Liv hits a hurricanrana. Raquel tags in and beats up Natalya. She hits a big boot before Natalya blocks her and tags in Chelsea. Chelsea goes for a missile dropkick but Raquel goes not budge. Sonya goes for a crossbody but Raquel catches her. Chelsea pulls her hair to slam her to the mat but Sonya is hit with a fallaway slam.
Raquel drops Chelsea and Shayna comes in to break the pin. Ronda is sent to the floor after she tries to get involved. Liv, Natalya and Raquel hits a triple powerbomb on Shayna. Liv hits a suicide dive on Shayna and Ronda on the floor. A series of suicide dives follow. Chelsea poses in the ring as she is the last one standing. Raquel comes back in and Chelsea decides to hit a crossbody on the floor instead of attacking Raquel. Raquel then powerbombs her partner Liv onto other on the floor. Raquel fights Shotzi but Sonya takes a blind tag. Sonya tags in Chelsea who hits a chop block. Sonya hits a low kick which assists Chelsea into hitting a DDT on Raquel.
Natalya and Shotzi work together to bring down Sonya and Chelsea. Natalya puts on a double sharpshooter on Sonya and Chelsea. Liv breaks the submission with a springboard dropkick. Liv tags in off Sonya. Shotzi comes in for Natalya. Liv hits a couple of kicks before he misses wildly. Shotzi hits a tiger suplex. Liv hits a codebreaker and Oblivion. Shayna takes a blind tag and throws Liv out. Ronda tags in and takes her time before putting Shotzi in an armbar to get a quick submission.
Winners – Ronda Rousey & Shanya Baszler
We get a recap of Brock Lesnar winning Andre the Giant Battle Royal. Lashley brings the giant trophy to the stage.
---
We are back to the set of Up Up Down Down with the usual cast and Greg Miller to simulate IC title triple threat match on WWE 2K23. They say 42% of the times Drew McIntyre wins this match. We cut to the video package for this match. Titus O'Neil is back to commentary for this match. We get an advertisement for Mike's Harder drink featuring McIntyre and Sheamus.
Gunther(c) vs Drew McIntyre vs Sheamus – Triple Threat Match for WWE Intercontinental Championship
Drew McIntyre makes his entrance with his sword Angela. Pyro goes off as he poses at the stage. Ridge Holland and Butch accompany Sheamus to the stage before they go back. Ludwig Kaiser and Giovanni Vinci are on the stage. Kaiser demands all our gratitude and appreciation for reigning Intercontinental Champion Gunther. Symphony No. 9 starts and Gunther makes his entrance.
Drew and Sheamus are standing opposite to each other. Gunther tells them to fight among themselves first. Drew hits him with a Claymore to send him to the floor. Drew and Sheamus start to brawl. Sheamus hits a tackle to drop Drew before he hits some uppercuts. Drew hits back with a big chop. He hits a shoulder tackle after Sheamus whips him to a corner. Sheamus hits an Irish Curse Backbreaker. Gunther comes back to stop Sheamus' 10 Beats of Beltran on Drew and nails him with a chop. Gunther hits a chop on Drew on the apron to drop him to the floor.
Gunther hits an overhead chop to drop Sheamus. Drew comes in to hit some punches but Gunther sends his face into the turnbuckle. Another big chop from Gunther on Sheamus. He hits a big boot on Sheamus. The crowd is into the match. Sheamus fires somes punches but Gunther hits a big punch. Gunther puts on Boston Crab on Sheamus. Drew hits a big boot to Gunther's face but he no-sells it. Gunther leaves Sheamus and starts trading big chops with Gunther. The crowd is getting mad as Drew and Gunther trade more and more chops.
Sheamus joins the fray and they start a three-way fight. Drew and Sheamus fight among themselves for the right to hit one big shot on Gunther. Gunther stops that game with a punch to Drew and a big boot to Sheamus. Sheamus takes Gunther in position for 10 beats of Beltran. Sheamus hits a punch and Drew follows it with a chop on Gunther. Drew knocks off both Gunther and Sheamus to the floor. Sheamus comes back and hits 10 Beats of Beltran on Drew. He does not stop though and continues to 30 beats. Drew collapses on the apron.
Drew goes for a powerbomb on Drew, but Gunther attacks him. Gunther hits a big clothesline on Sheamus to drop him. Gunther waits for Sheamus to get up and hits a big lariat. Sheamus kicks out of the pin though. Drew hits a flying clothesline on Gunther followed by a neckbreaker. Drew hits a belly-to-belly suplex on Sheamus to send him into Gunther in the corner. Drew hits Futureshock DDT on Gunther. Gunther ducks Claymore kick and hits a shotgun dropkick on Drew. Gunther hits a powerbomb on Drew to get a near fall.
Gunther goes to the top and Sheamus cuts him off. Sheamus hits big knife edge chops and hits an avalanche White Noise. Sheamus follows up with Celtic Cross but Gunther kicks out of the pin. Sheamus puts on inverted Cloverleaf on Gunther. Gunther reaches the ropes but the referee tells him that there are no rope breaks in this match. Drew comes in and puts on a chin lock on Sheamus. Sheamus breaks free and hits a knee strike on both Drew and Gunther. Sheamus hits a Brogue kick but Drew pulls him out of the cover.
Drew and Sheamus face off on the floor before starting to brawl. Drew knocks him off the apron with a Glasgow kiss before hitting a top con hilo on him on the floor. Drew gets ready for Claymore now but Sheamus counters with a Brogue kick. Drew kicks out of the pin. Sheamus picks up Drew who hit a Glasgow Kiss. Sheamus hits a knee but Drew replies with a Claymore kick, only for Sheamus to kick out of the pin.
They start to trade punches once again as they get up. They throw haymakers before short arm clotheslines. Sheamus hits another Brogue kick as he comes off the ropes. Sheamus crawls over to cover but Gunther hits them with a splash to break the pin. Gunther hits a powerbomb on Sheamus by dropping him on Sheamus. Gunther hits a powerbomb on Drew McIntyre and gets the pinfall.
Winner – Gunther
Gunther poses with the title in the ring. Drew and Sheamus are still down.
Bianca Belair(c) vs Asuka – WWE RAW Women's Championship
We get 4 Asuka cosplays on the stage before the real Asuka arrives in a dragon mask. She unhooks the mask to reveal her facepaint. A kids dance party dances to Bianca's theme before her entrance. Bianca leads them down the ramp as she makes her way to the ring.
Bianca takes a quick start. She hits a dropkick before doing a kip-up. She whips Asuka to the corner and hits another dropkick. Bianca keeps the upperhand. Asuka counters with a kick in the corner. Asuka hits a back elbow and follows up with quick strikes, dropkick and a running kick. Asuka hits some kicks to Bianca's chest as she is on her knees. Asuka goes to the top. Bianca meets her on the top. Asuka slips out and attempts a powerbomb. Bianca kicks her away and then hits a spinebuster to get a two-count.
Asuka counters a handspring splash with a choke. Bianca changes it into a pin attempt. Asuka puts on the Asuka lock and Bianca goes to grab the ropes quickly and rolls to the floor. They counter each other near the apron. Asuka hits a DDT on the floor before Bianca hits a powerbomb on the floor. Bianca takes Asuka back to the ring where Asuka kicks out of the pin. Bianca charges to the corner but Asuka sidesteps to send Bianca crashing into the turnbuckle. Asuka gets an ankle lock on. Bianca counters and hits a side suplex.
Asuka counters another handspring splash and puts on the ankle lock. Bianca tries to roll over but Asuka rolls over as well to keep the lock on. Bianca kicks her away but Asuka quickly comes back with a missile dropkick for a two-count. Asuka hits kicks to the face now. Another kick from Asuka as Bianca tries to fire back. She hits kicks to the chest as they get on the apron. Bianca catches the leg and hits a sidekick himself. Asuka hits a dropkick on the apron. Asuka tries to hits a suplex from the apron but Bianca blocks it and slams Asuka's face into the ringpost. Bianca gets on the second rope, pulls Asuka up and hits a superplex. Asuka kicks out of the pin.
They trade forearm shots now. Bianca hits a knee to midsection. Bianca blocks a clothesline and gets a pin attempt. Some quick counters see Asuka getting a two-count. Asuka hits a sidekick to the face. Bianca blocks Asuka lock and gets another two-count. Bianca blocks codebreaker and hits a blockbuster and finally, a handspring moonsault splash to get a close two-count. Asuka hits a knee to the face before Bianca hits a tackle. Both women are down.
Bianca goes to the top. Asuka hits a punch and gets to the top. Bianca gets her over her shoulder. Asuka gets the control back and pulls her back to the floor using her braid. Asuka pulls Bianca into a codebreaker to get a near fall. Asuka charges to the corner but Bianca hits Glam Slam on Asuka into the corner. Bianca is fired up as Asuka has used her braids. Asuka grabs the ropes to block KOD.
Bianca ends up knocking off the referee. Asuka spits the Green mist behind referee's back but Bianca ducks it. Bianca goes for KOD but Asuka counters it into an armbar/asuka lock. Bianca is struggling as she is unable to break it. Bianca powers up and picks Asuka on her shoulder to hit KOD to get the pinfall.
Winner – Bianca Belair
We see a recap of Sami Zayn and Kevin Owens winning Tag Team Championship.
---
The Miz and Snoop Dogg are in the ring now. Miz announces tonight's attendance as 81,395. Miz is upset at Snoop Dogg for putting him out on the spot last night. Snoop Dogg says its Miz's bad. Miz gets enraged and says he does not come to Snoop's studio to tell him how to rap. Miz says this is his WrestleMania. Snoop replies this is their WrestleMania in Hollywood. Snoop brings out Shane McMahon. Shane McMahon makes his entrance and gets into the ring and thanks the crowd for such a warm reception.
Snoop asks Shane to take care of Miz and he gets a referee in. Shane hits a punch to start the match. They run the ropes and Shane lands on his knee wrong and is down in the ring. The Miz circles Shane as the referee checks on. Snoop comes back into the ring and punches Miz. He goes to check on Shane. Shane is taken to the floor. Snoop hits Miz with another punch. He goes on to imitate The Rock, throws his sunglasses, sets up Miz and hits The People's Elbow.
Edge vs "Demon" Finn Balor – Hell in a Cell Match
We get a promo for Russell Crowe's new movie The Pope's Exorcist. Hell in a Cell comes down as we get Russell Crowe on the big screen explaining that a Demon cannot be controlled by a mere human, but the rituals has started at WrestleMania. Brood Edge music hits and he comes out in Birdman Costume. Edge removes the costume when he comes down the ramp and his recent theme starts. The Demon Finn Balor makes his entrance next. We get a slow motion dance from The Demon. The doors are locked now and the bell rings.
Edge hits a punch but Demon no-sells it. They tradd more punches and play tough before they circle the ring. Edge and Demon slip to the floor and brings out tools. Edge brings in chair and takes a shot at Demon. Demon hits back with quick kendo stick shots. He rakes Edge's face into the cage wall as he rolls to the floor. Demon hits some stomps before Edge is whipped into cage.
Edge gets a double leg takedown to unload with some punches. He tackles Demon off the apron and into the cage wall. Edge brings out another kendo stick and unloads on Demon before throwing him into the cage wall. Edge brings out more kendo sticks and traps the Demon in one corner behind them. Edge hits a missile dropkick off the apron.
Edge brings out a table now and sets it up in the corner. Demon breaks the kendo stick and lands some quick rights and lefts. He throws Edge into the steel steps. Balor hits some chops against the cage. Balor throws Edge back to the ring where Edge hits flapjack and an impaler DDT. Edge goes for a spear but Demon hits back with a slingblade. He hits a dropkick to knock Edge off the apron and into the steel walls. Demon hits a shotgun dropkick to put Edge through a table set up on against the cage.
Demon throws a couple of chair to Edge's face before Edge hits back with a big punch. Edge hits a kill switch as he brings Demon back to the ring. Edge gets ready for a spear again but Demon kicks at his face and gets a two-count with an inside cradle. Edge hits a slingblade kind maneuver but Demon kicks out at one itself. Edge brings out a ladder and throws it on Demon's face. There is some blood as Demon is busted open. The referee calls for a medical personnel and the door is opened.
Demon is keeping himself away from the doctors. Edge goes to the floor and searches for more weapons. Edge sets up a ladder in the corner. Demon is now back to his feet. Demon blocks a powerbomb and hits a double stomp. He hits an inverted DDT into an elbow drop. Edge avoids Coupe de Grace but runs into a ladder as he hits a spear. Demon hits him with a slingblade and shotgun dropkick. Demon hits Coupe de Grace but Edge kicks out of the pin.
Demon climbs to the top of the ladder. Edge hits him with a kendo stick and climbs to the top of the ladder. Edge hits super Edgecution DDT off the top of the ladder but Demon kicks out of the pin. Edge brings out another table now. Edge sets it up in the ring. Demon unleashes on Demon with kendo stick shots and some chair shots. He climbs up the cell and hits Coupe De Grace. Edge rolls out and Demon goes through the table. Edge hits a spear but Demon kicks out of the pin. Edge gets mad now. He unloads multiple chair shots. He sets up and hits con-chair-to to get the pinfall.
Winner – Edge
Kayla Braxton is backstage with RAW Women's Champion Bianca Belair. Bianca says having such matches means everything to her. It was hard sometimes to get up, but it was her dream, and now she is 3-peat winner. The kids dance party that was part of Bianca's entrance come in to join her.
---
We get a promo for Backlash 2023 next. Hall of Fame video package is next. Class of 2023 get introduced now as they come out to the stage. Next, we get a promo for WrestleMania 40 in Philadelphia. We get a video package for Seth Rollins' entrance from last night.
Roman Reigns(c) vs Cody Rhodes – Undisputed WWE Universal Championship
The video package for this match is on now. Cody Rhodes makes his entrance with a big pop and a lot of pyro. Cody hugs his mother, wife and daughter in the front row. He hands his son to Brodie Lee/Luke Harper's son. We get a group on the stage playing pianos before Roman's entrance music hits. He comes out with Paul Heyman and Solo Sikoa. Grand introductions for both men. Roman asks for the mic during the introductions and asks the crowd to acknowledge him. Solo stares down Cody before the ring is cleared to start the match.
They face off for a while as the bell rings. Roman smiles and gets back. Cody's expression are as stoic as it can get. They circle the ring before locking up. Roman seems to pushing Cody back but Cody puts on a side headlock and transitions it into a hammerlock. Roman reaches the ropes quickly. Cody puts on a side headlock once again after the lock up. Roman goes for side suplex but Cody coverts it into a side headlock takedown.
Cody breaks free and goes for a shoulder tackle, only for Cody to drop down and hit his signature jab. Roman rolls to the floor quickly. Paul Heyman gives Roman a prep talk and tells Roman that Cody is here because of Roman, and that Roman is the star here. He tells Roman to go and win this match. Roman returns to the ring. Roman hits a back elbow when Cody goes for a waistlock. He hits another big back elbow. Roman hits short clotheslines in the corner. He whips Cody to the ropes and Cody counters with dropkick.
Cody works on Roman's arm/shoulder. He goes for a disaster kick but Roman catches him and hits a powerbomb for a quick two-count. Roman starts to work on Cody now. Roman hits a snap suplex to get another two-count. Roman has a smirk on his face and he takes his time to hit another suplex. Roman goes to throw Cody to the floor but Cody hangs onto the ropes. Cody comes in and throws Roman to the floor. Cody goes for a running kick on the apron but Roman trips him. Roman throws Cody on the ramp before hitting a body slam there.
Roman breaks the countdown and comes back. Cody counters a body slam with a body slam of his own. Cody hits punches and takes Roman back towards to the ringside. Cody breaks the countdown after slamming Roman's face into the apron. Cody throws Roman back into the ring. The referee checks on Roman. Solo takes the opportunity to hit Cody with a chair to his ribs. Roman hits a driveby dropkick and brings Cody into the ring for a two-count. Roman puts on a chinlock. Cody fights off it and hits punch to midsection. Cody gets to the ropes and Solo picks his leg. Roman hits a lariat to get another two-count.
Roman throws Cody to the floor. He clears both the announce tables. He slams Cody's face on the announce table before breaking the countdown. Roman throws the one up in the air. He looks to hit a powerbomb but Cody blocks it and hits a back body drop. The referee is at 6. Cody breaks the countdown as he is selling a ribs injury. Cody brings Roman back to the ring. Roman hits a punch but Cody hits back with a running forearm, dropdown jab, a scoop slam and Cody Cutter to get a near fall.
Cody stomps at Roman. Roman rolls to the floor. Cody hits a suicide dive, taking Roman into the barricade. Cody throws Roman back to the ring. Solo hits Cody with his own weight belt. The referee catches him this time and boots him from ringside. Solo throws a tantrum before going back. Roman goes and picks up the belt. The referee tries to take the belt away which gives Cody an opportunity to hit a superkick and Crossrhodes. Roman kicks out of the pin.
Roman hits a jawbreaker and a headbutt followed by clubbing blows to the back. Roman goes to throw Cody out but Cody hangs on. Roman picks up Cody and hits Rockbottom for a near fall. Roman locks and loads the Superman punch, but Cody ducks it and hits a pedigree. Roman kicks out again. Cody fires himself up. The crowd gets behind him. He picks up and goes for the disaster kick but Roman catches him with the Superman punch. Cody kicks out of the pin. Heyman was already celebrating before Cody kicked out.
Cody jumps over a spear and rolls up Roman for a two-count. Cody counters once again and puts on figure four leg lock. Roman is in trouble but works to reverse the lock. Cody drags to the ropes to break the lock. Cody psyches himself up. Cody is on the apron when he starts to trade punches with Roman. Cody goes for a body shot to break the sequence. He runs the ropes and Roman hits a spear, only for Cody to kick out again.
Roman is angry now as he unloads with some ground and pound punches. He signals to finish off Cody and puts on Guillotine lock. Cody is fading. The referee goes to check on him but Cody holds his hands up in the air. Roman puts more pressure on the lock by adding the body lock to it. Cody is refusing to give up though. He manages to break the Guillotine and unloads on him. Cody goes for a pump kick but catches the referee with it. Roman hits a Superman punch and Cody replies instantly as he comes off the ropes with a clothesline. Both men and the referee are down.
Cody is the first one to get up. Cody goes for Crossrhodes but The Usos come in. The Usos nail Cody with stereo superkicks. They hit 1-D on Cody. Sami Zayn and Kevin Owens come through the crowd to fight them. Owens hits a stunner on Roman followed by a Helluva kick from Sami. The Usos come back and fight Sami and KO to take them to the crowd. Cody covers Roman as the referee wakes up. Roman kicks out of the pin as late as one can.
Cody and Roman trade punches while on their knees. They get back up and continues to hit each other with a variety of punches. Cody cuts off the Superman punch before his signature left jabs. Cody hits a drop-down uppercut and starts a series of Crossrhodes. Paul Heyman is up at the apron diverting the referee. Solo Sikoa comes back and hits Cody with a Samoan Spike. Roman hits a spear and gets the pinfall.
Winner – Roman Reigns
Solo helps Roman up to his feet. Roman gets the title and poses for a bit before throwing the titles down. Heyman gets them up and they all go up the ramp. Roman poses on the ramp as pyro goes off to close the show.