WWE WrestleMania 39 Night 1 Results & Live Updates, Saturday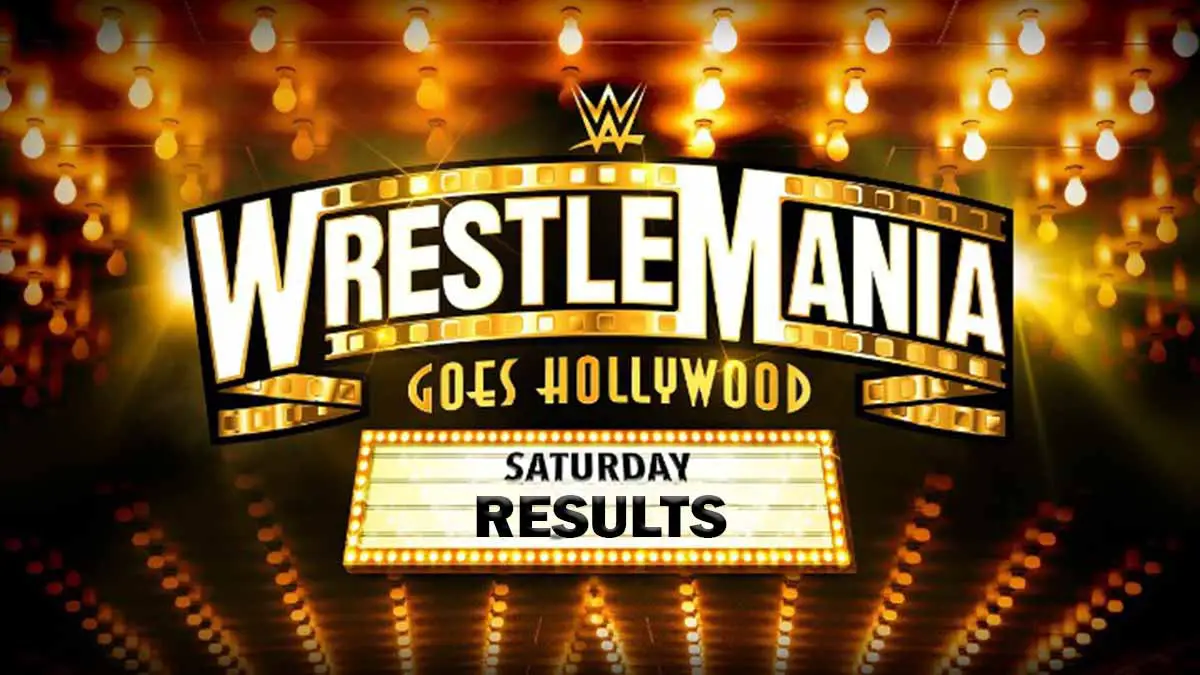 Welcome to the live results bog for WWE WrestleMania 39 Night 1 on Saturday, April 1, 2023, which was live from SoFi Stadium in Inglewood, CA.
Night 1 opened with John Cena challenging Austin Theory for WWE United States Championship. The card also featured SmackDown Women's Championship match where Royal Rumble Winner Rhea Ripley challenged Charlotte Flair.
One part of a long storyline ended on night 1 of WrestleMania 39 as The Usos defended their 600+ days reign as Tag Team Champions against Sami Zayn and Kevin Owens. Were The Usos able to end Sami and KO Problem or did their historic reign come to an end?
One of the grudge matches on the card saw Seth Rollins take on Logan Paul. We also saw a Father vs Son on WrestleMania card when Rey Mysterio tried to teach Dominik a lesson in their singles match.
A 4-way tag team match sawThe Street Profits, Alpha Academy, The Viking Raiders and Braun Strowman & Ricochet in action. A women's trios match saw the return of Lita and Trish Stratus to WrestleMania as they teamed up with Becky Lynch to take on Damage CTRL's Bayley, Iyo Sky and Dakota Kai.
Scroll below for live results from WWE WrestleMania 39 Saturday Night 1 with updates, winners and highlights.
WRESTLEMANIA 39 RESULTS NIGHT 1
Austin Theory(c) defeated John Cena in a singles match to retain WWE United States Championship.
The Street Profits(Montez Ford & Angelo Dawkins) defeated Alpha Academy(Otis & Chad Gable), The Viking Raiders(Erik & Ivar) and Braun Strowman & Ricochet in Men's Showcase Tag Team Match via pinfall.
Seth Rollins defeated Logan Paul in a singles match via pinfall.
Becky Lynch, Trish Stratus & Lita defeated Damage CTRL(Bayley, Iyo Sky & Dakota Kai) in a tag team match via pinfall.
Rey Mysterio defeated Dominik Mysterio in a singles match via pinfall.
Rhea Ripley defeated Charlotte Flair(c) in a singles match via pinfall to win WWE SmackDown Women's Championship.
Pat McAfeee defeated The Miz in a singles match via pinfall.
Sami Zayn & Kevin Owens defeated The Usos(Jimmy & Jey Uso)(c) in a tag team match via pinfall to win Undisputed WWE Tag Team Championship.
LIVE UPDATES
The pre-show is live now with Kayla Braxton hosting with Wade Barrett, Booker T and Peter Rosenberg. They go through the match card. Byron Saxton is with some fans and talk to them about WrestleMania. The first match up for discussion is SmackDown Women's Championship match between Charlotte Flair and Rhea Ripley.
We get a WrestleMania by the number video. John Cena vs Austin Theory comes up for discussion next. Fluffy Iglesias joins the pre-show to discuss the show. We get a recap of WWE Hall of Fame 2023 ceremony. Maria Menounos joins the pre-show. Next, we get the video package for Rey Mysterio vs Dominik. Rafael Amaya joins the pre-show. They go through the match card for night 2 before a video package for the main event.
Stephen A Smith is the next celebrity to join the pre-show. Men's Tag Team Showcase match is discussed next. Cathy Kelley interviews Johnny Knoxville backstage, who trash-talks Sami Zayn. Byron Saxton shows us the Cricket Wireless Fanzone trailer which is outside SoFi Stadium. Women's trios match is discussed next. The final match to be discussed is the main event for tonight – KO & Sami vs The Usos.
---
Then, Now, Forever & Ever vignette kicks off the main show and it also has Roman Reigns' "Acknowledge Me" in it. Becky G is in the ring to sing America the Beautiful. We get a cold open video with Kevin Hart.
The Miz – the Host of WrestleMania 39 – is in the ring with Snoop Dogg. Miz says he and Snoop are perfect tag team to start WrestleMania as they have a lot in common. Dogg says it is not about them tonight but about the fans. Miz hypes the crowd before he plugs in tonight's match card. Snoop asks to fire it up.
Austin Theory(c) vs John Cena- WWE United States Championship
Austin Theory's music hits, a curtain opens on the stage and Theory comes out from behind it. Michael Cole and Corey Graves on the commentary. Corey congratulates Cole for his 22nd WrestleMania as the commentator, most for any commentator. Before John Cena's entrance, we get a video package for Make A Wish Foundation before some Make A Wish kids get to the stage. John Cena joins them on the stage once his music hits. Cena runs down the ramp and gets into the ring amid huge roars from the crowd.
Cena attempts a leg trip but Austin is alert to the danger. Cena hits a shoulder tackle after a headlock. Cena puts on a side headlock. Austin reverses it after a few seconds. Cena hits a shoulder tackle once again. Cena pushes Austin to the corner and the referee calls for a break. Austin bites Cena's ear and runs him over when he tries to show it to the referee. Austin hits a suplex to get a two-count. Another suplex follows this. Cena blocks a suplex and hits one of his own.
They trade punches before Theory sends Cena to the turnbuckle and then hits a bulldog to get another two-count. Theory poses on the apron before he rolls in with a dropkick. Cena kicks out at two once again and this frustrates Theory. Cena avoids the second dropkick and locks in STF. Theory bites Cena's hand to break it. Theory hits a shoulder tackle to drop Cena. He plays with the crowd with "U Can't See Me".
Theory hits punches and a back elbow before standing on top of Cena for a pin attempt. Theory hits a snapmare and a stomp to get another two-count. Cena blocks a stomp and picks up Theory for AA. Theory counters quickly to hit a DDT. Theory hits a clothesline in the corner. Cena avoids a clothesline in the corner and starts trading strikes. Theory puts on a sleeper hold. Cena starts to fade but refuses to go down. Theory jumps on his back to put more pressure on Cena's neck.
Cena gets back up to his feet and slams Theory into the corner. Cena hits a couple of flying shoulder tackle before a spinout powerbomb and Five Knuckle Shuffle. Cena gets Theory up for AA but Theory hangs onto the ropes. The referee is knocked out when Theory counters AA. Cena puts STF on Theory, and Theory taps out, but the referee is down and does not see it. Theory hits a low blow just before the referee wakes up. Theory hits A-Town Down to get the pinfall.
Winner – Austin Theory
The Street Profits vs Alpha Academy vs The Viking Raiders vs Braun Strowman & Ricochet – Men's Showcase Tag Team Match
Titus O'Neil joins the commentary for this match. Gable and Ricochet start the match. Ricochet rolls up Gable for a two-count. Gable goes for an ankle lock. Ricochet breaks free and they trade arm drags. Gable get a two-count with a backslide. Otis tags in when Ricochet whips Gable to his corner. Otis hits a tackle to drop Ricochet. Gable tags back in and tackles Ricochet.
Ricochet tags in Strowman which prompts Otis to have a face-off with him, and in turn, everyone gets into the ring. The Viking Raiders get the upper hand and they clear Strowman, Otis and Dawkins from the ring. They double team on Gable and Ricochet before hitting Ragnarok on Ford. Strowman gets back and clotheslines The Raiders to the floor. Gable fails to hit a German suplex on Strowman but he succeeds in hitting a rolling German suplex on Strowman.
Ford takes a blind tag before Gable misses a senton. Erik tags in as Ford misses a frog splash. Erik misses a moonsault. Strowman hits a splash from the top on Erik and all the other teams come in to break the pin. Otis hits World's Strongest Slam on Strowman. All the competitors come in one by one. Otis and Ivar get Erik and Gable up on their shoulder who were attempting a superplex. Ricochet hits a crossbody to complete the tower of Doom.
Strowman tags in and hits running train tackles on everyone outside until Dawkins tackles. Ricochet hits a shooting star press on Dawkins and Ivar. Ricochet takes Dawkins back to the ring but Dawkins gets his knees up on another shooting star press from Ricochet. Dawkins holds Ricochet on his knees and Ford hits a frog splash. Dawkins gets a pinfall on Ricochet.
Winner – The Street Profits
Xavier Woods is backstage on the set of Up Up Down Down to plug in WWE 2K23 with Liv Morgan, Butch and Ridge Holland. They simulate Seth Rollins vs Logan Paul match on 2K23 before we cut to a video package for the match.
Seth Rollins vs Logan Paul
Logan Paul makes his entrance on a zipline. Prime Energy mascot also comes out with him down the ramp. Jasper Randell plays conductor and starts Rollins' theme. He signals for the crowd to join in on one side. He then goes towards the other side to join in singing. Everyone now joins in as Rollins starts to make his entrance. Rollins soaks in the atmosphere while Logan is not impressed with his antics.
The bell rings and Logan puts on a side headlock. Rollins breaks free easily. Rollins puts on a side headlock when they lock up again. Rollins hits a shoulder tackle after some misdirection off the ropes. Logan avoids the stomp and shows off. After more running the ropes, Logan throws Rollins to the floor to imitate his Royal Rumble elimination.
Rollins comes in and tackles Logan. Rollins blocks him from leaving the ring but Logan drops his face on the ropes. Logan hits a maverick/buckshot clothesline. Logan hits a body shot after Rollins covered his face to protect from the punch. More body shots from Logan. Logan gets Rollins on his shoulder. Rollins slips off but misses a corner tackle. Logan hits a springboard crossbody and a Death Valley Driver to get a two-count.
Rollins nails big forearm shots before Logan takes him down with a Russian Leg Sweep. Logan goes for a modified version of Antonio Inoki's submission move. Rollins struggles for a while before breaking the submission. Logan hits some shots while they are on the mat. Rollins fires back with his punches. Logan hits a gutwrench suplex to get a two-count. Rollins rolls out and Logan misses a moonsault.
Rollins gets up and starts unloading on Logan in the corner. He ducks a clothesline before dropping Logan with more big shots. Rollins now throws Logan to the floor. Rollins poses for the crowd before hitting back-to-back suicide dives. Rollins stomps on Logan's right hand on the steel steps to take out Logan's lucky punch. Back to the ring, Rollins goes for a pedigree but Logan counters to start a series of pin reversals. Logan hits a big punch but gets late in cover due to his injured hand. Rollins kicks out of the pin.
Rollins hits back with a sitout powerbomb to get a two-count. Rollins goes for the stomp but the Prime Mascot pulls Logan out of the ring. The Mascot reveals himself to be KSI- youtuber, boxer and Logan's business parnter. Logan sends Rollins into the ringpost as Rollins goes to deal with KSI. KSI and Logan clear the announce table. Logan goes for splash from the top as KSI goes to take a selfie with Rollins. Rollins pulls KSI into the splash and Logan puts KSI through the table.
Rollins takes Logan back to the ring and hits a Pedigree. Logan kicks out of the pin though. Rollins goes for the stomp now but Logan counters with GTS. Logan goes to the top and hits a frog splash but Rollins kicks out. Logan stomps on Rollins a couple of times. Logan goes for Coast-to-Coast but Rollins cuts him off with a superkick. Rollins hits the Stomp to get the pinfall.
Winner – Seth Rollins
Becky Lynch, Trish Stratus & Lita vs Damage CTRL(Bayley, Iyo Sky & Dakota Kai)
Damage CTRL enters for the match first. We get an attitude era style video package for Becky, Trish and Lita. Lita and Trish get out to the stage before Becky comes out to join them. A brawl breaks out and everyone gets to the floor. Becky takes Dakota to the ring to start the match. Dakota blocks the Manhandle slam and hits Scorpion kick. Damaga CTRL corner Becky and keep her under control with quick tags. Becky fights back against Iyo. Iyo catches her leg and trips her. Iyo hits a springboard dropkick to get a two-count. Dakota and Bayley hit a double team slam on Becky.
Dakota hits a pump kick on Becky but the referee was late to the count as he was distracted by Iyo. Becky hits a jawbreaker on Dakota. Bayley comes in but Becky sends her to the floor. Bayley swipes Trish off the apron when Becky goes for the tag. Dakota pulls Becky back. Becky fights off Dakota and Iyo. Becky tags in Lita. Lita kicks Dakota off the apron. She hits clotheslines on Iyo before a hurricanrana and a leg scissors into the turnbuckle.
Iyo goes for a German suplex but Lita hits back elbows and follows up with Vertigo. She hits a powerbomb in the corner. Iyo distracts the referee and Dakota kicks Lita off the top. Damaga CTRL hit Lita with a triple kick. Iyo goes for a German suplex but Lita hits back elbows and follows up with Vertigo. She hits a powerbomb in the corner. Iyo distracts the referee and Dakota kicks Lita off the top. Damaga CTRL hit Lita with a triple kick.
They keep control over Lita with quick tags now. Lita counters against Bayley and Iyo with a double DDT. Lita tags in Trish as Dakota comes in from the other side. Trish hits several punches before a Thesz press. She hits some big chops on Dakota before hitting double T on Dakota and Iyo. Dakota hits a back elbow and goes to the top. Dakota blocks Trish's leg scissors on the top rope. Bayley and Iyo pull out Trish. Becky and Trish hit them with dives and help Trish to hit leg scissors on Dakota to take him down to the mat.
Lita tags in and hits Poetry in Motion on Dakota. Becky hits a leg drop on Dakota next. She puts on the Dis-Arm-Her but Bayley runs in to break the submission. Bayley tags in now. Becky and Bayley face off. Becky hypes up but Bayley drops her with a clothesline. Becky blocks Roseplant but some distraction allows Bayley to hits Roseplant in the second attempt. The match breaks down as everyone start to get involved. Iyo hits a moonsault on all the others on the floor.
Both teams return to their corner. All 6 get into the ring now and start to brawl. Lita hits Twist of Fate on Iyo. Trish hits Chick Kick on Dakota. Lita hits Lita-sault on both Dakota and Iyo. Bayley goes for an avalanche Bayley-to-Belly but Becky counters with an avalanche Manhandle Slam to get the pinfall.
Winner – Becky Lynch, Trish Stratus & Lita
Rey Mysterio vs Dominik Mysterio
Bad Bunny joins the Spanish commentary table. We cut to a vignette for Dominik in prison playing tough. He is escorted to a corrections van which takes him away. The van arrives to the stage with some escort motorcycles. Dominik comes out of it and is wearing a mask identical to Rey Mysterio. He is handcuffed as he is escorted by some policemen. He removes the mask as he reaches near the ropes.
Rey makes his entrance in Eddie Guerrero's lowrider with Snoop Dogg rapping Eddie's theme for him. Rey gets to the stage where his music finally hits. Rey comes down the ramp and shakes hands with Bad Bunny on the commentary table. They face off in the middle of the ring before the bell rings.
Dominik pushes Rey to the corner after they lock up. Rey throws Dominik to the floor. Dominik comes in and pushes Rey. He hits a clothesline next. They run the ropes and Rey hits a hurricanrana. Lets go Rey chants as they come to a halt. Dominik throws Rey to the corner but Rey counters by sending him into the turnbuckle. Rey spanks Dominik on his booty with a rope. Dominik rolls to the floor. Dominik gets into an argument with his mother in the front row. He throws a drink a Aliyah also.
Rey goes to check on Aliyah and Dominik runs him over. Dominik throws Rey into the barricade before taking him back to the ring. Rey fights off a headlock and hits an armdrag. Dominik hits a kick to midsection before a deep arm drag. Dominik hits a Michinoki Driver to get a near fall. Dominik throws Rey into the ropes and goes to the floor. Dominik starts to argue with his mother. Angie slaps Dominik and Rey goes to send Dominik into the ring post. Rey kisses Angie before taking Dominik to the ring. Rey hits a seated senton to get a two-count.
Some counters before Rey hits a sunset flip to get a two-count. Damian Priest and Finn Balor come out to the floor now. The distractions allows Dominik to take the upper hand. Rey charges at Dominik but Dominik hits him with a back body drop to send him into the turnbuckle face-first. Dominik goes for three amigos but Rey blocks it and hits 619. Damian Priest pulls Dominik out. Dominik is able to drop Rey. Rey and Dominik fall to the floor.
Balor and Priest were closing on them when Latino World Order's Santos Escobar, Wilde and Del Toro run in to counter them. Dominik and Rey are back in the ring where Dominik hits a clothesline. Dominik hits 619 and a frog splash but Rey kicks out of the pin. Dominik distracts the referee by exposing a turnbuckle and goes to pick up a chain. Bad Bunny comes in and takes the chain away. Rey attacks Dominik from behind and hits 619 and frog splash to get the pinfall.
Winner – Rey Mysterio
After the match, Rey gets his wife and daughter into the ring to celebrate. Dominik is helped up by Judgment Day as he stares down at his family.
Charlotte Flair(c) vs Rhea Ripley – WWE SmackDown Women's Championship
They stare down each other from opposite corners. Flair hits the ring to imitate Ric Flair. The crowd gives her a woo to acknowledge it. They lock up and Flair goes for an arm wringer into a side headlock. Rhea hits a shoulder tackle after blocking one from Flair. Rhea mocks Flair before Flair clotheslines her to the floor. Rhea gets enraged and asks Flair if she thinks she is a queen. Flair hits a chop. Rhea tackles her to the corner.
Flair hits back with punches and then hits a big boot before a crossbody. Flair continues to work in the corner for a while before Rhea counters a stomp by dropping her on the turnbuckle. More stomps from Rhea before she throws Flair face-first into the turnbuckle. Rhea puts on legscissors body lock on Flair while also battering her with big blows to her back. Flair counters by getting into a ground-and-pound position. Rhea boots her and gets a quick two-count. Rhea hits big elbow shots to Flair's back.
Flair drops to her knees. Flair hits a back elbow before Rhea hit a release German suplex for another two-count. Rhea hits short clotheslines now. Charlotte blocks a clothesline with a boot and hits spinning back elbow. Flair follows up with clotheslines next. She bounces Rhea's face off the turnbuckle before hitting big chops after this. More than 10 chops from Flair before she hits a knee drop on Rhea's leg. Rhea's punch is blocked before big shots from Flair.
Flair goes to the top but Rhea rolls through the crossbody. Rhea goes for Riptide but Flair counters it with a DDT to get a near fall. Rhea boots Flair away when she goes for figure four. They both knock each other down with a big boot at the same time. They trade shots as they get back up to their feet. Rhea stomps on Flair's foot before Flair ducks swing and hits a fallaway slam. Flair kips up after a few seconds. Flair goes to the top but Rhea meets her. Flair knocks her off once but Rhea jumps back up to hit an avalanche German suplex. Flair kicks out of the pin.
Flair hits a chop block and Natural Selection to get a near fall. Rhea rolls to the floor for a breather. Rhea sidesteps a charge from Flair to send her into the steel steps. Rhea slams Flair first first into the mat to get a near fall. Flair counters another Riptide with a German suplex. Rhea tries to hang onto the ropes and Flair goes for another German suplex. Rhea hits back elbows and counters with a German suplex herself.
Flair hits a running boot after recovering to get a two-count. Rhea kicks her when she goes for figure four. Rhea recovers on the apron and Flair knocks her off with a running boot. Flair goes to the top and hits a moonsault on Rhea on the floor. Flair takes Rhea back to the ring and Rhea blocks the Figure Four once again. Rhea hits a headbutt and hits a Riptide. Flair kicks out of the pin. Rhea cannot believe this. Rhea gets mad and goes to pick Flair but Flair gets her in an inside cradle to get a two-count. Rhea puts on the Cloverleaf. Flair struggles for a while but manages to get to the ropes.
Flair hits a spear after Rhea collides with the referee. Rhea kicks out of the pin. They trade shots back and forth. Rhea hits a roundhouse kick and Flair replies with a big boot. Flair puts on figure four but Rhea quickly gets to the ropes to break it. There is some blood on Rhea's nose. Flair slams Rhea's face on the turnbuckle. She goes for a move on the top but Flair counters and slams Flair's face onto the ringpost. Rhea climbs back up and hits an avalanche Riptide to get the pinfall.
Winner – Rhea Ripley
Rhea celebrates with the title while Flair recovers on the floor. Flair is smiling as Rhea poses with pyro going off. Rhea hits the corner pose to close the segment.
---
Austin Theory is interviewed backstage by Byron Saxton. Saxton asks where Theory's head is at. Theory says he has made John Cena believe in him. He then asks us if they believe in him now?
---
Miz and Snoop Dog are in the ring. Miz announces the attendance for today to be 80497. Snoop says only thing better than this would have been Miz having a match tonight. Miz says he put out an open challenge but nobody accepted it. Pat McAfee's music hits and he comes out. McAfee takes the mic and shakes hands with Snoop. McAfee tells Miz that he is on social media and he speaks for the fans also when he says nobody has seen his open challenge. McAfee says he is in his WrestleMania tank top, then why not he take on his challenge. Miz asks the crowd if they want to see him wrestle. Miz says he is the host of WrestleMania and can't make match official. McAfee says there got to be someone who makes this match official. Snoop says he can make the match official. He brings in a referee and leaves the ring.
Pat McAfee vs The Miz
McAfee starts to unload with punches. Miz charges at him but McAfee hits a spinebuster. McAfee puts Miz on the top. Miz fights back but McAfee hits him with a superkick when Miz dives from the top. Miz rolls to the floor now. Miz starts to leave to the back but San Franciso 49ers player George Kittle stops him. Miz shoves him back. Kittle gets to the ringside and hits Miz with a clothesline on the floor while McAfee distracts the referee. McAfee takes Miz back to the ring and hits a punt kick to get the pinfall.
Winner – Pat McAfee
McAfee and Kimmell celebrate after the match.
The Usos(Jimmy & Jey Uso)(c) vs Sami Zayn & Kevin Owens – Undisputed WWE Tag Team Championship
Liv Uzi Vert performs for the Usos before they make their entrance. Kevin Owens comes out next. The loudest pop as expected is for Sami Zayn. Sami and KO are ready to get into The Usos even before the bell. The referee has to keep them separated during the announcement. Sami and Jimmy start the match. Jimmy runs his mouth and the crowd is red hot. Jimmy encourages Jey to get Sami. Jey tags in to start against Sami.
They lock up and Jey puts on a side headlock. Jey hits a shoulder tackle when Sami throws him to the ropes. They circle around before locking up once again. Sami hits a Thesz Press and unloads with quick punches on Jey on the mat. Jimmy takes a blind tag and uses a lowbridge to get Sami to the floor. Jimmy hits a clothesline on Sami on the floor. Jimmy sends Sami into the ringpost. Jey gets a tag and hits a suicide dive on Sami. Owens wants to get involved but decides against being lured to Usos' plan.
Jey hits a snap suplex on Sami on the floor. Back to the ring, Jey unloads with more punches. Jimmy tags in and hits several stomps on Sami before knocking off Owens from the apron. Jimmy hits a big chop before Jey tags in to hit forearm. Jey puts on a chinlock on Sami. Sami throws Jey over the ropes and knocks off Jimmy also. Sami tags in Owens who hits a crossbody on The Usos on the floor. He sends both men into the barricade. He throws Jey into the ring.
Owens hits a frog splash on Jimmy on the floor and another one on Jey in the ring. Jey hits a neckbreaker to get back into the match. Owens fights Jey but Jimmy tags in. Owens hits Swanton bomb but Jey gets his knees up. Jimmy quickly hits The Usos Splash but Owens kicks out of the pin. Jimmy misses a hip attack in the corner. Owens hits a couple of superkicks and cannonball. Owens goes to the top again but Jey hangs onto his leg. Sami comes in and hits a brainbuster on Jey on the apron. Owens hits a Swanton Bomb on Jimmy but he kicks out of the pin.
Sami tags in and hits Usos Splash on Jimmy to get another near fall. Jimmy blocks Blue Thunderbomb and then hits a superkick on Owens. Sami hits a blue thunderbomb after Jey takes a blind tag. Jey hits superkick on Sami to get a near fall. Jey hits another superkick on Sami. Jimmy comes in and hits another superkick. The Usos unleash superkick party on Sami. Owens runs in to break the pin. Jey hits Owens with a superkick to send him back to the floor. They hit stereo superkicks to Sami who kicks out once again.
More superkicks from the Usos on Sami and he kicks out of the pin once again. The Usos go for 1-D but Owens pulls Jey out of the ring. Sami rolls up Jimmy for a near fall. Owens slams Jey's face on the announce table a few times. He goes to powerbomb Jey but Jimmy comes in to counter. The Usos put Owens through the announce table with a double team powerbomb. Sami recovers in the ring and The Usos hit him with 1-D. Sami still kicks out of the pin.
Jey is frustrated now and asks Sami why is not quiting. Jey slaps Sami as he says he though Sami was his brother. Jey waits for Sami to get up and hits him with Helluva kick. Sami falls in Jey's arm. Jey asks Sami if this is how he would end the Bloodline. Sami suddenly hits Jey with an exploder. Sami tags Owens. Owens hits Jimmy with a pop-up powerbomb. Owens hits Jey with a cannonball. Sami hits Jimmy with a Helluva kick and Owens hits a Stunner on Jey. Jey kicks out of the pin.
Both teams face off in the middle of the ring before they start to brawl. Owens hits superkicks on Jey. Jimmy gets a blind tag. Jey avoids a pop-up powerbomb and hits a superkick. Jimmy comes in and hits stereo superkicks. Sami is kicked off the apron. The Usos hit stereo Usos splash on Owens but Owens kicks out.
Jey picks up Owens to set him up in the corner. Jimmy comes in for another stereo superkick. They set up Owens on the top for a 1-D on the top but Sami pulls Jey out. Owens counters with a brainbuster off the top. Owens tags in Sami. Jey is standing up in his corner. Sami hits him with a Helluva kick. He does not go for the pin but hits another Helluva kick. Jimmy comes in but Owens hits him with a stunner. Sami hits another Helluva kick on Jey to get the pinfall.
Winner – Sami Zayn & Kevin Owens
Owens and Sami are in tears. Pyro goes off as they are handed the titles. Sami and Owens celebrate as the show goes off the air.