WWE SmackDown Live Results- 11 September 2020: Bayley Explains!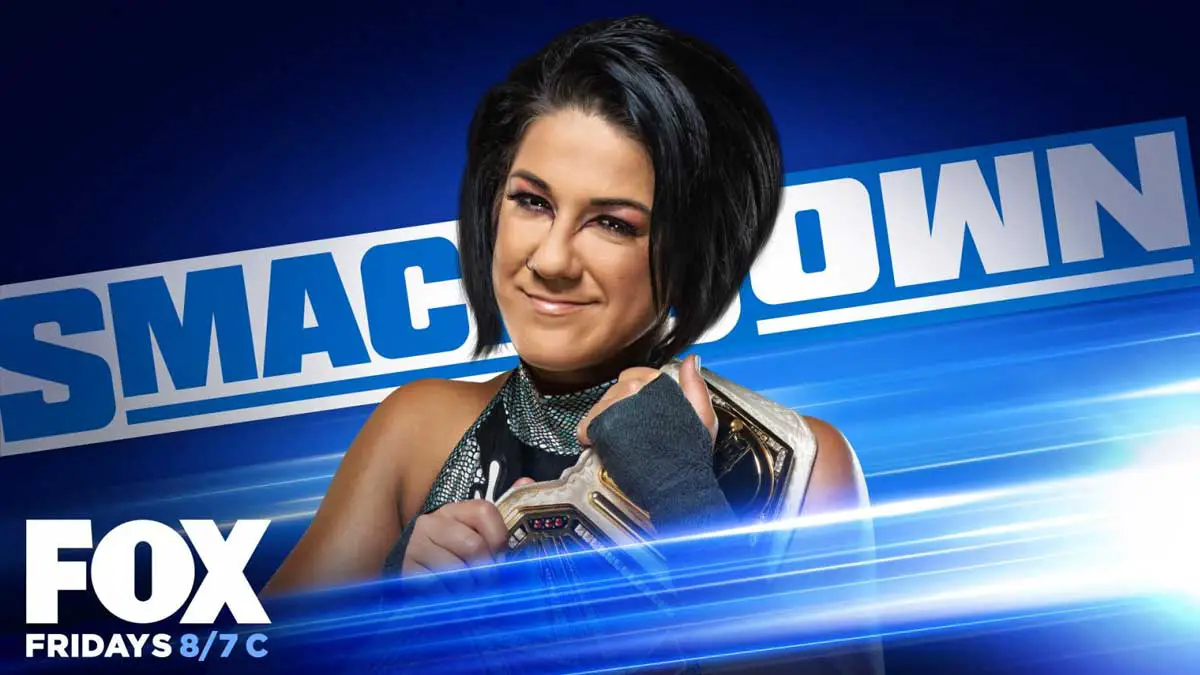 WWE SmackDown will go live tonight as WWE will keep building towards Clash of Champions PPV. After last week's attack on Sasha, Bayley is set to explain herself. Roman Reigns looks miffed with cousin Jey Uso even though he supported him in getting the Universal Championship title shot. Intercontinental Title will be on the line as the turmoil over the title continues and much more is expected for the show.
Nepotism at his Best!
WWE Universal Champion Roman Reigns comes out with Paul Heyman. Heyman talks a bit about Roman before telling us Jey Uso becoming #1 contender. Heyman now introduces Jey Uso as he makes his way out. Jey thanks Heyman to get him into the match and Heyman replies that thanks should go to Roman as it was his idea. Reigns tells him that the whole family is proud of him but he would beat Jey at Clash of Champions.
King Corbin comes out and calls out Roman and Jey of nepotism. Sheamus also heads out and is agreeing with Corbin about Jey Uso's title match being a setup. Jey proposes a tag team match for later tonight with Roman on his side. Sheamus charges at Jey and gets sent outside. Corbin is sent to the ring post next. Reigns is with a smirk on his face and leaves the ring.
We see Sami Zayn in the production truck arguing about the graphic for AJ Styles vs. Jeff Hardy. He has his Intercontinental Title belt and is upset about their match being billed as an Intercontinental Title match.
Jeff Hardy(c) vs AJ Styles – WWE Intercontinental Championship Match
AJ Styles and Jeff Hardy makes their entrance. Sami Zayn interrupts once again as the match was announced for the IC title and rants a bit about it. Sami says AJ and Hardy can beat each other up but this is an exhibition match. WWE Producer Adam Pearce comes out with security to the stage.
Styles takes advantage of the distracted Hardy and drops him. AJ works Hardy over while he's down now. The bell rings and AJ misses a running splash in the corner. Hardy drops AJ with a Twist of Fate. Hardy misses the Swanton Bomb before we go to commercial.
Back from the break, Styles has sent Hardy out of the ring. AJ stomps on him on the outside. Hardy trips him onto the steel steps and then hits a crossbody. Back in the ring, HArdy tries to make some momentum but Styles counters. Hardy hits the twisted moonsault from the top to get a near fall. Styles counters Twist of Fate with Ushi Garoshi for a near fall of his own.
Hardy counters again with some quick moves. Styles starts working on Hardy's knee. But soon enough, Sami Zayn pulls Styles out of the ring and starts unloading on him with punches. The referee call for DQ. Zayn comes into the ring and hits a Helluva Kick on Hardy. Zayn leaves for the back.
Winner – AJ Styles by DQ, Hardy Retains the title
Jeff Hardy is leaving for the back and falls on the ramp. A call back to Matt Hardy's concussion at AEW All Out 2020 I guess. We cut to commercial again.
After the break, we see Alyse Ashton outside the trainer's room. She says Jeff Hardy was suffering from dehydration. AJ Styles comes to her and starts ranting on Hardy and Zayn. AJ asks who is the true Intercontinental Champion and will beat both Hardy and Zayn to prove that he is the one and only Intercontinental Champion.
We cut to Cesaro and Nakamura's Champion's Lounge. Montez Ford and Angelo Dawkins comes into the lounge. Cesaro and Nakamura go out for their match aginst Lucha House Party. The Profits say they are going to enjoy the lounge and get a scouting report for Monday's match. Cesaro and Nakamura keep warning Ford and Dawkins to not touch anything, but they do anyway.
Hardy is discussing something with the medical team when Sami Zayn interrupts them once again. Hardy starts unloading on him to start another brawl before we cut to the break.
Cesaro & Shinsuke Nakamura vs Lucha House Party
Cesaro misses a senton early on and Kalisto hits senton from Metalik's shoulders. Nakamura distarcts Kalisto and Cesaro takes control. Nakamura and Cesaro makes some quick tags. We see the Street Profits partying in the Champions' lounge which distracts the SmackDown Tag champs. Kalisto comes from behind and takes advantage of a distracted Cesaro for a roll up for the pin.
Winners – Lucha House Party
After the break, LHP joins the Street Profits at the Champions' lounge.
Bayley Explains Attack on Sasha Banks
Bayley comes out with a chair in his hand. Lots of boos can be heard. Bayley shows us the leadup to the attack on Sasha Bank and then the brutal thrashing. Bayley is sitting on the steel chair in the middle of the ring. Bayley starts her promo and rants how everyone is concerned about Sasha's health only and nobody is talking about how she has been doing after beating up her friend. The swarm of boo continue during the promo.
Bayley says she knows Sasha is watching this and says she is not an idiot to understand what Sasha has been doing. She says how Sasha was keeping her close during her title reigns on RAW, becoming tag team champion and 2 Belts Banks, because Sasha has been using her. And how does Bayley know this? Because Bayley herself was using Sasha. And after last week, Sasha became useless for her, so she took her out of the way.
Alexa Bliss vs Nikki Cross vs Lacey Evans vs Tamina Snuka – #1 Contender Match
Bayley leaves the ring and we see Nikki Cross entering for the #1 contender's match. Nikki goes past Bayley. Bayley suddenly attacks Nikki from the back with a steel chair. We cut to commercials.
After the break, we see Alexa Bliss checking on Nikki who is saying she is ok. Evans makes her way to the ring where Tamina is already waiting. The bell goes off and they start the match. Evans uses the ropes to strangle Tamina for a while. Bliss comes in and hits double dropkick on both of them. Bliss beat up Evans for a while before Tamina runs her over with a clothesline. Tamina dominates for a while, beating up Bliss and Evans one by one. Evans rakes her eyes on the ropes and goes to hit the corner knee drop on Bliss when Tamina kicks her in the gut.
Nikki Cross comes in and goes against Tamina. She manages to take Tamina down after a series of moves. She knocks Tamina from the apron. Bliss hits a basement slide dropkick on Tamina now. Bliss goes out and we suddenly see a change in her behavior. Cross notices it but she goes to take down Tamina and Evans with a crossbody. Cross goes to check in Bliss. Bliss hits her with Sister Abigail, Bray Wyatt's finishing move. We go to break.
After the break, the commentators tell us that this match is now Fatal 4-way as Bliss has left to the back. Bliss is walking like a woman possessed by someone. Evans and Tamina go back and forth in the ring. Evans sets up Tamina for the moonsault but Tamina brings her down. Evans trips her onto the turnbuckle before hip attack in the corner. Evans hits the split-legged moonsault but Cross breaks the pin.
Cross hits a series of splashes of both opponent. Evans is taken down with a bulldog but kicks out after 2. Cross hits a DDT on Tamina and a clothesline on Evans. Tamina breaks the pin once again. Cross with the swinging neckbreaker on Evans but Evans rolls out of the ring. Cross then gets Tamina in a pinning position and gets the three-count for the win.
Winner – Nikki Cross, #1 contender for SmackDown Women's Championship
Back from the break and we see another teaser video for the mystery woman from last week. We get to see her ling body and her blonde hair but not her face. Someone puts on a fur coat on her before she snaps her fingers and walks off.
Otis vs John Morrison
The Miz joins the commentary team. Back and forth to start with. Morrison hits a jawbreaker and a kick before Otis starts to hulk up. Otis catches a kick and throws Morrison over his head. Otis with a scoops, spin and slam on Morrison. Miz tries to interfere and Tucker goes to deal with him.
Morrison looks to take advantage against Otis. Miz grabs Otis' lunchbox which has the MITB contract and runs away. Otis gets upset and drops Morrison to hit the Caterpillar. Otis hits the Vader Bomb for the win.
Winner – Otis
Backstage, Tucker wants to go and find The Miz down but Otis tells him to relax. Otis reveals that his Money In the Bank contract is in the bigger briefcase. We cut to The Miz and John Morrison who are opening the lunchbox. It has an old apple and not the contract. Miz takes out his phone and says he is calling in a favor.
Firefly Fun House
We go to Firefly Funhouse with Bray Wyatt. He thanks Roman Reigns as he misses the WWE Universal Title. He goes over to a box which he says has a new member of the Firefly Funhouse. Wyatt calls the new puppet – the Persevering Parrot. Wyatt tries to get him to fly out of the box but we see nothing. We get a "technical difficulties" graphic as Wyatt struggles to take him out of the box. He then says he probably should have cut some holes in the box. The parrot has died inside the box.
The Evil Boss puppet appears and starts yelling at Wyatt for losing the title and control of the Funhouse. He threatens to fire Wyatt if he can't keep the Funhouse together. The Evil Boss puppet then introduces the new Special Advisor for the Funhouse – Wobbly Walrus A seal which looks like Paul Heyman with long teeth. Wyatt isn't thrilled but Boss puppet is. The Walrus says, "My name is Wobbly Walrus!" and the segment cuts off.
Roman Reigns & Jey Uso vs King Corbin & Sheamus
Corbin and Sheamus enter for the match. Jey Uso gets attacked on the ramp. No sign of Roman Reigns as Jey is double teamed. Uso hits a few moves until Corbin catches him with a Deep Six. Sheamus comes in to keep control before some double team. Uso fights back with kicks and ends up hitting the Samoan Drop on Corbin. Jey misses the Rikishi splash in the corner as Corbin moves. Sheamus tags back in and hits White Noise on Jey for a near fall.
Sheamus readies for the Brogue Kick but Reigns' music hits for the distraction. Reigns comes out and Jey avoids the Brogue Kick. Jey hits an enziguri on Sheamus before taking out Corbin with a dive. Uso and Sheamus go at it briefly before Uso hits a superkick and big splash. Reigns tags himself in and Jey doesn't realize it. Reigns comes in and hits him with the Spear for the pin.
Winners- Roman Reigns and Jey Uso
After the match, Reigns stands tall as his music hits. Jey rolls to the floor to recover. Reigns exits the ring, makes a quick stop to look at his cousin, then marches up the ramp. We go to replays. Heyman meets Reigns on the stage and hands him the title. Jey stands next to Reigns on the stage and raises his arm, which is holding the title. Reigns looks at the title and then at Jey, staring him down as SmackDown goes off the air.
SmackDown Results Chronology