WWE SmackDown Live Results- 4 September 2020- Heel Roman Era Starts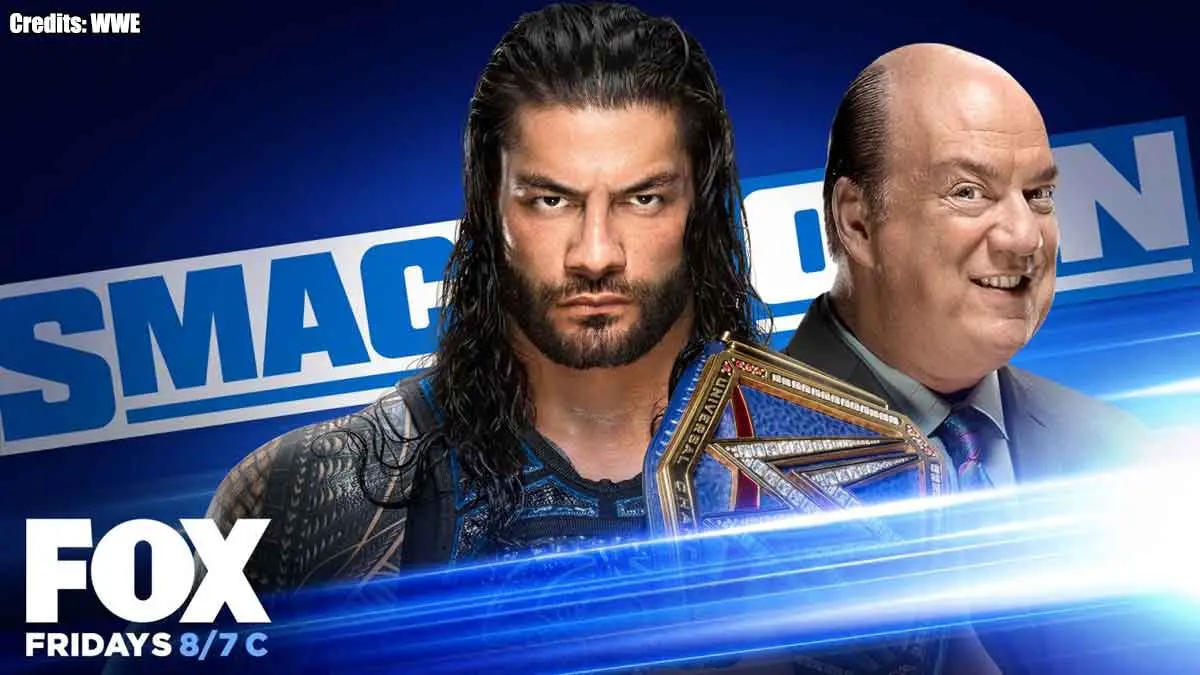 WWE Friday Night SmackDown will see the start of Roman Reigns new title reign in his new heel avatar. A #1 contender match is also set for to find his challenger at Clash of Champions along with Women's Tag Team title rematch from Payback.
Date – 4 September 2020
Location – Amway Center, Orlando, FL, US
The show opens with the highlight from Payback last Sunday where Roman Reigns won the title. As we go live from Thunderdome, Roman Reigns comes out with Paul Heyman.
Roman Heyman Opens the Show
Heyman starts his promo by telling us that it was not him who is corrupting Roman, but it was Roman who seek him out after he was left in obscurity. Roman is just standing in the middle of the ring, staring into the camera and Heyman continues. He goes to tell us how Roman is bigger and better as our champion. Heyman finishes saying he is providing special counsel to tribal chief and our champion. Roman takes the mic and says he did what he promised by coming to Payback, wrecking Strowman and The Fiend and win the title.
Heavy Machinery comes out. Otis does summersault and Tucker now has a mini Money in the Bank replica with him. WWE trying to promote a merchandise. No surprise.
After the break, we see Roman and Heyman marching backstage. Jey Uso comes up to Roman and congratulate him on Universal Title win. He waits for Heyman to go before firing Roman a warning over being careful of him, reminding Roman of what Heyman did to him as Lesnar's advocate.
Heavy Machinery vs The Miz and Morrison
The winner of this match will become #1 contenders for SmackDown Tag Team Championship. Otis takes control against Miz early on. Tucker tags in for double team before Miz hits a jawbreaker. Morrison comes in and Tucker ends up hitting him with a hip toss. Miz tries to interfere against another double team move. Tucket scoops Miz while Otis picks up Miz and slam them to each other. We go to the break.
Tucker is struggling as we return but manages to tag in Otis. Otis runs over Morrison but Miz assists him to nail Otis with a springboard kick. A running knee follows. Otis fights back and sends Morrison to the floor. Tucker tries to get involve but Morrison hits him with the spinning neckbreaker on the floor. Otis starts getting hyped in the ring against Miz. He throws Miz across the ring and then dumps Morrison over him. Otis with a double splash on both opponents. He hits the caterpillar on the Miz and then the Vader bomb to get the pin.
Winner – Heavy Machinery (new #1 contenders for SmackDown Tag Team Championship)
After the match, John Morrison runs off with Otis' Money in the Bank briefcase. Otis and Tucker are shouting at him from the ring.
Big E Gets Ambush
Backstage, Big E is with Drew Gulak, getting ready to welcome back Xavier Woods and celebrate his birthday. A security guy tells him that Woods is in the building and is asking for him. E goes to other part of the arena where Sheamus attacks him. Sheamus sends him into the shutter and them drop him with the White Noise on top of a car.
After the break, we see Big E still down on top of the car. Medical team is there and Kayla Braxton updates that E might have suffered some lacerations along with other injuries. Kayla Braxton asks him if he planned the ambush. Sheamus says he was just minding his own business when Big E just came in front of him. Sheamus goes on and mock Big E for the goofy things on the biggest night of his career so far. He ends the promo saying that the main event might now just be a triple threat match.
We see the replay of how Bayley and Sasha Banks lost the tag team titles on Payback. They are backstage for an interview now. They say they did not see Jax and Baszler as a tag team before Payback. And since now they have seen it, they will defeat them tonight to get the titles back. The interviewer asks Bayley if she is considered Baszler has forced her to tap out 3 times now. Sasha rants on the interviewer and reminds us Bayley is the greatest SmackDown champion.
After the break, Adam Pearce provides the update that Big E is out of #1 contender match now. But the match will be a fatal 4-way still and the new participants will be announced. Before he could say more, Paul Heyman comes and takes him away.
Nia Jax & Shayna Baszler vs Bayley & Sasha Banks – WWE Women's Tag Team Championship Match
Both teams enter and the announcements are done. Sasha and Bayley attack after the break and send the opponents outside the ring. Jax and Baszler catch their dives and thrash them into the barricades again and again until we go to the break.
Baszler shocks Bayley's shoulder before tagging in Nia. Sasha runs an interference and Bayley tags her in. Sasha runs rampant by taking down Nia with a scissors into the turnbuckle. She drops the knee in the corner and running dropkick. Sasha decks Baszler off the apron. Bayley takes the tags and helps Sasha to powerbomb Nia from the apron.
Banks and Bayley now take control over Baszler with quick moves and tags. The double team helps them to keep control for longer. Sasha goes for the double knees on the apron but Baszler moves out of the way. Baszler starts working on her knee after this with some innovative offense. Bayley comes in with Belly to Belly suplex to save Sasha from a leg lock. Sasha covers but Baszler kicks out. Sasha puts on the Bank statement and Nia comes in to break the lock.
Nia picks Sasha and climbs to second turnbuckle. Bayley saves Sasha and the duo get busy to take care of Baszler. They turn around to a crossbody from Nia from the second turnbuckle. Nia covers both women to get the pin.
Winners- Shayna Baszler & Nia Jax, retains WWE Women's Tag Team Championship
After the match, Baszler and Jax celebrate for a while before leaving. Sasha Banks is selling a knee injury. Medics come out to check on her. We return after the break and Sasha and Bayley are still in the ring with medics. Bayley is shouting at medics to be careful. Sasha refuses to go on stretcher and pushes the staff away. Bayley helps her to get to the ropes before kicking at her. Bayley has turned on Sasha.
Bayley sends her knee-first into the steel steps and then into the barricade. She takes Sasha back to the ring and continue to attack on the legs. Bayley brings in a chair and Sasha tries to fight back. Bayley drops her with a running knee and goes on to put her neck in between the chair before a leg drop on Sasha. Bayley leaves the ring as medics rush in once again.
Who is the Intercontinental Champion?
Sami Zayn comes out and claims that he is the champion. Jeff Hardy comes out and tells him he did not need to attack him to ask for a title match. AJ comes out and claims himself to be the uncrowned Intercontinental champion. AJ attacks Hardy to start brawl. Zayn joins him but AJ decks him and goes for the Styles Clash. Hardy save Zayn and hits Styles with Twist of Fate. Zayn takes him out with a Helluva kick and runs away.
Jey Uso is announced as Big E's replacement in the #1 contender match. Matt Riddle makes his entrance as we head to the break.
Talking Smack lineup is announced for tomorrow- SmackDown Tag Team Champions Cesaro and Shinsuke Nakamura, and Alexa Bliss. We get a quick teaser from a mystery woman walking in high heels with only background music and some bluish hue.
Heavy Machinery's Tucker is worried since he can't find The Miz and John Morrison. Otis shows him the the Money In the Bank contract which is safe in the lunchbox. Tucker asks him then what he keeps in the briefcase. We cut to the Miz and Morrison and Morrison pulls out some trash paper and Otis' Money In the Bank lunchbox.
Jey Uso joins Roman Reigns and thanks him for getting him in the main event match. Reigns says it's time to showed Jey some respect. Jey says they will turn up at Clash of Champions. Reigns takes a sligh dig at Jey as he says Jimmy Uso would have definitely won it, so let's see if Jey can. Jey laughs a bit and Reigns wishes him good luck. He walks off.
King Baron Corbin comes out on his caravan and start ranting about nepotism in Jey Uso getting into the match. Riddle runs up the ramp and Corbin gets down to start a brawl with him. Sheamus joins them and so does Jey Uso. We cut to the commercial.
After the break, we enter the Firefly Fun House where Bray Wyatt tells us that there is a new friend coming to fun house next week. We cut to Alexa Bliss who is apologizing to Nikki Cross for smashing her mug last week. Bliss' hair looks more pink than last week. Nikki looked like forgiving Bliss but Bliss suddenly goes on to hug her. We see the Ramblin' Rabbit in the background.
Jey Uso vs Sheamus vs Matt Riddle vs King Corbin – #1 Contender match for Universal Championship
The bell rings and Uso knocks Corbin with a superkick. Jey also sends Sheamus to the floor. Riddle tries to rollup Jey a two-count. Riddle knocks Sheamus out once again. Jey and Riddle continue to tussle until Jey is sent into the barrier by Corbin. Riddle is taken down with a backbreaker from Sheamus. Corbin and Sheamus work on Riddle and this match is changed into a tornado tag match. Riddle sends Sheamus to the floor. Corbin hits a Spinebuster on Riddle and Jey had to break the pin. Corbin clotheslines Jey before double-teaming with Sheamus against him.
Riddle rocks Corbin on the floor and Jey fights off Sheamus. Riddle and Jey double team against the heels now. Corbin comes with a deep six on Uso and Sheamus hits the Irish Curse on Riddle. Corbin gets dropped by Sheamus as he was shouting at the referee.
Sheamus works on Uso and Corbin for sometime. Riddle comes in and hits him with some big rapid moves- Exploder suplex, a running kick and a Broton. Riddle yells out for a pop. Riddle with a German suplex on Sheamus. Sheamus takes Riddle into a submission before hitting a powerbomb. Sheamus puts him the Cloverleaf submission. Jey runs in to break the hold with. Uso kicks at Corbin before a Rikishi Splash in the corner. Uso superkicks all three opponents to send them out.
Corbin tries to fight back over the barrier. Uso gets brought over the barrier, then launched into the LED rows of virtual fans. Uso is down and Corbin smiles. Corbin brings Riddle in the ring now. Riddle avoids End of Days but Sheamus nails a big Brogue on Corbin to put him down. Riddle with Bro 2 Sleep on Sheamus. Riddle hits the Floating Bro on Corbin for the pin but Jey hits a Uso Splash on Riddle for the pin.
Winner – Jey Uso, will face Roman Reigns at Clash of Champions
Jey gets an in-ring interview with Kayla Braxton to hype him up a little bit.
SmackDown Results Chronology