WWE SmackDown Live Results: 18 Sept 2020: Samoan Street Fight & More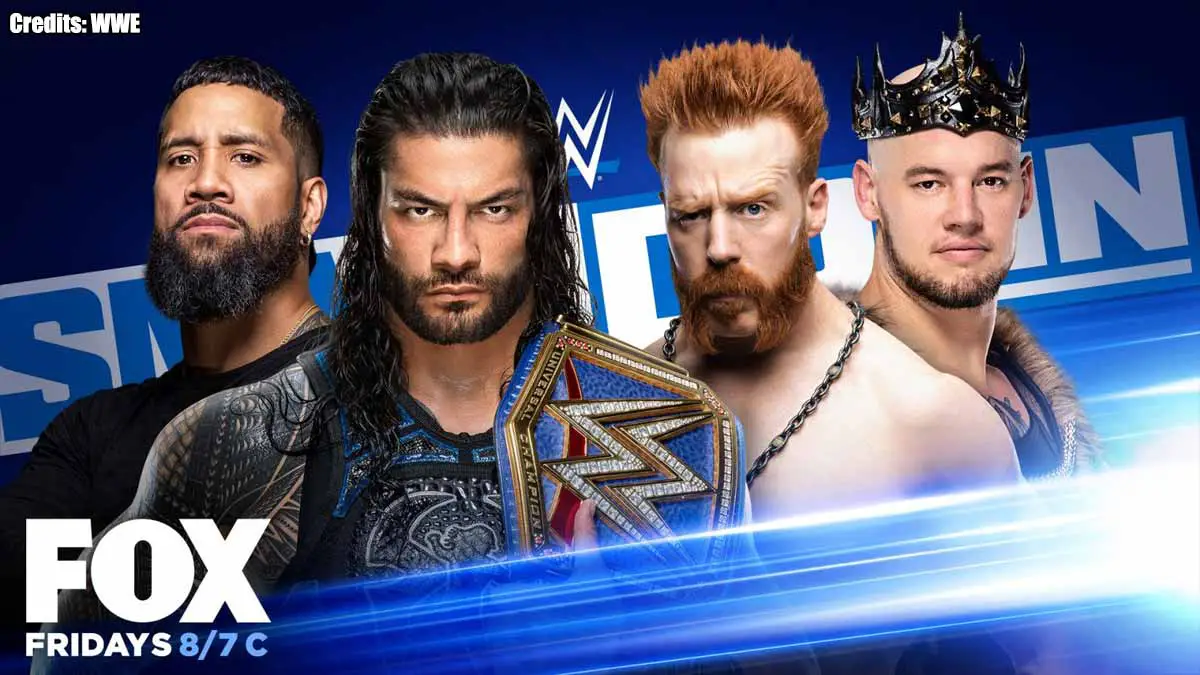 Welcome to ITN's Live Results and Updates blog for the WWE Friday SmackDown episode from tonight 18 September 2020. A lot is advertised for the show as WWE continues to build towards Clash of Champions PPV.
Location: Amway Center, Orlando, FL, US
Start Time: 8 PM EST(19 Sept 12 AM GMT/5:30 AM IST)
The Dirt Sheet
The show opens with the Dirt Sheet with The Miz and John Morrison. They promise us to reveal the secret regarding Jey Uso, Bayley's attack on Sasha and others but first they will talk about Mandy's departure to RAW. The Miz tells us that he is trying to help Otis and this will help him to focus on Money in the Bank pressures. They continue to talk about Mandy and even say Mandy has already moved on to Dolph Ziggler. They joke about Otis wearing "tighty whities" and continue to take shots at him.
Otis' music hits and he comes out. He heads to the ring and starts beating up the Miz. He throws Morrison out of the ring. The Miz tries to escape but Tucker throws him back. Otis unloads on him before hitting a corner splash, a caterpillar elbow drop and then a Vader bomb. An angry Otis then strips Miz naked before throwing him out of the ring again. Miz realizes he is down to his white briefs and runs to the back. Morrison is running behind him, trying to cover him up with his coat.
After the break, John is backstage and asks Miz about Otis. Miz says this is all part of his plan. Kayla Braxton comes to them but Miz answers his phone and asks "Did you see her? Is it enough?" Miz smiles and gives Morrison a thumbs up. They laugh before leaving.
Cesaro vs Gran Metalik
Metalik gets some quick moves going to start. He goes to the top but Dorado and Kalisto are giving him different directions from the ringside. Cesaro gets the opportunity to recover and catches him in the crossbody to hit him with powerslam. Cesaro goes to work on him for a while until Metalik drops Cesaro.
Metalik goes to the apron but Dorado and Kalisto are once again arguing, and this time at the apron. The referee boots them from the ringside. Cesaro decks Metalik from the apron. Nakamura and Cesaro chase Dorado and Kalisto to the back. Cesaro turns to a tope suicida from Metalik as we go to the break.
After the break, Metalik hits a low kick before Cesaro runs him over with a big boot. A chin lock is applied briefly before Cesaro puts Metalik to the top. Metalik fights back and brings Cesaro down with head scissors from the top. Cesaro gets his feet up on the top rope moonsault before hitting his finisher to get the pin.
Winner – Cesaro
Jey Uso is backstage with Kayla Braxton for an interview. We see last week's main event where Roman came at the last minute to win the match. Jey tells us Paul Heyman told him that Roman Reigns not being there for the match was a miscommunication. He talks about Reigns throwing his weight around since they were little, but they are not little anymore. Jey gets hyped up about Samoan Street Fight before walking off.
Back from the break and we get a "Know Your Bro" segment from Matt Riddle. Riddle says people always ask him why he says "bro" so much. He says it's like a universal language, one that can convey many different emotions. He shows different faces, how bro can mean happy, sad, anger, introspective, afraid, and confident.
Alexa Bliss Hosts Nikki Cross in "A Moment of Bliss"
We go back to the ramp for "A Moment of Bliss" with Alexa Bliss. Bliss introduces Nikki Cross and she comes out dancing. Bliss congratulates Cross on becoming #1 contender last week. She asks what Cross' plan for the match against Bayley this time since she has already lost to Bayley so many times. Cross says this time will be different since Bayley don't have Sasha Banks watching her back.
Bayley warns Bayle before turning her attention to Bliss and asks her about Bliss walking off after hitting her with the Sister Abigail last week. Bliss says she also doesn't know how to explain it because she doesn't fully understand it. She feels like some kind of change but she doesn't know how to handle it. Lacey Evans' music interrupts and she comes out.
Evans taunts the pair and says Cross only won last week because Bliss walking out put Evans off her game. She keeps mocking Cross and says Cross is too nice, too short, too weak, and has no backbone to be able to defeat Bayley. Cross grabs Evans' handkerchief and blows her nose with it, saying she is not too nice. Evans goes to pick it back up but Cross kicks her and attacks her. They brawl on the stage and the ramp.
Lacey Evans vs Nikki Cross
Back from the break and Alexa Bliss is on commentary as Lacey Evans and Nikki Cross get ready. Evans goes to ringside to apply hand sanitizer to stall. Cross attacks her to start before Evans turns it around in the ring. Cross drops Evans near the corner for a quick two-count. Evans drops the knee a couple of times and continues to beat her up. Evans works on Nikki's arm.
Evans hits a bronco buster for another two-count before continue to work on the arm. Evans rubs her hand sanitizer all over Cross' face. Cross gets angry and starts her fight back. Cross with quick moves to get some momentum. Evans once again stomps on her arm. Cross hits a tornado DDT from the turnbuckle and hits the swinging neck breaker for the pin.
Winner – Nikki Cross
After the match, Cross celebrates for a bit before heading back. Evans is recovering at the ringside. Bliss' behavior change again and she starts staring into the blank space. Bliss then goes over, picks Evans and hits her with Sister Abigail.
We get a vignette from Paul Heyman where he hypes Roman Reigns' Samoan lineage and how many champions the family has created. He names Roman's father, Yokozuna, The Rock, and Jey Uso's father Rikishi.
Sasha Banks Addresses SmackDown
Still to come
Roman Reigns & Jey Uso vs King Corbin & Sheamus – Samoan Street Fight
AJ Styles vs Sami Zayn
SmackDown Results Chronology