LFA 151 Results LIVE, Delano vs Santos, Polastri vs Gottig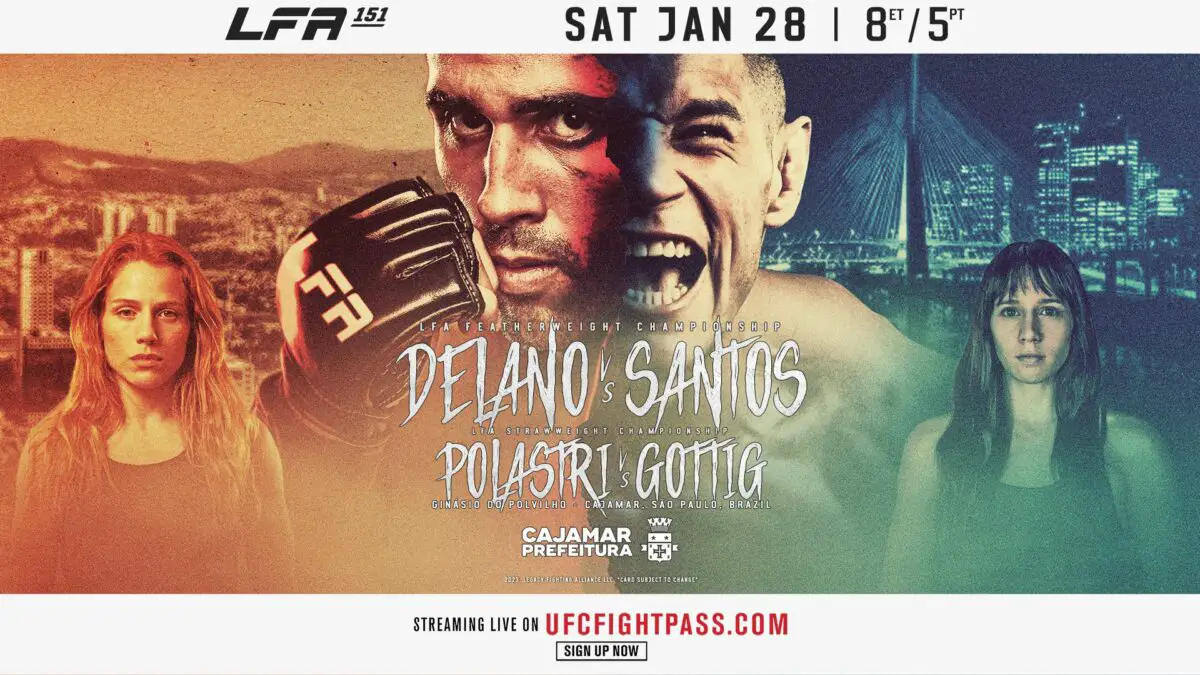 LFA returned to Brazil with LFA 151 event on January 28, 2023, at Ginásio do Polvilho in Sao Paulo.
LFA 151 was headlined by LFA Featherweight Tournament Final match. Jose Delano and Gabriel Santos clashed in this bout with the vacant LFA Featherweight title on the line.
Jose Delano entered the bout with an impressive three fights winning streak in LFA in 2022. He was previously seen beating Jair Jesuino at LFA 143. Gabriel Santos, unbeaten so far, made his LFA debut in his bout against Márcio Barbosa at LFA 146 in November.
The co-main event bout saw a new women's strawweight champion being crowned as Julia Polastri fought Brenda Gottig. Polastri was successful in her LFA debut at LFA 146 where she defeated Bianca Sattelmayer. For Gottig, this was her promotional debut.
The prelims card of LFA 151 was available on Youtube from 6:45 PM ET onwards and featured 3 bouts. The main card started at 8 PM ET on UFC Fight Pass. Check below as we post results live from LFA 151: Delano vs Santos event with a complete fight card.
RESULTS
Untelevised Prelims
Gabriela Fujimoto def. Laryssa Leila via Unanimous Decision (29-28, 29-28, 29-28) – Women's Strawweight Bout
Michael Oliveira def. Clever Souza via TKO (Strikes) at 0:49 of Round 1 – Welterweight Bout
Manuel Robson Minoto def. Joabson Alves via TKO (Leg Kicks) at 3:17 of Round 1 – Lightweight Bout
Prelims (6:45 PM ET)
Gabriel Souza def. Lucas Escobar via submission (rear-naked choke) at 1:03 of round 1 – Lightweight Bout (Watch Video)
Lucas Barros vs Cassio Barão (Majority Draw) (28-27, 28-28, 28-28) – Lightweight Bout
Jefferson Nascimento def. Matheus Rocha at 1:18 of round 1 – Lightweight Bout (Watch Video)
Main Card (8:00 PM ET)
Marco Tulio Silva def. Well Oliveira via TKO at 4:26 of Round 1 – Middleweight Bout (Watch Video)
Marciano Ferreira def. Mateus Brauns via unanimous decision (29-28, 30-27, 30-27) – Flyweight Bout
Jonas Bilharinho def. Caio Machado via TKO at 0:38 of round 2 – Featherweight Bout (Watch Video)
Anderson Ferreira def. Milson Castro via TKO at 4:37 of round 1- Lightweight Bout (Watch Video)
Co-Main Event: Julia Polastri def. Brenda Göttig via submission (arm triangle choke) at 4:50 of round 1 – Women's Strawweight Championship Bout (Watch Video)
Main Event: Gabriel Santos def. José Delano via TKO (punches) at 0:51 of round 3 – Featherweight Championship Bout (Watch Video)