Seth Rollins Uses Super Stomp to Beat Omos at WWE Backlash 2023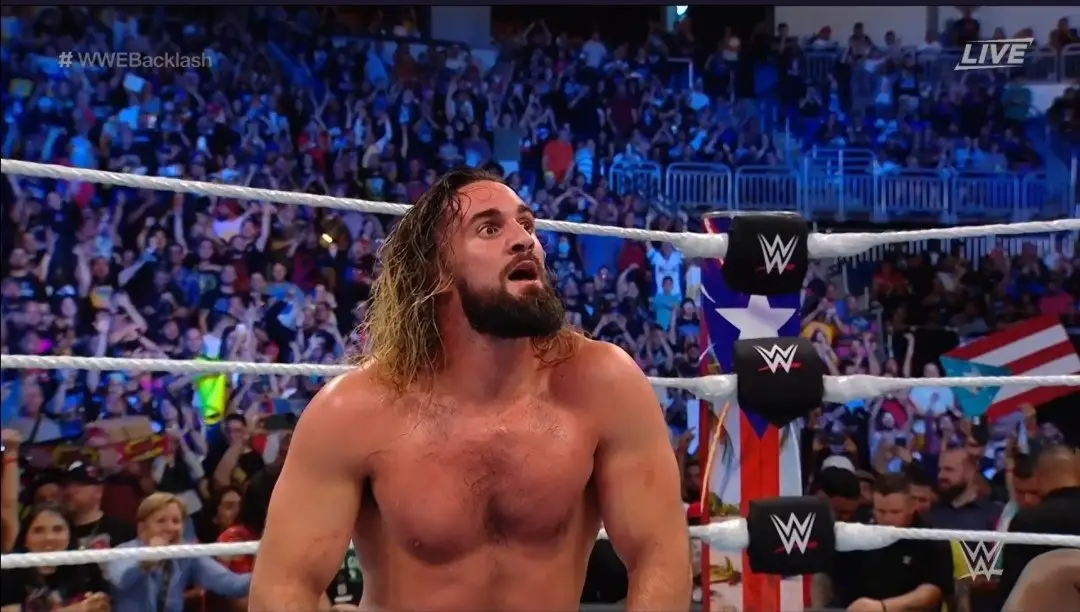 Seth Rollins defeated the Nigerian Giant Omos in a marquee match at WWE Backlash 2023 as he hits the Giant with a super stomp to pick up the win.
Storyline
There is not much of a storyline for this match which was announced out of nowhere. Rollins and Omos have come face-to-face in a segment at RAW once which was pretty uneventful apart from MPV warned Rollins against looking past Omos and towards World Championship.
LIVE UPDATES
The Nigerian Gian Omos enters the ring first accompanied by MVP. Seth Rollins is the second one to enter with the Puerto Rican singing his theme song. The theme music stops, but the crowd does not stop singing.
Seth Rollins is feeling the crowd, but Omos interrupts him by hitting him with a kick. Seth Rollins is disgusted. The bell finally rings, and Omos drops Seth Rollins with a giant shoulder tackle. 
Seth Rollins uses the top rope to hit Omos and then tries to launch a high-flying attack from the top rope. However, Omos counters it with a punch to the midsection, and then he sends Rollins out of the ring. 
Omos picks up Rollins but the latter pushes him to the ring post. Seth Rollins then hit a suicide dive. He goes for another one, but Omos catches him and hit a chokeslam on the apron. Omos military press Rollins showing off his power. 
Omos takes Rollins inside the ring and then hits him with a big boot. Rollins tries to lock the sleeper hold but Omos breaks it. Rollins hits a knee from the top rope followed by a dropkick on Omos legs. Rollins tries to hit Omos with a pedigree but the giant counters it with a backdrop. 
Rollins manages to connect a tornado DDT followed by a frog splash but Omos kicks out at one. Rollins hits Omos on the back of his neck to drop him and then attempts a stop, but Omos stops his attempt by simply overpowering him. 
Omos then hits a chokeslam for a near fall and then attempts for a double-hand chokeslam, but Rollins counters it and locks him in a sleeper hold. However, Omos breaks it by dropping Rollins. 
MVP distracts the referee and meanwhile, Rollins hits Omos with a stomp. Rollins superkicks MVP and then hits Omos with a stomp again. However, Omos kicks out at two, and Rollins is in disbelief. 
Seth Rollins gets to the top rope and hits Omos with another massive stomp to get the pinfall.