WWE Backlash 2023: Bad Bunny Beats Damian in a Brutal Street Fight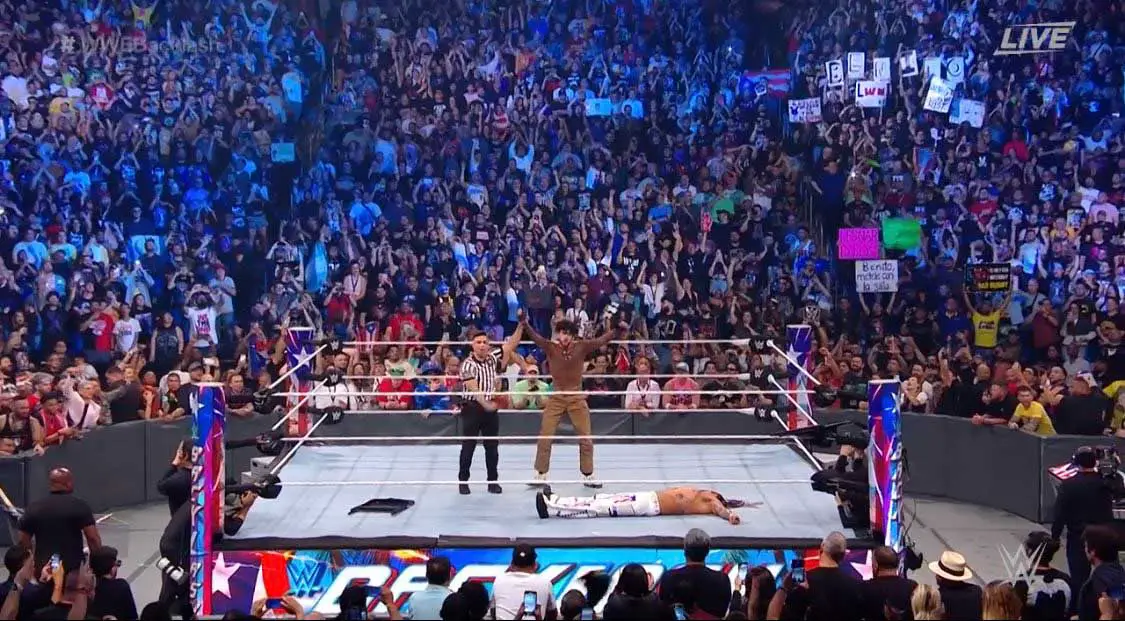 Pop Star, Singer, and Rapper Bad Bunny add another impressive victory to his resume as he defeated Damian Priest in a street fight at WWE Backlash 2023.
Storyline
Bad Bunny and Damian Priest were tag team partners when Bunny made his WWE in-ring debut at WrestleMania 37 to beat The Miz and John Morrison. Bunny returned at WrestleMania 39 where he was ringside for the match between Rey Mysterio and Dominik, and stopped Dominik from using a chain in the match. TPriest was now part of Judgment Day faction which also had Dominik.
Bunny was also on RAW after WrestleMania 39 episode where he slapped Dominik as he tried to save Rey Mysterio. Priest then put him through the announce table. Bunny returned after 3 weeks and attacked Priest with a kendo stick before announcing a street fight between them.
Live Updates
The Judgment Day's Damian Priest is the first one to make his entrance. He is wearing the same jacket he wore three years ago when he teamed up with Bad Bunny at WrestleMania. Bad Bunny receives a thunderous pop from the crowd the moment his theme hits. Bad Bunny carries a lot of weapons in a shopping cart with him to the ring. 
Bad Bubby stares at Damian Priest and the latter pushes him off to start things. Bunny slams Priest and then hits him with a Michinoku driver for a two-count. Bunny goes out and picks up a kendo stick. 
Priest catches him and drives him to the corner before breaking his kendo stick. Damian manhandles Bunny and shows his power. Priest puts pressure on Bunny's arm, and the latter frees himself with a thumb to Damian's eye. 
Bunny takes Damian to the corner and gets on the second rope to hit him with punches. However, Priest picks up Bunny only after two punches. Damian hits Bunny with a chokeslam and covers him. However, Damian breaks the pin himself. 
Damian gets out and picks up a Kendo stick but then throws it away. He was trying to dive from the second rope, but Bad Bunny throws a chair at him from outside the ring. Bunny hits him with several Kendo stick shots before hitting him with a DDT. 
Damian gets outside, Bunny goes to the top rope and hits Damian with a crossbody on the floor. Bunny hits him with dustbin cans before hitting him with a Kendo stick again. The two get back inside the ring, and Bunny hits Priest with another Michinoku driver for a near fall. 
Damian nose is busted and pretends to walk away. Bunny follows him with a trash can but Damian catches him with a big boot. Damian now uses the weapons against Bunny. After the trash can, Priest hits Bunny with a Kendo stick shot. He then sends Bunny into the timekeeper's area. 
The two take the fight to the crowd and then to the tech area. Bunny and Priest are on the top of the crate from where Damian Priest hits the broken arrow through the table. Bunny is not moving, so Damian picks him up on his shoulder and takes him to the ringside area. 
Damian starts beating Bunny again as he hits him with two back-to-back kicks. Damian goes for the third one but Bunny moves out of the way as Damian kicks the ring post hurting his leg. Bunny picks up the Kendo stick and starts targeting Damian's injured leg. 
Bunny then keeps driving Damian's injured leg to the ring post as Damian screams in pain. Bad Bunny uses the chain to do the same. Bunny then hits Damian's leg with a steel chair at the ring post. 
Damian Priest pleads Bad Bunny to stop with his attack and then kicks him in the face. Priest picks up the chair, but Bunny hits him with a low blow. Finn Balor and Dominik come out to attack Bunny. 
Rey Mysterio also comes out to make the save but is outnumbered. Carlito's entrance hits and he takes out Judgment Day. He even does his infamous apple-eating spot. As Judgment Day is about to retreat, Savia Vega's entrance hits. Now they are stuck between Savio Vega on the one side and Rey & Carlito on the other. Latino World Order also comes out and instantly attacks Finn Balor and Dominik. 
Balor manages to escape only to face Savio Vega. Savio hits him with chops followed by a kick. Dominik gets hit by chops as well. Bad Bunny cheers for them as Damian measures him. Damian tries to go for a rolling kick but fails due to his injured leg. 
Bad Bunny puts Damian in a figure-four lock, but Damian manages to break it. He goes for another chokeslam, but Bunny counters it. Damian goes into the chair set up by Bunny earlier in the corner while trying to attack Bunny. 
Bunny hits Priest with a sliced bread for a near fall. Bad Bunny then hits Damian Priest with several chair shots before hitting him with a Canadian Destroyer to get the pinfall.