WWE RAW Live Results and Updates- 13 May 2019
RAW Live Results and Updates Blog for 13 May 2019 Episode from the O2 Arena, London, UK.
You can catch the preview for the episode here. Please keep refreshing the page for the latest updates.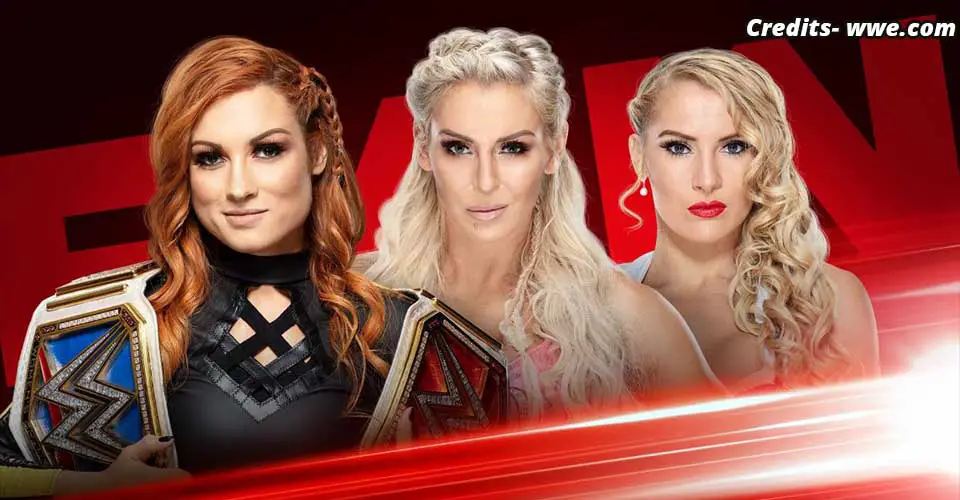 #1 Miz TV with Roman Reigns
The Miz is out in the ring for MizTV segment with Roman Reigns. He welcomes us to the international edition of MizTV. He then plugs the MITB pay-per-view and the two briefcase matches. As he mentions Shane and the Steel Cage Match briefly before he starts praising his guest for the night, Roman Reigns. Roman brings up Elias and says he hasn't accomplished anything since he's been in WWE. Miz proposes he and Reigns get together for a buddy cop movie. Reigns ask what Miz is doing because they had a good thing going until Miz brought that up.
Reigns said that sounds like the old Miz and he wanted to punch that Miz in the face. He says he came to hang out with the new Miz, the one who stood up to the McMahon Family last week. Miz tells us that Shane will have nowhere to run on Sunday and his family can't save him which brought out Shane. Shane says it's flattering that they're out here talking about him, but they need to remember that he is their boss. Shane informs them that MizTV is now over. Elias and Bobby Lashley suddenly attack from behind, laying Reigns and Miz out as fans boo. Shane, Elias, and Lashley stand together on the ramp as Reigns and Miz try to recover. Shane makes a tag team match and calls for a referee.
#2 Roman Reigns and The Miz vs Elias and Bobby Lashley
Elias and Miz start for their teams after the break. Miz uses some speed to avoid Elias and roll him up for a two count. Elias lays into him with a few stiff right hands. Miz hits his signature neckbreaker for a quick two count before he tags Reigns. Elias rolls out of the ring to avoid him. He tags Lashley who forces Roman to the corner and poses in his face. Roman tries to fight him but gets knocked down with a shoulder. Roman hits a Samoan drop before working together with Miz for a double team combo in their corner. Miz hits the It Kicks to both Elias and Lashley. Lashley takes Miz down for a near fall as we head to the break.
Elias is beating The Miz all around the ring. Elias goes for the old School move before hitting Miz with a Meteora for two. Lashley tags in and hits a delayed vertical suplex for another near fall. Miz spikes Elias with a DDT but Lashley tags in and prevents him from reaching Reigns. Miz avoids him in the corner but Shane pulls Reigns off of the apron to cause a DQ. Elias, Shane and Lashley team up to assault Miz and Reigns.
Winner- Roman Reigns and the Miz via DQ
After the bell, Shane sends Reigns into the steel ring steps. Shane, Elias, and Lashley triple team Miz and Reigns now. They take Miz back to the floor and triple team him until Reigns comes and takes all three heels down at once for a big pop. Shane tackles Reigns and works him over. Shane brings Reigns back into the ring but Reigns tackles him. Elias and Lashley make the save again. Reigns get triple teamed now. Miz brings in a steel chair to make the save. Reigns with a Superman Punch to Elias and then Lashley. Miz raises the chair and poses with Reigns as Reigns' music hits. Shane, Elias, and Lashley look on from the stage.
The announcers take us to a lengthy video package for AJ Styles vs Seth Rollins at Money In the Bank.
#3 Sami Zyan was dumped!
Charly Caruso stops Braun now and asks if he regrets what happened because critics say he could have seriously hurt Sami. Braun only regrets the trash compactor not turning Sami into a cube. Braun goes on and reminds us he won Money In the Bank last year. He says nothing can stop him from becoming Monster In the Bank for the second year in a row. A staffer walks up and informs Braun that Shane McMahon wants to see him in his office.
Back from the break and Sami Zayn is in Shane McMahon's office, ranting about how the toxic environment of the WWE fans are why the Superstars are acting up, why Braun Strowman almost killed him last week. Braun walks in and they have words. Sami says Shane was just about to give him Braun's Money In the Bank spot. Shane says he can't just give it to Sami. Sami says he will fight for it. Sami suggests a stipulation and Shane makes it a Falls Count Anywhere match, with Braun's MITB Ladder Match spot on the line. Braun says he's going to eat Sami alive. Braun walks off and Shane congratulates Sami on getting the match.
#4 Apollo Crews vs Mojo Rawley
Crews go right after Rawley and get him in the corner. Mojo reverses an Irish whip. Apollo does a flip and lands bad on his knee. Rawley takes advantage with a running chop block. Mojo hits an Alabama Slam for the quick win.
Winner- Mojo Rawley
Alexa Bliss is backstage on the phone, ranting about her luggage issues, blaming them on the royal baby being born. Bliss tells the person her ring gear was in the luggage, so they better find it. Nikki Cross walks up and is much well behaved than usual. She says Bliss can vent to her, she will listen. Bliss doesn't want to go back out and get laughed at by the fans. Cross mentions maybe the McMahons could find a replacement for Bliss in the Fatal 4 Way. Bliss turns this into Cross volunteering. Bliss says she will go tell the McMahons that she has a replacement now.
#5 Double Contract Signing!
Michael Cole is in the ring for tonight's double contract signing. He hypes Sunday's WWE Money In the Bank pay-per-view and first brings out Lacey Evans, then Charlotte Flair before finally calling out the champ next Becky Lynch to a big pop. Cole asks Becky a question about her opponents but fans interrupt him with a "Becky 2 Belts" chant. Becky says she just doesn't care about what kind of beating she has come on Sunday. Flair taunts her saying Becky now has herself in a situation she can't win. Evans agrees with Flair and gives her props for also dressing appropriately for a contract signing.
Becky goes on about Flair being under pressure and not delivering. She says Evans can't afford to lose her first title match and Flair can't afford to lose her millionth and she's not the only one under pressure. Flair goes on but fans interrupt with another "Becky 2 Belts" chant. Flair warns Becky that this will all come crashing down on Becky one day. She says not even these titles can hide Becky's jealousies and insecurities.
All Becky will be able to blame is her stubborn pride when she bows down to The Queen on Sunday. Evans goes on about how the WWE Universe deserves a proper lady to set an example. It's time she got rid of the nasty and restore class to the RAW Women's Title. There's no way Becky can take down two ladies like Charlotte Flair and Lacey Evans. Becky dares Evans to swing now. Evans and Charlotte both sign the contract.
Flair tells Evans to show Becky the Woman's Right. The trash talking continues until a brawl breaks out. Becky applies the Disarm Her on Evans but Flair makes the save with a big boot as fans boo. Fans chant for Becky as she gets double teamed. Evans assists as Flair lifts Lynch for a powerbomb. They drive Lynch down through the table and leave her laying to some more boos. Flair grabs the SD title and raises it while Evans raises the RAW title. Becky is still laid out over the pieces of the table.
#6 Baron Corbin vs Ricochet
They lock up and Ricochet uses his speed to avoid the big man. He hits Corbin with a dropkick, but The Long Wolf recovers quickly and whips him from corner to corner. Corbin chases him around the ring until Ricochet takes him down with a moonsault on the floor. Corbin slam Ricochet for a quick two count. The One and Only hits a few strikes and a rolling dropkick. Corbin hits Deep Six for a close two count. Ricochet hits a tornado DDT out of nowhere for another near fall. Ricochet takes Corbin down with a hurricanrana from the top rope before hitting a standing shooting star press for two. Corbin hits End of Days out of nowhere for the pin and the win.
Winner- Baron Corbin
#7 Hype the MITB Matches!
After a promo hyping the US Title match at Money in the Bank, we cut to Rey Mysterio who is with Charly Caruso backstage. He says Joe crossed the line by targeting his son after a loss. Rey says if Joe or anyone else has anything to say, they can come and find him. Cesaro interrupts and says it's rude for Rey to talk about Joe when he's not here. Cesaro also knocks Rey for bringing his kid to work. Rey defends his son and brings up his training. Cesaro says Dominick actually looks more like Joe than Rey. He wonders if Rey knows Dominick is really his son. Rey attacks and they brawl around until officials separate them.
Michael Cole talks about AJ Styles vs Seth Rollins for the Universal Championship at Money In the Bank, and then sends us backstage to Sarah Schreiber with AJ. Schreiber says people are questioning AJ's methods as of late. AJ says the recent Phenomenal Forearm to Rollins was meant for Baron Corbin, but he will fight when he's disrespected. He goes on and says this was Monday Night Rollins until he showed up. AJ came to WWE with a huge chip on his shoulder and it's still there, it got him the title shot on Sunday. AJ says he will walk into Money In the Bank as the challenger but he will leave with the Universal Title.
#8 Naomi vs Natalya vs Nikki Cross vs Dana Brooke
All four ladies at the Money in the Bank match cut a short promo. Nikki Cross enters screaming her heart out. Alexa Bliss joins the commentary team. When Cole asks her about her luggage she tells us that she did not have the right attire for the match and did not want a repeat from a couple of weeks ago where she lost due to her shoes.
All four women start brawling as soon as the bell rings. Nobody can get a clear advantage until Natalya and Cross get knocked out of the ring. Naomi hits a full nelson slam on Brooke. Nikki traps Nattie in the apron and beats her down. Naomi splashes on all 3 competitors outside.
Natalya puts Brooke in a reverse cloverleaf. As Nikki tries to go to the top, Naomi pushes her and herself execute a move from the top. Nikki puts Naomi in a submission move. Naomi reverses it after some time and gets a near fall. Naomi hits rear view on Nattie and then slams Brooke on her and hits the split-legged moonsault. Dana Brooke breaks it up. She then takes out a ladder. She sets up the ladder outside but Natalya takes her out and Natalya gets speared in between the set-up ladder. Dana Brooke climbs to the top of the ladder and jumps on all of them. Natalya takes down both Naomi and Brooke at the ringside. Nikki hits a spinning neckbreaker to Natalya in the ring and gets the pin.
Winner- Nikki Cross
Alexa Bliss helps Nikki Cross set up the ladder. She prevents Nikki from climbing and ascends herself, unhooking the briefcase.
Sami Zayn cuts a promo saying that people don't believe that he can beat Braun Strowman tonight and goes on a rant regarding him being lightweight while Strowman being fat and that he will prove everyone wrong by beating Strowman.
Samoa Joe also cuts a promo backstage and tells Rey Mysterio that some needs to teach Dominic how to be a man since Rey is not doing it. He is looking forward to Money in the Bank to see both Rey and Dominic.
#9 Cesaro vs Rey Mysterio
Rey uses his quickness to avoid Cesaro at first. He hits a hurricanrana followed by a headscissor takeover. Cesaro hits a backbreaker for two. They tumble out of the ring while Cesaro holds Rey in an electric chair position. Mysterio sends him into the barricade. Cesaro grabs him by the legs and swings him into the barricade before putting him back into the ring. Rey tricks Cesaro into running into the ring post. Cesaro recovers and hits a huge uppercut. He grabs Rey from the middle rope for a superplex with one arm.
Rey counters the Big Swing with a DDT. Mysterio starts to build up a head of steam as he hits a series of quick moves for a near fall. Cesaro recovers and hits an uppercut to put Rey on the ropes. He goes for the Swiss19 but gets tangled up in the ropes. Mysterio hits a snap sunset flip for two. Mysterio jumps from the top turnbuckle right into a massive uppercut. Cesaro sets up for the Neutralizer but Mysterio counters and hits the 619. He climbs to the top and hits a frog splash for the pin and the win.
Winner- Rey Mysterio
#10 Bray Wyatt's Firefly Fun House Episode 4
Next is Bray Wyatt with his Firefly Fun House segment. He is with Mercy The Buzzard and Abby The Witch while Ramblin' Rabbit is also there in a sort of cast. Wyatt tells us that he has a secret to tell. Wyatt says the fireflies helping him warms his soul but he still has some darkness in his head, but he knows how to harness it and control it. The screen turns darker and the Fun House has taken a creepy turn. Wyatt turns back around and reveals a demonic figure as Ramblin' Rabbit, Mercy the Buzzard and Abby the Witch all watch in horror.
Sarah Schreiber is with Seth Rollins backstage. She tells Rollins that Styles has been labeling the Phenomenal Forearm from last week as accidental. Rollins replied that they are way past that. He gave AJ the benefit of doubt but that's it. We get a video of Rollins and Styles going one on one 13 years ago in a match at NWO Wrestling. Rollins tells us that he will win the match at Money in the Bank.
#11 Braun Strowman vs Sami Zayn Falls Count Anywhere
Strowman chases Zayn around the ring until he catches him and puts him down with a shoulder block. The crowd continues chanting for Sami as Braun lays him out at ringside with a tackle. They take the fight into the crowd as Braun dominates his smaller opponent. Zayn grabs someone's drink and throws it in Braun's eyes to distract him. they fight into the concourse area. Strowman slams Zayn's head into a pillar a few times for a two count. Corbin comes out of nowhere and attacks Strowman with a trash can. Sami covers him for two. The Lone Wolf suplexes Braun through a table but Sami still can't get the pin.
Sami grabs a chair but Braun takes it from him and throws it away. Sami runs backstage again and tries to throw random things at Braun. The Monster Among Men catches up to him and throws him into a garage door. Drew McIntyre comes out of nowhere to attack Strowman. He DDTs Braun into a steel chair and puts Zayn on top of him for a two count. Strowman recovers and beats up McIntyre and Zayn with anything he can find. They end up back near the stage. Strowman uses a ladder to inflict more punishment. He piles some ladders on top of Sami until Corbin and McIntyre come back to keep attacking him. Drew sets up a ladder against a wall so they can suplex Braun through it. They put Zayn on top of Braun and pile on to help make the cover to complete the pin
Winner- Sami Zayn (takes Braun Strowman's spot at Money in the Bank)
Strowman recovers after the match and puts Zayn through the announce table with a chokeslam. Raw ends with Braun posing for the crowd.