Asuka vs Rhea Ripley WWE WrestleMania 37 Storyline, Betting Odds & Winner Prediction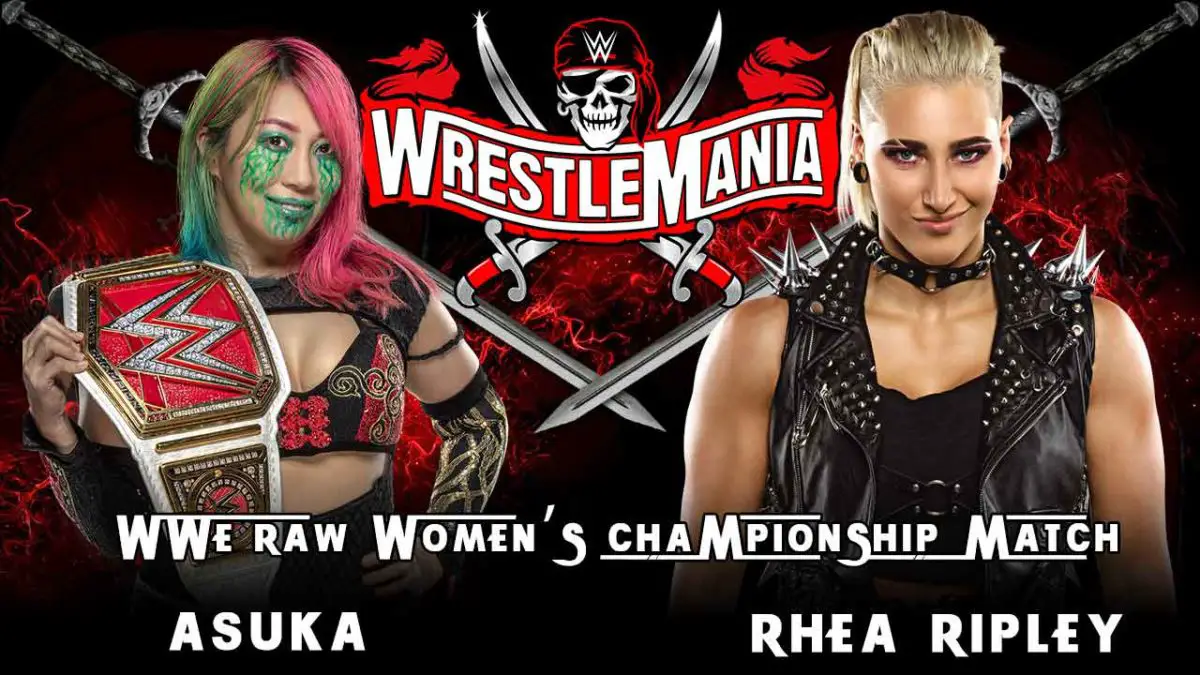 Check out the details for Asuka vs Rhea Ripley match at WrestleMania 37 for WWE RAW Women's Championship- storyline, date, betting odds and winner prediction.
Tale of Tape
| Attribute | Asuka | Rhea Ripley |
| --- | --- | --- |
| Role | Champion | Challenger |
| Country | Japan | Australia |
| Age | 39 | 24 |
| Weight | 62 kg | 62 kg |
| Height | 5 feet 3 inches | 5 feet 7 inches |
On which night of WrestleMania 37 is Asuka vs Rhea Ripley match scheduled? Night 2 of WrestleMania 37 on 11 April 2021.
Storyline
The storyline between Asuka and Rhea Ripley started on 22 March 2021 edition of RAW. WWE was hyping Rhea Ripley RAW for a few weeks before finally confirming it for 22 March 2021.
WWE RAW Women's Champion Asuka faced Peyton Royce in a non-title match and was able to defeat her. After the match, Rhea Ripley entered and marched to the ring. She recalled how Charlotte Flair challenged Asuka for a match at WrestleMania but she is now out due to COVID-19.
Rhea then challenged Asuka herself for RAW Women's Championship match at WrestleMania 37. Asuka accepted Rhea Ripley's challenge and used her "You are not ready for Asuka" catchphrase.
Next week, a contract signing segment took place where both women shared barbs at each other. WWE Women's Tag Team Champions Nia Jax and Shayna Baszler came out and Shayna challenged Rhea for a match at RAW 5 April 2021 episode.
Betting Odds
The current betting odds are in favour for Rhea Ripley to win the WWE RAW Women's title at WrestleMania 37. Ripley is favourite with -300 while Asuka is the underdog in this fight at +200.
Prediction
Asuka's title reign has been lacklustre ever since she won the title back at Summerslam. During this time, she had only defended the title at a PPV just once.
Rhea Ripley is coming hot from a good stint in NXT  and an impressive performance in the women's Royal Rumble match where she was the last one to be eliminated. Our prediction is also that Rhea Ripley will win the title from Asuka at WrestleMania 37.
Also Check