AEW Dynamite Results & Live Updates January 11, 2023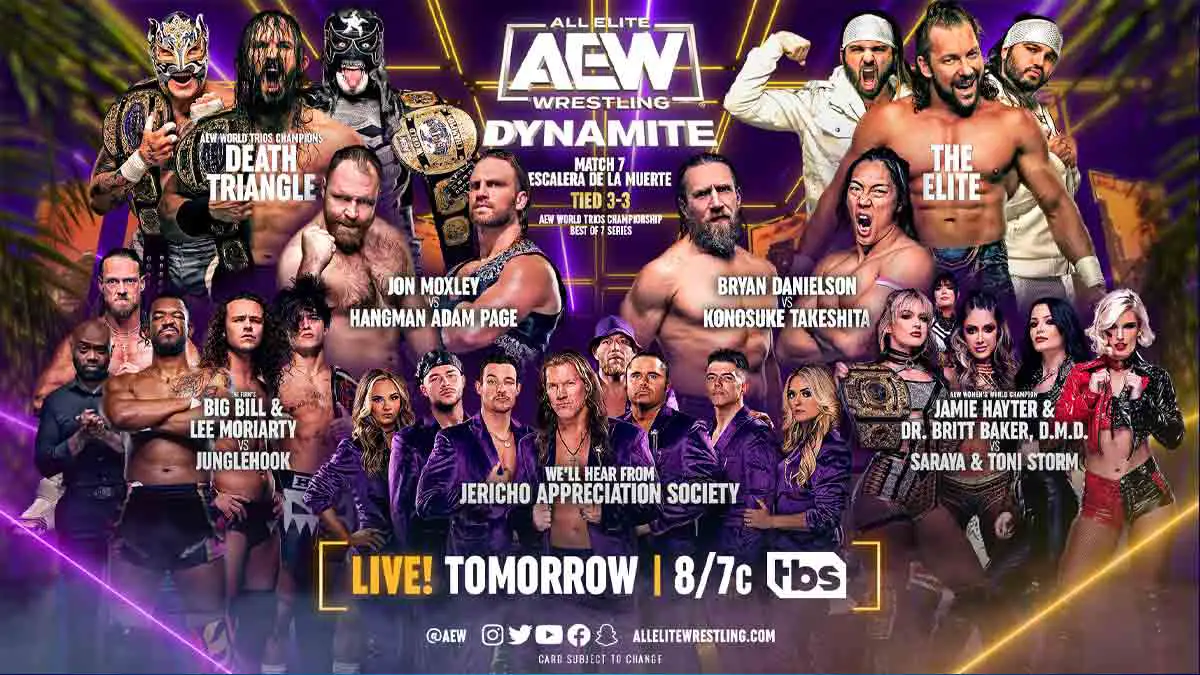 Welcome to the live results blog for AEW Dynamite episode of January 11, 2023, which was live from The Forum in Los Angeles, CA.
The show featured the final match of The Elites vs Death Triangle series. With the series being tied at 3-3, the two teams clashed in a ladder match with the winner getting away with the AEW Trios Championship. Kenny Omega made his first appearance in AEW since winning IWGP US Championship at Wrestle Kingdom 17.
Jon Moxley took on Adam Page in another marquee match as their rivalry continued. Bryan Danielson faced Konosuke Takeshita as he started his quest to become the #1 contender for AEW World Championship.
Saraya teamed up with Toni Storm in her Dynamite debut match as they took on Dr. Britt Baker DMD and AEW Women's Champion Jamie Hayter. Jungle Hook, team of Hook and Jack Perry, faced The Firm's Big Bill and Lee Moriarty.
Tune in below as we post results from AEW Dynamite January 11, 2023 with live updates, winners, videos, highlights and more.
RESULTS
Adam Page defeated Jon Moxley in a singles match via pinfall.
JungleHook(Hook & Jack Perry) defeated The Firm(Big Bill & Lee Moriarty) in a tag team match via pinfall.
Bryan Danielson defeated Konosuke Takeshita in a singles match via pinfall.
Dr. Britt Baker DMD & Jamie Hayter defeated Saraya & Toni Storm in a tag team match via pinfall.
The Elites(Kenny Omega, Matt Jackson & Nick Jackson) defeated Death Triangle(PAC, Rey Fenix & Penta El Zero Meido) in a Ladder Match to win AEW World Trios Championship(Match 7 of Best of 7 Series).
LIVE UPDATES
Jon Moxley vs Adam Page
They start with punches at each other immediately after the bell. Moxley nails elbows and whips Page to the corner. Page fires back with a big boot and punches. Page ducks a lariat and they start trading forearms and chops. Moxley slams Page to the mat. Page looks devoid of energy as Moxley puts him on the top, rakes his back and hits a superplex. Moxley puts on juji gatame and holds Page on the mat for while. Page breaks it with a pin attempt for a two-count.
Moxley hits him with a couple of German suplexes. Page blocks the third one and hits a Northern Light suplex. Page goes to the apron for buckshot lariat but Moxley knocks him off into the barricade. Moxley throws Page into the barricade a couple of times. Page hits a lariat on the floor and brings Moxley back. Moxley comes back with a King Kong lariat which took out Page last time. Mox goes for the cover but Page kicks out. We cut to a break.
Moxley has put Page in a rear choke as we return. Hangman gets on his feet and hits a backdrop suplex and quickly follows up with a lariat. Both men are down now. They get up and start trading elbow strikes. Page screams at Moxley before hitting a fallaway slam. Page lands on his feet when Moxley hits a German suplex and hits another lariat. Hangman boots Mox off the apron and hits him with Orihara moonsault on the floor.
Back to the ring, Moxley ducks the Buckshot Lariat and hits Paradigm shift, but Hangman kicks out. Moxley hits his signature hammer elbows before putting on a bulldog choke. Moxley has to let go when Page gets to his feet. Moxley hits a piledriver and Page kicks out at one only. Moxley hits kicks to the chest. Page gets him up for Dead Eye but Moxley slips out and puts on a choke. Page was fading but he counters with Dead Eye. Moxley hits back with a curb stomp in reflex.
They trade elbow strikes once again before Moxley hits some headbutts. Hangman hits a headbutt as he gets back to his feet. More shots are traded before Page hits a lariat and follows up with a Buckshot lariat to get the pinfall.
Winner – Adam Page
Page celebrates his win as a doctor gets into the ring to check on Moxley. Moxley is a bit lethargic as we cut to a break.
After the break, the commentary team is discussing if Moxley is ok and teasing a concussion storyline for him also.
Adam Cole Returns
Tony Schiavone is in the ring and he says he has no pleasure as brings out his next guest. Adam Cole's music hits and he comes out to the ring. Tony is gone from the ring. Cole takes the mic and asks, "Who is ready for storytime, baby?" Cole says this is a good news bad news type of situation. He wanted to be a professional wrestler since he was 9 and he is now in the best pro-wrestling company in the world.
Past few months, he has banged-up shoulder and 2 back-to-back head injuries. He had dizzy episodes, headaches and trouble sleeping. Cole reveals that he would wake up in the middle of the night, drenched in sweat. Nobody knew that all of this was happening to him and he has not given us anything, but the fans were behind him all this time.
Now, time for bad news – which is for the locker room because he is back now. Cole claims that he is one of the best wrestlers in the world and has not even surfaced what he can do in the ring. He promises that he will be at the top of the mountain here in AEW one day.
---
The Acclaimed are backstage with Billy Gunn and reveal that their names are set for the Hollywood Walk of Fame.
JungleHook(Hook & Jack Perry) vs The Firm(Big Bill & Lee Moriarty)
Perry and Moriarty start the match. Perry takes Moriarty to the corner and hits a chop to the chest. Moriarty does the same. Perry hits a deep armdrag and a dropkick. Hook tags in and hits a back elbow on Moriarty with Perry. Hook goes for an armbar but Moriarty breaks free. Another back elbow from Hook as he tags in Perry. Perry hits a dropkick soon.
Perry was running the ropes when Stokely Hathaway pulls his leg. Perry goes for a suicide dive on him but Bill gets in between and goes for a chokeslam on the apron. Hook hits a basement slide dropkick to send Bill to the barricade. Perry returns to the ring but Moriarty hits him with a kick and sends him to the corner. Bill hits him with a big boot and throws him to the floor to take us to a break.
Perry counters with a powerbomb as we return. He drags himself to the corner and kicks away Moriarty to tag Hook. Hook hits a big kick to Moriarty and knocks off Bill from the apron. Bill gets in the ring and have a face-off with Hook. Hook goes for T-Bone suplex but could not get Bill up. Bill sends Hook to the corner and hits a corner splash but Perry hits him with an enzuigiri at the same time.
Perry hits a missile dropkick and Hook hits T-bone suplex on Bill. Moriarty comes in and Perry puts him in snear trap to get the submission.
Winner – JungleHook
Paul Walter Hauser is backstage with Orange Cassidy and Danhausen along with Renee Paquette. He says he will be at Rampage also. Hauser asks what is up with Orange Cassidy and Best Friends. Best Friends come in and stand with Cassidy.
---
Konosuke Takeshita comes out for the match. AEW World Champion MJF also comes out and gets into the ring. MJF tells Takeshita that he has not seen much of him but these fans think of him a lot. He tells Takeshita that he really needs him to win tonight. Takeshita tells him, "kiss my a##". MJF gets offended and gets Takeshita out of the ring as he starts his promo. MJF starts talking about Iron man match and asks the ladies about us to know if he can go for a whole hour.
MJF gives shoutout to Ken Jong before taking a shot at his canceled TV series. He then gives a shoutout to Fredie Prinze Jr. and takes shot at his voiceover of Scooby Doo. MJF says there will be no Ironman match as Danielson will never win 4 matches in a row. Bryan Danielson's music hits and he comes out. MJF runs out of the ring and sprints to the stage.
Bryan Danielson vs Konosuke Takeshita
Takeshita starts with a knee strike after they duck each other's moves. Bryan goes for an arm wringer. Bryan gets him to the mat and puts him in the Romero Special. Takeshita puts on dragon sleeper. Bryan breaks free and hits elbows. Takeshita fires back with elbow shots of his own. He invites chops from Bryan before hits a flying clothesline.
Takeshita fires elbow strikes before Bryan puts him in an armbar. Bryan hits running dropkicks in the corner before Takeshita hits back with a blue thunderbomb. Takeshita hits chops before Bryan fires back. We cut to a break.
Takeshita hits a lariat on the top rope and covers Bryan for a near fall. Bryan takes Takeshita to the floor as he counters a powerbomb with headscissors. Danielson hits a knee drop on the floor but his knee is crashed into a barricade. Takeshita hits a brainbuster on the floor. Takeshita goes for a springboard senton but Bryan gets his knees up. Bryan puts on crossface and transitions to the Labell lock. Takeshita gets to the ropes.
Bryan hits side kicks to the chest. Takeshita blocks a roundhouse kick and nails Bryan with an elbow. They trade elbows and forearms until Takeshita hits a lariat. Bryan avoids a knee strike from Takeshita and hits his signature hammer shots. Takeshita blocks a victory roll from Bryan and hits him with Dead Eye. Takeshita hits a deadlift German suplex to get a near fall.
Bryan hits Busaika knee but Takeshita kicks out of the pin. Bryan hits stomps to the face and puts on a choke to get a referee stopagge as Takeshita goes to sleep.
Winner – Bryan Danielson
Bryan raises Takeshita's hands up in the air after the match in a show of respect.
---
Juice Robinson is backstage with Renee Paquette and calls out Darby Allin for TNT title at Rampage.
Saraya & Toni Storm vs Dr. Britt Baker DMD & Jamie Hayter
Storm and Hayter start with a lock-up. Storm hits forearm shots before Hayter puts him to the ropes to hit some chops. Storm hits a dropkick and a hip attack to drop her off the apron. Saraya hits a senton on the floor after a tag. Saraya gets into the ring and unloads. She trips Hayter before tagging Storm. Hayter hits a double suplex to counter Storm and Saraya. Baker gets the tag and starts to beat up their opponents. They send Saraya and Storm into the barricade. Hikaru Shida comes out as we cut to a break.
Saraya hits short arm clotheslines as we return from the break. She hits knee strikes in the corner and a nightcap. Baker counters but Saraya trips her with a low kick. Storm tags in and hits a hip attack in the corner. Toni hits a DDT next to get a two-count. Storm puts on a cloverleaf but Hayter comes in to break it with a big kick.
Storm is cornered in the opposite corner as Baker & Hayter work on her. Hayter knocks off Saraya from the apron as Baker hits an avalanche Air Raid Crash on Toni. Toni kicks out of the pin. Hayter hits her with Hayt-breaker and Saraya breaks the pin again. Storm hits a German suplex on Hayter before a piledriver and Baker has to break the pin. Storm and Hayter trade shots and go down. Shida throws a kendo stick into the ring as Rebel distracted the referee. Baker, instead of Storm, picks up the stick and slams it on Storm. Hayter covers Storm as the referee gets back and counts for the pinfall.
Winner – Britt Baker & Jamie Hayter
The Elites(Kenny Omega, Matt Jackson & Nick Jackson) vs Death Triangle(PAC, Rey Fenix & Penta El Zero Meido) – Ladder Match for AEW World Trios Championship- Match 7 of Best of 7 Series
Kenny Omega comes out with The Young Bucks and has IWGP US Heavyweight title around his waist. Death Triangle are also out and they start with brawling in the ring. A lot of action to keep up with in the first minute.
Matt blocks a Fear Factor but Penta dodges him to hit a kick. Kenny hits a knee strike on Penta before Rey hits him with a missile dropkick. Others also join in for quick moves one on one. Penta and PAC hit Omega with a ladder. Rey hits Matt with a suicide dive. Nick takes the opposition out with a dive himself. Matt takes a ladder into the ring. He throws PAC out of the ring before hitting a destroyer on Penta. Rey hits Matt with an armdrag off the ladder. Omega drops Rey and removes the ladder.
PAC hits a missile dropkick on Omega. Omega throws PAC to the floor. Omega for a tope suicida but PAC side steps and Omega crashes into a table. Matt hits PAC with a splash through another table. We cut to a break.
Penta is trapped in the corner as the Elites hit him with moves one by one. Penta sends Nick over the ropes with a back-body drop. He uses the ladder to block Matt. Matt drops him on the ladder with a back body drop. Rey drops Nick on the ladder with a headscissors off the top rope.
After some streaming issues, Matt is stopping PAC on the ladder. Rey and Penta bridge a ladder in between a ladder and the ropes. Penta hits Fear Factor on Matt on the ladder. Kenny hits Rey with One Winged Angel from the ladder. Kenny gets his knees up when PAC goes for Black Arrow on him. Nick has put Penta through a table on the floor. Kenny climbs the ladder and pulls down a belt to win the match.
Winner – The Elites