List of AJ Styles WWE WrestleMania Matches & Win-Loss Record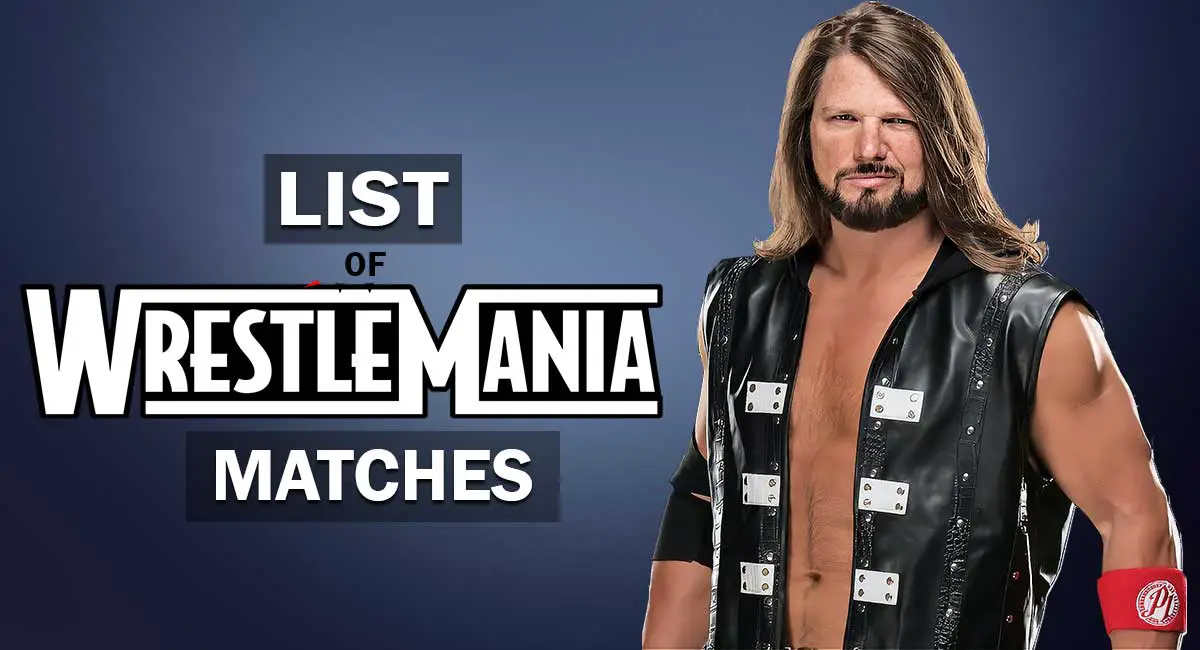 A.J. Styles is one of the most talented superstars in WWE history. His wrestling career started in the year 2000 and he has performed all over the world in promotions like NWA, WCW, APW, XWF, HWA, WWA, ECWA, ROH, TNA, IWA, PWG, NJWP, IGF and finally WWE. Known as the Phenomenal one, A.J. Styles made his grand debut in WWE in the year 2016 at Royal Rumble with excellent performance.
After his entry in WWE, Styles has made a huge instant impact in the promotion and within a year, had legendary matches and became the WWE Champion. However, when it comes to WrestleMania, AJ Styles has had a mixed bag of opponents as well as results. Let's take a look at the list of AJ Styles' WrestleMania matches, their storylines and his win-loss record.
---
AJ Styles Wrestlemania Win-Loss Record
List of AJ Styles Wrestlemania Matches
| YEAR | EVENT | OPPONENT | RESULT |
| --- | --- | --- | --- |
| 2016 | WrestleMania 32 | Chris Jericho | Lost |
| 2017 | WrestleMania 33 | Shane McMahon | Won |
| 2018 | WrestleMania 34 | Shinsuke Nakamura(WWE Championship) | Won |
| 2019 | WrestleMania 35 | Randy Orton | Won |
| 2020 | WrestleMania 36 | The Undertaker(Boneyard Match) | Lost |
| 2021 | WrestleMania 37 | New Day(RAW Tag Team Championship) | Won |
| 2022 | WrestleMania 38 | Edge | Lost |
AJ Styles WrestleMania Matches
1. AJ Styles vs Chris Jericho – WrestleMania 2016
Even before his debut WrestleMania match, Styles was popular among the fans due to his exploits around the world. At WM 32, he faced his former Tag Team partner Chris Jericho. They won a couple of tag team matches before Jericho turned on him and attacked him during a match. Styles later challenged Jericho by distracting him with "Y2 Jackass" chants in subsequent matches until Jericho accepted his challenge. The match at WM itself was good but WWE sprung a surprise when Styles was defeated when he went for the Phenomenal Forearm but Jericho countered with a codebreaker instead to pin him cleanly. Styles' performance although only increased his stature in WWE.
Winner- Chris Jericho
---
2. AJ Styles vs Shane McMahon – WrestleMania 2017

In this storyline, Styles blamed Shane McMahon and Daniel Bryan for not having the Wrestle Mania Main Event match that year and attacked Shane backstage. Shane then challenged Styles for the match at WrestleMania 33. During the match, both stars countered each other's moves several times. McMahon attempted Leap of Faith with Styles on announce table but Styles was able to move out. In the finish, Styles was able to avoid a shooting star press from Shane and hit the Phenomenal Forearm to win his first WrestleMania match.
Winner- AJ Styles
---
3. AJ Styles vs Shinsuke Nakamura – WWE Championship Match – Wrestlemania 2018

Shinsuke Nakamura & AJ Styles faced each other several times in other promotions but this was their first match against each other in WWE. Styles was the reigning WWE Champion and Nakamura became the challenger after winning the men's Royal Rumble match in 2018. After a good back and forth match, Styles reversed Nakamura's Kinshasa into a Styles Clash to retain his WWE Championship. After the match, the two showed respect for each other and Nakamura kneeled down and presented Styles with the WWE Championship belt before turning heel on him.
Winner- AJ Styles
---
4. AJ Styles vs Randy Orton – WrestleMania 2019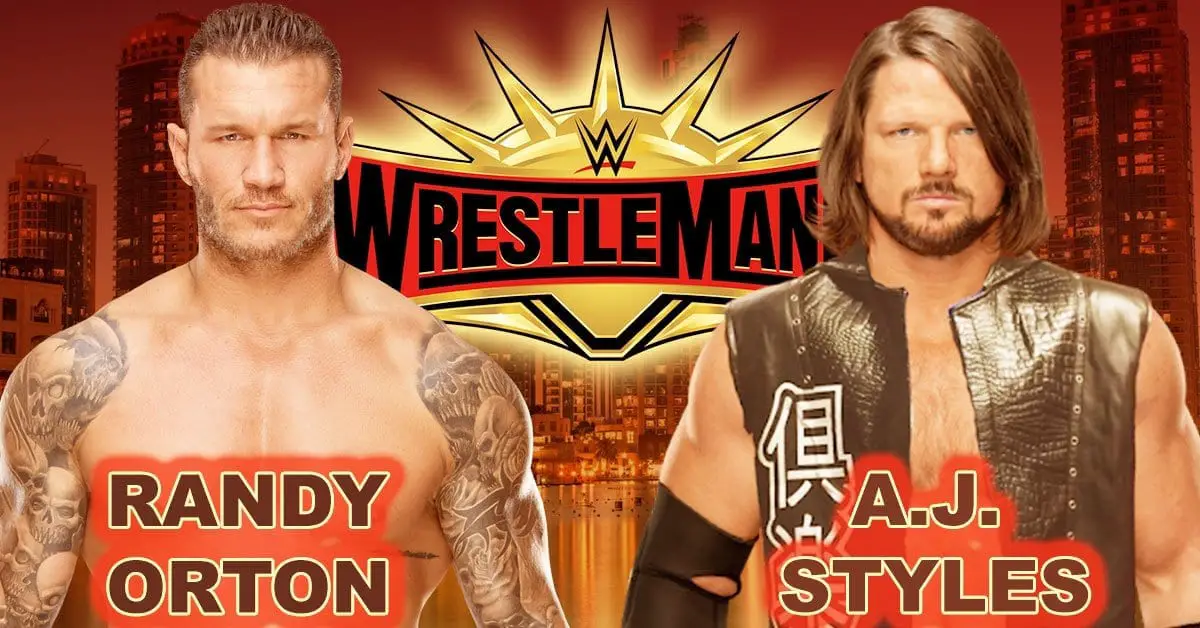 WWE set up this match as a WWE's Home-grown Superstar(Orton) vs a wrestler who became the star from the independent scene(Styles). You can check the complete AJ Style vs Randy Orton storyline here. Earlier, this match was supposed to open WrestleMania 35 but went second due to Brock Lesnar vs Seth Rollins match going first. Even then, the match did not disappoint and can even be considered one of the best matches of WrestleMania for both AJ Styles and Randy Orton. After some nice spot, Styles won the match with the second phenomenal forearm of the match.
Winner- AJ Styles
---
5. AJ Styles vs The Undertaker – Boneyard Match, WrestleMania 36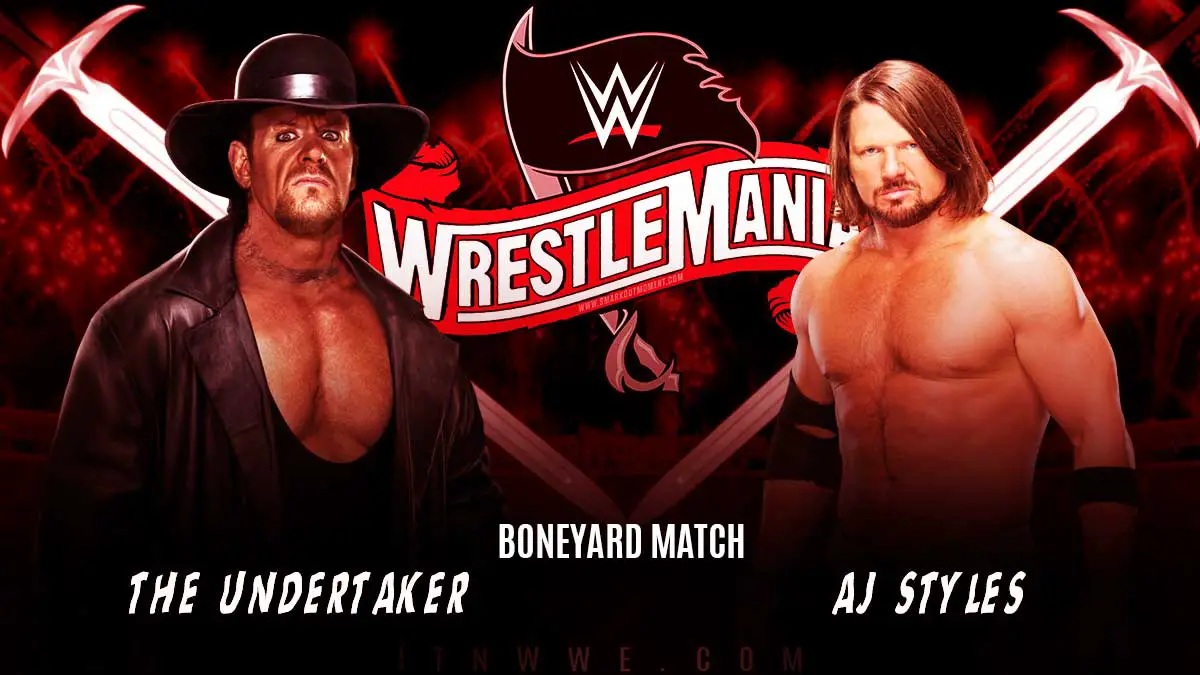 The Undertaker appeared at Super Showdown 2020 to attack AJ Styles and his bad boys, costing him the Tuwaiq Mountain Trophy in the process. He cost Styles another PPV match when he interfered in his No DQ match vs Aleister Black at Elimination Chamber 2020. After that, Styles dig into Undertaker's private life in his promo to take the storyline forward and setup the boneyard match.
Taking advantage of being a pre-taped show, WWE shot the match between The Undertaker and Styles more like a movie. Although the action was low-key in comparison to an action movie but was unlike anything is ever done for a wrestling match. Also, the match was high on drama and relied totally on huge strikes than wrestling moves. In the end, The Undertaker was the last man standing after (literally)burying AJ Styles in the boneyard.
Winner- The Undertaker
---
6. New Day(Kofi Kingston & Xavier Woods)(c) vs AJ Styles & Omos – WWE RAW Tag Team Champion
AJ Styles kept Omos as his bodyguard from October 2020 onwards and Omos helped him win many matches. After Kofi Kingston and Xavier Woods won the RAW Tag Team titles, AJ & Omos came out to challenge for the title match at WrestleMania. New Day accepted the challenge right away.
At WrestleMania, Kofi & Woods kept AJ away from Omos and did not allow him to tag Omos. But once AJ countered and brought Omos in the match, he ran havoc in the ring and was able to defeat New Day with ease.
Winner- AJ Styles & Omos(new RAW Tag Team Champions)
7. Edge vs AJ Styles
WWE Hall of Famer Edge wanted another big WrestleMania moment in the year 2022. He gave an open challenge to the locker room to face him at WrestleMania and claimed that he will make his opponent memorable. AJ Styles accepted his challenge and Edge then turned on him after this.
At WrestleMania 38, AJ put up a spirited performance and had possibly his best WrestleMania match so far, going toe to toe with Edge. However, as he was looking to finish the match with Phenomenal Forearm, Damian Priest came to ringside to distract him. Edge caught AJ with a spear as AJ was going for the Phenomenal Forearm and got the pin.
Winner- Edge
See Also
---