UFC 283: Deiveson Figueiredo vs Brandon Moreno 4 Live Blog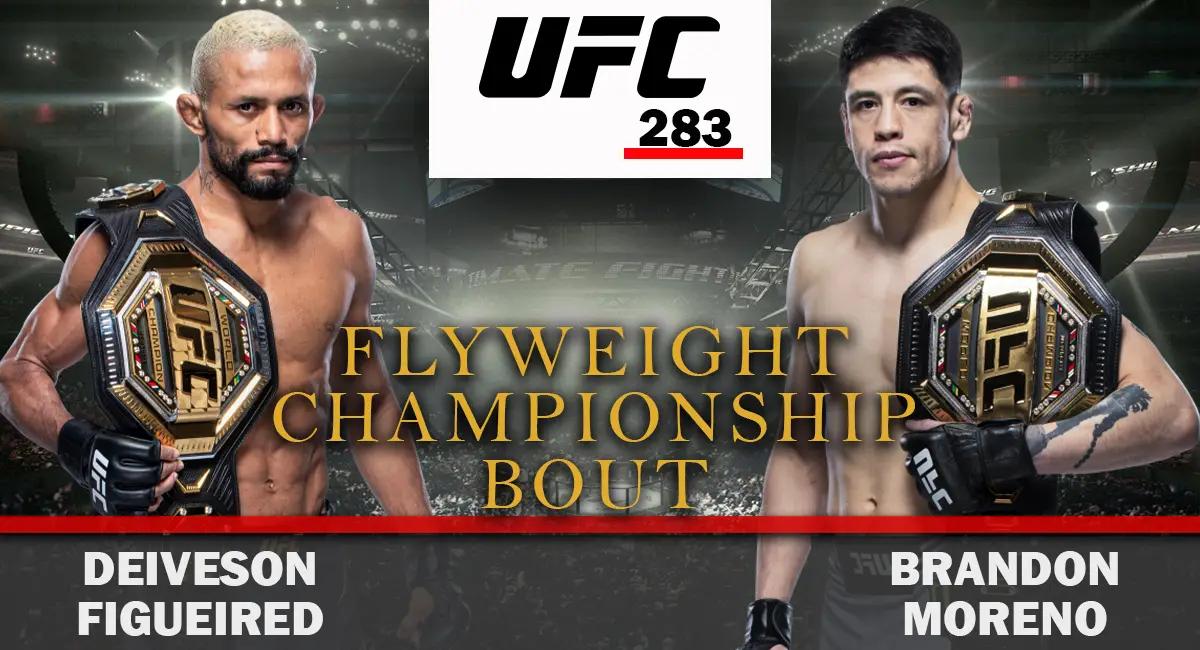 Deiveson Figueiredo and Brandon Moreno clashed for the fourth time at UFC 283 in a flyweight title unification bout in the co-main event.
The pair had been in a rivalry since December 2020. Figueiredo won the flyweight title in June 2020, and made his second defense in two months against Brandon Moreno at UFC 256. That bout ended in a split draw. In the rematch, Moreno defeated Figueiredo at UFC 263 via submission in the third round. In the trilogy bout, Figueiredo shocked everyone by beating Moreno at UFC 270 via a unanimous decision.
After this, Moreno won the interim flyweight title by beating Kai Kara-France at UFC 277, which as set up this historic fourth bout between Moreno and Figueiredo. Who triumphed in this tetralogy bout and walked away as the unified UFC Flyweight Champion from UFC 283?
Check below for the live blog with round-by-round updates and play-by-play action from Deiveson Figueiredo vs Brandon Moreno 4 bout for UFC Flyweight Championship at UFC 283.
Live Updates
Figueiredo goes for an uppercut but Moreno goes for a takedown and completes it. Figueiredo has locked a front choke though as they were going down. They have become stationary on the mat. Figueiredo gets some shots going to the ribs. They get back to their feet. Moreno is throwing his arms. He lands an overhead swing to the head. Figueiredo lands a front kick as the third-minute starts. Moreno lands a body kick. Figueiredo is looking to get past his high guard and manages to pierce it with an uppercut.
Both men land their shots as the fourth-minute starts. Moreno lands a jab. Figueiredo lands a leg kick to counter a punch. Figueiredo goes for a takedown but Moreno defends well. Moreno lands a right. He lands a right after 10 seconds. Moreno gets another takedown in the round. Figueiredo has changed into an ankle lock. Moreno pushes away and rolls over to go for Figueiredo's ankle. The round ends with both men on the mat. Moreno protests a kick to the face when they were on the ground.
Figueiredo starts with more urgency but Moreno counters his punches. Figueiredo picks his leg and gets a takedown. Moreno does well to stop Figueiredo from getting into something big. Figueiredo is still on top though. Moreno scrambles and gets back to his feet. They are back in the middle as minute 2 starts. Figueiredo lands a body kick. Moreno pushes him back with a combo attempt and attempts a takedown. Moreno lands another combo. An inside calf kick as the third minute starts. Moreno counters with another jab.
Moreno catches Figueiredo's leg as he hit a high kick but fails to get a takedown. A bit of scramble leads to Figueiredo locking a front choke. Figueiredo puts a lot of pressure on it but Moreno goes well to get out of it with just 90 seconds to go into the round. Moreno is on the top now but Figueiredo has his left wrist locked on. Moreno scratches his chin on DF as they continue to be on the ground. Moreno gets back a bit and lands some elbows. Figueiredo also fires some elbows as the round comes to an end.
Figueiredo starts with uppercuts to the ribs. Moreno lands a right hook. Moreno fires a left. Figueiredo goes for a calf kick. Their heads clash before Moreno scratches Figueiredo again with a left. Figueiredo ducks a big punch. Moreno lands a big left which has cut Figueiredo. Figueiredo was asking for a time-out for an eye poke, but he is waived off. Moreno gets him down to the mat. The commentary says the replay is suggesting that the follow-up of the punch caught Figueiredo's eye. Moreno keeps Figueiredo on the ground. He is completely in contol for around 2 minutes but does not land much. Moreno makes some distance and fire some shots. Figueiredo also fires back with some kicks. But, it is Moreno who is still in control. The round ends in the same manner.
After the round, the ringside physician checks on Figueiredo and rules that Figueiredo is unable to see. He stops the bout.
Brandon Moreno won by TKO(doctor's stoppage) at 5:00 in round 3.