Anthony Joshua vs Jermaine Franklin Results, Prelims & Main Card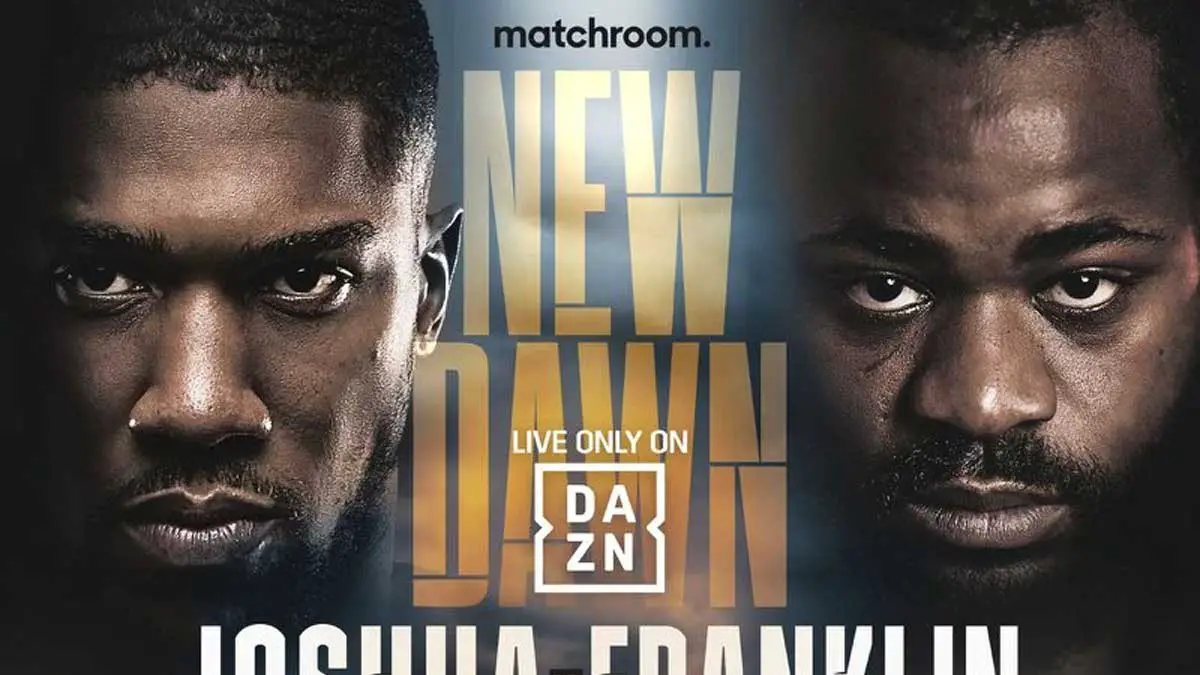 Anthony Joshua's in-ring return to 2023 will be against Jermaine Franklin as the pair headline a Matchroom Boxing Event on Dazn on April 1, 2023.
Joshua's current record stand at 24-3 and 2 out of those 3 losses have come in his last two bouts against Oleksandr Usyk. This is considered a tune-up fight for Joshua as he has a new team in place and would try to improve his game. He has already weighed in at 255 lbs, the heaviest he has been in his career. What other changes will we see in this fight?
For Jermaine Franklin, this is an opportunity to impress once again after a strong showing against Dillian Whyte in November last year. While Whyte handed him the first loss of his career, it was more due to some shoddy scoring than Franklin's performance. Will he be able to upset Joshua here?
The event is set to start at 11:45 AM ET or 4:45 PM GMT with prelims card. The main undercard has 4 more bouts other than the main event and features the likes of Campbell Hatton, Austin Williams, Galai Yafai, and Fabio Wardley vs Michael Coffie in the co-main event over WBA Continental Heavyweight title.
Tune in below from 11:45 AM ET onwards as we post results from Anthony Joshua vs Jermaine Franklin event from prelims, undercard and main card. You can also check here to know how to catch this event live.
RESULTS
Prelims
Peter Kadiru def. Alen Lauriolle via TKO at 3:00 of round 1 – 6 rounds Heavyweight bout
Benoit Huber def. Juergen Uldedaj via points (77-75) – 8 rounds Cruiserweight bout
Jordan Flynn def. Kane Baker won via points (77-75) – 8 rounds Super Featherweight bout
Ziyad Almaayouf def. Georgi Velichkov via points (39-37)- 4 rounds Welterweight bout
John Hedges def. Daniel Bocianski via points (80-72)- 8 rounds Light Heavyweight bout
Main Card
Austin Williams def. River Wilson-Bent via TKO at 1:01 of round 8 -10 rounds Middleweight bout (Watch Video)
Campbell Hatton def. Louis Fielding via KO at 1:29 of round 1 – 8 rounds Super Lightweight bout (Watch Video)
Galai Yafai def. Moises Calleros via TKO at 0:44 of round 4 – 10 rounds Flyweight bout (Watch Video)
Fabio Wardley def. Michael Coffie via TKO at 0:45 of round 4 – 10 rounds bout for the vacant WBA Continental Heavyweight Championship Bout (Watch Video)
Anthony Joshua def. Jermaine Franklin via unanimous decision(117-111, 117-111, 118-111) – 12 round Heavyweight bout