WWE Smackdown Results May 12, 2023, Live Updates, Winners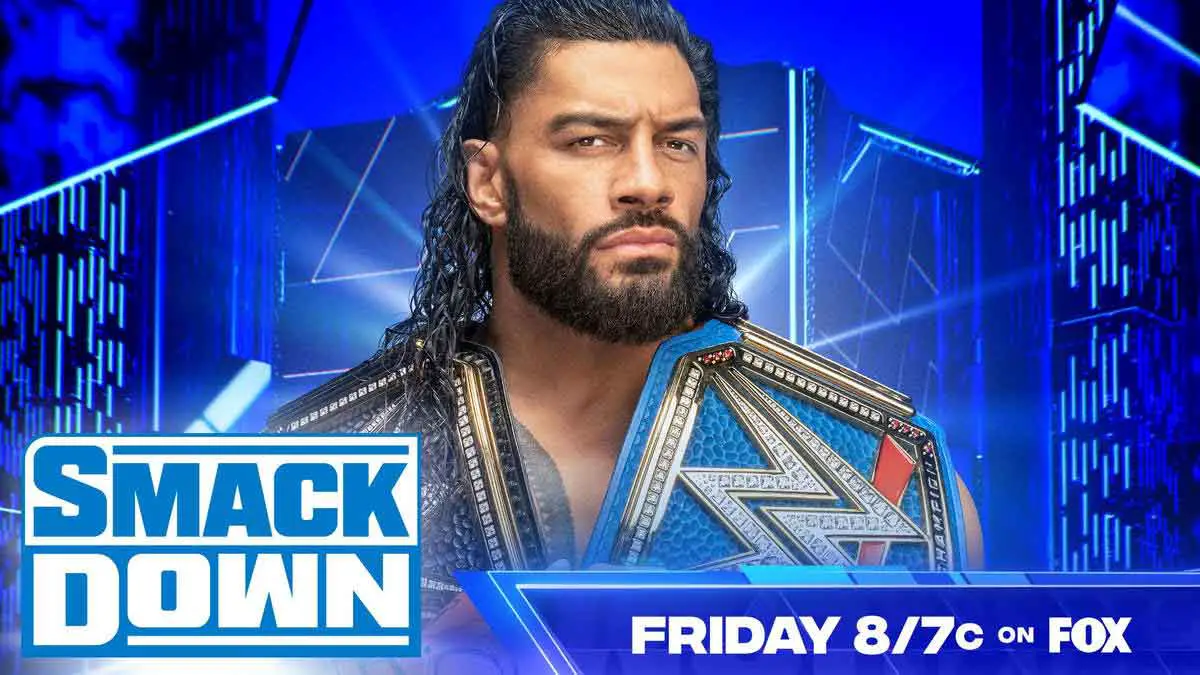 Welcome to the live results blog for WWE SmackDown May 12, 2023 episode which featured SmackDown side of World Heavyweight Championship in the build-up to Night of Champions 2023 event.
Two triple threat matches for the first round of World Heavyweight Championship tournament were set for the show with the winner of these matches later facing off in the main event semifinal. The semifinal winner would take on Seth Rollins at Night of Champions. AJ Styles, Bobby Lashley, Austin Theory, Rey Mysterio, Edge and Sheamus were going to compete in these triple-threat matches.
It was the magnitude of the tournament that the return of Roman Reigns paled in comparison. The reigning Universal Champion appeared on SmackDown as he was nears 1000 days in his title reign. What was his agenda in this visit? Was it related to his next title defense or the infighting within The Bloodline?
Women's Tag Team Championship were on the line as Damage CTRL's Bayley and Dakota Kai challenge Liv Morgan and Raquel Rodriguez. Cameron Grimes was set for SmackDown in-ring debut against Baron Corbin.
Tune in below as we post results live from WWE Friday Night SmackDown May 12, 2023 with updates, winners and highlights.
WWE SMACKDOWN RESULTS MAY 12, 2023
AJ Styles defeated Edge & Rey Mysterio in Round 1 Triple Threat Match in World Heavyweight Championship Tournament via pinfall.
Bobby Lashley defeated Austin Theory & Sheamus in Round 1 Triple Threat Match in World Heavyweight Championship Tournament via pinfall.
Cameron Grimes defeated Baron Corbin in a singles match via pinfall.
Liv Morgan & Raquel Rodriguez(c) defeated Damage CTRL(Bayley & Dakota Kai) in a tag team match via pinfall to retain WWE Women's Tag Team Championship.
AJ Styles defeated Bobby Lashley in Semifinal of World Heavyweight Championship Tournament via pinfall.
LIVE UPDATES
Rey Mysterio vs Edge vs AJ Styles – Round 1 Triple Threat Match in World Heavyweight Championship Tournament
AJ and Rey are already in the ring. Edge makes his entrance as the show opens. All 3 men get the pin attempts on each other. Edge breaks the sequence with kicks on Styles to send him to the corner. Edge springboards but AJ counters the move with some innovation to drop both Edge and Rey to the mat. Edge comes back into the match with an inverted bulldog. Edge kicks Rey out of the ring. AJ hits a backbreaker and a low clothesline on Edge.
AJ hits a backbreaker on Rey as he comes back to the ring. AJ clotheslines Edge to the floor. Rey hits a hurricanrana on AJ before hitting the same on Edge. Edge catches Rey's springboard crossbody and hits a fallaway slam. Both AJ and Rey block Edge's spear. Rey kicks away AJ before hitting Canadian Destroyer on Edge for a close two-count. AJ fights back against Rey and sends him to Edge on the floor. Edge looks for a DDT on Rey and AJ hits a basement slide dropkick to drop Edge. We cut to a break.
AJ pulls Rey to the apron and they fight on the apron. Edge hits a spear on them to take them both to the floor. Edge brings Rey into the ring to get a near fall. Edge stomps on Rey in the corner. AJ throws him to the floor. Rey nails forearms on AJ before a step-up enzuigiri. AJ counters a knee strike in the corner with a calf crusher. Edge comes in and puts Rey in a crossface. AJ hits him with a shoulder to break Rey free. AJ and Edge trade punches. Rey hits a double hurricanrana to set up 619 but both men get up and hits stereo dropkicks on Rey.
Rey ducks a clothesline from AJ and hits a dropkick. Edge hits a kick to Rey's face. He then throws AJ into the corner using his own momentum. Edge drags himself to the top rope. Rey meets him there. AJ picks up Rey to hit a powerbomb for a near fall. AJ punches Edge on the top rope and gets up there. Rey hits a sunset flip powerbomb on AJ which also takes down Edge into a superplex. AJ kicks out of the pin. Rey sets up 619 on Edge but AJ trips him and pulls him out. Edge ducks the phenomenal forearm but AJ manages to bring him down.
Rey hits a seated senton on AJ before Edge counters 619 with edgecutor. Edge puts edgecutor on AJ next. AJ drags near the ropes but no rope breaks are allowed in the match. Rey hits Edge with 619 near the ropes. He follows up with splash but AJ quickly hits Edge with Phenomenal Forearm to get the pinfall.
Winner – AJ Styles
We see a recap of the storylines of Kevin Owens & Sami Zayn against The Bloodline. We see The Usos talking excitedly backstage.
Bobby Lashley vs Austin Theory vs Sheamus – – Round 1 Triple Threat Match in World Heavyweight Championship Tournament
Theory moves out of the ring as the bell rings. Lashley and Sheamus get to the floor and catches him. They both unload on him before throwing him back into the ring. Lashley hits a corner tackles and a cutter before Sheamus hits him with a backbreaker. Lashley clotheslines Theory to the floor. Sheamus fights Lashley off but Lashley hits a flatliner. He hits a tackle in the corner, some back elbows and another shoulder tackle. Sheamus plants him to the mat to get a two-count. He hits a big blow to the back before he drops Lashley on the ropes to set up 10 Beats of Battering. Theory runs into Lashley when Theory runs in. Lashley falls to the floor. Sheamus hits 10 Beats of Battering on Theory to take us to a break.
Lashley tackles Theory on the floor as we return. Lashley then drives Theory into the ring post. Lashley and Sheamus exchange blows in the ring. Sheamus hits a kick to the face before Lashley hits a clothesline. Sheamus hits double boots to drop Lashley. Lashley hits a suplex and goes for The Hurt Lock. Theory hits a dropkick to take down both men. He hits a big forearm on Sheamus. Lashley tackles him but Theory hits him with a DDT. Theory throws Lashley into the steel steps as Lashley rolls to the floor. Sheamus counters a roll-through from Theory with a backbreaker.
Sheamus hits a couple of clotheslines. Theory counters a rack bomb but Sheamus nails him with a knee to the face. Sheamus gets ready for the Brogue kick but Lashley hits him with a spear. Theory throws Lashley into the corner and goes to cover Sheamus but he kicks out. Theory goes for A Town Down on Lashley but he slips out and puts on the Hurt Lock. Sheamus hits a Brogue kick on Theory, which breaks the Hurt lock. Lashley throws Sheamus to the floor and hits a spear on Theory to get the pinfall.
Winner – Bobby Lashley
Grayson Waller is backstage with Adam Pearce and is a bit upset for being a late pick from SmackDown. He says Pearce can make it up to him by making it official that the winner from tournament semifinal tonight will be his guest next week on SmackDown premiere of Grayson Waller effect.
Cameron Grimes vs Baron Corbin
Corbin is already in the ring as Grimes makes his entrance. Corbin takes the mic and welcomes Grimes, the last pick from SmackDown in Draft. He insults Grimes for a while. The bell rings and Grimes hits Caveman Stomp/Cave In to get the pinfall in seconds.
Winner – Cameron Grimes
We see a recap of Brock Lesnar's attack on Cody Rhodes.
The Tribal Chief is Here!
Roman makes his entrance with The Usos, Solo Sikoa and Paul Heyman. Roman asks the Knoxville crowd to acknowledge him amid a miz of boos and cheers. Roman says this is what greatness garners – it garners respect. But regardless of reaction tonight, it must be respected that there is only one royal family in wrestling business. Roman says everyone standing in this ring has main evented WrestleMania. But when Tribal Cheif was not here at Backlash, someone needed to step up and Solo did step up.
Roman says to be honest, there were some concerns about Solo when he first got on the road, but Solo swims like a shark. Roman asks him what he is thinking about and Solo says Owens. Roman says Solo is so great that he is still thinking about Sami and KO problem. Roman tells him to not think about them as they are not real problems, as the problem is his brothers. The Usos are uncomfortable now. Roman asks if the Usos thought they would not talk about their loss at WrestleMania main event. Then, they begged for a rematch, dedicated it to him, and then lost. Roman takes offense on The Usos dedicating a tag team match to him who is the greatest singles champion.
Roman says they have disrespected their great family and him. Roman asks The Usos to apologize. The Usos look at each other in surprise. Roman tells them to not look at each other but apologize. The Usos look uncomfortable and the crowd starts to chant no. Roman is more miffed when Jimmy starts to laugh. Roman pushes him away, which enrages Jimmy a bit. Jimmy is about to charge at Roman when Jey cuts him off and says they apologize. Jey asks for one more shot to bring back the championship to the Bloodline. Roman says the championships will come back to the Bloodline and asks The Wiseman to fill in.
Heyman announces that The Tribal Cheif has flexed his muscle and pulled every string to make it happen. Heyman then says at Night of Champions, Kevin Owens and Sami Zayn will lose the tag team titles to Solo Sikoa and Roman Reigns. Roman then announces that they will win the tag titles at Night of Champions and will dedicate them to the greatest tag team of all time – Afa & Sika. Roman, Solo and Heyman leave the ring. The Usos are still in the ring distraught.
---
Damage CTRL are backstage with Kayla Braxton. Bayley says she and Roman have so much in common as they both are Grand Slam champions and are exceptional leaders. And just like Roman, she would take control of matter in her own hands tonight. She tells Iyo Sky that she was very close to winning at Backlash but she blames herself for pushing Iyo too soon. Bayley says she and Dakota will win the titles tonight. She also tells Kayla to tell Roman that SmackDown belongs to Damage CTRL.
---
The Usos are backstage venting their anger on LWO's Cruz Del Toro and Joaquin Wilde. Santos Escobar and Rey Mysterio come in. Santos says something in Spanish before The Usos leave.
Liv Morgan & Raquel Rodriguez(c) vs Damage CTRL(Bayley & Dakota Kai) – WWE Women's Tag Team Championship
Dakota goes for a crucifix on Raquel to start. Raquel slams her to the mat before tagging in Liv. Liv whips Dakota to the corner for some double team with Raquel. Dakota and Liv go back and forth for a while until Dakota nails Liv with a forearm. Bayley tags in for some double-team on Liv. NXT Women's Tag Team Champions Isla Dawn and Alba Fyre are watching this match backstage. Liv tries to fight back and trips Raquel. Bayley ends up running her over with a clothesline to take us to a break.
Liv tags in Raquel as we return. Raquel hits clotheslines on Dakota before a couple of fallaway slams. She misses the corkscrew elbow drop in the corner. Bayley tags in but Raquel hits double chokeslam on both opponents. Liv comes in and Raquel throws her on their opponents in the corner. Raquel uses Liv as the battering ram to hit Dakota and Bayley before dropping her on them with a powerbomb. Dakota is sent to the floor with a low bridge. Liv sets up Bayley in the corner and hits a knee strike.
Dakota gets a blind tag as Bayley picks up Liv in a powerbomb position. Dakota hits a Meteora on Liv as Bayley picks her up. Dakota acts like she is injured. Bayley tags in and Dakota rolls to the floor. Bayley asks the referee to check on Dakota. Iyo comes to the ramp to hand Bayley a title belt. Raquel blocks her and Liv pushes Bayley into Iyo on the apron. Liv rolls up Bayley to get the pinfall.
Winners – Liv Morgan & Raquel Rodriguez
Pretty Deadly interrupt The Brawling Brutes as they were consoling Sheamus for his loss earlier on the show. Sheamus asks them who is Pretty and who is Deadly. They ignore it and goes to ask them about some forms they have to fill out but instead goes on to mock Butch and Ridge. They leave as Ridge holds Butch back.
Bianca Belair Championship Celebration
Bianca Belair is announced as the longest reigning women's champion as she makes her way to the ring. Bianca hugs her family in the ring before she hits the corner. Pyro goes off when she poses in the corner. Asuka stops the festivities as she makes her entrance. Asuka offers a handshake. Bianca takes it but Asuka spits green mist into her eyes. Bianca screams in pain. Asuka goes away as the crew checks on Bianca.
After the break, Bianca Belair is in the medical room and still screaming in pain.
AJ Styles vs Bobby Lashley- Semifinal of World Heavyweight Championship Tournament
Styles ducks a lock up and hits a chop on Lashley. Styles does the same once again and hits a punch and a chop. Lashley corners Styles this time around but Ah once again ducks him and hits more chops. Lashley catches his arm and hits a knee to midsection. He hits elbow to the back of AJ's neck before cornering him for more strikes. AJ comes out of the corner and hits back with his shots. Lashley throws AJ over the ropes and to the floor. He drives AJ's spine into the apron. Lashley drives AJ into the ring post to take us to a break.
Lashley hits a knee strikes to midsection and some elbows. AJ hits back and targets Lashley's knee with some quick kicks. Lashley tackles him down and hits punches. Lashley whips him to the corner but Styles avoids a corner tackle and puts on the calf crusher. Lashley has to slam AJ's face into the mat to break it. Lashley hits more shots to his back before AJ hits a DDT to get a two-count. AJ gets Lashley up on his shoulders but Lashley slips out and hits a flatliner for a two-count.
Lashley goes for gutwrench bomb but AJ slips out and runs over Lashley with a running right hand. Lashley avoids a forearm in the corner and puts on the Hurt Lock. Styles somehow gets to the ropes and on the apron. Lashley goes to the floor and slams his face into the steel steps. AJ slips out and drives Lashley into the ring post and then nails him with an enzuigiri. He send Lashley back into the ring. Lashley picks AJ up from the ropes as he is going for the Phenomenal forearm. Some back and forth after AJ blocks a move. Lashley ends up hitting a running powerslam to get a near fall.
Lashley goes for the Hurt lock again but AJ closes his body and then nails back elbow to stop Lashley. Lashley misses a spear in the corner and AJ follows it up with a knee strike against the ringpost. AJ hits phenomenal forearm to get the pinfall.
Winner – AJ Styles
AJ gets to the stage where World Heavyweight title is showcased. The OC run out to celebrate with AJ to close the show.