WWE SmackDown Results & Live Updates February 24, 2023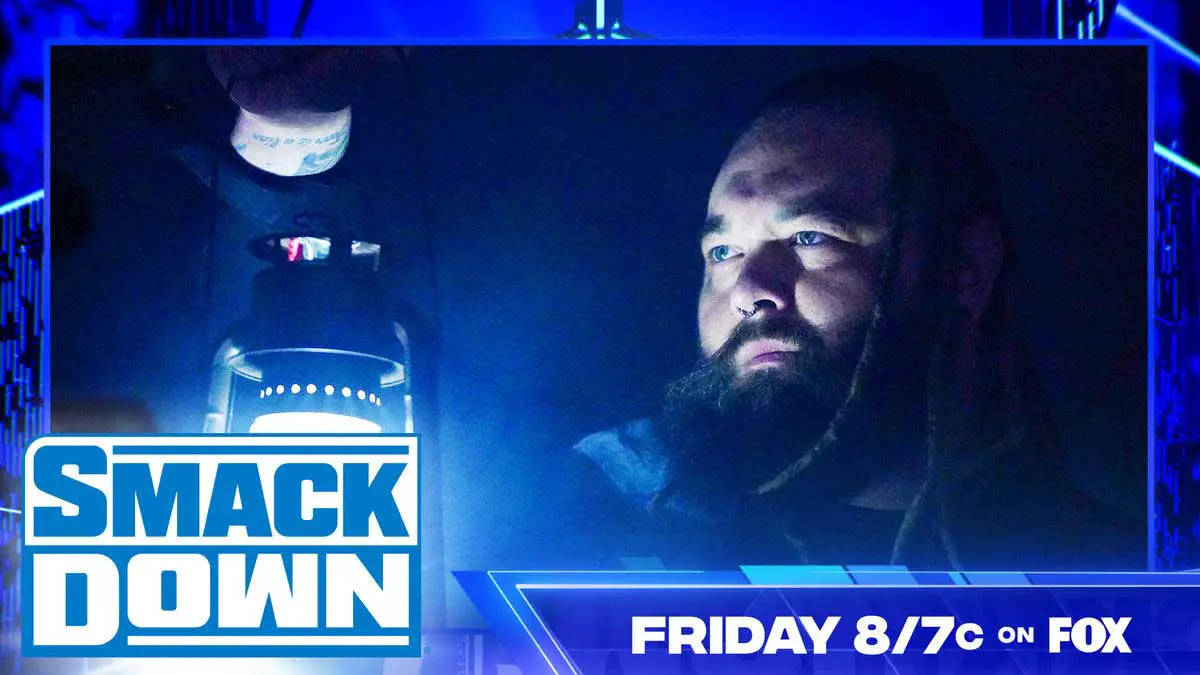 Welcome to the live results blog for WWE SmackDown for February 24, 2023 episode as the build-up for WrestleMania 39 continues.
Bray Wyatt returned with a new Firefly FunHouse segment. He told us last week that he would target the winner of Brock Lesnar vs Bobby Lashley bout at Elimination Chamber. Lashley was the winner of that match albeit via disqualification. What did Wyatt tell us about this? And what is his reasoning for going after Lashley?
Some cracks have formed within The Bloodline as Jey Uso continues to be aloof with Roman Reigns' directions. Sami Zayn is already trying to break the faction. What was his next step? Karrion Kross and Rey Mysterio clashed in a singles match. Rhea Ripley and Charlotte Flair came face-to-face for the first time since their match at WrestleMania 39 was confirmed.
Check below as we post results from WWE Friday Night SmackDown from February 24, 2023, with live updates, winners and highlights.
RESULTS
Imperium(Gunther, Lugwig Kaiser & Giovanni Vinci) defeated Madcap Moss, Ricochet & Braun Strowman in a tag team match via pinfall.
Kofi Kingston defeated LA Knight in a singles match via pinfall.
Shayna Baszler defeated Natalya in a singles match via pinfall.
Karrion Kross defeated Rey Mysterio in a singles match via submission.
LIVE UPDATES
The show opens with a recap of main event of Elimination Chamber between Roman Reigns and Sami Zayn, the post-match attack by the Bloodline, Sami talking to Kevin Owens at RAW earlier this week and Owens turning him down on the plans against the Bloodline.
Kayla Braxton is backstage to catch up with Jimmy Uso. Jimmy says he has called for Jey Uso to come meet him in the middle of the ring and gets everything he has inside his chest to be out in open.
Madcap Moss, Ricochet & Braun Strowman vs Imperium(Gunther, Lugwig Kaiser & Giovanni Vinci)
Moss and Vinci start the match. The crowd gives huge cheers as the match starts with quick counters. Moss goes for a misdirection to hit a big running tackle. Ricochet hits a springboard splash after he tags in. Vinci tries to overpower him but Ricochet counters to hit a bulldog and standing splash. Vinci drops him with a big lariat.
Kaiser tags in and drops Ricochet with a big shot. Ricochet fires back with punches. Kaiser jabs at him to block Ricochet's attempt to come back. Kaiser slaps Strowman. The referee gets busy in blocking Strowman from getting into the ring. Kaiser and Vinci hit high-low on Ricochet on the apron before Gunther drops him again on the apron with a side suplex. We cut to a break.
Kaiser is in full control against Ricochet. Ricochet fires some body shots. Kaiser nails him back with punches. Kaiser decks him with a big punch and follows up with more quick shots and a clothesline. Gunther tags in now. He hits an uppercut before we see Drew McIntyre coming out to the stage. Vinci tags in and drops Ricochet with a short clothesline. Ricochet counters a clothesline and tags in Strowman. Strowman hits corner clotheslines on Vinci and Kaiser.
Strowman throws Vinci out of the ring before Gunther tags in. Gunther hits chops but Strowman no-sells them. Strowman fires some punches before Gunther hits a shotgun dropkick to send Strowman to the corner. Moss tags in and runs into a chop by Gunther. Gunther hits a clothesline to get the pinfall on Moss.
Winner – Imperium
Drew McIntyre walks down the ramp while staring Gunther. The Viking Raiders attack Drew from behind. Sheamus runs out to help Drew. Ricochet and Strowman join in beating up The Viking Raiders. Drew and Sheamus hit Claymore and Brogue kick respectively on The Vikings to end that segment.
---
Rey Mysterio is interviewed backstage and says he plans on ending this rivalry with Karrion Kross. Santos Escobar comes in and says he wants to show the WWE Universe how much he respects Rey. Rey says the feeling is mutual. Dominik walks in and mocks Escobar and his father. Escobar challenges him for a match. Dominik says the ones in prison who can't back up their talk gets put down. Escobar and Rey share a smirk on that comment. Dominik and Rhea leave. Escobar asks Rey not to let this affect him. Rey asks him how this could not affect him.
---
Jimmy Uso is backstage with Solo Sikoa. Jimmy says he was sure two weeks back that Jey will come for him and defend tag team titles with him, but he is not sure of that now since Elimination Chamber. Paul Heyman suggests that Jimmy go out alone to talk to Jey- Uso to Uso, brother to brother.
---
LA Knight is out in the ring now. He takes the mic and mocks other wrestler trying to get a WrestleMania moment. He says he did not come to this business for WrestleMania moment but to make some money. He says there can be no WrestleMania in LA without LA Knight. New Day duo comes out and staring to mock Knight to demand a match at WrestleMania. Knight calls them nerds and mocks them for playing video games and says it is hindering them to see the star LA Knight is.
New Day reply that being nerds has made them so much money. The back and forth continues and Knight mocks Kofi over his KofiMania. Kofi says he became a WWE Champion and he did not wait for a WrestleMania moment but created it. Kofi challenges Knight for a match and Woods asks Adam Pearce to send a referee to make it official.
LA Knight vs Kofi Kingston
The match is underway as we return. Kofi ducks his clotheslines and hits a hurricanrana. Knight hits a shoulder tackle to drop him. Kofi leapfrogs before hitting a dropkick. He sends Knight to the corner before hitting a splash on his back to get a two-count. Knight fires a punch before Kofi sweeps his leg. Kofi hits a gamergiri from the floor before hitting a splash to get a two-count. Kofi hits an armbreaker before putting on a shoulder stretch. Kofi hits a knee strike on the arm.
Kofi puts on a hammerlock. Knight gets to his feet and hits a back elbow to drop Kofi. He hits knee strikes while Kofi is down on the mat. Knight hits a quick body slam for a two-count. Kofi is sent to the corner where he hangs onto the ropes to avoid aneckbreaker. Kofi hits a couple of corner splashes. Knight sends him into the corner and whiplashes his face into the turnbuckle now. We cut to a break.
Knight is still in control as we return. Kofi hits back with a dropkick. Woods plays his trumphet to hype up Kofi. Knight throws Kofi to the floor. Woods comes in to check on Kofi. Knight gets in Woods' face and dares him to hit him with his trombone to get Kofi disqualified. Woods shows restraint. Knight contineus to keep control as he takes Kofi back to the ring.
Knight hits a springboard shoulder tackle. Kofi hits back with a knee strike now. Kofi hits running ax handles before nailing a heel kick. Kofi stacks up Knight for a two-count. He hits boom drop next to set up for Trouble in Paradise but Knight ducks it and hits a side slam. Woods continues to play his trombone while eggs Knight to run him over. Kofi hits Knight with a suicide dive.
Kofi gets to the top. Knight brings him down and jumps to the top instead. Woods plays trombone on his face to disbalance him on the top rope. Kofi trips Knight on the top rope and hits SOS to get the pinfall.
Winner – Kofi Kingston
We get a progressive matchflow segment for Rhea Ripley and Charlotte Flair.
Flair & Rhea Face Off
WWE SmackDown Women's Champion Charlotte Flair comes out and calls out Rhea Ripley to come out. Dominik comes out first and calls Flair, "Queeny". Dominik says he will not let Flair run down Rhea. Flair tells Dominik this is not for children and he should go back to Mommy. She wants to talk to Rhea and not her boytoy.
Dominik starts to talk about his s## life with Rhea and says how Rhea is so strong that she breaks his back everytime she hugs her. Flair replies that he has a real Latino man at home with her at home and was looking to talk to Rhea. Dominik says he thought they had so much in common being generational superstars and having surpassed their dads despite the fans not seeing it. Flair says unlike Dominik, she actually loves her dad, and Ric Flair would kick his butt if he was here.
Flair says since her dad is not here, why not she does it anyway. Flair removes her title from the waist and gets in Dominik's face. Rhea's music hits and she comes out to have a face-off with Charloote. Dominik pulls her back and out of the ring. Charlotte shows off her title which prompts Rhea to get into the ring once again. Dominik takes her back.
Natalya vs Shayna Baszler
We see how Natalya and Shayna Baszler were arguing on social media. Natalya makes her entrance after getting cleared by the medical team. Tegan Nox is with her. We see a picture in picture segment where Nox was shown coming in to offer her help to Natalya. We cut to a break.
Ronda Rousey comes out with Shayna Baszler as we return from the break. Natalya ducks a shot and hits quick punches. Shayna rolls to the floor to regroup. She returns and hits an armbreaker on Natalya. She starts to work on the arm with some joint manipulation. Natalya hits an armdrag before Shayna nails her with a knee strike. Shayna removes her knee pad for a knee strike but Natalya rolls her before hitting a side Russian leg sweep.
Natalya hits a German suplex after ducking another shot. Natalya sweeps Shanya's feet again to get a two-count. Natalya's sharpshooter is blocked and Shayna ends up getting to the floor. Natalya hits a basement dropkick on the floor. Ronda distracts Natalya and allows Shanya to catch her with a knee strike on the apron. Shanya puts on an armbar on Natalya to get the submission win.
Winner – Shayna Baszler
Firefly Fun House
We are in Firefly Fun House. The lights turn red after the intro. Bray plays with some action figures before we cut to Bray watching a recap of him calling out the winner of Brock Lesnar vs Bobby Lashley match and then we cut to Lashley responding anyone not to disrespect him. We now cut to Firefly Fun House news show with Ramblin' Rabbit and Bray. Uncle Howdy presents weather news before a special correspondent Bray Wyatt tells to stay tuned at 10 PM, 11 PM and 12 AM and asks us if we can be keep a secret.
---
We cut to backstage where Jimmy is still with Solo and Heyman. Heyman tells Jimmy that Roman Reigns will be here next week and if Jimmy could not handle Jey, Roman will do it himself next week.
Rey Mysterio vs Karrion Kross
Rey starts with calf kicks. Kross tries to fire some shots. Rey sends Kross to the floor with a hurricanrana. Rey hits a 619 on the back of his head to knock him to the floor once again. Rey hits a suicide dive to take us to a break.
Rey is fighting back against Kross as we return. Kross drops him with a back elbow. We see Kross sent Rey into the barricade during the break. Rey tries to hit big boot from the corner but Kross blocks them. Rey hits a hurricanrana to drop Kross on the ropes. Rey hits a seated senton next before Kross throws him to the floor.
Kross drops Rey on his knees on the floor. Back to the ring, Kross picks up Rey on his shoulders and takes him to the second rope. Rey fights back with elbow shots. Rey hits a hurricanrana from the top rope to get a close two-count. Kross blocks a DDT but Rey manages to hit another hurricanrana to drop Kross to the ropes.
Rey ends up hitting Scarlett as she tries to interfere. Dominik blocls Rey's 619 and pulls him out to the floor. Dominik runs his mouth for a while. Rey gets back to the ring and runs into a Kross hammer in the ring. Kross puts Rey in a sleeper choke to get a submission.
Winner – Karrrion Kross
After the match, Dominik gets into the ring and pushes Rey around, asking him to hit back. Rey does not hit back but ultimately gets into Dominik's face. Rey stops before punching Dominik with conflicting thoughts. Dominik continues to mock him and dare him to do it. Rey ultimately leaves the ring.
Jimmy, Jey & Sami
Jimmy Uso gets into the ring. He says Jey is not here but he must be watching from somewhere. Jimmy says he must be hurting. People are saying there are cracks in the Bloodline. They have Sami Zayn problem.. Kevin Owens problem… and they have to defend tag team titles on top of that. Sami Zayn enters the ring through the crowd. Sami says Jimmy wants to talk to Jey but before that he wants to talk to Jimmy.
Sami says everytime Jimmy says the word brother, it hurts him because Jimmy was the one to trust Sami first. He was the one to give him the honorary Uce name. Sami then asks why he did not even think for a second on turning on him at Royal Rumble. Jimmy gets enraged and calls Sami selfish to put it all on him. Jimmy says it was Sami who decided to turn on The Bloodline and he was the one to turn on the family.
Sami replies that the family does not put you through a loyalty test every week and that's what Roman Reigns was doing it to him week after week and that's what Roman did to Jey week after week. Jey appears on the top tier. Sami says the Bloodline is all about Roman Reigns and he will take him down. But just like he told Jey, Sami tells Jimmy that he does not need to go down with Roman.
Jimmy and Sami look towards Jey in the crowd. Jimmy nails Sami with a punch and slams him into the corner. Jimmy shouts at Jey to come in. Sami hits Jimmy with Helluva kick. Solo runs out and Sami leaves the ring. Sami glances at Jey before he gets into the crowd. Solo and Jimmy watch Jey in the crowd. Sami is also in another section of the crowd.