WWE RAW Results March 13, 2023, Live Updates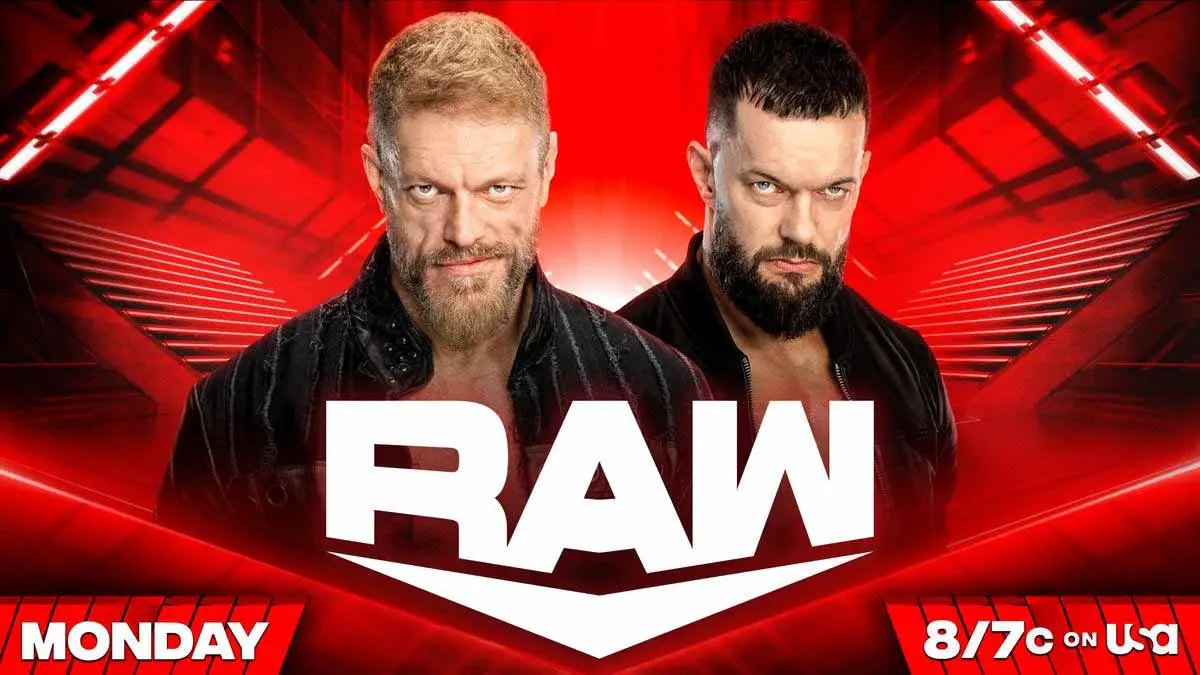 WWE RAW will be live again on March 13, 2023, with episode number 1555 from Amica Mutual Pavilion in Providence, RI, and we will be here with the live results blog for the show.
Two sets of WrestleMania opponents are coming face-to-face this week after something similar went down last week. Edge has called out Finn Balor to meet him in the ring after Balor's callout for a match at WrestleMania 39. Brock Lesnar and Omos are also announced for a segment before their colossal clash at the Showcase of Immortals.
As for the matches announced for the show, RAW Women's Champion Bianca Belair will take on Chelsea Green as Green has asked Adam Pearce to watch her take off champion's braids. Johnny Gargano might be set to face Grayson Waller at NXT Stand & Deliver, but this week on RAW, he will team up with Dexter Lumis to take on Judgment Day's Dominik Mysterio & Damian Priest.
Bronson Reed vs Elias also set for RAW March 13 episode after Rick Boogs' misunderstanding of Elias' instructions. Good Brothers will return to action against Mansoor & Mace of Maximum Male Models. Expect to hear more from Seth Rollins, Becky Lynch, Damage CTRL, and other stars on the road to WrestleMania 39. What will be next in the storyline between Cody Rhodes, Sami Zayn, Kevin Owens and The Bloodline.
Tune in below as we post results from WWE RAW March 13, 2023 with live updates, winners & highlights.
RESULTS
Judgment Day(Dominik Mysterio & Damian Priest) defeated Dexter Lumis & Johnny Gargano in a tag team match via pinfall.
Cody Rhodes vs LA Knight in a singles match via pinfall.
Bronson Reed defeated Elias in a singles match via pinfall.
Austin Theory defeated Angelo Dawkins in a singles match via pinfall.
Seth Rollins defeated Baron Corbin in a singles match via pinfall.
Bianca Belair defeated Chelsea Green in a singles match via pinfall.
Solo Sikoa defeated Kevin Owens in a Street Fight via pinfall.
LIVE UPDATES
Edge & Balor
Edge comes out to open the show. Great ovation for Edge and he says this is the reason he keeps doing this. He then calls out Finn Balor to come out so that they can finally be done with this. Judgment Day appears on the stage. Balor says he is here in flash and is eager to hear what Edge has to say. Edge says he is not to say anything but to end this, but Balor is hiding behind.
Edge says Balor wants a match at WrestleMania, he gets it. Balor goes on to say he will beat Edge just like at Extreme Rules. Edge tells Balor to shut up now to let him speak. Edge goes on to take shots at others in Judgment Day but says it worked for them. Edge talks about them forcing him to say "I Quit" and still went on to hit con-chair-to on Beth Pheonix. So, there is only one way this is gonna end, and it will be Finn Balor vs Edge Hell in a Cell.
Balor says Hell can't handle his demons. He will face Edge at WrestleMania, but until then…. Priest, Dominik and Rhea go and attack Edge in the ring. Johnny Gargano, Dexter Lumis and Candice LeRae run out to counter them and bralw with them as we cut to a break.
Dexter Lumis & Johnny Gargano vs Judgment Day(Dominik Mysterio & Damian Priest)
Gargano is unloading with punches from the second rope as we return. Gargano hits a couple of armdrags and avoids Dominik's counter. Gargano nails a head kick on Dominik. Dominik runs off to tag in Priest. Gargano takes a good look at Priest and tags in Lumis. Priest puts on an arm wringer on Lumis. Lumis counters the wringer. Priest hits a shoulder tackle to drop him.
Lumis kips up to catch Priest by surprise. Priest catches him with a kick to midsection. He hits a headbutt in the corner before a hard whip to another corner. Priest hits back with a kick before he hits a dropkick to send Priest to the floor. Lumis drops him with a drop toe hold. Gargano tags in and Lumis sends Priest into his boot. Priest nails him with a right before dropping him face-first into the turnbuckle.
Dominik tags in and unloads with punches. Gargano counters with double knees in the corner before hitting him with an enzuigiri to send Dominik to the floor. Dominik tries to counter from the floor but Gargano uses his speed to counter. Lumis nails Priest with an uppercut and Gargano hits both opponents with a senton. We cut to a break.
Priest hits a bell clap on Gargano as we return. Quick tags between Dominik and Priest. Priest knocks Lumis off the apron before a flying back elbow on Gargano. He hits a broken arrow on Gargano before Dominik hits a senton. Dominik hits three amigos suplex next. Rhea is shouting at the referee when Gargano kicks out at two.
Gargano fires back with punches but Dominik hits a dropkick to set up 619. Gargano ducks 619 and hits a slingshot spear. Lumis and Priest get the tags. Lumis nails quick punches and spinebusters on both opponents before corner clotheslines and bulldogs. Lumis hits a leg drop on Priest to get a two-count. Dominik gets a blind tag before Lumis clotheslines Priest to the floor. Dominik tries to use the ropes for advantage but Candice breaks it.
Candice sends Rhea into the steel steps when she tries to charge at her. Rhea drops Candice with an inverted powerbomb on the barricade. Lumis comes to the floor to deal with Rhea but Priest hits him with a clothesline. Dominik hits Lumis with a frog splash and Gargano has to break the pin. Gargano hits a suicide dive on Priest. Dominik hits Gargano with a basement slide dropkick. Back in the ring, Priest gets a blind tag. Priest hits a clothesline from behind and then hits a chokeslam to get the pinfall.
Winner – Judgment Day
Cathy Kelley is backstage and tries to interview The Miz. They get interrupted by Chad Gable who is looking for Otis. Miz snaps at him and tells him to put out fliers if his pet dog is missing. Cathy asks Miz if he can consider a co-host. Miz says there is no one big enough to host WrestleMania Goes Hollywood. The cameras turn towards the other side where Damage CTRL is beating up Trish Stratus, especially targeting her face.
Brock Lesnar & Omos Face-Off
MVP is in the ring with Omos. He says Lesnar has done a mistake by accepting a match against Omos at WRestleMania. Before he can continue, Lesnar's music hits and he comes out to the ring. Lesnar stands at one side of the ring before getting closer to Omos. Omos gets up his fist and puts it in front of Lesnar's face. He asks for a handshake. Lesnar shakes his hand but Omos does not let it go. Lesnar stomps at Omos' leg but Omos counters and throws him over the ropes with a clothesline of sort. Omos asks Lesnar to get his a## back in the ring. Several referees & crew members run out to keep them apart. Lesnar looks a bit fearful as he goes back.
---
We see a recap of how Cody saved Sami from a beatdown and how Cody had a brawl with The Usos with some help from Sami.
Cody Rhodes vs LA Knight
Cody makes his entrance to take us to a break. Knight comes out after the break. They loc up and Knight gets a cheap shot in the corner. Cody hits back with an arm drag. He puts on an arm wringer. Knight tries to counter but Cody avoids it and nails a punch. Cody hits an arm drag nextThey get into shoving match before Cody nails more shots. Cody trips Knight with a leg sweep.
Knight rolls to the floor and cuts off Cody's suicide dive. Cody hits back with a kick. Knight manages to send Cody's shoulder into the ring post. Back into the ring, Cody goes to the top and Knight jumps up to hit a superplex. Cody kicks out of the pin as we cut to a break.
Cody goes for a delayed vertical suplex but Knight rakes his eyes to block it. Knight keeps control for a while before Cody erupts with a running elbow shot, a powerslam and disaster kick to get a two-count. Knight blocks the second disaster kick. Cody blocks Blunt Force Trauma and hits a Cody Cutter. Cody hits Cross-Rhoades to get the pinfall.
Winner – Cody Rhodes
Cody takes the mic and says he keeps getting warning from Paul Heyman about not getting into The Bloodline business. Cody says he does not work for The Bloodline and can work alongside Sami Zayn or Kevin Owens if he wants to. Cody brings up Heyman saying it's not personal. Cody says it is personal ever since he came into this company at 21 years old. Cody says he acknowledges Roman Reigns but Roman also needs to acknowledge him. Cody says, on April 2nd, he will end Roman's generational run at WrestleMania. And on April 2nd, he will become the first Rhodes to say that he is the undisputed WWE Universal Champion.
---
Rollins says Logan was acting like he won the lottery, and he did when he knocked him down with one lucky punch. But if there is one thing we know about Rollins is that you can't keep Rollins down for long. The Miz comes in and tells Rollins that he has previliged information that Logan Paul will host special RAW edition of ImPaulsive Podcast. Miz says he is expected to be invited as a guest.
Corbin comes in and asks Miz to be his co-host. Miz denies him. Corbin then turns to Rollins and tells him that he is a Golden Gloves winner and can train him for WrestleMania against Logan's punches. Rollins says he would rather train with his daughter. Corbin asks Rollins to give him and break and says his daughter is 2 years old and does not know anything. Rollins says he is not doing anything tonigh and can take on Corbin.
Bronson Reed vs Elias
Reed hits a Thesz Press to start. He hits an elbow drop before running tackle. Elias fires back with punches before Reed hits him with a corner splash and a clothesline to get a two-count. Reed puts on a chinlock. Boogs tries to hype Elias up. Elias breaks free and starts to fight back. He hits a Symph-knee before Reed drops him again. Reed hits a powerslam and follows with Tsunami to get the pinfall.
Winner – Bronson Reed
Cathey Kelly is outside the Medical room and is trying to get an update on Trish Stratus. Chad Gable comes in with flyers and asks if anyone has seen Otis. Kelly says she has no idea. Gable goes away and crosses paths with Becky Lynch and Lita storming towards the Medical room. Kelly tries to get their comments but they refuse to talk.
---
Kelly is with Kevin Owens after the break. She asks Owens about denying help from Sami. Owens says the history between them is the reason he does not want any help from him. Owens then tells Cody Rhodes that he does not want Cody to come to his aid and he wants Cody to focus on his match against Roman at WrestleMania. Owens says he is ready to take on Solo and anyone who comes out with him.
---
We get a recap of John Cena's return to RAW last week and how his match against Austin Theory was set up for WrestleMania.
Austin Theory is walking backstage when he runs into the Street Profits. Profits mock Theory for a while for getting his a## being handed by Cena last week. Theory says he got what he wanted from Cena. Theory goes on start mocking Montez Ford and says he lost when he got a title shot. Theory continues to run his mouth against Ford until Angelo Dawkins challenges him for a match tonight. Theory asks The Profits what they are doing at WrestleMania.
Austin Theory vs Angelo Dawkins
Dawkins starts with waistlock takedowns. Austin hits back with kicks in the corner. They run the ropes avoiding each other before Dawkins hits a dropkick and back body drop. Austin fires some lefts to take Dawkins to the corner. He puts on a chinlock to keep Dawkins down on the mat for a while. Dawkins gets back to his feet but Austin hits a big blow to his back. Dawkins nails Austin with a big right. Austin takes Dawkins to the floor and sends him into the barricade to take us to a break.
Austin is in control as we return. He tells Dawkins that he is not on his level. Dawkins hits him with a back body drop. Dawkins hits clotheslines before a flying back elbow, a corner splash and an enzuigiri. Austin rolls him up for a two-count. Dawkins hits a spinebuster for a two-count. Austin tries to fight back but Dawkins hits a big tackle. Austin rolls to the ropes and drops Dawkins' face on the ropes.
Austin hits a dropkick to get a two-count. They trade more pin attempts before Dawkins hits a big boot. Austin counters a back elbow in the corner with a forearm shot. Austin hits ATL to get the pinfall.
Winner – Austin Theory
After the match, Austin puts Dawkins in STF. Montez Ford runs out and Austin slips away. He mocks Ford with "You Can't See Me".
---
Paul Heyman interrupts Cathey Kelly and says they have identified one problem – Kevin Owens. But that problem would be handled by Samoan Street Fight Champion Solo Sikoa. Heyman then starts to talk about Cody and calls him a Smuck for hoping that Roman will acknowledge him. Heyman then says Roman Reigns would be at RAW next week and Cody would have a chance to acknowledge Roman which will decide if this thing between them is business or personal.
Rey Mysterio & Dominik
Rey Mysterio makes his way into the ring. Rey says it feels good to be on RAW and remembers how they were celebrating 20 years together in WWE, and tonight they are celebrating his accomplishments. Rey says his Hall of Fame induction is not just for him but all the fans who connected with him all these years.
Dominik Mysterio's music hit and he comes out. Dominik talks about Rey getting into Hall of Fame and says he deserves it. Dominik says he hopes it is worth it because Rey got this honor at the expense of him. Dominik keeps talking about how Rey was no-show for many great moments in his life. He says all of his friends got Mercedes when they turned 16, and all he got was an BMW, which wasn't even M series.
Dominik says he sees what Rey is – an excuse of a father and a man. Dominik says he will let Rey enjoy his HOF induction but will make it better. Dominik challenges Rey for a match at WrestleMania. Rey says he has said earlier and will say it again that he will not hit him. Rey leaves the ring. Dominik starts to mock Rey for refusing to face him. Rey gets to the back.
---
Cathey Kelly finally catches up with Trish Stratus, Lita and Becky Lynch. The update is that Damage CTRL has failed in their divide-and-conquer conquest, as Trish is not pissed off.
Baron Corbin vs Seth Rollins
Miz is on the commentary table for this match. Corbin attacks Rollins before he can finish his entrance. Corbin continues to unload with kicks and punches. The crowd continues to sing his theme song as Rollins gets beaten up. Rollins starts to fire back with several punches. He hits kicks and rolling elbows before hitting a clothesline to send Corbin down to the floor.
Rollins hits a suicide dive to send Corbin int o the announce table. He hits a diving knee to Corbin's face. Miz continues to run his mouth on the commentary and Rollins throws Corbin into the Miz. Rollins brings Corbin back into the ring and nails him with a superkick. Miz tries to interfere and Rollins catches him with a superkick. Rollins jumps off Miz to hit Corbin with a stomp to get the pinfall.
Winner – Seth Rollins
Chad Gable is still searching for Otis backstage. Mustafa Ali interrupts him and talks to him for a while. Gable then finds Otis posing for pics with Maximum Male Models. Gable objects to Otis being with MMM and says he can do this with him if he wants. Mansoor takes a pic and says Gable broke his camera. Maxxine calls him icky and MMM goes away. Gable tells Otis they can get a quick training session now. Maxxine calls on Otis and he goes with them.
Bianca Belair vs Chelsea Green
Bianca pushes Chelsea away after the lock up. Chelsea tries to rake Bianca's face. Bianca pushes her away again. Bianca hits a waistlock takedown. Chelsea hits a back elbow. Bianca ducks a clothesline and hits a shoulder tackle. Bianca mocks Chelsea with a hip taps before taking her down once again and hitting a standing moonsault. Bianca is tripped on the apron by Chelsea. Carmella nails her with a superkick behind the referee's back as we cut to a break.
Bianca rolls up Chelsea to get a two-count. Chelsea trips Bianca on the second rope before hitting her with double knees. Bianca hits a side slam to make a comeback. Bianca hits clotheslines before tackling Chelsea. She hits a brainbuster next. Carmella gets to the apron. Bianca hits a springboard move which knocks Carmella off the ropes. Chelsea gets her knees up to counter handspring moonsault. Chelsea nails Bianca with a big forearm shot. Bianca hits her with a KOD to get the pinfall.
Winner – Bianca Belair
After the match, Carmella gets into the ring but Bianca catches her kick. Chelsea pulls Bianca from behind. Chelsea and Carmella manage to trip Bianca and beat her down. Asuka runs out and works with Bianca to beat up Chelsea while Carmella runs away. Asuka picks up RAW Women's title and dances with it. Asuka teases green mist when Bianca tries to grab the title. Asuka has some more fun before she starts laughing and goes back.
Solo Sikoa vs Kevin Owens – Street Fight
Solo meets Owens on the ramp to start a brawl. They get into the ring and Solo continues with chops. Owens hits a running elbow and a senton. Solo moves to the floor and nails Owens with a punch. He tackles Owens into the barricade. Owens comes back with a clothesline. He stomps on Solo's hand before hitting him with chops.
Solo fires back with chops before slamming his head into the announce table a few times. Owens then does the same with Solo before taking him back into the ring. Solo hits a Samoan Drop. Solo hits several kick before a diving headbutt. Solo brings out some chairs before Owens sends him into the steel steps. Owens brings out a table. Solo throws him over the announce table as we cut to a break.
Owens is throwing several chairs and other things into the ring. They continue to brawl for a while. They brawl up the ramp and back into the Gorilla Position where The Usos were waiting. The Usos nail Owens with stereo superkicks. Solo and The Usos continue to beat down Owens and take him back into the ring. Solo hits Samoan Spike on Owens to get the pinfall.
Winner – Solo Sikoa
Solo and The Usos celebrate the win on the ramp while Owens is spitting blood in the ring. The show goes off the air.