WWE SmackDown Preview, Matches, Start Time- 20 November 2020
Check out the preview, matches, and start time for the WWE Friday Night SmackDown episode of 20 November 2020(11/20/2020) featuring Survivor Series Main Event Contract Signing, Seth Rollins vs Buddy Murphy, and more buildup for Survivor Series 2020.
Date- 20 November 2020
Location- Amway Center, Orlando, FL, US
Time- 8 PM EST(21 November 2020 1 AM GMT/6:30 AM IST)
Roman Reigns – Drew McIntyre Contract Signing
Last week on SmackDown, Drew McIntyre told Roman Reigns that once he would win back with Randy Orton, he will coming for him at Survivor Series. And McIntyre has been true to his words.
The Scottish Psychopath will return to SmackDown tonight for a Survivor Series Contract Signing with Roman Reigns. What will happen when two irresistible forces collide?
Seth Rollins vs Buddy Murphy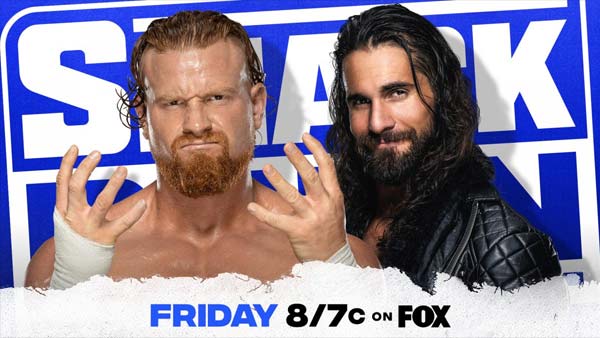 Seth Rollins and Buddy Murphy has come a long way from December last year. Becoming RAW Tag Team Champions, feuding with Mysterio Family, and then Murphy getting involved with Alayah and moving away from Rollins.
This week, the former teammates will go against each other. Has the disciple become too big for the Messiah? Will he be able to prove that he belongs to big league?
Jey Uso vs Daniel Bryan
Daniel Bryan was brutally beaten up Jey Uso three weeks back on the instructions from Roman Reigns. This week, he will return for a rematch against the Samoan. Will Bryan be able to avenge the treatment given to him? Is this the start of long rivalry between Bryan and Reigns?
Who Will Join SmackDown's Survivor Series Team?
Survivor Series is this weekend, but there are still a few spots to fill in SmackDown's teams. Two spots are left to fill for Women's team for 5-on-5 tag team elimination match, and there is still one left for the men's team.
Natalya has been unsuccessful in qualifying in three attempts. But beyond that, there is hardly anyone left to join the women's team.
Build-up For Survivor Series
Survivor Series is one of the biggest PPV for WWE ever since its inception. However, it's importance has been on the downside. And it is evident from the kind of buildup for this year's event buildup.
Apart from Roman Reigns-Drew McIntyre angle last week, there has been hardly any hype created. Will that change this Friday?