WWE NXT Live Results & Updates- 20 November 2019
Welcome to ITN's Live Result and Updates Blog for WWE NXT episode of 20 November 2019(11/20/2019).
Date- 20 November 2019
Location- Full Sail Live, Winter Park, FL, US
Time- 8 PM EST(21 November 2019 1 AM GMT/6:30 AM IST)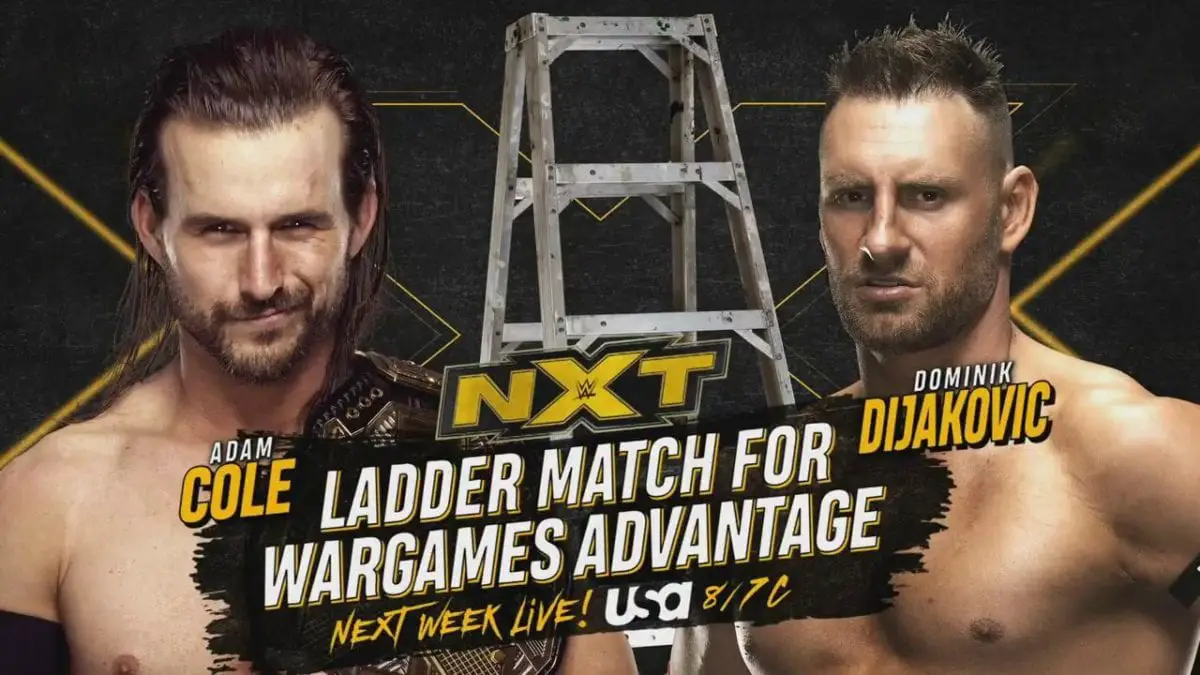 The go-home episode of NXT for NXT TakeOver WarGames 2019 and WWE Survivor Series 2019 is upon us. The final member for Tomasso Ciampa's team is yet to be announced and there is another match likely to be announced for TakeOver. Adam Cole and Dominic Dijakovic will face-off in a ladder's match with the winner earning the entry advantage in the WarGames match. Triple H has issued an open challenge for RAW and SmackDown roster to come and take on NXT before Survivor Series. So, there is that.
The Man is in House!!
NXT General Manager William Regal is talking to his security team backstage. RAW Women's Champion Becky Lynch enters the arena with some mixed reaction from the crows. Lynch takes a look at Regal and marches to the ring. Mixed reaction amid the chants of NXT! Becky finally speaks and says it's been a while since she's been here and since the people here saw Becky kick someone's ass live. She says Triple H issued an open invitation for tonight but she was coming anyway.
She goes on about SmackDown Women's Champion Bayley and NXT Women's Champion Shayna Baszler. She talks about Shayna Baszler and tells her to bring "Mary and Jessica" to the ring with her if she wants but she should come for a fight. The music hits and Rhea Ripley come out instead. Ripley says if Lynch is The Man, let's see if she has a set of balls. She drops the mic and steps to Lynch. The match is made official as a referee comes into the ring.
Becky Lynch vs Rhea Ripley
The bell rings and they go at it in this non-title match. They go to the corner and break. Ripley with a headlock now as fans chant her name. They run the ropes and Lynch takes Rhea down with a forearm. Rhea rolls out of the ring. She catches Lynch through the ropes and drops her face-first into the apron.
We go for the screen split for the break and see Ripley dominating Lynch through the commercials. Ripley keeps Lynch grounded in the middle of the ring when she tries to make a comeback. Ripley throws Lynch around and talks trash. Lynch fights back but Ripley kicks her down. Ripley sends Lynch to the apron and charges but misses. Lynch with strikes to the apron. Lynch goes to the top but Ripley launches her from the top to the mat. Ripley goes on and hits the big DDT. The referee counts while they're both down.
They get up right before 7 and start trading shots from their knees. They unload with strikes now. Ripley catches Lynch and drops her face-first on the mat for a close 2 count. Ripley rolls Lynch for a 2 count out of nowhere. Lynch counters with an enziguri. Lynch goes to the top and nails a leg drop for another close 2 count. They tangle and Lynch goes for the Disarm-Her as fans pop. Rhea avoids it and goes for the powerbomb but Lynch blocks it. Ripley hits the big superplex and both are down.
NXT Women's Champion Shayna Baszler, Marina Shafir and Jessamyn Duke suddenly run down and attack Lynch and Ripley. The match ends in no result. Lynch and Ripley fight off the Horsewomen. They clear the ring twice and stand tall together as Lynch's music hits, and Baszler looks on from the ramp.
Matt Riddle vs Ricochet
We go to the ring and out comes Kona Reeves. Ricochet suddenly flies in from out of nowhere and takes out Reeves at ringside. Fans go wild as Ricochet enters the ring wearing his RAW colors. Mauro says this was supposed to be Matt Riddle vs Kona Reeves. Riddle's music hits and he will face Ricochet now. The bell rings and they go at it. Ricochet takes Matt Riddle down first and sends him out to the floor to regroup.
Ricochet runs the ropes for a suicide dive as fans continue to pop. Ricochet brings Riddle back into the ring and goes for the standing Shooting Star Press but Riddle catches him in a submission. More back and forth and counters now. Riddle with a big floater suplex for another pin attempt. They tangle some more until Ricochet hits a big neckbreaker for a 2 count. Ricochet goes to the top but has to land on his feet off the Phoenix Splash attempt.
Riddle fights back and connects with big strikes, including the Final Flash. Riddle keeps fighting and hits a big German suplex for a pop. Cesaro and WWE Intercontinental Champion Shinsuke Nakamura suddenly appear from the crowd, wearing blue SmackDown t-shirts. Riddle and Ricochet end up fighting them off the apron to the floor. Riddle and Ricochet keep fighting now. Riddle rolls Ricochet up for the pin to win.
Winner- Matt Riddle