UFC 286 Leon Edwards vs Kamaru Usman 3 Live Blog Play by Play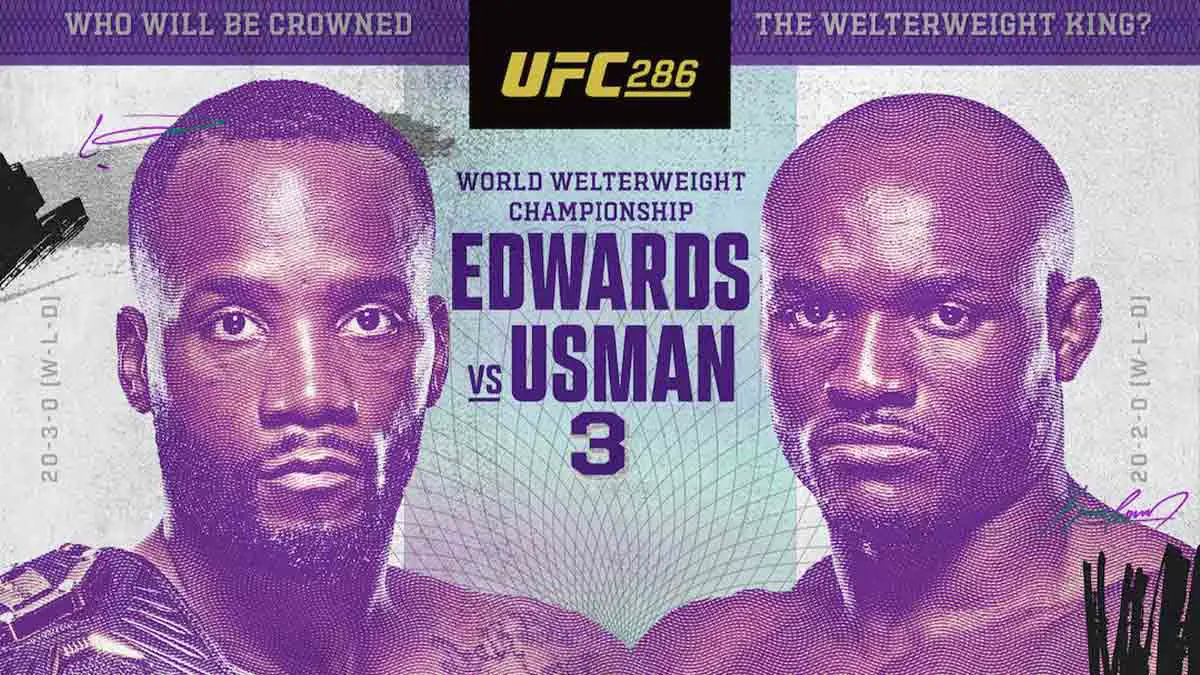 The rubber match/trilogy fight between Leon Edwards and Kamaru Usman in the main event of UFC 286 is being dubbed as the biggest fight in UK MMA history.
Leon Edwards is the current Welterweight Champion after he beat Usman in their last encounter at UFC 278. Edwards was behind on the scorecard heading into the last round. He seemed down and out but was able to execute a strategy, a weakness they found in Usman's game. That strategy was that of a high kick to knockout Usman in the fourth minute of the fifth round.
That loss was Usman's first in UFC and just second in his entire UFC career. He also gave a takedown for the first time in his MMA career in that bout when Edwards was able to trip him in the first round. But, he will be entering this bout with the confidence that he was actually leading the scorecard before his knockout. Will he be able to regain the title here?
UFC welterweight title will be on the line. This will be the first UFC title fight in the UK since UFC 204 when Michael Bisping defended the Middleweight title against Ben Henderson. Will UK fans leave the arena with the hometown boy winning? Find out as we post a play-by-play live blog and round-by-round updates from Leon Edwards vs Kamaru Usman 3 UFC Welterweight Championship main event bout from UFC 286 PPV.
Live Updates
We are into the video package for the main event. It is a lengthy video package after which Kamaru Usman walks out. He is grooving to his entrance music and seems quite relaxed. Edwards does not have his title belt with him as he walks out. He looks focused. Colby Covington is giving him a thumbs down when Edwards is near the cage. Edwards acknowledges the crowd before getting into the ring. Bruce Buffer screams, "this is the main event of the evening", and we are ready to go. Herb Dean is the referee.
No gloves touch once again. Edwards lands an outside calf kick to start the action. He lands a jab after 15 seconds. Usman lands a body kick. Edwards counters with a jab. Edwards ducks a swing an connects a body shot. They spend a minute or so of dullness. Usman kicks on the inside. Edwards landsa front kick. Usman lands a good punch and a jab before he changes into a southpaw stance himself. Edwards lands a low kick. He lands a kick to arms.
Edwards lands a big body kick to stagger Usman. He follows up with another kick. Usman counters with a combo of jabs. Usman goes for a takedown but Edwards defends it. The referee warns Edwards for getting his hand into Usman's glove. Edwards lands a body kick as they restart. Another kick from Edwards as we enter the final 30 seconds. Edwards attempts a high kick. Edwards fients a knee strike.
The round starts and Edwards protests Usman charging him into the corner before he can get into the middle. Edwards starts with a calf kick. Usman catches him with an inadvertant groin strike. Edwards switches his stance and lands a body kick. Edwards fires in more shots. Usman connects his punch. A flurry of back-and-forth counters. Edwards catches him with a knee. Usman gets a takedown after a right punch. Usman is trying to get on Edwards' back and lands many shots in the process.
Edwards goes for a takedown now but Usman defends and lands big shots to his ribs. They are back to their feet and Leon lands more body kicks. Usman throws in a calf kick before Edwards lands a jab. Usman goes for jab at the body before Edwards lands a body kick. He kicks at Usman's leg while keeping his distance. Usman tries to pick up the pace in the final 10 seconds.
Edwards hits more inside kicks as the third round starts. Usman goes for a takedown. He grabs a single leg and completes it with a double leg. Edwards is on the mat but can not get in the half guard to get the shots going. Usman switches up to his back and Edwards ends up catching the fence. Herb cuts a point from Edwards for the fence grab. Edwards throws in more leg kicks. He connects a body kick. Usman connects a jab. In reply, he lands an inside kick that draws out an inside kick from Edwards.
Edwards ends up hitting Usman with a low blow and the referee pauses it. Usman is ready to start quickly. Edwards hits a body kick which seemed low but the referee tells him to continue. He lands another good body kick. Usman counters with a kick himself and backs up Edwards towards the corner. Edwards lands more low kicks. Usman backs him up. Usman lands an elbow after a couple of big swings. Usman tries to get a takedown but can not complete it.
The crowd gets behind Edwards. Nothing happens for the first 45 seconds. Edwards throws in another low kick. More kicks from Edwards while backs away from Usman. Usman runs at him and swings big, but fails to connect much. Edwards throws in a low kick. Usman connects a jab. He slips when both men go for a kick. Usman quickly recovers to get back to his feet. Edwards lands more inside leg kicks. Usman lands a punch to the body. Edwards fires an outside leg kick. Edwards lands a few jabs and gets jabs from Usman in response. Usman goes for a takedown. Edwards defends it and manages to lands a knee. He sneaks in a jab. He defends more takedown. He lands more leg kicks. Usman ups the ante in the final few seconds but Edwards defends another takedown.
Edwards is backing up as the round starts. Edwards lands a high kick but it is partially blocked by Usman. Usman goes for another takedown but Edwards refuses to go down. Edwards lands big uppercuts and another high kick. They start to throw their hands now. Edwards hits an uppercut. Usman tries for another takedown but fails again. Edwards throws in another low kick when they get back to the middle. We are halfway into the round. Edwards lands a low kick. He manages to land a knee to the face.
Usman goes for another takedown and Edwards defends once again. Edwards lands a combo. Usman throws his hands and he finally completes a takedown. Edwards gets back up and takes Usman back to the middle. The crowd gets behind Edwards with 1 minute to go. Usman lands a punch and pushes Edwards against the cage. They are in a clinch now and continues to be there for more than 20 seconds. Edwards connects a knee. They trade shots and Usman backs Edwards up to the corner as the round ends.
Leon Edwards wins via Majority Decision(48-46, 48-46, 47-47).