UFC 286: Justin Gaethje vs Rafael Fiziev Live Blog, Play by Play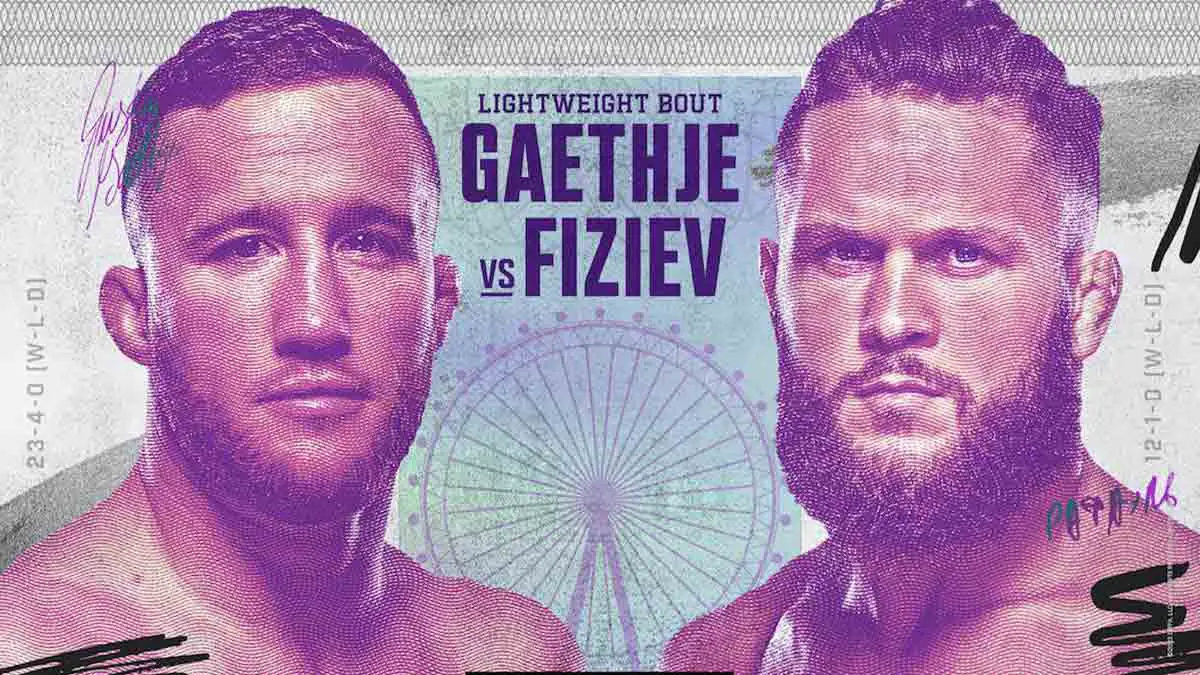 MMA fans will be excited as Justin Gaethje and Rafael Fiziev are expected to present a blockbuster fight as they clash in a lightweight co-main event at UFC 286 PPV.
Justin Gaethje is not active for the past 9 months when he lost to Charles Oliviera in a fight for the Lightweight title in the first round itself. Prior to that, he beat Michael Chandler at UFC 268 in a classic slugfest. Despite losing in UFC title fights twice, Gaethje is considered one of the biggest threats in the division along with being one of the most entertaining fighters.
Rafael Fiziev is on a 4 years long unbeaten streak with 6 wins in a row since losing in his UFC debut bout against Magomed Mustafaev in April 2019. His resume consists of wins over ranked opponents like Renato Moicano, and legends like Rafael Dos Anjos and Bobby Green. Fiziev has made his special place in a dense division brimming with title contenders. Will he be able to confirm a title shot with a win here?
Find out as we post live updates round by round and play-by-play from Justin Gaethje vs Rafael Fiziev lightweight bout from UFC 286 PPV.
Live Updates
We are getting the video package for this fight now. Fiziev is walking out now. Gaethje follows him up. Bruce Buffer makes the announcements, which means we are ready to go.
Both men attempt some kicks in the first minute but can not connect. They continue to move around. Gaethje connects one to the ribs. Fiziev replies with the same 5 seconds later before a front kick. Fiziev connects with a kick and a punch combo. He catches Gaethje with the same combo once again. Gaethje connects a punch. Fiziev lands a good uppercut. We are halfway into the round with Fiziev giving his opponents problems with his speed.
Gaethje lands a jab. Fiziev's speed is giving Gaethje some problems as he is able to counter with some more combos. Fiziev continues to nail some side kicks. He connects a good uppercut before throwing more kicks. Fiziev lands a takedown attempt. Fiziev connects a knee to the face late in the round. Gaethje lands a couple of heavy punches as the round comes to an end.
Fiziev connects a body kick 30 seconds into the round. He connects a knee to the body before Gaethje pushes him back with punch. They get into a clinch before he attempts a spinning back elbow. Gaethje ends up poking his eye to pause the bout. Gaethje lands a high kick as we resume. Fiziev hits a calf kick. He lands an inside calf kick. Another knee strike from Fiziev. Gaethje lands a 3 punch combo. He ducks a jab and connects another combo.
Fiziev lands a knee before Gaethje lands more big punches. They trade more punches in quick succession. We are into the final 90 seconds. Fiziev is pushing Gaethje back a bit. He lands a quick punch combo. Gaethje hits a calf kick to the lead leg. He sneaks in a left punch before we see a dull phase. Fiziev connects a body shot before another body kick.
Fiziev stuns Gaethje with a left 15 seconds into the round. He lands a couple of kicks. A follow up with more kicks. Gaethje counters with a punch. He ducks a punch and lands his combo. Fiziev resorts to a body kick. They get into the clinch as Fiziev hits knee strikes. Gaethje tries to counter with uppercuts. Gaethje grabs Fiziev's leg and attempts a takedown but lets it go. Gaethje lands a jab. He repeats it 4 times in a row. Fiziev connects a body kick but Gaethje replies with a couple of jabs.
Gaethje hits a calf kick and two punch combo. Gaethje lands an uppercut before left and right punch combo. Fiziev throws in a kick before a swing. Gaethje counters with more jabs. Gaethje is connecting with more and more punches now including uppercuts, jabs and hooks. A big uppercut lands with just 30 seconds to go. Gaethje is sitting back and waiting for his chances in the last 20 seconds. He manages to counters with some good punches. He gets a takedown with just seconds to go into the round. The bell rings and Gaethje does a backflip.
Justin Gaethje wins via majority decision(29-28, 29-28, 28-28)