How to Watch PFL 10, 2022 World Championship Online Streaming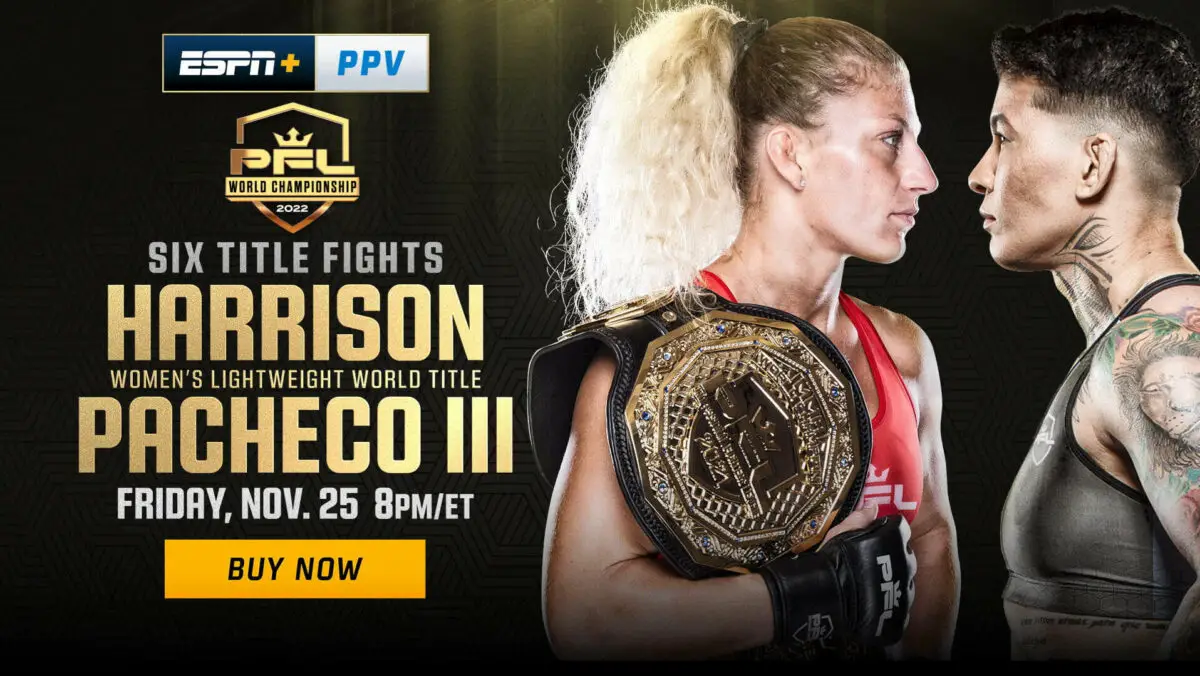 PFL will present PFL 10 2022 or PFL 2022 World Championship event on November 25, 2022. Airing from Hulu Theater in Madison Square Garden in New York City, the event will feature 6 world championship tournament finals on the main card.
All these fights will have $1 million prize money on the line as well. Former Olympic Medalist and two-time tournament winner Kayla Harrison will take on Larissa Pacheco in the main event. Former UFC Fighter Aspen Ladd will also be on the main card to face Julia Budd.
Check below for the complete details on how to watch PFL 2022 World Championship event with online streaming links, PPV details, and TV channels in different countries.
United States
While other PFL event air through ESPN+ monthly subscription or ESPN Cable TV, PFL 2022 World Championship event is an ESPN+ PPV. This means that fans need to buy PFL 10 2022 main card separately for $49.99. The prelims will still be available from 5 PM EST onwards.
Canada
In Canada, PFL 2022 World Championship event will be available through PPV on Bell for CAD $49.99. Check this link to order the event.
Other Countries
PFL is available via cable TV and its official Youtube Channel in more than 176 countries around the world. Check below to find the platform which airs PFL events in your region and check local listings for timing details.
| Country | Platform |
| --- | --- |
| United Kingdom | Channel 4 |
| Australia | Stan Sports |
| New Zealand | Sky Sports |
| Austria, Germany | Fighting.de |
| Pakistan | Fast Sports HD |
| Viet Nam | FTP |
| Romania | Sport Extra |
| Andorra, Angola, Benin, Botswana, Burkina Faso, France, French Polynesia, French Guiana, Guadeloupe, Luxembourg, Martinique, Monaco, New Caledonia, Saint Martin, Saint Pierre and Miquelon, Saint Barthelemy, Wallis and Futuna | RMC Sports |
| Bahrain, Djibouti, Egypt, Iran, Iraq, Israel, Jordan, Kuwait, Lebanon, Libya, Malta, Morocco, Oman, Palestinian Territory, Qatar, Saudi Arabia, Syrian Arab Republic, Tunisia | MBC Action |
| Azerbaijan, Bangladesh, Belarus, Belgium, Bhutan, Costa Rica, Cuba, Czech Republic, Dominion Republic, El Salvador, Guatemala, Haiti, Honduras, Hungary, Kazakhstan, Kyrgyzstan, Maldives, Moldova, Nepal, Panama, Philippines, Portugal, Slovakia, Sri Lanka, Tajikistan, Turkey, Turkmenistan, Ukraine, Uzbekistan | PFL Youtube |
| Argentina, Bolivia, Brazil, Chile, Colombia, Ecuador, Mexico, Paraguay, Peru, Uruguay, Venezuela | DIRECTV Sports |
| Armenia | VIVARO TV |
| Angola, Benin, Botswana, Burkina Faso, | WATAAA |
| Bosnia & Herzegovina, Croatia, Macedonia, Montenegro, Serbia, Slovenia | Arena Sports |
| Bulgaria | BTV |
| China | Douyin |
| Denmark, Finland, Estonia, Iceland, Latvia, Lithuania, Netherlands, Norway, Poland | Viaplay |
| India | Discovery India |
| Indonesia, Italy, Malasiya, San Marino, Singapore, Vatican City State | Mola TV |
| Japan, Spain | Dazn |
| Korea | IB Sports |
| American Samoa, Canada, Guam, Mauritania, Nicaragua, Nothern Mariana Island, Ireland, Puerto Rico, Somalia, South Sudan, Sudan, Switzerland, Sweden, United Kingdom, United States, United States Minor Outlying Island, Virgin Island | 2 Broadcasters |
| Eritrea, Malawi, Mali, Namibia, Mozambique, Niger, Saint Helena, Senegal, Chad | 3 Broadcasters |
| Angola, Benin, Botswana, Burkina Faso, Burundi, Cabo Verde, Cameroon, Central African Republic, Comoros, Côte d'Ivoire, Democratic Republic of Congo, Equatorial Guinea, Ethiopia, Ghana, Gambia, Gabon, Guinea, Guinea-bissau, Kenya, Lesotho, Liberia, Madagascar, Mayotte, Nigeria, Republic of Congo, Rwanda, Reunion, Seychelles, Sao Tome and Principe, Sierra Leone, South Africa, Swaziland, Tanzania United Republic of, Togo, Uganda, Yemen, Zambia, Zimbabwe | 4 Broadcasters |
| Mauritius | 5 Broadcasters |