MF & Dazn: X Series 004 KSI vs Faze Temperrr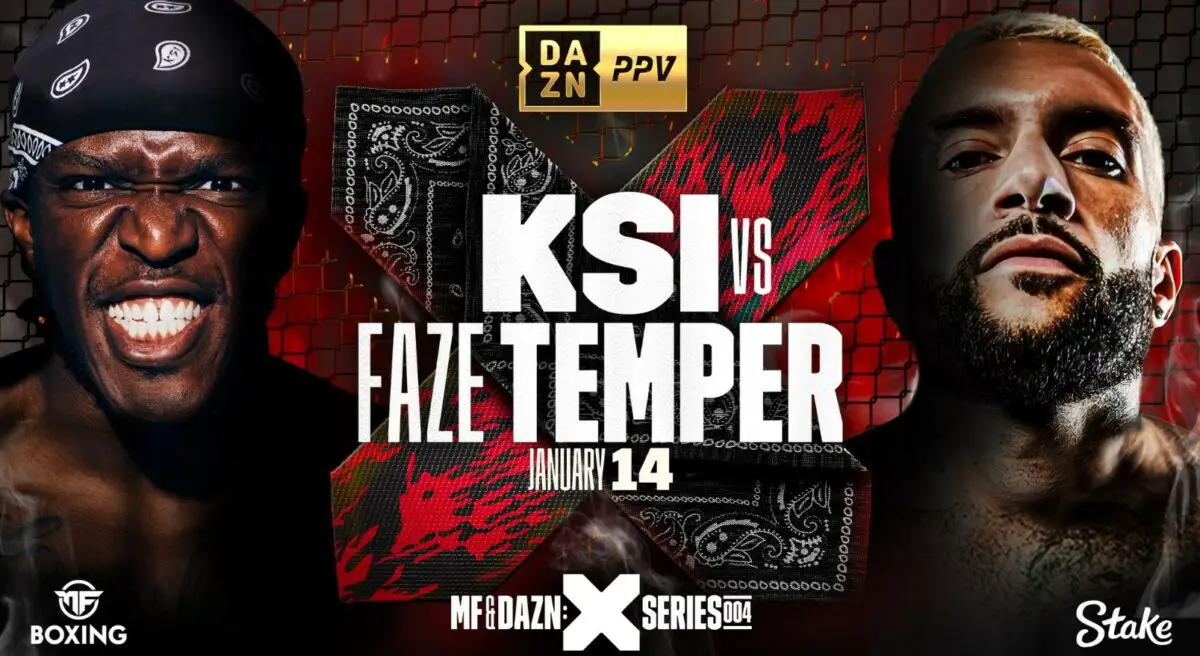 KSI and Faze Temperrr headlined MF & Dazn: X Series 004 exhibition boxing event on January 14, 2023, at OVO Arena Wembley in London, UK.
EVENT INFO
Date: January 14, 2023
Location: OVO Arena, Wembley London, UK
Start Time: Main Card – 2 pm ET, Main Event – 5 pm ET
SYNOPSIS
KSI was initially set to face Dillion Danis after their confrontation at a previous weigh-in of MF & Dazn X Series 003 event in Austin, Texas. The bout was set for the X Series 004 event in London, UK. However, Danis pulled out of the bout just 10 days before the event due to a lack of preparation. Another Youtuber turned Boxer Faze Temperrr, who was earlier on the card against a mystery opponent, was brought in to replace Danis.
KSI has been one of the leaders in celebrity boxing culture by working as both boxer and a promoter. KSI returned to the boxing ring in 2022 by taking on two fighters in one night as he defeated Swarmz and Luis Alcaraz Pineda. That was his first bout since defeating Logan Paul in a professional boxing event in 2019.
Faze Temperrr had appeared in three exhibition boxing bouts prior to this event. All three bouts took place in 2022. He defeated King Kenny via a unanimous decision on Deji vs Alex Wassabi card. He then lost to Slim Albaher at X-Series 001 event before beating Overtflow on Hashim Rahman Jr. vs Greg Hardy card.
CARD
Main Event: KSI vs. FaZe Temperrr, 6 rounds, Cruiserweight

KSI won via KO at 2:19 of round 1

Co-Main Event: Slim Albaher vs. Tom Zanetti, 4 rounds, light heavyweight

Slim Albaher won via unanimous decision (40-37, 39-37, 39-38)

Salt Papi vs. Josh Brueckner, 4 rounds, Cruiserweight

Salt Papi won via KO at 1:33 of round 2

BDave vs Luis Alcarazluis Pineda, 4 rounds, Light Heavyweight

Luis Alcaraz Pineda won via unanimous decision (30-25, 30-25, 30-27)

Ryan Taylor vs. Swarmz, 3 rounds, Cruiserweight

Swarmz won via TKO at 0:48 of round 1

Faith Ordway vs. Elle Brooke, 3 rounds, Women's Super Lightweight

Elle Brooke won via TKO at 1:41 of round 1

Anthony Taylor vs. Idris Virgo, 4 rounds, Light Heavyweight

Idris Virgo won via unanimous decision (40-32, 40-32, 40-32)
See Also: