Gervonta Davis vs Héctor García Live Blog, Play-By-Play Updates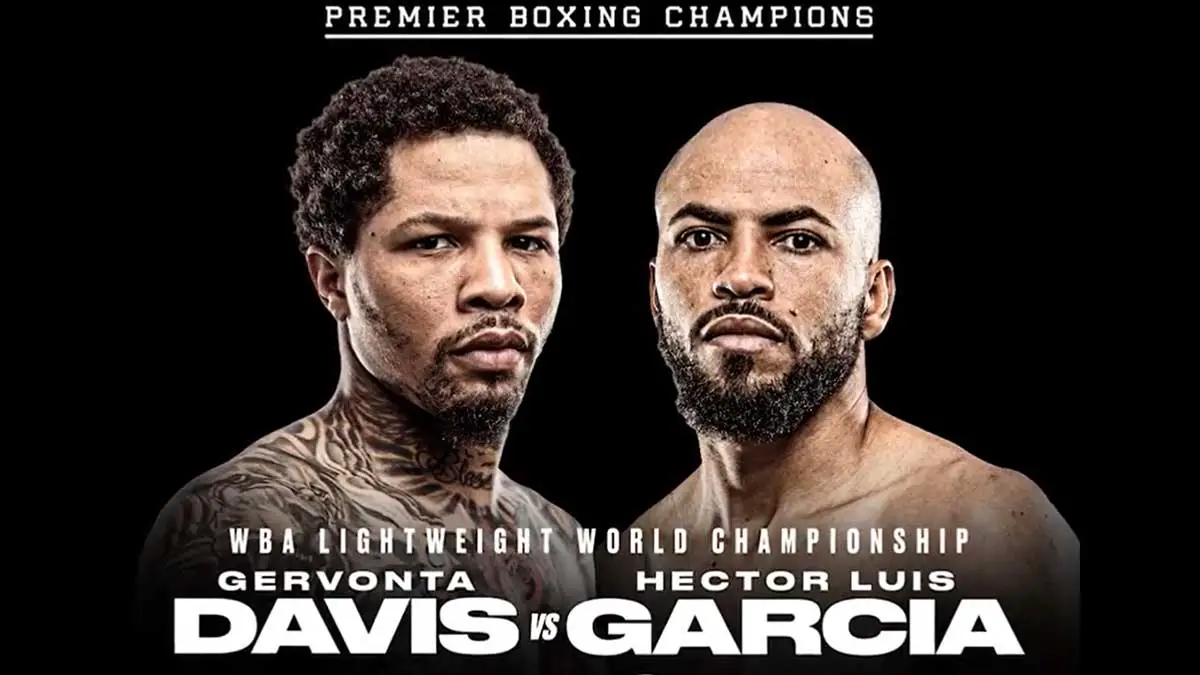 Welcome to the live blog for Gervonta Davis vs Héctor García bout for WBA(Regular) World Lightweight Championship on January 7, 2023.
Gervonta Davis, the undefeated 3 division world champion, returned to action to start the year with a bang of this lightweight title defense. Since the start of 2020, Davis has defeated Leo Santa Cruz, Mario Barrios, Isaac Cruz and Rolando Romero. He won these fights via knockout other than Cruz who was defeated via a unanimous decision.
Héctor Luis García entered the bout having just won the WBA Super Featherweight Championship just 4 months back by beating Chris Colbert. Contrary to Davis' style, García had won his last 3 bouts since coming to Super Featherweight via decision. Was he able to survive 12 rounds against Davis' power? Tune in below for Gervonta Davis vs Héctor García Live Blog where we post round-by-round and play-by-play updates.
Live Blog
Pre-fight proceedings have started. We are getting the video package for the fight now.
Garcia is walking out now.
Tank walks out with his entourage. Jefe/Shy Glizzy raps for him in the walkout.
The announcements are done and we are ready to go.
Garcia starts the feeling-out process. Tank throws a jab after 30 seconds. Tank is keeping his guard high. Garcia is unable to pierce that guard. Tank tries a jab at the body. Garcia is also waiting to throw his punches. Both men throw jabs at the body. No significant action in the round, but Garcia takes the round with a fine margin.
Garcia is once again the first one to throw his hands. Tank counters a body shot. More action in this round but nothing significant in the first minute. Tank connects on the body before Garcia throws his hand. Tank ducks a counter. Garcia connects a bit low on the body as the final minute starts. Tank connects a combo on the body and Garcia quickly counters with his shots on the arms. Garcia connects one in the ribs. Davis forces him to backtrack a bit. Garcia connects a big left to end the round. Davis takes this round.
Tank keeps his guard up for the first 20 seconds. Garcia is quick to get on his body when Tank gets his arms down to punch. Tank reaches out with a body shot. Garcia connects a left hook. They land shots on each other. Garcia lands another left before Tank throws a jab. More jabs from Tank before Garcia connects a left. Another counters punch from Garcia connects. Tank ducks another left before connecting a soft right. Tank also connects a left now. He keeps his guard up in the final 20 seconds. Have to give this round to Garcia.
The same story repeats as Garcia is trying to get past Tank's guard for the first minute. Garcia connects some body shots. Davis also goes for the body but Garcia connects a left hook. Davis connects some good lefts before a good right uppercut. Hook throws a double jab before a flurry of shots all over the body. Garcia connects a right uppercut before a combo on the body. The last 20 seconds go quietly. Round goes to Davis.
Garcia throws a jab to the face and a jab to the body. Tank's jabs do not get past Garcia's guard. He pushes Garcia back a bit though. Tank ducks a big swing and throws a shot at the body. Garcia connects a right. Tank throws a flush left before they trade some shots. Garcia's left connects but he is not able to follow up. Tank connects on Garcia's ear before a right hook connects. He connects with a combo as the round comes to an end. Tank takes the round.
Garcia starts with a right hook. He hits a left to the body. Garcia forces Tank to change to orthodox for a while with his shots. Tank returns to the southpaw stance but Garcia is able to land on his body. Garcia lands right to the body before Tank connects with an overhead left. Tank forces him to the corner. Tank connects a combo. Garcia fires back with body shots. Garcia connects a right hook. Davis connects a straight left.
Garcia jabs at Tank. They collide with shoulder tackles and the referee asks them not to do it. Tank connects a right hook. Garcia connects on the body as Tank gets closer to him. Garcia lands combination shots and follows up with a flurry. Tank tries to counter with shots to the body but Garcia lands another left. Tank connects with left hook and a right uppercut. Garcia connects with a solid left. Garcia lands on the midsection.
Tank connects his left on ear a few times. Garcia connects with a jab and straight left. A timeout is called as a fight broke out in the crowd. Tank charges but Garcia lands his jabs. Tank throws punches to the body. Both men throw quick hands before Tank lands a stiff body shot to hurt Garcia. Garcia throws a left. Tank lands a left on the body. Garcia is keeping close distance. They trade punches. More back-and-forth action until Tank stuns Garcia with a big left hook. Garcia somehow manages to avoid a knockdown. He survives the round by keeping the distance as Tank throws more punches.
The bell rings for the round but Garcia does not come up. Garcia's corner has asked to stop the fight. The referee waves it. This fight is over. We see in the replay that Garcia was walking towards the wrong corner after round 8 ended. Officially, the fight ended in starting seconds of round 9.
Gervonta Davis won via TKO(corner stoppage) at 0:13 in the 9th round to retain WBA(Regular) Lightweight Championship.