WWE SmackDown Results & Live Updates November 25, 2022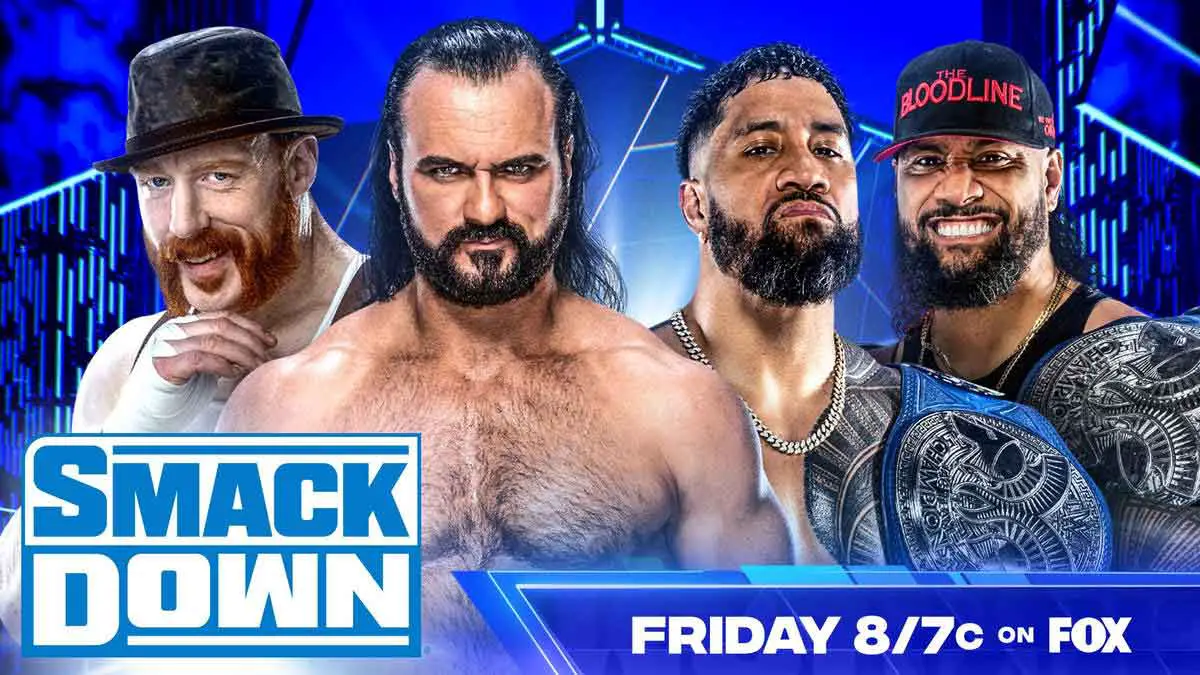 Welcome to the live results blog for WWE SmackDown episode of November 25, 2022, which will the go-home episode for Survivor Series WarGames.
WarGames advantage match is set with a tag team match with Drew McIntyre & Sheamus taking on The Usos. Roman Reigns is scheduled to appear on the show and expect explosions between The Bloodline and The Brawling Brutes on the final night before Survivor Series.
Two semifinals of SmackDown World Cup will also take place on the show. Ricochet will face Braun Strowman while Butch will take on Santos Escobar. Ronda Rousey will also be in action as she teams up with Shayna Baszler to take on Shotzi and Raquel Rodriguez.
How will Bray Wyatt respond to LA Knight's slap? Tune in below as post results from WWE Friday Night SmackDown November 25, 2022, with live updates, winners and highlights.
RESULTS
Santos Escobar defeated Butch in SmackDown World Cup Semifinal via pinfall.
The Viking Raiders(Erik & Ivar) defeated Hit-Row(Top Dolla & Ashante "Thee" Adonis) in a tag team match via pinfall.
Ricochet defeated Braun Strowman in SmackDown World Cup Semifinal via pinfall.
Ronda Rousey & Shayna Baszler defeated Shotzi & Raquel Rodriguez in a tag team match via submission.
Drew McIntyre & Sheamus defeated The Usos(Jimmy Uso & Jey Uso) in WarGames Man Advantage Match via pinfall.
Live Updates
Who is the Last Member in WarGames?
The show opens with Team Damage CTRL in the ring. Bayley takes the mic and complains about being in Providence. She calls out Team Bianca. Bianca Belair comes out with others. She takes the mic and says they weren't coming out there alone. Becky Lynch's music hits and she comes out to the stand with Team Bianca amid loud cheers. Team Bianca gets into the ring to start a brawl.
The ring gets cleared with only Becky and Bayley left in the ring. Becky hits Bayley with Bexploder to send her to the floor. Rhea Ripley get to the apron. Becky dares Rhea to come in. Rhea thinks about it, but her team asks her to get down. Team Damage CTRL retreats to the back.
Butch vs Santos Escobar – SmackDown World Cup Semifinal
They lock up and Escobar pushes Butch to the ropes for a break. Escobar gets a takedown and stomps on Butch's chest. Escobar takes down Butch again but Butch resorts to joint manipulation and stomps on Escobar's elbow. Escobar hits a single-leg dropkick. He hits puts on a shoulder stretch now. Butch grabs his fingers to release the hold. They run the ropes and Butch hits a clothesline. Escobar goes to the floor for a breather. Butch goes to the floor and hits a chop. He takes Escobar back to the ring and goes to the top. Escobar pushes him off the top and down to the floor to take us to a break.
They are trading punches as we return. Butch sends Escobar to the corner for an enzuigiri and a knee drop. He hits a German suplex, a stomp on hands and a roundhouse kick. Escobar goes to the floor. Butch hits Wilde and Del Toro with a moonsault on the floor. Escobar hits Butch with a suicide dive. Escobar takes Butch back to the ring and hits an enzuigiri. He sets up Butch on the top. Butch counters with joint manipulation and Escobar falls to the floor. Butch once again hits a moonsault on Wilde and Del Toro. Butch hits a tornado DDT on Escobar to get a near fall.
The Bloodline is attacking Drew McIntyre and Kevin Owens backstage. Butch tells Sheamus and Ridge Holland to go and help them. Escobar hits a clothesline on Butch. Butch goes for a crossface but Zelina distracts the referee. Del Toro takes knuckle shot at Butch from the floor. Escobar hits Phantom Driver to get the pin.
Winner – Santos Escobar
Who Attacked LA Knight?
We get a recap of the storyline between LA Knight and Bray Wyatt from the last two weeks. After the break, Bray makes his grand entrance. He says people whisper about him behind his back, but he does not pay much attention. He says people looked down on him all his life and they just want to see the monster, the Fiend. But, that's not the man he wants to be anymore. It's hard for him to explain what he had to go through. Violence is the only language that he spoke in the past, but he wants us to know that he was not the one who attacked LA Knight.
Uncle Howdy appears on the big screen and says Wyatt is all lies. He will make a fool of everyone if we close our eyes. A snake in the cage is still a snake.
LA Knight is looking at this backstage. He is wearing a sling on his arm and has a crutch to support. He says Wyatt attacked him last week but there are no consequences for him. He promises to kick his a##.
Hit-Row(Top Dolla & Ashante "Thee" Adonis) vs The Viking Raiders(Erik & Ivar)
Valhalla(Sarah Logan) is with The Viking Raiders. Adonis starts with body shots in quick succession for a hot start. Ivar no-sells a running tackle. Ivar hits a body slam. Erik tags in and hits big blows before dropping Adonis with a forearm. Ivar tags in and Adonis is sent into a knee from Erik. Adonis slips out of a suplex and tags in Top Dolla. Top Dolla beats up Erik for a brief period. He also knocks off Ivar from the apron. Top Dolla tags in Adonis for a double team but Ivar returns and throws Top Dolla to the floor. The Viking Raiders hit Ragnarok on Adonis to get the pin.
Winners – The Viking Raiders
We see the recap of Dominik Mysterio and Rhea Ripley gatecrashing Mysterio household and beating up Rey.
---
After the break, we see LA Knight trapped in between shutter and production equipment. WWE Crew is trying to get him out.
Ricochet vs Braun Strowman – SmackDown World Cup Semifinal
Strowman throws Ricochet to the corner to show his strength advantage. Ricochet slaps him. Strowman chokes him in the corner until the referee asks him to break. Strowman catches Ricochet's crossbody. Ricochet hits more quick moves but fails to bring Strowman down. He hits back to back dropkicks and uses a low bridge to send Strowman to the apron. Ricochet hits a thrust kick and a dropkick on the apron to drop him to the floor.
Strowman tackles Ricochet over the announce table to stop his momentum. Strowman takes Ricochet back to the ring and hits an elbow drop to get a two-count. Strowman hits corner splashes before throwing Ricochet across the ring. Strowman was getting ready for big blows to the chest when Gunther came out to the ramp. Giovanni Vinci and Ludwig Kaiser also comes out to the apron. Strowman gets distracted in taking care of them. Ricochet takes Strowman down in a crucifix to get the pin.
Winner- Ricochet
Ricochet leaves the ring immediately after the match. Kaiser and Vinci distract Strowman and Gunther drops Strowman with a big boot. Imperium beats up Strowman. Ricochet is conflicted on whether to help Strowman or not. He runs into the ring to help Strowman but Team Imperium outnumbers him. Gunther hits him with a big chop. Strowman then makes a comeback and hits uppercuts on Vinci and Kaiser. Gunther slips out of the ring. Strowman picks up Ricochet and shakes his hands to close the segment.
---
Sami Zayn was going into The Bloodline locker room when Kevin Owens catches up with him. Owens asks Sami what will happen when someone from the Bloodline gets pissed off due to something Sami says or does. Owens reminds him how many times he has to bail him out of such situations. Owens advises him to turn on the Bloodline before they could turn on him. Jey Uso was listening to all this behind the door. Owens leaves and Sami seems conflicted. Jey comes out and asks Sami where he was when they were attacking Owens and McIntyre earlier. Sami says he is running late and just got here. Jey asks if he has talked to someone since coming in. Sami denies talking to anyone. Jey sends Sami into the locker room but is angry at him.
---
Becky Lynch is interviewed backstage. Becky says she was at home for four months thinking about how to destroy Damage CTRL limb by limb and remove them from her business.
---
We get a video package for WarGames match.
---
Ronda Rousey and Shayna Baszler have attacked Raquel Rodriguez backstage. They slams Raquel's hand under the lid of a trunk to injure her.
After the break, Ronda and Shayna get into the ring and mock Raquel over how they have attacked her. They advise Shotzi to remain in her lane. Shotzi walks out to the ring for the match.
Ronda Rousey & Shayna Baszler vs Shotzi & Raquel Rodriguez
Shotzi avoids Ronda and knocks Shayna off the apron. Ronda beats up Shotzi and sends her to the corner. Shayna comes back and tags in. Shotzi nails her with elbows but the opposite team double team on her to take her down. Shayna starts to work on Shotzi's arm. Ronda puts her in an arm triangle using the ropes. Shayna takes her to the middle and works on her arm.
Raquel Rodriguez walks down the ring with arm still injured. Shotzi rolls up Shayna and tags in Raquel. Raquel attacks Shayna with one hand. She pulls Shayna back to stop the tag. Raquel tries to hit a slam on Shayna using her one good hand. Shayna slips out and tags in Ronda. Ronda takes her down and puts pressure on the arm. Shotzi tries to get into the ring but Shayna stops her. Ronda puts on the arm bar and Raquel has to tap out.
Winners- Ronda Rousey & Shayna Baszler
Shotzi runs into the ring after the match to check on Raquel.
---
We see Jey Uso narrating the discussion between Sami Zayn and Kevin Owens to Jimmy Uso.
---
Shotzi is interviewed backstage and tells us that Raquel's arm was broken before the match and now, her elbow is also shattered. She talks about getting bullied before but she never had anyone backing her up like Raquel. Shotzi says this is personal now and Shayna will have a front row seat when she tears apart Ronda limb by limb.
Drew McIntyre & Sheamus vs The Usos(Jimmy Uso & Jey Uso) – WarGames Man Advantage Match
Sheamus and Jimmy start the match and take down each other in turn. Sheamus drops Jimmy with a clothesline. Drew comes in to drop Jimmy with a back elbow. Drew hits a big chop before Sheamus comes in to join him to hit a hip toss. Jey gets in and gets thrown out. The two sides face off on the floor to take us to a break.
Jey takes a blind tag and low bridges him to get him to the floor. He hits a double ax handle on Sheamus. Jey stops Sami from attacking Sheamus. Owens yells at Sami that's what he was warning him. Jey takes Sheamus back to the ring and keeps control. Jimmy tags in and Sheamus starts to hit back with punches. Sheamus hits a tilt-a-whirl slam. Drew tags in and hits short clothesline on Jimmy. Jey comes in and Drew hits him with a neckbreaker.
Jimmy hits back but Drew hits him with spinebuster and uses jackknife over to get a two-count. Drew hits a neckbreaker on Jimmy and kips up. Drew signals for the Brogue kick but Jey grabs his leg. Jimmy nails Drew with a superkick. Jey tags in and The Usos hit Drew with suicide dives in succession. They send Drew into the steel steps to send us to a break.
Drew tries to fight back but Jimmy hits a big boot from the corner. Jimmy hits a hip attack in the corner. Jimmy posses in the middle before trying for another hip attack. Drew cuts him off with tackle. Sheamus gets a hot tag and hits ax handles on Jey. He knocks off Jimmy before hitting a backbreaker on Jey. Sheamus rips apart Jey's shirt and hits 10 Beats of Betran. Drew picks Jimmy for the same but The Usos drops them to the ropes. Drew hits Claymore to Jimmy but Jey and Sheamus are the legal one.
Jey hits Drew with a superkick. Jey takes Sheamus back to the ring and Sheamus nails him with a knee strike. Sheamus gets ready for Brogue kick but Sami catches the move. Jey hits Sheamus with a superkick to get a near fall. Jey goes to the top. Sheamus joins him with some chops. Solo Sikoa distracts the referee and Sami slams Sheamus down to the mat. Jey hits a splash on Sheamus but he kicks out of the pin. Sami throws tantrums on the referee. Butch and Ridge Holland attack Sami and Solo. Drew takes out Jey and other brawlers on the floor with a tope suicida.
Sami picks up the title belt and tries to give it to Jey. Kevin Owens stops him. Sami gets into the ring anyway and drops the title in the middle. The referee catches Sami and goes to eject him from ringside. Owens sneaks into the ring behind the referee's back and hits a Stunner. Sheamus hits a Brogue kick to get the pin.
Winners- Sheamus & Drew McIntyre
Sami has his face in his hands in disappointment. The Bloodline regroups on the floor. The Brawling Brutes, Kevin Owens and Drew McIntyre stand tall in the ring and mock The Bloodline.