WWE SmackDown Live Results January 13, 2023- Sami vs Owens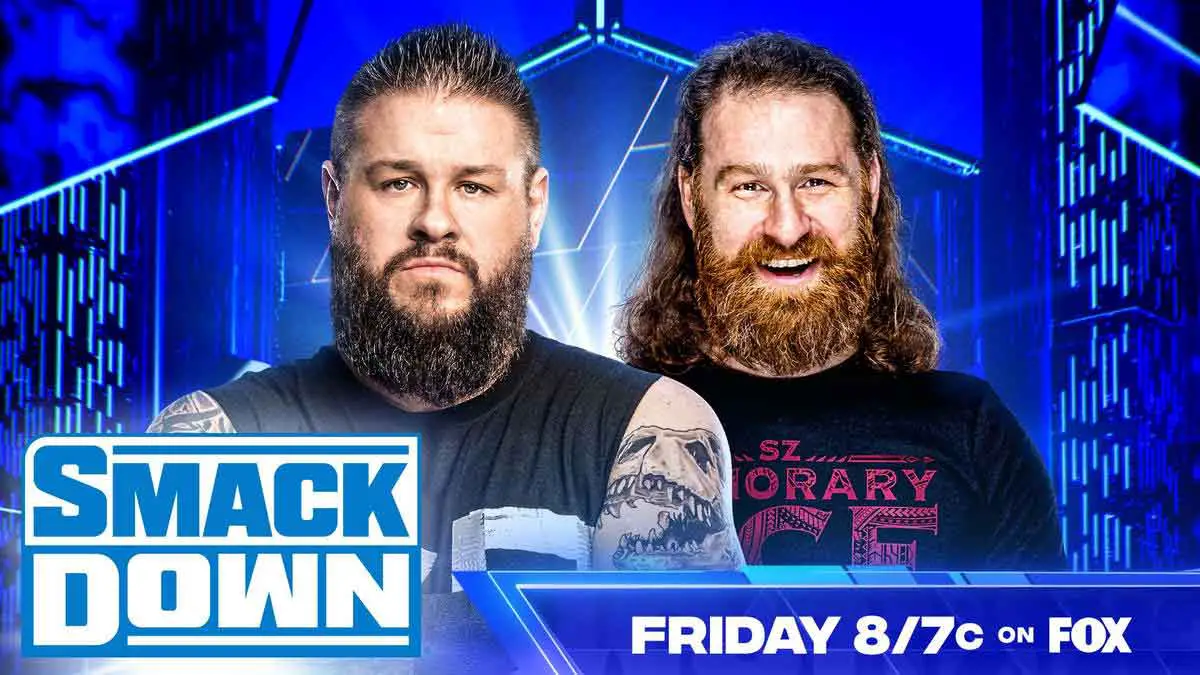 Welcome to the live results blog for WWE SmackDown episode of January 13, 2023, which featured marquee singles match between Sami Zayn and Kevin Owens as the build-up for Royal Rumble 2023 continues.
The Honorary Uce, Sami Zayn tried to put Kevin Owens in his place and avenge his loss to Owen and John Cena in a tag team match two weeks back to restore The Bloodline's honor. Was he successful or did he disappoint Roman Reigns one more time?
Intercontinental Championship was on the line on Smackdown January 13 episode as GUNTHER defends it against Braun Strowman. WWE SmackDown Women's Charlotte Flair appeared in a backstage segment as well as Bray Wyatt. More entry announcements were made for men and women Royal Rumble matches.
Check below for results from WWE Friday Night SmackDown January 13, 2023 episode with complete action, live updates, winners and more.
RESULTS
Gunther(c) defeated Braun Strowman in a singles match via pinfall to retain WWE Intercontinental Championship.
Tegan Nox defeated Xia Li in a singles match via pinfall.
Raquel Rodriguez defeated Liv Morgan in a singles match via pinfall.
Kevin Owens defeated Sami Zayn in a singles match via disqualification.
LIVE UPDATES
Gunther(c) vs Braun Strowman – WWE Intercontinental Championship
Braun Strowman is the first one to come out. Gunther enters with Ludwig Kaiser and Giovanni Vinci, but sends them back. The commentary tells us about Strowman's injured shoulder that he suffered due to Gunther's attack last week. Strowman pushes Gunther to the ropes as he tries to work his arm. Gunther leaves the ring in fear and regroups.
Back to the ring, he goes for an arm wringer but Strowman whips him to the floor. Braun slams his face into the steel steps before hitting an uppercut. Strowman goes for the running train and tackles Gunther into the announce table. We cut to a break.
Gunther slips out of a powerslam and sends Strowman into the ring post. He starts to target Strowman's arm into the steel steps. He continues to work on it in the ring. He follows up with some chops. Gunther hits some knees to his back before getting back to work on the arm. Braun hits punches to midsection but Gunther drops him back to his knees with a big blow to the back to start working on the arm.
Braun tries to pick him up but his shoulder gives up. Gunther puts on the arm wringer once again before hitting some chops and a tackle on the shoulder. Strowman fires back with elbows but Gunther hits a chop. Strowman hits more elbows before hitting a clothesline. Strowman hits a whip and a back body drop. Kaiser and Vinci come in to attack Strowman as Gunther distracted the referee. Strowman fights them off and hits Gunther with a powerslam. Gunther kicks out of the pin as we cut to a break.
Gunther is once again in control as we return. Strowman powers up and picks up Gunther to hit him with a back body slam. They trade chops and chest slaps now. Gunther hits a boot to the face before Braun hits a spinebuster for a two-count. Gunther hits a tackle before Strowman hits a lariat.
Strowman misses a corner tackle and hurts his shoulder once again. Gunther hits a lariat for a two-count. He hits a splash from the top but Strowman kicks out again. Gunther is frustrated now. He goes to the top and Strowman hits an uppercut. Strowman looks for a superplex but Gunther works on his arm again. Gunther hits an avalanche powerbomb to get the pinfall.
Winner – Gunther
We see the recap of how Sami Zayn's match with Kevin Owens was set up. Sami goes the Bloodline room but Paul Heyman cuts him off outside and says no one is here tonight. Heyman says Roman Reigns thought what kind of faith and love would he be showing to Sami if he would have asked others to interfere. Roman believes that Sami can take care of this on his own. Sami tells Heyman to inform Roman that he made the right call. Sami says he will beat Owens tonight and it is not a prediction but a spoiler.
Mysterio is Not a Good Father?
Rey Mysterio comes out to the ring. He takes the mic in the ring and says holidays have been his favorite time of the year as he gets to spend time with his family. He says Dominik interrupted his Christmas and he has to get him sent to jail. But now, Dominik is out and is walking like a thug. He is fed up of him and calls his bulls##t. Mysterio says he wants to re-focus and the only way to do that is to enter the Royal Rumble and win it.
Karrion Kross comes out with Scarlett. Kross says men like Rey needs goals for themselves so that they do not digress. Kross brings up how Rey won Royal Rumble 17 years ago. He talks about how that would be a special moment for him. And that it would be a special moment for Dominik seeing his father as a superhero. Kross says Rey would not know that since he was not around for Dominik. Kross asks Rey how does he feel to be a failure as a father to not be able to raise Dominik just like him?
Mysterio attacks Kross with a dropkick and drops him to the ropes. Scarlett picks his ankle and Kross puts him in Kross Jacket. Rey is put to sleep as the lights turn red.
---
Maxxine Dupri and Emma are backstage with Liv Morgan. Emma tells Liv that it is not a good idea to enter Royal Rumble at #1. Maxxine Dupri says it is a terrible idea. Raquel Rodriguez comes in and tells Liv that it is not a good idea for her due to her size. Liv slaps her and tells her to see her in a match later tonight. Raquel gets in her face and says people forget here that she is the biggest and the strongest around.
Xia Li vs Tegan Nox
Nox starts with a big punch. She continues to unload with forearms before hitting an uppercut. Nox hits a cannonball in the corner to get a two-count. She goes to the top but Xia pulls her down and slams her to the mat. Xia puts on a chinlock. Nox fights out of it but Xia hits her with axe handle to the chest. Nox hits punches to midsection but Xia hits back with a big shot and a snap suplex. Nox avoids a spinning heel kick and hits Shinniest Wizard to get the pinfall.
Winner – Tegan Nox
We cut to a replay of how The Viking Raiders attacked Drew McIntyre and Sheamus after SmackDown went off the air. Valkyrie says that Gods speak and she listens with The Viking Raiders following the order. God has seen two warriors in Drew and Sheamus and want them to take them down.
Sheamus and McIntyre are backstage with Adam Pearce. Drew asks for a match against The Viking Raiders but Sheamus asks for The Usos first. They start to hit stiff chops on each other while arguing over this. Pearce interrupts and tells them he is starting a tag team tournament next week with the winner facing the Usos for the title. McIntyre and Sheamus will face The Viking Raider in their first match next week.
---
Bray Wyatt makes his spooky entrance. We get a recap of Uncle Howdy attacking Bray Wyatt two weeks back on SmackDown. There is a chair in the middle of the ring with a spotlight on it. Bray sits on it. Bray says its wild we forget who we are and we forget what makes us in first place. All it needs is a push to you in right direction and to revel in what you are. Just like that he remembered that he is the Eater of the World, he is Uncle Howdy and he is Bray Wyatt. He knows who he is, but do you remember who you are, LA Knight. Wyatt says when the lights go out at Rumble, Knight should run.
---
Kevin Owens is backstage for an interview but he is interrupted by Sami Zayn. Sami asks KO if he is happy to force him to do all this. Owens says he is not the one responsible for all this. It was Roman who set up this match tonight and he was the one who set up the tag team match with John Cena. Owens asks Sami to understand that Roman is just using him. Sami says Owens is jealous of him after watching Roman hugging him every week. Sami says he has a responsibility to take care of the business and he will do his job.
---
Gunther and his team is backstage with Kayla Braxton. Kaiser and Vinci sing praises for Gunther. Gunther says he has overcome his biggest challenge and retained the title against Strowman. Now, it is time to enter Royal Rumble match and throw body after body from their sacred match and reach where he deserves to be – main event of WrestleMania.
Liv Morgan vs Raquel Rodriguez
Liv locks up but fails to push Raquel. Raquels pushes her away to the mat. She throws Liv to the floor. Liv comes back and hits a headscissors to send Raquel to the corner. Raquel hits a tackle to cut off her charge. Raquel goes for powerbomb but Liv hits a headbutt to block it. Raquel slams her into the corner.
Liv hits back with a back elbow. She gets mad and slams her head into the turnbuckle. Liv hits a codebreaker before clotheslining Raquel over the ropes and to the floor. She goes for a suicide dive but Raquel catches her. Liv manages to send her into the ring post and then into the steel steps. Morgan brings out a table now after breaking the count down.
Liv sets up Raquel on the table but Raquel gets back into the ring. Raquel cuts off her dive off the top. Raquel then hits Tihana bomb(one-handed powerbomb) to get the pinfall.
Winner – Raquel Rodriguez
We see the recap of Charlotte Flair beating Sonya Deville to retain Smackdown Women's title. Sonya is backstage to talk to Adam Pearce and asks for a rematch. Pearce says he could not give her a rematch as she lost. Sonya replies that she will find a way to get that rematch.
After the break, we see Sonya attacking Charlotte backstage. Charlotte gets her off her as some referees come in. Charlotte says she is just trying to get her off her. Sonya attacks her with a steel chair. Charlotte manages to get some separation but Sonya once again jumps on him. Referees take Sonya away.
---
We get a video package for Cody Rhodes.
Sami Zayn vs Kevin Owens
Owens offers a handshake but Sami attacks him. Owens hits a shoulder tackle. Sami gets up angrily and slaps Owens. Owens brings him down with a double leg takedown and unloads on him. Sami rolls to the floor. Sami drops him and hits him with a suicide dive. Owens sends him into the barricade and unloads with punches before bringing him back to the ring. Sami rolls to the floor and hits a punch from the floor. Sami hits a suplex on the apron to take us to a break.
Sami is stomping on KO in the corner as we return from the break. Sami hits an elbow from the second rope to get a two-count. KO fires some punches but Sami rakes his face before a headbutt. KO hits punches and Sami fires back with stomps to his face. Sami is conflicting after putting KO away. Sami puts Owens to the top.
KO hits a couple of punches. Sami hits back with his punches but Owens blocks a superplex. Owens hits him with a headbutt to drop him back to the mat. He hits a frog splash from the top for a two-count. Owens hits kicks to Sami's face before Sami counters pop-up powerbomb with a blue thunderbomb for a near fall.
They trade slaps before switching to punches. Sami hits a big boot before a dragon suplex, but KO comes back immediately with a lariat. We cut to a break.
Owens is going to the top as Sami is down on the mat when we return from the break. Sami gets his knees up on Swanton bomb from Owens. KO kicks out of the pin though. Sami had hit a tornado DDT for a near fall during the break. Sami takes KO to the top again. KO fights back with punches and hits him with avalanche brainbuster from the second rope. Both men are down.
They trade punches while on their knees. Sami hits a snap dragon suplex. KO gets up quickly but Sami hits another snap dragon suplex quickly. Sami sets up for Helluva kick but The Usos and Solo Sikoa attack Owens in the corner to cause a disqualification.
Winner – Kevin Owens
Sami is surprised as The Usos hit Owens with 1-D. Solo takes Owens to the floor. Sami is still just looking at all of this in surprise. KO tries to fight back but Solo hits him with a Samoan Spike. The Usos tell Sami that they are doing this for him. Sami says Roman sent him to do a job. They finally come to the same page and Sami poses with The Usos.
Solo Sikao hits a splash on Owens to put him through the announced table. Sami is horrified looking at this, but he still stands with the Usos and Solo for the pose on top of Owens.