WWE SmackDown Live Results 4 June 2021: Mysterios vs Usos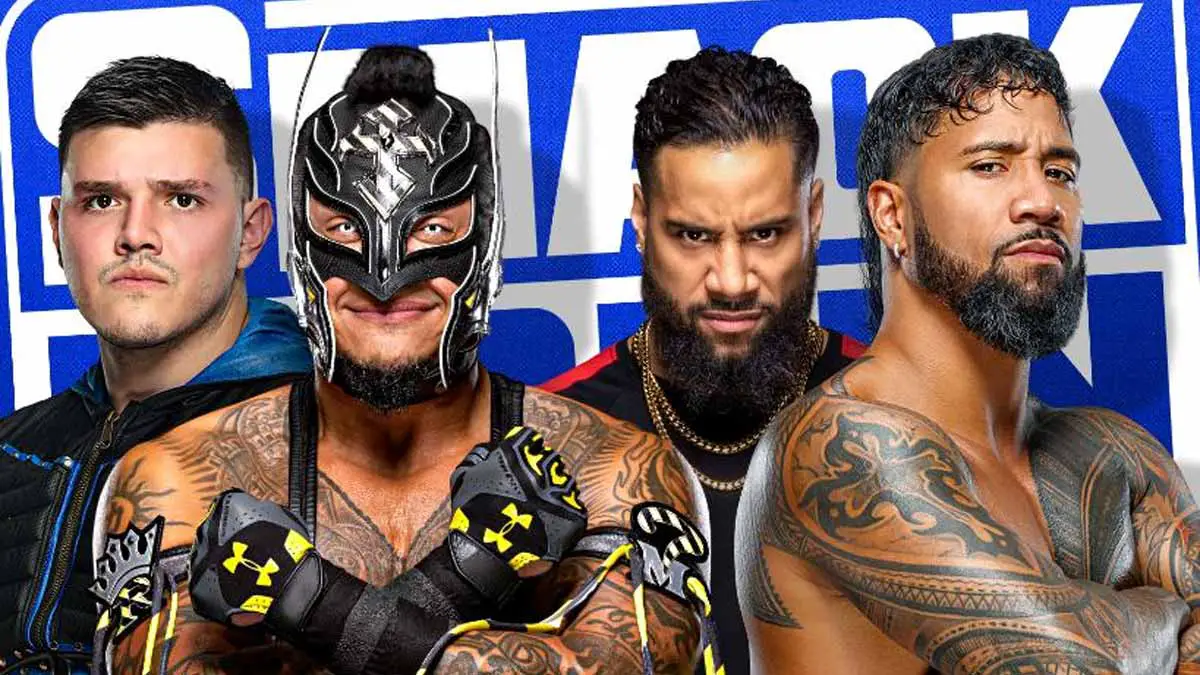 WWE SmackDown episode of 4 June 2021 will feature the SmackDown Tag Team Title match between The Mysterios and The Usos. Additionally, WWE is also teasing on the drama around the identity of Rey Mysterio's attacker at last week's SmackDown. SmackDown also has the task to keep building towards Hell in a Cell 2021 PPV which is just two weeks away.
We will cover the live results, updates, winners and highlights from WWE SmackDown episode of 4 June 2021 here in this live blog. Keep tuned in.
WWE SmackDown 4 June 2021 Quick Results
The Mysterios(Rey Mysterio & Dominik Mysterio)(c) defeated The Usos(Jimmy Uso & Jey Uso) via pinfall to retain WWE SmackDown Tag Team Championship.
Carmella defeated Liv Morgan in a singles match via pinfall.
King Corbin defeated Shinsuke Nakamura in a singles match via pinfall.
Apollo Crews(c) defeated Kevin Owens via pinfall to retain WWE Intercontinental Championship.
The Mysterios(Rey Mysterio & Dominik Mysterio)(c) defeated The Usos(Jimmy Uso & Jey Uso) via Disqualification to retain WWE SmackDown Tag Team Championship.
Roman's Ultimatum to The Usos
Roman Reigns opens the show and heads out to the ring with Paul Heyman. Huge "Roman Sucks" chants from the Thunderdome crowd. Reigns smirks at the chants before starting to talk about the SmackDown Tag Team Championship match between The Usos and The Mysterios. He says he is feeling different from how he was feeling last week about the title match for The Usos. Roman then adds that since Jimmy Uso talked about winning the titles, he should better win them or he will suffer consequences.
Roman asks Heyman to bring out the Usos. The Usos music hits as Heyman instructs the operator. Jimmy and Jey make their entrance. Jey calls Roman the Tribal Chief, but Jimmy does not. Roman asks him to acknowledge him. Jimmy replies that he already did at Hell in a Cell last year when he choked out his brother. Jimmy adds that tonight is about locking down the tag team titles and make the family proud.
Roman wishes them good luck, but tells Jimmy that since he has called the shot, he needs to make sure they win. Their whole family is watching them. Roman also tells him to bring him the titles once they win.
The Mysterios(c) vs The Usos – WWE SmackDown Tag Team Championship
Jimmy and Dominik start the match. Jimmy hits a shoulder tackle after a headlock. Dominik hits a dropkick and an arm drag before bringing in Rey for some double team action against Jimmy. Jey takes the blind tag and the Usos hit double ax handles on Rey to bring him down. Jey hits some big blows on Rey. Rey takes his down with head scissors. Jey takes the control back soon. Jimmy and Jey do frequents tags and keep Rey grounded.
Jimmy takes a cheap shot as Jimmy distracted the referee. Jimmy comes in and puts on a headlock. Rey gets to his feet and hits elbows to his ribs. Jey takes a blind tag as Rey throws Jimmy at the ropes. Rey sends Jey to the floor and goes for the basement slide. But Jey catches him and drops him on the announce table with a Samoan Drop. We cut to the break.
Rey drops Jey with toe hold on the turnbuckles. Rey is looking to tag out but Jimmy gets the tag first and cuts him off. Jimmy tags in again but misses a splash in the corner. Rey fights both Jey and Jimmy in the corner and tags Dominik. Dominik hits a suicide dive on both Usos. He brings back Jimmy and hits a top rope splash to get a near fall. Jey gets back in the ring. Back and forth action between the Usos and Dominik.
A tornado DDT to Jimmy gets him another two-count. Dominik goes to the top and Jimmy cuts him off. Dominik fights back both Usos but Rey was not in the corner for the tag. The Usos hit double Samoan Drop to get a near fall. Dominik low bridges The Usos to the floor. Rey takes out Jey with a senton. Jimmy hits the superkick on Dominik in the ring and goes for the Usos splash. Dominik gets his legs up and manages to put Jimmy in the double-cradle to get the pin. Jey could not get there in time to break the pin.
Winners – The Mysterios(retains SmackDown Tag Team titles)
After the match, Dominik quickly runs out of the ring to celebrate with Rey on the stage. We go to the replays and see that Jimmy's shoulders were up. The Usos argues with the referee as the commentators point out how the referee has made a mistake. The Usos are not happy with the outcome. We go backstage to Reigns and Heyman. Reigns tells Heyman to bring him the Usos.
After the break, The Usos are backstage with Roman. Jimmy says they were cheated out of win. Roman does not want to hear that. Roman says they better fix this before the show ends. They should go to Adam Pearce or Sonya Deville to get this fixed. Roman tears into their career and says Usos made it to WrestleMania just once despite being 6 times tag team champions, while Jey has been in many main events in last year under him. Roman looks at Jey and says Jimmy better understands his position. Jey corrects him that he is Jey, not Jimmy. Roman says as if it matters with the way things are going. Roman walks away.
Kayla Braxton is sitting with Seth Rollins at the backstage ring for an interview. We get a replay of how Rollins attacked Cesaro two weeks ago. Kayla says Cesaro has shown that he is resilient and asks Rollin what is his plan when Cesaro returns. Rollins says he gets what Kayla is trying to do here. Kayla again asks him what happens when Cesaro comes back to SmackDown. Rollins removes his mic and hands it to Kayla. Rollins is walking away. Kayla thanks Rollins and he just stares at her smiling.
Chad Gable joins The Street Profits backstage and tells them how their performance is not good in last few months. He points about some their mistakes and offers that they work in the Alpha Academy. Gable tells them how he has helped Otis. The Profits laugh at him and tell him that they are nor intrested before walking off. Gable stares at them in anger.
Carmella vs Liv Morgan
Carmella makes her entrance for the match. We cut to a pre-recorded promo where Carmella says she is most beautiful and gorgeous woman in WWE and we won't be able to take our eyes off her. Carmella poses in the ring as some of her photos are shown on the screen. We cut to a commercial.
The Usos go to Adam Pearce and Sonya Deville backstage to talk about how the referee made a bad call. Adam Pearce tells them that the referee's call is final. Sonya Deville interrupts and says The Usos were done wrong and they will review what happened tonight and come back to them.
Back to the ring, Liv Morgan makes her entrance. She also gets a pre-recorded promo. Liv says she will give Carmella a makeover with her boots.
Carmella slaps at Liv a few times to start. Carmella slips out of the ring as Liv goes after her. Liv follows her out and Carmella tries to catch her with a kick as she returns. Liv was aware of the danger and brings Carmella out of the ring to send her into the barricade. Liv slams Carmella's face into the apron a few times. Carmella counters with a knee strike in the ring and kicks her down. Carmella hits some back elbows in the corner.
Liv counters in the corner with back elbows. Liv hits a backbreaker and sends Carmella into the turnbuckle face-first. Carmella counters in the corner and drops Liv into the turnbuckle with a drop toe hold. Carmella puts Liv in the code of silence to get a quick submission.
Winner – Carmella
After the match, Carmella asks the announcer Greg Hamilton to announce her as the most beautiful women in WWE.
The Mysterios were leaving the building. Sonya Deville and Adam Pearce stop them and tell them about the referee's bad call in the title match earlier and that The Usos will receive another title shot later tonight.
Bianca's Challenge for Hell in a Cell
SmackDown Women's Champion Bianca Belair comes out. Belair says ever since she won the title from Sasha Banks at WrestleMania 37, Bayley has been just laughing at him. Belair says Bayley's laugh is getting to her. She talks about proving all the people wrong who have been laughing at her since she was 3 feet tall. But what Bayley laughing at her is utter disrespect and she's not standing for that. Bianca proposes a match at Hell in a Cell.
She waits for Bayley to come out in response, but she does not show up for a while. Bayley appears on the screen laughing at Bianca again. Bayley has been laughing at people like Belair her whole life. Bayley says she's even there tonight, she's live via satellite. We see Bayley sitting in a room with photos of herself all over the walls, she calls it her sanctuary where she finds peace. Bayley accepts the challenge and says when she beats Belair for the title, she will be laughing but she won't be the only one laughing.
The Street Profits are backstage. Otis comes to them and tells them that they are out of line by turning down Chad Gable when he just wanted to help them. Montez Ford tells him that Gable is actually holding him back. Profits advise Otis should check out of the Alpha Academy. Otis attacks Ford and Dawkins and throws them into the stuff around them. Otis walks off as we cut to a break.
King Corbin vs Shinsuke Nakamura
King Corbin enters the ring and he is still angry at Nakamura for stealing his crown. Rick Boogs appears on the stage with his guitar and starts playing Nakamura's theme. Nakamura makes his entrance now. Nakamura still has Corbin's crown on.
The bell rings and Corbin takes Nakamura to the corner and unloads on him. Nakamura comes back with a big knee. Corbin levels Nakamura with a clothesline. Corbin talks some trash as he hits some big blows on Nakamura. Nakamura puts Corbin into an armbar. Corbin gets to the ropes quickly. Nakamura hits him with knee strikes. Corbin goes out and attacks Boogs. Corbin comes right back in the ring but Nakamura hits him with a clothesline. Corbin rolls him up and uses the tights to get the pin.
Winner – King Corbin
After the match, Corbin immediately grabs the crown from the announce table and runs away to the ramp. Boogs grabs his leg and trips him. Nakamura kicks at Corbin and takes the crown back. Nakamura wears the crown and celebrates on the ramp while Boogs plays his guitar.