WWE RAW Results & Live Updates February 6, 2023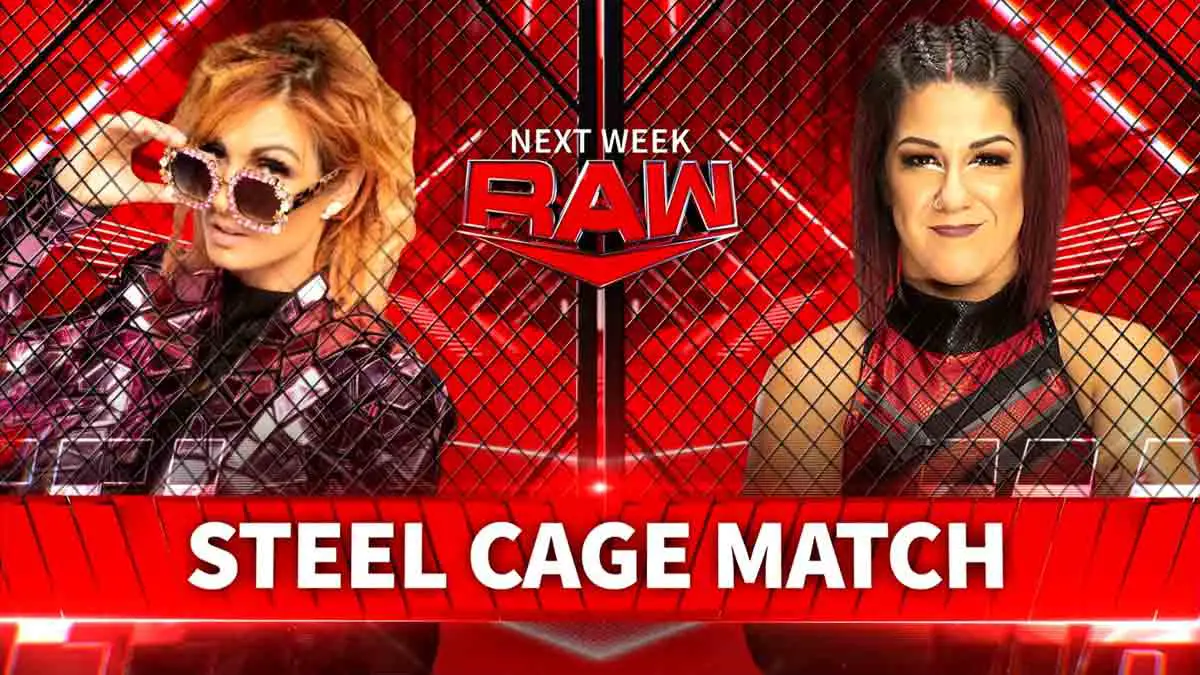 Welcome to the live results blog for WWE RAW episode of February 6, 2023, which was live from Amway Center in Orlando, FL.
The build-up for Elimination Chamber 2023 continued with 3 qualifiers for Elimination Chamber matches. Elias faced Montez Ford while Damian Priest took on Angelo Dawkins in the qualifier for United States title Chamber match. Candice LeRae, Michin', Carmella and Piper Niven clashed in a fatal 4-way match for the last spot in RAW Women's title contender Chamber match.
Becky Lynch vs Bayley Steel Cage match headlined RAW February 6 episode. Was this the end of the chapter on their rivalry? Brock Lesnar was also announced to appear on the show. Cody Rhodes and Paul Heyman Judgment Day on Rhodes to WrestleMania?
Check below as we post results from WWE Monday Night RAW February 6, 2023 episode with live updates, winners, highlights and more.
WWE RAW Results February 6, 2023
Damian Priest defeated Angelo Dawkins in Qualifier for Elimination Chamber via pinfall.
Dexter Lumis defeated Baron Corbin in a singles match via pinfall.
Carmella defeated Candice LeRae, Michin' & Piper Niven in a Fatal 4-Way Qualifier for Elimination Chamber Match via pinfall.
The Hurt Business(Cedric Alexander & Shelton Benjamin) defeated Alpha Academy(Chad Gable & Otis) in a tag team match via pinfall.
Asuka defeated Chelsea Green in a singles match via submission.
Montez Ford defeated Elias in a Qualifier for Elimination Chamber Match via pinfall.
Becky Lynch defeated Bayley in a Steel Cage Match via pinfall.
Live Updates
Mixed Tag In-Coming!
WWE Hall of Famers Edge and Beth Pheonix come out to open the show. We get a video package on how Rhea Ripley took out Beth with brass knuckles at Extreme Rules and how Edge and Beth returned at Royal Rumble to attack Judgment Day. Edge takes the mic in the ring and starts talking about Judgment Day.
Edge says Judgment Day is his fault, but his idea was to give a platform to talent, and every one among them is on a better standing now. He talks Extreme Rules and says he knew Finn Balor did not have it to force him to say "I Quit", but then he saw Beth getting hit with Brass Knuckles and had to quit to stop Rhae from hitting con-chair-to on her. Beth Pheonix cuts to the chase and challenges Judgment Day to come back.
Judgment Day comes out. Finn Balor says it has become a pattern that Edge makes his triumphant return and Judgment Day beats him down. Dominik tells Edge to go away before he starts to do something to Edge that he learnt in prison. Damian Priest fumbles his promo and says it is because he hates Edge so much.
Edge cuts them off and starts to insult them. Edge says they are together forever while Judgment Day will cut off each other at first chance. Edge says Rey will soon hit Dominik with a 619 to break his jaw. Beth Pheonix goes on and challenges Rhea Ripley and Finn Balor for a match at Elimination Chamber.
Balor asks Dominik if Rhea would agree to it. Dominik says she would agree. Balor says he also agrees to the match, but it would be if Edge and Beth could make it Elimination Chamber. Judgment Day surrounds the ring before attacking Edge and Beth. Angelo Dawkins runs out to help them out. Montez Ford also comes out. They force Judgment Day to retreat.
Angelo Dawkins vs Damian Priest – Qualifier for Elimination Chamber Match
The match has already started as we return. Dawkins hits a dropkick and death valley driver. Priest slips to the floor. Dawkins comes out and tackles Priest over the announce table. Back to the ring, Priest nails Dawkins with a big punch. Priest sends him to the corner for a big shot. He hits a hard Irish Whip before hitting a corner splash.
Priest hits a Broken Arrow to get a two-count. Priest puts on a chin lock. Dawkins gets up but Priest drops him down once again for a chin lock. Dawkins starts to nail him with punches before hitting an enzuigiri. Dawkins ducks a swing and which leads to Priest landing on the floor. Priest runs Dawkins over with a clothesline. He hits a dropkick by jumping off the steel steps. We cut to a break.
Dawkins hits rolling uppercut before more shots in the corner. He follows up with an exploder to get a two-count. Dawkins goes to the top and Priest catches him up. Dawkins slips to the floor and drops Priest's arm on the ropes. Priest hits a clothesline and an elevated flatliner for a two-count. Dawkins counters a chokeslam with a silencer to get another two-count.
Dawkins goes to the top and hits a Swanton Bomb for a near fall. Dawkins losses his cool on that kick-out. They trade thunderous punches before Priest hits a spinning kick and South of Heaven chokeslam to get the pinfall.
Winner – Damian Priest
We see Austin Theory entering the arena in his sports car.
---
After the break, WWE send their wishes to Bad Bunny for winner another Grammy.
---
Maximum Male Models are backstage with Adam Pearce. Maxxine Dupri signs a contract and Pearce announces that they are officially on RAW now. Dupri starts to talk about big plans for Mace and Mansoor before Chelsea Green cuts them off.
Green tells Adam Pearce how she asked for a private dressing room and Swiss Chocolate, but it was Belgian Chocolate. Green then asks Pearce why she is not in Elimination Chamber match when she can beat everyone in that match. Pearce says Green did not even last 5 seconds in Royal Rumble match. Green says she wants to have a match tonight and wants to be presented like a star, otherwise she will call Pearce's bosses and get him fired.
---
We get a video package on how Roman Reigns vs Sami Zayn was agreed on SmackDown last week.
Baron Corbin vs Dexter Lumis
Corbin tackles Lumis before the bell. He hits a corner splash as the bell rings. Corbin puts on a chin lock before Lumis hits him with elbows to midsection. Corbin hits a back elbow before putting on another chin lock. Corbin whips him hard to the corner before starting to rake his face.
Lumis starts nailing him with punches before hitting him with a bulldog. Lumis hits a back suplex before a leg drop. He goes for an Urinage but Corbin takes him to the corner for some elbow shots. Lumis comes out of the corner and hits Urinage to get the pinfall.
Winner – Dexter Lumis
Becky Lynch is backstage for an interview with Byron Saxton. She recalls how she met Bayley 10 years back at WWE Performace Center and how Bayley was just trying to stick herself to anyone to get quick success. Bayley has tried to hit her with chair, and has come after her family. Tonight though, Becky gets her wish- a steel cage match. And she has saved one hand, and tonight might be the night to reveal it.
Brock Lesnar Could Only Think About Bobby Who
Brock Lesnar makes his way to the ring. He tips his hat as he gets into the ring. He says he had a sucky experience at Royal Rumble. He was thrown over the top rope. But that was not the worst part. He was thrown over the top rope by Bobby Who. He could not wrap his head around last week and went on hunting, and all he could think about was Bobby. He went fishing and all he could think about was Bobby. He went to a steak dinner and all he could think about was Bobby Lashley.
He went into bed with his wife… and about 5-6 hours later, he could only think about Bobby Lashley. So, he wants a solution for this problem. Lesnar brings out a contract for Lesnar vs Lashley at Elimination Chamber. Lesnar asks Lashley to come out and sign it.
Lashley makes his entrance and says he did not even know he was gonna be here. He recalls their history and says he pinned Lesnar in match 1. He lost at Crown Jewel but he laid out Lesnar on his way out. They came face to face at Royal Rumble where he eliminated Lesnar. So, Lashley would do things on his own terms. So, he would take this contract and have his manager and lawyers look at it.
Lashley is leaving the ring but comes back and gets into Lesnar's face, asking if Lesnar is able to digest that Lashley is one up on him. Lesnar picks him up and hits an F5. Lesnar starts to leave when the crowd starts to chant "One More Time". Lesnar picks up Lashley one more time and hits another F5.
---
Backstage, Candice LeRae is getting ready for her match when Johnny Gargano and Dexter Lumis comes in. Lumis gives her a painting where her whole family is there. But, the painting also has Nikki Cross lurking at them from behind. And Nikki Cross is lurking behind them in real also. Candice asks Nikki what she is doing but Nikki runs away.
Candice LeRae vs Michin' vs Carmella vs Piper Niven – Fatal 4-Way Qualifier for Elimination Chamber Match
Piper runs over Candice and Michin' with a clothesline. She threatens Carmella to force her to the floor. Piper hits a corner splash on both Michin and Candice. Carmella jumps on her back but Piper just swats her away. Candice and Michin double team to trip her to the ropes and send her to the floor with stereo dropkicks.
Candice and Michin start to fight. Michin picks up Candice and puts her on to the top rope. Candice counters with a hurricanrana from the top. Carmella covers both women one by one but they both kick out. Piper hits a crossbody on all three of them at once. She covers each one of them and throw them out of the ring when they kick out. We cut to a break with Piper standing tall in the ring alone.
Piper hits corner splashes to Candice and Michin' before Carmella ducks her in the corner. Candice is caught when she goes for a crossbody but Michin takes advantage with a neckbreaker on Piper. Michin and Carmella start to fight and Michin hits Eat Defeat. Piper pulls Carmella out of the ring to break the pin.
Piper drops Michin with punches before Candice hits her with a missile dropkick. Candice follows up with a springboard moonsault but Michin breaks the pin. Candice is sent to the floor. Piper hits Michin' with a belly to back suplex but Candice breaks the pin. Candice forces Piper to the floor. Carmella sends Candice to the corner and hits her with a hip attack. Piper hits a cannonball on Candice before Carmella nails her with a superkick. Carmella covers Candice to get the pinfall.
Winner – Carmella
Backstage, Baron Corbin comes to JBL and asks, "Where are we heading tonight?" JBL replies, "There is no "We", its just me". JBL says he is a WrestleMania headliner, sold out arena around the world, and Corbin is putting his name into the dirt. Corbin says he could improve, get better. JBL replies that you can't shine turd, he has tried.
---
Piper Niven corners Candice LeRae and blames her for the loss in fatal 4-way match. Michin' comes in and stands with Candice. Piper tells them if either of them come in her way towards RAW Women's Championship, she will not be so forgiving.
Alpha Academy(Chad Gable & Otis) vs The Hurt Business(Cedric Alexander & Shelton Benjamin)
Gable starts with a waistlock takedown on Cedric and puts on a chinlock. Gable hits a series of armdrags before Cedric counters. Cedric goes for a handspring splash but Gable gets his knees up. Tag to Otis and Shelton.
Shelton nails some forearms before Otis whips him to the corner. Shelton hits a big roundhouse. Otis counters his rising knee to hit World's Strongest Slam. He follows up with a big splash. Otis sends Shelton into the turnbuckle hard. Shelton unleashes some kicks before Otis drops him with a slam. Benjamin sidesteps in the corner.
Gable and Cedric get the hot tags. Cedric gets the upperhand with quick moves before hitting vicious dropkick to the back of Gable's head. Cedric sends Chad to the floor but he quickly comes and back in. Cedric hits him with Neuralyzer. Gable counters a suicide dive into an exploder.
Gable takes Cedric back to the ring and hits a diving headbutt, but Shelton breaks the pin. Otis comes in and Shelton hits him with rising knee strikes. Shelton hits a Samoan Drop. Gable throws him to the floor. He drops Cedric with forearms and a clothesline. Gable misses a moonsault from the top. Cedric hits the Lumbar Check to get a pinfall.
Winners – The Hurt Businees
We get a recap of Rick Boogs' return last week and how he defeated the Miz. The Miz is interviewed backstage and says he will bill Adam Pearce for the damages to his $10,000 suit last week. Boogs walks in from behind as The Miz says he is not impressed by Boogs at all. Miz asks Boogs how he got an appointment first. Boogs says he does not know that but is happy to be reunited with the Boogs Crew. Miz says Boogs got lucky as he was not ready. He calls Adam lazy and incompetent and claims he would have won the match last week if he was dressed and ready for the match. Pearce comes out and books their rematch for next week.
Chelsea Green appears and tells Pearce that she is walking out to the ring. So, he better send out an opponent or she is calling his boss.
Chelsea Green vs Asuka
Green hits a dropkick to start as Asuka was distracted by Liv Morgan and Raquel Rodriguez on the floor. Green continues to beat up Asuka with some ground and pound. Green hits a modified facebuster to get a two-count. Green runs his mouth as Natalya, Nikki Cross and Carmella also emerge. Asuka gets the time to recover and waits for Green to turn around. Asuka ducks Green's slaps and unleashes with a flurry of strikes. A spinning back kick drops Green. Green gets her boot up from the corner. Asuka puts on a submission move and gets a quick tapout.
Winner – Asuka
Cody Rhodes & Wiseman
Cody Rhodes comes out to the ring and starts to talk about his prospective WrestleMania main event against Roman Reigns. The crowd chants for Sami and Cody acknowledges and wishes Sami the best of luck to beat Roman at Elimination Chamber.
Paul Heyman interrupts him and informs everyone how he serves as the Special Counsel and Wiseman for our Undisputed WWE Universal Champion Roman Reigns. Heyman gets into the ring now and tells Cody that one day he may find out that the life at the top is always busy. Only thing more busy getting into an event like WrestleMania is the week coming out of an event like WrestleMania. Heyman says he and Tribal Cheif had a busy week since Royal Rumble. But, he is here to congratulate Cody for winning the Royal Rumble. Heyman shakes hands with Cody to congratulate him.
Cody talks about the time his family was going through tough time around 2001 and just had a few hundred dollars left in their account. His dad had to do local car commercials just to keep the car. Then, Dusty got a phone call from Paul Heyman who told him about ECW being in town and he would be paid well to appear on ECW. Cody says ECW gave his father his confidence back, and he could never repay Heyman for that. Cody again thanks Heyman for showing him the way when his career started. Heyman wipes his tears.
Heyman says Cody is good. He got here to talk business with him but he has caught him off guard personally. But, this is not about Heyman. And this is also not about his dad. This is about Cody who went out of the door and came back into the door to get a main event at WrestleMania. That is a story for Cody to finish. He has to suffer to find out to come this close to realizing his dream. But, he is not facing anyone but one of the biggest box office attraction ever in Roman Reigns.
Heyman then starts to count down the names Dusty Rhodes trained and prepped – Seth Rollins, Charlotte Flair, Becky Lynch, Bayley, and for the tremendous success Roman Reigns. But who is one person he did not train? It was Cody. Heyman says may be Dusty did not want Cody, the son of American Dream, but a man by himself. Heyman says in his last conversation with Dusty, he told him that Cody is his favorite son, but Roman Reigns is the son he always wanted.
Cody gets enraged and charges at Heyman. He asks Heyman to shake his hand. Cody presses Heyman's hand hard and tells him that Heyman just made it personal. And Heyman will not feel his wrath personally, but Roman Reigns will get this wrath in return when he takes away his titles at WrestleMania personally.
Elias vs Montez Ford – Qualifier for Elimination Chamber Match
Austin Theory is on the commentary table. They lock up to start the match. Elias puts Montez to the corner before the referee calls for them to break up. Elias puts on a side headlock. Ford tries to break free but Elias holds the lock down tight. Elias hits a shoulder tackle for a two-count. Montez puts him in an inside cradle to get a two-count himself.
Elias puts on the side headlock once again. They run the ropes before Montez hits a clothesline and then hits a dropkick. Montez hits a kick before Elias drops him on the ropes. Elias unloads in the corner. He hits some chops before hitting a back body drop. Ford slips to the floor and Elias drives him into the barricade. Elias hits a side slam to drop Ford on the steel steps. We cut to a break.
Montez is in control as we return. Ford hits punches from the second rope. Elias picks him up and hits a sit-out powerbomb for a near fall. Ford ducks punch on the apron and slams Elias' face into the turnbuckle. Mote quick moves send from Ford, including a crossbody from the top and a standing moonsault, to get two-count.
Elias comes back into the match and hits tackles in the corner. Ford sends him to the floor with a back body drop. He hits a suicide dive from over the ring post. He quickly brings Elias back to the ring and hits a frog splash to get the pinfall.
Winner – Montez Ford
Austin Theory gets up on the announce table to show off his title. Seth Rollins trips him and then hits him with a stomp on the floor. Rollins' music hits as he heads back.
---
We see Bayley getting ready for her match next. Iyo Sky and Dakota Kai, who is on crutches, are also there.
Becky Lynch vs Bayley – Steel Cage Match
Both women make their entrance. Dakota Kai and Iyo Sky are ringside. Bayley looks to run early but Becky pulls her back. They argue before Becky starts to nail her with punches. Bayley kicks at her knee to stop the momentum. Bayley throws Becky into the cage wall. She hits several stomps and boots her face into the cage to get a two-count. Bayley goes to climb again and Becky hits her with a dropkick to drop her.
Becky throws Bayley into the cage walls again and again. She hits more dropkicks against the cage to hurt Bayley some more. Becky now goes to climb the cage. Bayley joins her on the top rope. Becky slams Becky's face into the cage. Bayley turns it around and slams her face into the cage. Becky drops to the floor. Bayley hits an elbow drop from the top rope. Becky kicks out of the pin as we cut to a break.
Becky hits a flying shoulder tackle as we return from the break. We see Bayley had whiplashed Becky into the turnbuckle during the break. They trade punches before Becky hits a springboard mule kick. Bayley tries to run out again but Becky once again slams her into the cage walls Bayley hangs on the ropes and Becky hits a leg drop on her. Bayley manages to kick out in time.
Bayley blocks the manhandle slam and hits a belly-to-back suplex for a two-count. Bayley climbs once again and Becky drags her down to catapult her into the cage. Becky hits a leg drop before Bayley catches her in a heel hook. Becky drags towards the door.
Bayley drags her back but Becky manages to send her into the turnbuckle. Becky kicks at Bayley a few times. They are on the top rope again. Becky shoves her Bayley, but she gets up again quickly. Bayley hits Bayley-to-Belly suplex from the top rope to get a near fall. Bayley goes to climb the cage again and reaches the top of the cage when Becky joins her. They trade punches on the top of the cage now. Becky puts on a disarmher using the cage. Bayley falls back into the ring.
Becky is still on the top but Iyo Sky comes up and attacks her to drop her back into the ring. Dakota hands Bayley her crutch. Bayley hits Becky with the crutch but Becky kicks out of the pin. Lita's music hits and she runs out. She drops Iyo from the cage wall before snatching Dakota's crutch and hitting Iyo with it. Bayley was coming out through the door but Lita slams the door on her. Becky hits the Manhandle Slam to get the pinfall.
Winner – Becky Lynch
Lita gets into the ring and hugs Becky as the show goes off the air.