WWE RAW Live Results & Updates January 23, 2023- 30 Anniversary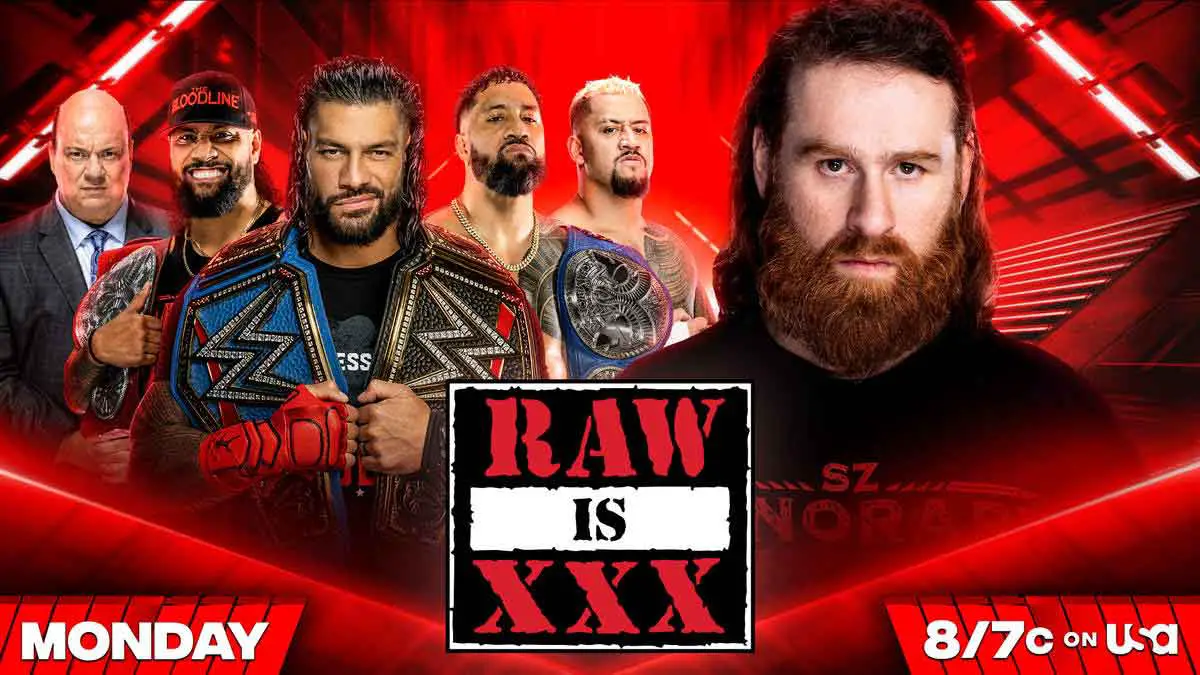 Welcome to the live results blog for WWE RAW's 30th-anniversary episode on January 23, 2023, which was also the go-home RAW episode for Royal Rumble 2023.
Unlike other weeks, so many things were already announced in advance for RAW. The Undertaker, Hulk Hogan, Ric Flair, Shawn Michaels, Kurt Angle, Triple H and many other legends were set to appear on the show. An Acknowledgement Ceremony was earlier announced for Roman Reigns with different generations of the Bloodline to appear. However, that segment was later changed.
Instead, Roman Reigns held a trial for Sami Zayn in the Tribal Court after his doubts related to Sami were accentuated when he was absent during Kevin Owens' attack on the Bloodline. Was this the final nail in the coffin for Sami Zayn's time in the Bloodline?
Becky Lynch and Bayley were supposed to clash inside a steel cage, but that match could not take place. The Usos defended RAW Tag Team Championship against Judgment Day's Dominik Mysterio and Damian Priest. Austin Theory defended WWE United States Championship against Bobby Lashley in a No Disqualification match with MVP trying to reunite Hurt Business in the background.
Tune in below as we post results from WWE Monday Night RAW January 23, 2023 30th Anniversary episode along with live updates, winners, highlights and complete action.
RESULTS
The Usos(Jey Uso & Jimmy Uso/Sami Zayn)(c) defeated Judgment Day(Dominik Mysterio & Damian Priest) in a tag team match via pinfall to retain WWE RAW Tag Team Championship.
Seth Rollins & The Street Profits(Montez Ford & Angelo Dawkins) defeated Imperium(Gunther, Ludwig Kaiser & Giovanni Vinci) in a tag team match via pinfall.
Bianca Belair defeated Sonya Deville in a singles match via pinfall.
Austin Theory(c) defeated Bobby Lashley in a No Disqualification Match via pinfall to retain WWE United States Championship.
LIVE UPDATES
Hulk Hogan comes out with Jimmy Hart to open the show. Hogan takes the mic on the entrance stage and tells us how Monday Night RAW started 30 years ago. He asks the Hulkamaniacs, what are they gonna do when 30 years of RAW, Hulkamaniacs and Philadelphia Eagles are gonna run wild.
---
We cut to a special video package encapsulating 30 years of RAW. The package involves all the stars that have appeared on the show all this while, the biggest matches, top moments and a lot more. We cut back to the arena with some pyro revealing the RAW 30th Anniversary logo.
The Tribal Court
Roman Reigns makes his grand entrance as he comes out with Paul Heyman, The Usos, Solo Sikoa and Sami Zayn. Sami is standing on one side as huge chants start from him. Roman takes the mic and asks the crowd to acknowledge him. He hands the mic to Paul Heyman, and they all take their seats at the table. Sami has his seat pulled away from the table.
Heyman acknowledges the ECW chants from the crowd. Heyman tells Roman that ECW is Dead and he wishes the same for Sami Zayn. Heyman starts making his case against Sami and says Sami is in a conspiracy with Kevin Owens since day one. He has been making The Bloodline feel good about themselves. He adds that this is just an open and shut case, but he will present 4 pieces of footage.
Exhibit A shows Sami Zayn talking to The Usos in August 2022 when Drew McIntyre attacked him but Sami ran away. Exhibit B shows how Sami refuses to hit Owens with a chair. Exhibit C shows how Sami was sitting on top of WarGames cage alone after the show went off the air. Exhibit D shows Sami Zayn calling out John Cena a week before their tag team match last month. Heyman says the last footage is proof of Sami planning an assassination of Roman Reigns. Heyman rests his case.
Sami takes the mic as he gets up from his seat. Sami says he had his whole defense lined up but he did not feel how he would feel when he would be accused of all this. Sami asks Heyman what he is thinking after 9 months of his time in the Bloodline and putting him on trial. He says his defense is that he has no defense.
Roman takes the mic and says Sami has so much ego that he has no defense. Roman gets enraged when he says he has given Sami opportunity after opportunity. He screams at Solo to take care of it. Solo goes to hit Sami with a Samoan Spike but Jey Usos stops him.
Jey says he has put on his own footage for Sami's defense. Defense Exhibit A show Sami getting Roman's music up to help Usos become Undisputed Tag Team Champions, Exhibit B show Sami saving Roman from a Claymore from Drew, Exhibit C shows Sami taking a chair shot which was meant for Roman and Exhibit D shows Sami winning The WarGames match for the Bloodline.
Jey says Sami has taken so many bullets for him, Roman and for all of Bloodline. Jey accepts that he never liked Sami but Sami always saw good in him and that's what Family do. That tape shows Sami's love and loyalty for this family. He asks the crowd to throw their ones in the sky if they want Sami to be in the Bloodline. The whole arena, with The Usos, throws their hands up in the air. "Sami Uso" chants start as Roman Reigns gets up.
Roman says he finds Sami Zayn not guilty…. for now. Roman tells Sami to thank Jey because he has brought him more time. He does not want Sami to be seen after tonight until Royal Rumble where he will have to give his final test.
---
The commentary team confirms the main event tonight which will be the United States title No Disqualification match between Theory and Lashley. They go through the card for the night after this.
The Usos(Jey Uso & Jimmy Uso)(c) vs Judgment Day(Dominik Mysterio & Damian Priest) – WWE RAW Tag Team Championship
Priest and Jimmy start the match. Priest starts with big blows. Jimmy sends him to the apron and hits an enzuigiri to drop him to the floor. Dominik gets in Jimmy's face when he goes to the floor. Priest tackles Jimmy to the announce table. Back to the ring, Dominik tags in and stomps on Jimmy. Priest tags back and hits a flying shoulder tackle to get a two-count.
Priest puts on shoulder stretch by putting his knees to the spine. Priest is working on Jimmy's back. Jimmy fires back with a big right to drop Priest. Jey gets a hot tag as Dominik also comes in. Jey hits quick rights before hitting a Samoan Drop and a hip attack for a two-count. Domink connects a right but Jey hits him with an enzuigiri. Priest gets a blind tag and kicks at Jey. Jimmy gets a blind tag now and doubles up on Priest.
Dominik runs a distraction on Jimmy on the apron which allows Priest to take control. Priest hits back splashes on The Usos in the opposite corner. He hits a broken arrow on Jey and throws Jimmy to the floor. Priest hits a suicide dive on both the Usos. Priest brings Jimmy back to the ring and hits a big lariat to get a near fall. Priest hits a back elbow on Jimmy as he tags in Dominik. Jey eats a rolling elbow on the apron. Dominik hits a splash from Priest's shoulder but Jimmy kicks out of the pin.
Jimmy slips out and tags in Jey. The Usos attack Judgment Day in tandem with superkicks. Finn Balor trips Jey on the top turnbuckle. The referee catches him and ejects him. Jimmy gets a blind tag from Jey when Priest was attacking Jey. Jimmy hits a superkick but Priest kicks out. Jimmy hits a suicide dive on Priest on the floor and injured himself.
The referee checks on him and calls out a medical team. Jimmy is taken to the back. Adam Pearce comes out and says if Jimmy can't continue, the Usos have to forfeit the match. Sami intervenes and asks if he can replace Jimmy in the match. Pearce says he did it for Judgment Day two weeks back and will do the same for the Usos. Roman Reigns is watching all of this from his locker room.
The match restarts and Sami throws Priest and Dominik to the floor to hit a suicide dive. Back to the ring, Rhea pulls Sami's leg to distract him. Dominik rolls up Sami and tries to use the ropes for the pin but Sami kicks out. Rhea distracts the referee and Priest hits a chokeslam on Sami. Dominik covers him but he kicks out of the pin again.
Jey tags in and hits superkick on Dominik and Priest. Rhea comes in and Jey stops in his tracks. Jey and Rhea face off. Dominik hits Jey with a dropkick from behind. Dominik drops him on the ropes for 619. Sami breaks the pin once again. Sami gets a blind tag after throwing Priest to the floor. Sami and Jey hit 1-D on Dominik, and Sami covers him for the pinfall.
Winners – The Usos
Roman tells Heyman backstage that Sami has proven him tonight but he does not want to see him until Royal Rumble.
---
JBL is backstage with Baron Corbin. They meet The Godfather and JBL tries to get Corbin into the poker game going on. Godfather says this stooge Corbin's name is on the list. JBL asks if he can talk to the man in charge here. Godfather brings out Ron Simmons who hugs JBL. Simmons asks who this stooge is. JBL introduces him to Corbin and asks if he can make a place for him at Poker. Simmons agrees and they get into the room. We see several of the current and former superstars playing poker.
Who is the Lord of Darkness?
LA Knight is in the ring and starts to talk about how Bray Wyatt brought back Firefly Fun House. He calls it Bray running on past glory while Knight himself is a future star. Knight says he is here and saw many legends backstage. He calls out any one of them if they still have it to face him tonight as he can practice for the Pitch Black match.
The Undertaker's gong hits and the arena goes dark. The crowd anticipates Taker coming out but the lights get back up quickly. American Bada## version of The Undertaker's music hits. The Undertaker comes out on his bike and gets into the ring.
LA Knight is on the floor though. Knight says he agrees with Undertaker when he called the locker room soft at Joe Rogan's podcast and it starts with Bray Wyatt. Knight then says they can create a headline that Knight to Undertaker to Undertaker. Knight says but he is gonna give him a pass now. Knight asks Undertaker to watch his Pitch Black match at Royal Rumble because after that everyone will call him the Lord of Darkness.
Knight was on the stage now as he was exiting when suddenly the lights go off. Bray Wyatt appears behind him with his lantern. Knight is startled as Wyatt's music hits. Knight runs back to the ring. The Undertaker catches Knight for a chokeslam. Wyatt is on the apron and Undertaker throws Knight to him. Wyatt hits Knight with Sister Abigail.
Undertaker and Wyatt face off before Taker gets in his ears and says something. Undertaker goes to the floor and takes his bike back to the stage. He poses on the stage one more time.
---
Baron Corbin is at a poker table with Chad Gable, Otis, DDP and Alundra Blaze. Gable folds on his turn before Otis doubles and DDT calls it. Alundra Blaze shows and she wins the hand with a full house.
Becky Lynch vs Bayley – Steel Cage Match
Kai tries to attack Becky as she was getting into the cage. Becky fights Kai, and then Sky, on the floor. Bayley slams the cage door on Becky's face when she was getting into the cage. Damage CTRL beats up Becky now. They take Becky into the ring and locks the door from the inside. Damage CTRL work on Becky inside the cage.
Adam Pearce comes out and tries to open the door. Inside the ring, Sky hits an assisted splash on Becky. Pearce brings a wirecutter to open the lock but the attack continues until then. Pearce cuts the lock and gets into the ring. Damage CTRL trio have climbed to the top of the cage by then to pose there. Pearce and other crew members check on Becky. The match is called off.
---
DX's Road Dogg, Sean Waltman, Shawn Michaels, and Triple H come out to the ring along with Kurt Angle. Road Dogg starts DX's skit. He stops in the middle when he spots Kurt Angle. Dogg asks Kurt what he is doing here. Kurt replies that he always wanted to be in DX and reveals his DX shirt. Michaels says Kurt has to pass a test if he wants to be in DX. Triple H resumes the skit for the sold-out thousands in attendance and millions watching around the world.
Imperium's music hits interrupt DX. Intercontinental Champion Gunther comes out with Ludwig Kaiser and Giovanni Vinci. Gunther slams DX to make a mockery of the sports and they are here to kick them out of the ring, unless somebody wants to do something about it.
Triple H gets in Gunther's face but he gets back and says he is retired. Michaels say he is too old. Waltman says he is not good and Road Dogg straight up refuses to fight Gunther. DX discuss among themselves and say Kurt Angle can fight Gunther, but Angle refuses right away. Triple H wonders if there is someone backstage who can fight Imperium.
Seth Rollins' music hits and he comes out. Waltman says Rollins is one while Imperium are three. The Street Profits' music hits and they come out. Road Dogg asks Triple H if the match is on. Everyone now looks at Triple H to make this official. Triple H says booking stuff is difficult and wonders if there is someone who can make it official. Teddy Long comes out to the stage and announces the 6-man tag team match.
Shawn Michaels wonders if there could be someone who can keep this chaos in check. DX go to discuss again but Kurt Angle interrupts them and reveals his referee shirt.
Imperium(Gunther, Ludwig Kaiser & Giovanni Vinci) vs Seth Rollins & The Street Profits(Montez Ford & Angelo Dawkins)
Jerry Lawler has joined the commentary team. Vinci puts on a side headlock. Rollins hits a dropkick followed by some shots and a rolling elbow. Ford tags in for quick punches before Vinci puts on an arm wringer and a big blow to the back. Ford hits a shoulder tackle. Vinci hits a big clotheslines while pulling Ford away from the ropes. Kaiser tags in and hits some elbows to Ford's head.
Ford hits chops in succession and tags in Dawkins. Dawkins sends Kaiser to the corner but he comes out of the corner. Kaiser hits a big shot to drop Dawkins. Rollins and Gunther tag in. Gunther kicks to midsection and hits a big shot to Rollins' back. Rollins slips out of a powerslam. Rollins sends Gunther to the corner but he sends Rollins to the apron with a back body drop. Rollins hits a kick from the apron. He goes for a knee drop but Gunther cuts him mid-air with a big punch. We cut to a break.
Kaiser has Rollins under a chin lock as we return. Rollins gets back to his feet but Kaiser blocks a tag. Rollins nails an elbow on his opponent and hits a clothesline on Kaiser. Ford and Vinci tag in. Ford unloads with quick punches and rapid-fire chops. Vinci hits a back body drop but Ford lands on his feet and puts Vinci in an ankle lock. Dawkins does the same to Kaiser. Gunther gets in and hits a big boot on Ford to break the lock.
Gunther gets in Angle's face to do his job properly. Rollins gets into the ring to attack Gunther and sends him to the floor. Dawkins hits a suicide dive on Vinci. Ford hits a dive on Kaiser. Gunther fights Rollins in the ring again. Gunther hits a shotgun dropkick on Rollins before stacking him for a pin with a powerbomb. Rollins kicks out of the pin. Rollins lands on his feet on a German suplex. Rollins hits a superkick before resorting to an Olympic Slam.
Tags to Ford and Kaiser. Some more chaos follows and Rollins helps The Street Profits to hit Blockbuster on Kaiser. Gunther breaks the pin again. More back and forth between the two teams. Rollins hits a stomp on Vinci to get the pinfall.
Winners – Seth Rollins & The Street Profits
We see Baron Corbin winning a million-dollar hand in Poker against Ted Dibiase. Corbin and JBL celebrate but IRS comes in and takes away all the money under the pretext of tax. Dibiase laughs and says everyone has got a price.
---
Lashley says Theory can't keep his title by disqualification and he also can't be disqualified for doing what he wants to do to him in the ring. MVP comes in and wants some time alone with Lashley. MVP proposes helping Lashley and afterwards they can pop into the VIP Lounge, open some champagne and make some new friends. Lashley says he does not need MVP or Omos' help to win this match.
---
Ric Flair comes out onto the stage. He talks to the fans and says they are the ones that keep the lights shining on him. Flair then starts to talk about Charlotte Flair and says she will surpass all of his accomplishments. Ric brings out Charlotte. Charlotte heads into the ring after hugging her father.
Flair takes the mic and starts to talk about how she has become a 14-time World Champion after starting from being a Divas Champion. Flair thanks other women like Becky, Rhea, Asuka, Bayley and others, because of whom she has become the greatest women athlete of all time. Flair says she stands here as the SmackDown Women's Champion but RAW has always been her home.
RAW Women's Champion Bianca Belair comes out as her music hits. Bianca compliments Flair but says she is the RAW Women's Champion and fans tune in to watch her. Sonya Deville interrupts them and takes shots at both champions. Sonya says she ran the show for a year as she was the General Manager. So, where is her recognition? Flair says since Sonya is on RAW, why not Bianca takes care of Deville tonight? Bianca agrees.
Bianca Belair vs Sonya Deville
They start with standing switches before Bianca slams Sonya to the mat with takedown. Bianca mocks Sonya before hitting a dropkick. A shoulder block follows before Sonya slips out of a body slam and kicks to midsection. Sonya puts Bianca into the corner and hits some punches. Back and forth action leads to a roll-up from Bianca for a tw-count. Bianca hits a big boot from corner, a backbreaker and a handspring splash to get a two-count.
Sonya comes back and hits a back elbow. Bianca throws her to the floor. She hits a dropkick when Sonya returns to the apron. Bianca avoids a leg sweep on the apron but Sonya hits a front kick to send Bianca into the barricade. We cut to a break.
Bianca hits a German suplex as we return. Bianca gets her knees up on a handspring slash. Sonya hits a pump kick to get a two-count. Bianca ducks her swing and hits a KOD to get the pinfall.
Winner – Bianca Belair
Bianca takes the mic after the match and says she has not forgotten about Alexa Bliss. Bianca says Bliss can bring in Uncle Howdy or whoever, but it will not stop her from retaining the title. The screen flickers with Firefly Fun House logo and Alexa Bliss appears on the screen. Bliss says she is the biggest obstacle for Bianca, not Uncle Howdy. Bliss is actually watching in the mirror as she cuts this promo. She claims to walk out of Royal Rumble as the new champion.
---
We get another video package for Cody Rhodes where he is getting ready to return.
---
The Miz is in the ring and starts a rant about why he does not have a Miz TV segment tonight or a title match. He asks where is his recognition. Kevin Owens gets into the ring and hits him with a Stunner. Owens takes the mic and addresses Roman Reigns. KO says he might have acquitted Sami but Roman is guilty of holding the Universal title hostage for more than two years. KO promises that he will do everything he can to take the title away from Roman or he will die trying. The Miz gets up and KO hits another stunner on him.
Austin Theory(c) vs Bobby Lashley – No Disqualification Match WWE United States Championship
Lashley puts Theory to the corner and unloads with punches and stomps. Theory tries to attack him but Lashley slams him with a spinebuster. Lashley clotheslines Theory to the floor. He drives Theory into the barricade and then into the ring post. We cut to a break.
Lashley is in control as we return from the break. Theory slips out of vertical suplex. Theory hits a dropkick and a brainbuster. Theory brings in a steel chair and slams it on Lashley's back. Lashley dumps him to the apron and smashes him to the floor with a punch. Theory catches him on the apron. He brings out a table now. Lashley puts him in the Hurt Lock when he gets back to the ring. Theory slams him into the corner to break but Lashley hits a reverse STO.
Lashley throws Austin into a chair set up in the corner. Lashley sets up the table. Austin uses a fire extinguisher to spray it on Lashley. Lashley is down on the floor as we cut to another break.
Lashley hits a superplex as we return. They trade punches after this. Lashley hits a big elbow before hitting Dominator. Theory blocks a spear and gets Lashley on his shoulders. Lashley slips but Theory hits him with a mule kick. Lashley still manages to put Theory through the table with an Urinage.
Brock Lesnar's music hits and he comes out. Lesnar gets into the ring and hits Lashley with an F5. Lesnar hits an F5 on Theory and Theory gets dumped on top of Lashley. The referee counts for the pin for Theory.
Winner – Austin Theory
Brock Lesnar gets out of the ring, picks up his hat and gets back to the stage. The show goes off the air.