WWE RAW Results April 10, 2023, Live Updates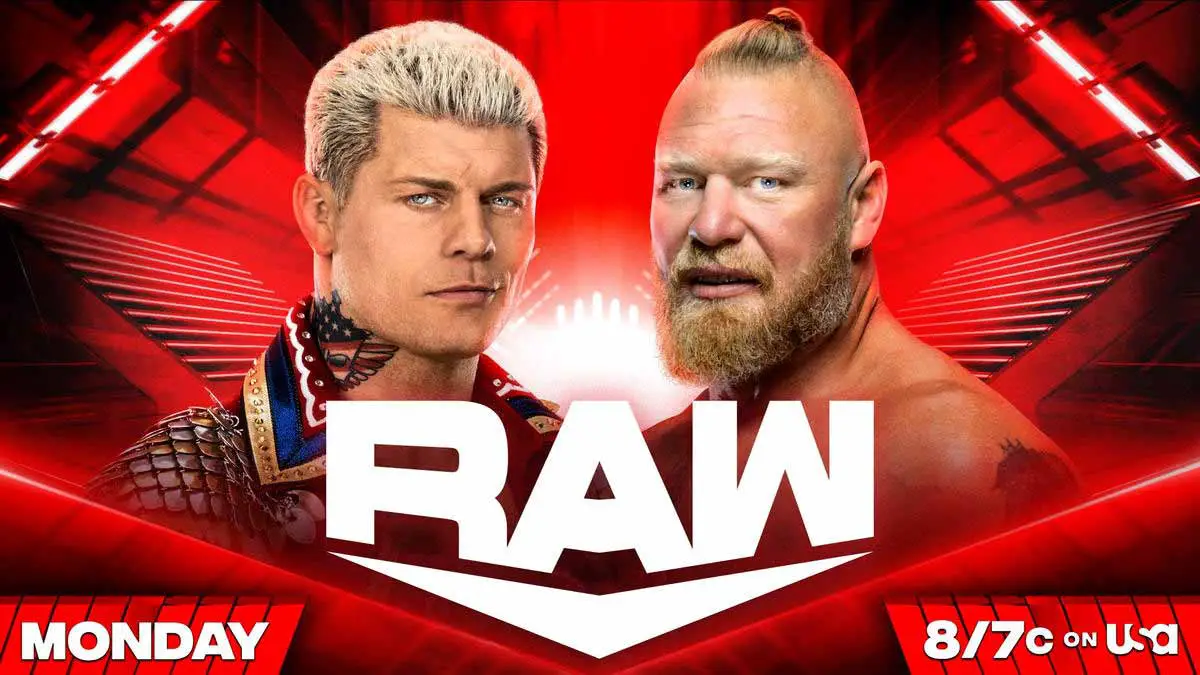 Welcome to the live results blog for WWE RAW April 10, 2023 episode which was live from Climate Pledge Arena in Seattle, WA.
Cody Rhodes was set to address Brock Lesnar attacking him last week. Would we get the exact reason behind Lesnar attacking Rhodes though? Would we see them clashing at Backlash 2023?
Becky Lynch and Lita were booked to defend WWE Women's Tag Team Championship against Raquel Rodriguez and Liv Morgan. We have seen hints towards Trish Stratus' heel turn. Did it happen this week?
Matt Riddle was set to take on The Miz in a singles match which will be his first after returning last week on RAW. He attacked Solo Sikoa on SmackDown past week. Will The Bloodline move against Riddle once again? There are a lot of rewrites as half of RAW roster has faced travel issues. How did that change this show.
Check below to find out as we post results from WWE Monday Night RAW April 10, 2023 episode with live updates, winners, highlights and complete action.
RESULTS
Finn Balor defeated. Rey Mysterio in a singles match via pinfall.
Raquel Rodriguez & Liv Morgan defeated Becky Lynch & Trish Stratus(replacing Lita)(c) in a tag team match via pinfall to win WWE Women's Tag Team Championship.
Bobby Lashley vs Bronson Reed ended in a double count-out.
The Usos(Jimmy Uso & Jey Uso) defeated Alpha Academy(Otis & Chad Gable) in a tag team match via pinfall.
Iyo Sky defeated Mia Yim and Piper Niven in a Triple Threat Match for #1 contender for WWE RAW Women's Championship via pinfall.
Solo Sikoa defeated Kevin Owen in a singles match via pinfall.
LIVE UPDATES
The commentary team announces that WWE superstar had issues getting to Seattle, but whoever is here, is ready to entertain.
Father & Son Round 2
Rey Mysterio makes his entrance. Rey Mysterio takes the mic and says he has to get some things off his chest. He says last week should have been the best week of his life. He went into WWE Hall of Fame and on top of that, he compete at WrestleMania. But, he ended up facing his own son. He tells Dominik that he wanted things to be different.
Dominik comes out to the stage and tells his father to keep his name out of his mouth. He is sick and tired of hearing what Rey wants. Dominik says Rey never cared about him and so, he is better with his new family, Judgment Day. Rey says Judgment Day is just using him. Dominik says Rey just needs what he wants just like Bad Bunny. Rey is using Bad Bunny just like he used Dominik.
Dominik takes us to a video package for Rey's match against Dominik and then against Austin Theory in last week and how Bad Bunny was involved in it. Dominik says he hopes Bunny keeps his nose out of his business. Rey says he spoke to Bunny last night and Judgment Day is gonna regret what they did it to him. Dominik says Judgment Day fears no one.
Rey says Dominik talks big game with his loud mouth. So, he challenges Dominik for a WrestleMania rematch. Dominik says he does not want to fight his own father but he knows who will. Finn Balor's new remixed entrance theme hits and he comes out.
Rey Mysterio vs Finn Balor
Balor starts with punches to midsection and some chops. He hits shoulder tackles in the corner and goes to the second rope to unload with punches. Rey turns it around and unloads with punches of his own. Balor goes for a sunset flip but Rey rolls over and hits a dropkick. Rey hits a hurricanrana. Balor hits back with inverted DDT with an elbow drop.
Balor stomps on Rey a few times near the ropes. Balor says he is doing this for Dominik as he works on Rey near the ropes. Balor hits a chop before whipping Rey to the ropes and hitting him with a back elbow. Balor puts on a side headlock. Rey gets to his feet but Balor puts him down quickly. He chokes Rey on the ropes. Rey hits back with a knee and a hurricanrana to send Balor to the floor. Rey hits a basement slide splash on the floor. We cut to a break.
Rey hits a big boot in the corner and a bulldog to make a comeback. Rey hits some punches before Balor sends him to the apron. Rey hits back with punches and hits a springboard crossbody to get a two-count. Finn hits a kick to midsection. Rey hits a low dropkick to set up 619. Balor gets back to his feet and hits a clothesline. Balor hits a shotgun dropkick and goes to the top. Rey quickly gets up as well and hits punches and several headbutts. Rey hits a hurricanrana from the top rope to get a two-count.
Rey sets up and hits 619. He goes to the top but Balor gets his knees up on a frog splash and rolls up Rey for a two-count. Rey hits punches and an enzuigiri. Balor sends him into the turnbuckle with a back body drop. Balor distracts the referee and Dominik attempts to punch him with a chain. Rey blocks him and drops him off the apron. Rey sends Balor to the floor and hits a dive on both of them. Rey slams Balor's face on the announce table a few times. Dominik runs over Rey with the chain. Balor hits Coupe de Grace to get the pinfall.
Winner – Finn Balor
The commentary team takes us backstage where Otis and Chad Gable were interviewed earlier today. Maxinne Dupri comes in and starts to argue with Gable. We cut to a commotion near the interview. Liv Morgan and Raquel Rodriguez are checking on Lita as she is down on the floor. They call for the crew to come in and check on her. Lita's tag team partner Becky Lynch and Trish Stratus come in. Liv tells them that they found Lita here like this. Becky argues that it is too comfortable for them say this when they have a title match later tonight.
---
We get a video package of Cody Rhodes losing to Roman Reigns at WrestleMania after Solo Sikoa attacked him. We also see the recap of Brock Lesnar joining Cody for a tag team match and then attacking him. The commentary team says that they have not heard from Brock Lesnar when asked for a comment. They speculate that Brock was upset at the placement of his match. Things will unfold in coming weeks.
---
Becky says that Lita is taken to hospital and she has a pretty good idea who might have attacked Lita, and she will smack their face off their heads. But, tonight she promised a title match and she will deliver. Trish Stratus walks in and says she will replace Lita tonight. Adam Pearce is just behind them and agrees that it is a just replacement.
Becky Lynch & Trish Stratus(replacing Lita)(c) vs Raquel Rodriguez & Liv Morgan – WWE Women's Tag Team Championship
Becky starts against Raquel with punches. Raquel goes for a double-handed chokeslam but Becky counters with some shots. Raquel catches Beckys' crossbody and slams her to the corner. Liv tags in and Raquel whips her into Becky in the corner. Liv hits a splash in the corner. Becky counters with an inside cradle but Liv hits rising knee in the corner before another knee strike to the back of Becky's head. Liv hits a double stomp on Becky to get a two-count.
Becky fires back with punches before she tags in Trish. Liv ducks Trish's clothesline and knocks Becky off the apron. Trish is able to bring her down in the second attempt. Becky gets a blind tag and the referee asks Trish to get out of the ring. Becky hits a leg drop on Liv to get a two-count and take us to a break.
Trish has Liv under control with a chinlock. Liv breaks free before both women drop each other with bulldogs. Becky and Raquel get the tags. Raquel drops Becky with three clothesline in quick succession before hitting a fall away slam and twisting splash. Becky kicks out of the pin easily though. Becky counters with hurricanrana. She lands a forearm from the apron before missile dropkick to get a two-count. Raquel drops Becky's face on the ropes. She takes Becky to the top where they fight for a while.
Becky hits several headbutts to take Raquel under control. Trish is tagged in and they attempt double superplex. Raquel fights back and sends Becky back down. Trish manages to hit her with a hurricanrana from the top rope. Becky tags in and hits uppercuts and a leg drop on the ropes to get a two-count. Raquel comes back with a backbreaker. She tags in Liv and helps her to hit a tornado DDT. Becky kicks out of pin attempts in quick succession. Liv goes for a move but Becky counters to send her face-first into the turnbuckle. Becky and Trish attempt a double superplex on Liv but Raquel comes in to complete a Tower of Doom and slams her opponents down to the mat.
Becky knocks off Raquel off the apron to stop a tag out. They trade shots before Becky hits a clothesline. Becky goes to the top. Raquel and Trish come in. Raquel pushes Trish away but Becky hits Raquel with Diamond Dust and drops on Liv to get a two-count. Becky goes for an armbar. Raquel breaks it. Trish hits Raquel with Stratusfaction. Liv hits Becky with an upkick. Becky counters and hits the Manhandle Slam. Raquel breaks the pin once again. Trish tags in but misses the chick kick. Liv rolls her up and gets the pinfall.
Winners – Liv Morgan & Raquel Rodrigeuz
After the match, Liv and Raquel celebrate their title win and exit quickly. Becky raises Trish's hands and console her. Becky was leaving when Trish attacks her from behind. Trish then drops Becky with a chick kick.
---
Heyman says he does not know anything about Brock Lesnar from last night. Heyman shifts quickly to Kevin Owens vs Solo Sikoa and says KO has a problem tonight because Sami Zayn and Matt Riddle are not here tonight due to flight delays. Heyman infers and says Sami and Riddle might have opted for a later flight since they were up against Solo. He says Owens is about to face a capable Samoan in Solo Sikoa while he is just on his one leg.
---
We see a recap of Trish turning on Becky. We now cut to Triple H announcing WWE Draft coming soon.
Dakota Kai and Iyo Sky are outside Adam Pearce's office. Bayley comes out and says she went to talk to Pearce about their title shot, but Pearce has instead put her in a triple threat match against Piper Niven and Mia Yim for #1 contender. Bayley says she can have more leverage as the champion later. Kai and Sky ask what about them. Sky goes on to say that she has had her opportunity already. Bayley says she will ask Pearce if any of them can take her place in the match.
Bronson Reed vs Bobby Lashley
Lashley starts with shots at Reed. He corners Reed to hit kicks to midsection and more punches. Reed fires back with his own punches. Lashley hits a clotheslines to drop Reed. He hits more shots. Lashley goes for a suplex but Reed blocks it and kicks at his feet. Lashley goes for a suplex again but Reed drops him on the ropes. They go back and forth with strikes while Lashley is on the apron. Reed is able to knock Lashley off the apron and then hits a shoulder tackle off the apron to drop Lashley. Lashley is struggling on the floor. We cut to a break.
Lashley is in control as we return. Reed hits a big boot to drop him. Reed unloads with quick shots in the corner. Reed misses a corner splash and Lashley follows it with a clotheslines and running tackle in the corner. Lashley counters a shot and hits a neckbreaker. He goes on to hit Reed with a suplex. Lashley looks for the Hurt Lock but Reed makes it difficult for him to lock his finger. Reed throws his body weight on Lashley to break free. Reed goes to the top but Lashley gets up quickly.
Reed rakes his eyes and hits a Thesz press off the top. Reed goes for a powerbomb but Lashley counters. Reed hits a knee strike before Lashley counters with a spinebuster. Lashley puts on the Hurt lock now. Reed goes towards the ropes and they both land on the floor. Lashley hits a clothesline to drop Reed. The referee starts a countdown. Reed avoids getting rammed into the ring post and sends Lashley into it instead. The referee counts them out.
Result – Double Count-Out
After the bell, Reed and Lashley start to brawl with punches at each other. Officials separate them but Lashley charges and attacks Reed once again. The officials separate them once again.
Cody Speaks
Cody says he has a singular focus since coming back. First, it was Seth Rollins, then it was his torn pec and then it was about completing his story. But, he lost at WrestleMania 39. He says he did not make adjustments not only for Roman Reigns but also for the fact that Roman can go to any length to hold onto his titles. Cody says he heard many things this past week but two things stand apart.
His friend Matt says being in WrestleMania main event is in itself is enough, and wins and losses does not matter at this point in his career. But in Cody's opinion, they do matter and what is the point of it all if they do not matter. Paul Heyman has said that Cody still has to earn it. Cody takes the offense on it and recaps his career quickly to claim that he is not just earned it, but he is it.
But now, his unfinished tale has a whole new wrinkle to it. Cody asks what is more embrassing than what has happened at WrestleMania. It was trusting in a beast and being backstabbed by him. Cody asks if anyone knows the reason why Lesnar attacked him. Cody says his theory is that Lesnar is unsure about him, his star power and the changes he has brought in WWE which will directly affect him. Cody says Brock is unsure and that is the reason why Brock waited until he has turned his back on him.
Cody goes on to list all of Brock's famous victims and wonders if Brock also sees him as a victim. He says he will not lie and he is afraid of Brock but he will still fight Brock. Cody says for the first time in his life Brock will face a prey. He adds that Brock is not here tonight. So, he challenges Brock for Backlash. He tells Brock to answer the call.
The Usos(Jimmy Uso & Jey Uso) vs Alpha Academy(Otis & Chad Gable)
Otis starts on the front foot against Jey and pushes him back to pose in the middle. Jey goes for a waistlock. Otis is unaffected by it. Otis shakes his body to break free of Jey. Jey goes for a sunset flip but Otis keeps his footing and drags to the ropes. Otis hits a big shot. Gable tags in and Otis runs Jey over with a tackle. Jimmy tags in and Gable hits him with chops. Jimmy hits back with uppercuts as Gable goes to the top.
Gable knocks him back and hits a flying clothesline to get a two-count. Gable hits several punches. He keeps on toying with Jimmy and hits several forearm strikes. Jimmy hits a backbreaker on Gable before Jey hits a splash on him. Jey knocks Otis off the apron. The Usos are in control as we cut to a break.
The Usos are in control against Gable as we return. Gable cuts off a charge from Jeyand hits an exploder. Otis and Jimmy get the tags. Otis hits tackles on Jimmy before body slams on both The Usos. He knocks them both down. Jey tags in and Gable hits a body slam on him to get a two-count. Otis hits a corner splash now. Otis continues to showboat and rips apart his shirt. He goes on and hits the Caterpillar.
Gable tags in and hits double team move on Jey. Jimmy breaks the pin. Otis is sent to the floor with a low bridge. He is hit with suicide dives and superkick before being slammed into the announce table. Gable hits a senton on The Usos on the floor. He brings Jimmy into the ring and hits a diving headbutt for a near fall. Jey tags in and the Usos double team to hit 1-D to get the pinfall.
Winners – The Usos
Mia Yim vs Piper Niven vs Iyo Sky – Triple Threat Match for #1 contender for WWE RAW Women's Championship
Piper tackles Iyo down. Mia tries to fight her but Piper keeps her footing on a sunset flip. Mia keeps on unloading. Piper gets her up for a body slam but Mia fights out of it. Iyo hits a missile dropkick on Piper to send her to the floor. Mia hits Iyo with an armdrag. Mia hits some chops. Iyo whips her to the ropes but Mia turns it into a suicide dive on Piper on the floor. Iyo hits moonsault on both opponents on the floor. We cut to a break.
Piper hits a body slam on Mia. Iyo jumps on her back and puts on a sleeper choke. Piper drops Iyo on top of Mia and then hits a low crossbody on both of them. Iyo hits a boot from the top and puts on cross arm submission using the ropes. Mia breaks the submission with a kick. Mia takes Iyo to the top.
Iyo hits a hurricanrana on Mia. Iyo screams for the crowd. She hits an enzuigiri from the apron before a missile dropkick on Piper. Mia drops Iyo. She hits kicks on both opponents before a dragon suplex on Iyo. Piper hits Iyo with an Urinage. Mia drops Iyo to the mat and avoids an elbow drop from Piper which lands on Iyo. Mia hits Pop-Rox on Piper to get a near fall. Piper slams Mia to the mat but Iyo hits an Over the Moonsault on both of them and pins Mia.
Winner – Iyo Sky
Kevin Owens vs Solo Sikoa
Owens starts with quick shots. Solo targets Owens' knees. He continues to kick and stomp at KO's knees. KO tries to fight back with more punches. Solo runs him over with a back elbow. Solo sends KO to the floor. KO takes a shot at Jey Uso on the floor. Solo slaps KO before KO counters a whip to send Solo into the steel steps. KO hits a senton on Solo back in the ring. Solo blocks a suplex and goes for an Urinage. KO avoids it but he lands on his bad knee. Solo sets up and hits a hip attack in the corner. We cut to a break.
Solo is still working on Owens' leg. KO tries to kick him away but Solo slams the leg into the mat. Solo gets him up on the shoulders. KO hits him with elbows to block Samoan Drop and hits a DDT himself. They trade forearm shots. Solo hits a headbutt. Owens hits a big boot. Solo misses in the corner. Owens hits superkicks but his leg gives out when he goes for a cannonball. Solo nails him with a superkick to get a two-count.
Solo puts KO on the top rope. KO hits back with elbows to drop him back to the mat. KO hits a frog splash to get a two-count but has also agravatted his injury. Solo blocks a stunner and hits a Samoan drop. Solo goes to the top but KO shakes the ropes to bring him down on the turnbuckle. KO hits an enzuigiri. He goes for a superplex but Solo blocks it. They fight on the top for a while. KO hits headbutts but Solo is quick to counter to send KO back to the mat. KO pulls Solo and slams him to the mat.
KO goes to the top but Jimmy brings him back down as the referee was distracted by Jey. KO fights off Jimmy and Jey. Owens hits a Swanton bomb but Solo kicks out of the pin. Owens hits a pop-up powerbomb but his knee gives up again. Another distraction leads to Jey hitting KO with a superkick. Solo finishes off the match with a Samoan Spike to get the pinfall.
Winner – Solo Sikoa
After the match, the Usos continue to beat up Owens. We see Matt Riddle and Sami Zayn running backstage. They come in and fight The Usos on the floor. They get into the ring and work on Solo together. Solo rolls to the floor. Jey Uso gets into the ring but Sami and Riddle remain in control. Jimmy saves Jey from a Helluva kick. Solo pulls them out ot the floor. The Bloodline is on the ramp. KO, Sami and Riddle stand tall in the ring to close the show.