WWE RAW Live Results- 7 June 2021: Contract Signing, Tag Team Battle Royal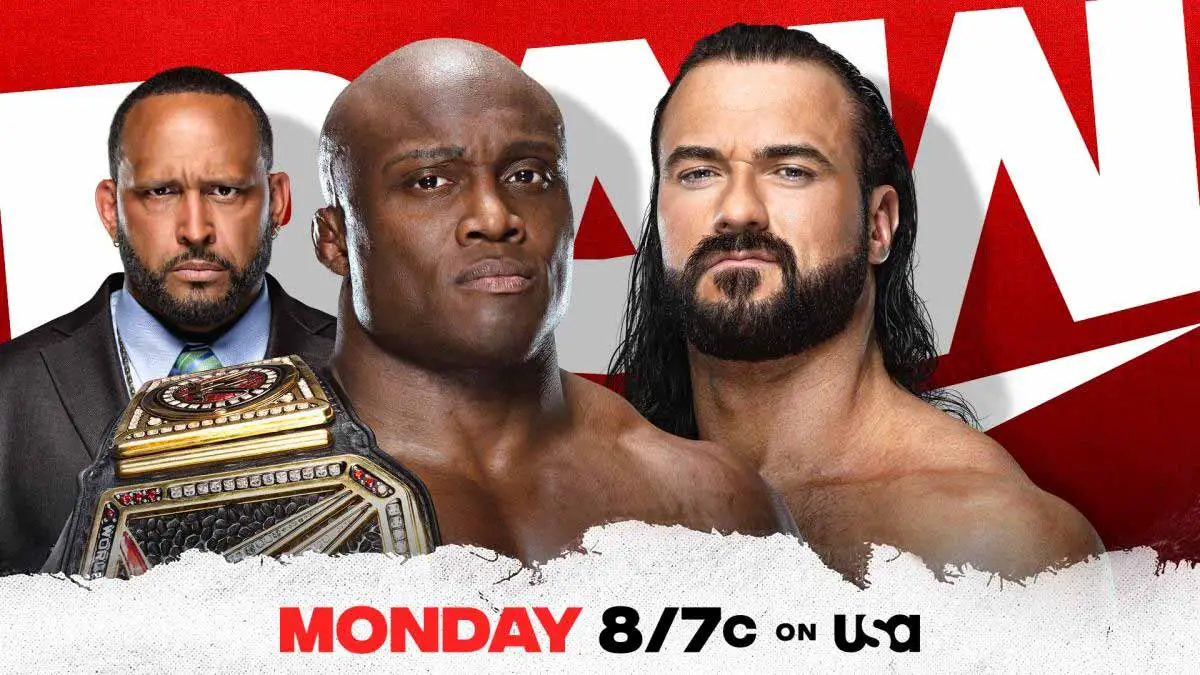 WWE RAW episode of 7 June will feature a contract signing segment between WWE Champion Bobby Lashley and Drew McIntyre for their title match at Hell in a Cell 2021 PPV. A tag team Battle Royal for the next title challenger and Shayna Baszler's visit to Alexa's Playground is also advertised. You can check the detailed preview for this episode here.
Join us as we bring the live results, updates, winners and highlights from WWE RAW 7 June 2021 episode.
Event Name – WWE Monday Night RAW
Date – 7 June 2021
Location – Yuengling Center, Tampa, FL, US
Time – 8 PM EST(18 June 2021 12 AM GMT/5:30 AM IST)
WWE RAW 7 June 2021 Quick Results
The Viking Raiders defeated RK-Bro, T-Bar & Mace, New Day, Lucha House Party & John Morrison in Tag Team Battle Royal to become new #1 Contenders for RAW Tag Team Championship.
Jaxson Ryker defeated Elias in a singles match via count-out.
Ricochet vs Humberto Carrillo ended in a double count-out.
Jeff Hardy defeated Cedric Alexander in a singles match via pinfall.
Nikki Cross & Asuka defeated Rhea Ripley & Charlotte Flair in a tag team match via pinfall.
Mansoor defeated Drew Gulak in a singles match via pinfall.
Kofi Kingston defeated Riddle in a singles match via pinfall.
State of Tag Team Address
Randy Orton's music opens the show. The commentators plug Hell in a Cell PPV. All the participants of the Tag Team Battle Royal are in the ring. Randy Orton and Riddle make their way to the ring as others stare at them. The match was about to start when AJ Styles' music hits and he comes out with Omos. Styles gets the mic on the stage and thanks everyone in the ring for coming out for the State of Tag Team Address.
Styles says WWE will be touring again from next week and they will love to defend their titles in front of the fans. Styles mocks each and every one of the teams in the ring starting from New Day, T-Bar & Mace, Lince Dorado(who is out alone as Gran Metalik got injured), and The Viking Raiders before finally coming to RK-Bro.
Kofi starts to mock AJ & Omos and tells them they are not yet a registered tag team. AJ tells them that they do not need papers to be registered and their titles are enough. Randy Orton also adds some insults before Riddle goes on a hyperbole. Randy keeps getting frustrated with Riddle and cuts off his promo. John Morrison and The Miz come out and Miz says the tag team division has become stale. Morrison decides take part in the match.
Randy & Riddle hits RKOs on Kofi and Xavier Woods. Randy also hits the RKO on Lince Dorado. Other teams are circling Riddle and Randy as we cut to a break.
We return to see WWE Champion Bobby Lashley partying backstage with MVP and some of his girl friends. The commentators plug the contract signing later today.
RK-Bro vs T-Bar & Mace vs The Viking Raiders vs New Day vs Lucha House Party – Tag Team Battle Royal for #1 Contender for RAW Tag Team Championship
The bell rings and all the teams go at it. Morrison was left alone as other brawl. Morrison goes to throw Lince Dorado over the ropes but he lands on the ropes. Morrison and Dorado continue to battle near the ropes and Morrison ends up clotheslining Dorado over the ring to eliminiate him. T-Bar and Mace face-off with Morrison. Miz throws the drip stick to Morrison and Morrison sprays water at T-bar & Mace. T-Bar and Mace eliminate Morrison with a chokeslam.
T-Bar and Mace attack Riddle and Orton. T-Bar throws Riddle with a tilt-a-whirl while Mace beats up Randy in the corner. New Day attack them but they take care of them easily. They get Randy in double chokeslam and try to eliminate him. Riddle makes the save and they hit him with a double chokeslam. They face off with The Viking Raiders now. New Day joins The Viking Raiders in attacking T-Bar & Mace and ends up eliminating the. New Day, RK-Bro and Vikings are the three teams left in the ring as we cut to the break.
Back and forth action continue between the three teams as we return. The Viking Raiders double team on Riddle and drops him on the mat. Riddle is thrown out of the ring now. New Day attacks Vikings and manages to take upper hand over Ivar. Erik clotheslines Woods out of the ring.
Kofi manages to avoid a double team attack and Vikings are down. Kofi was going for Trouble in Paradise on Randy but Riddle comes into the ring and takes the move himself. Randy throws out Kofi but immediately gets thrown out. The Viking Raiders win the match.
Winners – The Viking Raiders(new contenders for RAW Tag Team Titles)
The Viking Raiders celebrate in the ring after the match. AJ & Omos argue with the commentators for a while.
We cut to backstage where Charlotte Flair interrupts Adam Pearce and Sonya Deville. Charlotte wants the match against Nikki Cross struck down from her record as she was pressured into the match. Sonya says she agreed to the match willingly and lost. So, it will not be struck down. Charlotte asks for a rematch with Nikki. RAW Women's Champion Rhea Ripley enters the scene and also asks for a match against Nikki. Sonya & Adam announce a tag team match with Rhea & Charlotte vs Nikki and a partner of her choosing.
The commentators takes us to a video of Alexa Bliss as she talks about her playground and Lilly. Shayna Baszler will be the special guest on Alexa's Playground tonight.
The Viking Raiders are backstage and are hyping their title shot against AJ & Omos. The Vikings are getting ready to eat Turkey legs. AJ Styles and Omos walk in. Omos is also eating a turkey leg. AJ says he doesn't know much about Vikings and takes a shot at Raiders, asking if Erik and Ivar are wannabes. Two teams argue with each other for a while. AJ & Omos leave The Vikings seething.
Elias vs Jaxson Ryker
Elias is in the ring with his guitar. Elias introduces himself and says there will not be any other introduction. Elias says he and Jaxson Ryker could have become the tag team champions but Ryker become unhinged and lost his sanity, so he had to abandon him. We get the replay of Elias leaving Ryker alone in the match against AJ & Omos last week. Elias says he saw a man going into the battle but he did not see him going to war for him. Elias continues with the promo until Jaxson Ryker attacks him from behind. Ryker throws out Elias' guitar and unloads on him until the referees come out to separate them.
The referee checks on Elias before calling for the bell. Elias is selling a rib injury. Ryker drops Elias to start. Ryker unloads on Elias in the corner. Elias slips out of the ring. Ryker brings him back and hits more blows before clotheslining him over the ropes. Elias manages to turn it around and send Ryker into the steel steps. Elias with more attack in the ring. Elias stops an attack from Ryker with a big spinebuster. Elias hits some punches. Ryker tries to fight back but Elias hits an inverted atomic drop. Ryker comes back with a chokeslam. Elias slips out of the ring and decides to run away. The referee starts to count to 10 and Ryker wins via count-out.
Winner – Jaxson Ryker
Ryker is still mad after the win as Elias has run away.
Contract Signing Segment for Hell in a Cell
The commentators takes us to the replay from Drew McIntyre vs Kofi Kingston match from last week. Drew McIntyre makes his entrance for the contract signing. Drew is in is ring gear. So, expect a match to follow this segment.
Adam Pearce and Sonya Deville are in the ring after the break with Drew McIntyre. The table is set for the contract signing. Sonya announces Bobby Lashley to come out. Lashley's music hits but he does not come out. Drew says he knew this would happen and also knows how it would have gone down with Lashley coming out with MPV and his entrouge. Drew goes on to narrate a story regarding a king of Scotland who lost his kingdom twice but fought back against the odds to win Scotland their freedom.
Drew goes on and asks Sonya & Pearce to make the match official. MVP interrupts from the big screen and says WWE Champion is fashionably late. Lashley makes his entrance with his ladies and MVP. MVP tells Adam Pearce that Lashley complied with his dictat last week and did not interfere in the match. But what will Lashley get for his compliance. Lashley wants that the match at Hell in a Cell be Drew's last title shot against Lashley. Drew agrees but adds that the match should be inside Hell in a Cell cage.
Lashley agrees and Sonya Deville adds both stipulations to the contract. Both Drew and Lashley sign the contract. As both men get up, Drew smacks the table in half with his sword. Lashley gets enraged and shows off his title as he has a face-off with Drew.
Sarah Schreiber is backstage with Nikki Cross. Nikki talks about her recent wins over Rhea and Charlotte. Sarah asks her about her tag team partner for tonight. Nikki hypes her new tag partner and reveals that it will be Asuka. Asuka walks in and get hyped up with Nikki.
Humberto Carrillo vs Ricochet
Sheamus makes his way to the commentary table. He has face shield on. We get the replay of how his nose was busted open in the match against Humberto Carrillo last week and some pics of his treatment at the hospital.
Ricochet and Humberto Carrillo make their separate entrances. Before the bell rings, Sheamus takes the mic and asks why do these two losers deserve a title shot. He also tells us that doctors have asked him to avoid getting hurt in his face. Carrillo fiends an attack and Sheamus gets scared to avoid getting hit in the face. Ricochet also teases a move on Sheamus but then does his backflip from the ropes. Ricochet attacks Carrillo from behind and hits a dropkick from behind on the floor. We cut to a break.
After the break, the match has already started and Ricochet is unloading in the corner. The match is for #1 contender for US title. Ricochet whips Carrillo corner to corner and hits a clothesline and bodyslam to get a two-count. Carrillo counters a suplex and hits a springboard crossbody for a two-count. Both men counter each other and Carrillo hits a sitout powerbomb for another two-count. Carrillo whips Ricochet to the corner and unloads. Ricochet sends him to the apron with a back body drop. Carrillo also brings him to the apron. Carrillo drops Ricochet to the floor with a roundhouse kick and hits a suicide dive.
Carrillo brings it back to the ring to hit a missile dropkick for another two-count. Carrillo hits a body slam but misses a senton. Ricochet hits a German suplex into a pin for a two-count. Ricochet gets him in Fireman's carry. Carrillo counters and they both end up on the apron again. They trade strikes on the apron. Ricochet hits a spanish from the apron to the floor. The referee checks on both of them quickly and gets back to the ring to count. Both men try to get to the ring but gets counted out.
Result – Draw
Sheamus says their performance is shameful and leaves while Ricochet and Carrillo recover on the floor.
The New Day is backstage heading into their locker room when MVP stops Kofi Kingston. Kofi tells Xavier Woods to go ahead. MVP talks about Kofi's fan and remembers how he was crying when he saw Kofi celebrate the WWE title with his sons. But then, KofiMania just ended and because Kofi isn't like Bobby Lashley. MVP talks about how Kofi shook Drew McIntyre's hand after the match last like he enjoyed being a loser. Kofi tells MVP that he doesn't need his advice and he do this for inspiring others who are watching him. Kofi asks him if Lashley does this for money. MVP says Lashley does this for the WWE Title and everything that comes with it. We cut to another break.
Back from the break and we get another teaser vignette for Eva Marie's return. Eva tells us that Eva-Lution comes to WWE RAW next Monday.
Mustafa Ali walks to Mansoor as he was warming up backstage. Ali says he heard Mansoor has a match with Drew Gulak and asks him if he is ready. Mansoor says he is ready. Ali says Mansoor is ready for a fair & square match, but what happens when Gulak starts cheating. Ali tells him that not everyone play by the rules. Ali walks off.
Jeff Hardy vs Cedric Alexander
They lock up and Cedric decks Hardy to start. Hardy turns it around on the corner and slams him into the turnbuckle from corner to corner. Hardy with a double ax handle from the second rope. Cedric catches a kick and hits a dropkick to get a two-count. Cedric keeps Haryd grounded for a while. Cedric with some chops, a takedown, and a kick at the back of the head of Hardy. Hardy hits elbows to the ribs but Cedric slams him to the mat again.
Hardy with more elbows to the ribs and gets to his feet to hit some chops. Cedric cuts him off with another dropkick. Cedric toys with Hardy and kicks at his face. Cedric puts on a chinlock. Hardy takes some shots in the midsection now. Cedric replies with a kick. Hardy hits a hurricanrana, inverted atomic drop and STO to get a two-count. Cedric counters as Hardy goes for the Twist of Fate. Cedric hits a low dropkick and a suplex for a two-count.
Cedric gets to the top and waits for Hardy to get up. Cedric mocks Hardy with Hardy's war cry. Hardy counters with a kick and Twist of Fate. Hardy hits Swanton bomb to get the win.
Winner -Jeff Hardy
Rhea Ripley is backstage warming up when Charlotte Flair comes and suggests her to follow her lead since she is the more experienced professional. Ripley says she'll be glad to follow Flair in two weeks, straight to Hell. Ripley says in the meantime, her title makes up for Flair's experience, so Flair will follow her lead. Ripley walks off and Flair shakes her head.
Nikki Cross & Asuka vs Rhea Ripley & Charlotte Flair
Nikki and Charlotte start but Charlotte wants Rhea to take on Nikki. Rhea tags in and locks up with Nikki. Rhea drops Nikki to the floor but Nikki catches her with a roll-up as she showboats in front of Charlotte. Asuka tags in now. They go back and forth without getting anywhere. Rhea drops Asuka a big boot. Asuka counters with an armbar attempt but Rhea overpowers her to drop her to the mat again. Charlotte takes the blind tag and Rhea comes off the ropes with a shoulder tackle.
Asuka gets the upper hand and tags in and out with Nikki to keep pressure on Charlotte. Asuka sends Charlotte to the ropes, which gave Rhea the chance to tag back in. Asuka kicks at Flair, but Flair moves away from a hip attack to send Asuka into Rhea at the apron. Rhea gets dropped to the floor. Flair goes to Rhea to the floor to send her back in the ring as the referee continues to count. But Rhea tells her to leave her alone. Flair hits her with a big forearm to drop her as we go to a break.
After the break, we see Nikki keeping Rhea in a headlock. Nikki with a takedown on Rhea. Rhea whips her to the corner but Nikki continues to keep up with the attack from the apron. Rhea drops Nikki and unloads in the corner. Rhea gets her on the shoulders and drops her to the mat again. Flair takes the blind tag and comes into the ring. Flair with some knee to the back. Nikki tries to stop a clothesline but Flair was ready for it.
Cross hits Charlotte with a Jawbreaker. Flair ducks an enziguri and misses a cheap shot to Asuka on the apron. Flair scoops Cross and uses her to knock Rhea off the apron. Flair charges at Nikki but misses and crashes into the turnbuckles. Ripley tags in but Nikki gets away to tag in Asuka. Asuka unloads on Ripley. She knocks Flair off the apron with a Hip Attack.
Asuka with a big boot and double knees to Rhea's face. Flair holds Asuka's legs from the floor and hits Northern Lights suplex. Asuka with a big German suplex and a Hip Attack for a two-count. Cross tags in and hits a crossbody on Rhea. Flair breaks the pin and tosses Cross to the floor. Flair yells at Rhea for almost losing the match. Rhea and Flair starts brawling in the ring. Ripley goes for a Riptide but Flair counters and chop blocks the knee. Charlotte nits Natural Selection on Rhea and Cross takes advantage to get the pin to win.
Winners – Nikki Cross & Asuka
Alexa Bliss is with her doll Lilly backstage on her swing. She talks about how Shayna Baszler said Lilly was just a stupid doll. Alexa laughs as she promises that when Shayna comes to play with them, it will be a real scream.
Mansoor vs Drew Gulak
Mansoor starts with an armdrag. Mansoor goes for an armtwist. Gulak hits a shoulder block but misses an elbow drop. Mansoor hits an arm drag and puts on an armbar briefly. Gulak explodes out of the corner and drops Mansoor. Gulak drops him on the ropes now. Gulak goes for a single-leg crab and puts the pressure on Mansoor's neck. Mansoor gets back to his feet and they go back and forth. Gulak tries a couple of different pin attempts. Mansoor reverses a cradle and gets the pin out of nowhere.
Winner – Mansoor
Riddle is backstage sitting quietly. Orton comes and gives him the keys to unzip his mouth. Riddle goes on his promo talking random things and his match against Kofi Kingston. Orton signals him to shut up. Riddle goes to zip his mouth but asks Randy if he would come out with him for his match. Randy says he is not sure yet. Riddle zips his mouth and gives the keys back to Randy. Randy throws the imaginary keys in the dustbin. Riddle leaves on his scooter in anger.
Riddle vs Kofi Kingston
Kofi starts strong as he whips Riddle to the corner and splashes him. Kofi with a dropkick and a standing splash to get a two-count. Riddle hits gutwrench suplexes back to back to get a two-count of his own. Woods causes a distraction by blowing his horn. Kofi hits a headbutt and corners Riddle to hit a big chop. Randy Orton's music hits and Riddle corners Kofi. Kofi fights back and drops Riddle. Orton is going after Woods, but Kofi cuts him off with a dropkick from the ring.
Kofi sends Orton out of the ring now where Woods was standing. Woods gets into an argument with Riddle. Orton comes from behind and tries to drop Woods onto the announce table. Kofi hits a suicide dive to bring everyone down at the ringside. We cut to a break.
Riddle hits an exploder suplex as we return. Kofi counters another suplex but Kofi botches a headscissor. Kofi hits Riddle with a boom drop and a splash from the ropes. Kofi goes to the ropes and Riddle tries to deadlift him from there. Kofi catches the ropes to avoid a move. Kofi goes to the top and Riddle follows him. Kofi stops a superplex. Riddle goes to the top again and Kofi drops him again and hits a leg drop to the back of his head to get another two-count.
Riddle brings Kofi out with headscissors at the ropes. Kofi gets back to the apron. Riddle misses a knee strikes but lands a forearm to drop Kofi to the floor again. Riddle goes to the floor to attack Kofi. Kofi tries to turn it around but Riddle catches him for a draping DDT from the ropes. Randy tells Riddle to go for the RKO. Riddle mimics Randy and goes for the RKO. Kofi counters but Riddle also ducks Trouble in Paradise. Riddle goes for the Bro-derek but Kofi counters again and hits Trouble in Paradise to get the pin.
Winner – Kofi Kingston
We see the replay of Shayna Baszler losing to Reginald after some pyro mishap and then beating Reginald in Alexa's playground, before calling Lilly a stupid doll. Shayna is backstage now and Nia Jax walks up to her. Nia says things are tense between them. Shayna blames it on Alexa and Nia's attention on Reginald. Nia says Reginald is recovering from the beat down from last week. Jax says she came to offer help to Baszler as she has known Bliss for a long time and this is the most dangerous she has been. Jax says Bliss likely has something planned tonight. Baszler isn't afraid of a little blonde girl with some doll. Baszler goes on and says Jax might want to help her old friend tonight as Baszler shows Bliss what happens when you cross The Queen of Spades. Baszler walks off as we go back to commercial.
Shayna Baszler visits Alexa's Playground
Alexa Bliss's playground is setup in the ring. Alexa says usually this is a place for friends but tonight will be different. But she might have a new after tonight. Shayna Baszler's music cuts her off. Baszler marches into the ring and drops the rocking horse before sitting in the swing. Alexa says Baszler should apologize to Lilly for her hurtful comments last week. Baszler says Alexa is even more dillusional than she looks.
Baszler says Alexa is the reason behind Reginald's accidents and Nia and Baszler losing tag team titles. Alexa laughs at it and says she does not do things like that. Alexa takes Lilly near her ears and tells Shayna that she should just apologize to Lilly. Baszler snatches Lilly from Alexa and says, "Lilly, I am sorry that you are just a stupid doll." Alexa gets angry and attacks Baszler. Baszler sends her out of the ring. Baszler takes the doll and stomps on it. The lights start flickering and Baszler leaves the ring immediately. Alexa gets in the ring and gets hold off Lilly.
The ThunderDome lights start flickering as Baszler retreats to the stage. A series of explosions go off on the ramp as Baszler backs up to the stage. Bliss is just sitting in her swing smiling. We see Baszler walking backstage now. The lights are flickering. There is no one backstage. Things starts to falls from up high and barely miss Baszler.
Baszler finds herself locked in the building now and blames it Lilly. Baszler locks herself in the room and pushes a couch against the door. Baszler is getting tense. The lights start flickering in the room now. Baszler looks in a mirror and see Lilly is also there. Baszler keeps saying it's just a doll. She sees Lilly in the mirror again. Baszler shatters the mirror and screams at it. Lilly is still there in the broken glass. RAW goes black as Baszler screams out one more time. RAW goes off the air.