WWE RAW Live Results & Updates- 4 May 2020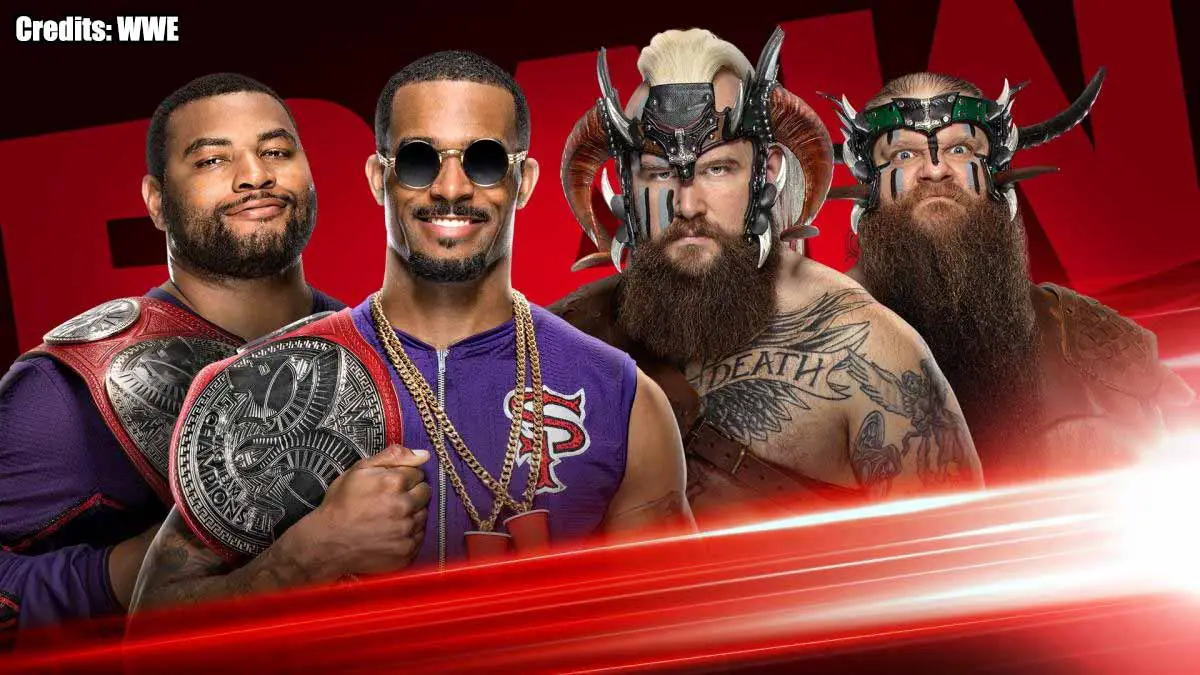 Welcome to ITN's Live Results & Updates Blog for the WWE Monday Night RAW episode of 4 May 2020(5/4/2020).
Date- 4 May 2020
Location- WWE Performance Center, Orlando, FL, US
Time- 8 PM EST(5 May 2020 12 AM GMT/5:30 AM IST)
The final WWE RAW, pre-taped, before Money in the Bank 2020 PPV is promising some excitement with the Last Chance Gauntlet match and WWE Champion Drew McIntyre's unstoppable run. Street Profits and Vikings Raiders will also face-off in a non-title match, but it could be a prequel to their title match at the PPV on Sunday. Catch the preview for this episode here.
The show starts with the recap of contract signing between Seth Rolins and Drew McIntyre last week and how Murphy got involved. After the theme song, the commentary team takes over briefly before we go to the VIP Lounge with MVP.
VIP Lounge with Women MITB Participants!
MVP recalls how his segment last week went chaotic. But this week, he is going for class and he will host the women's Money in the Bank match competitors. We see a replay from last week how Nia Jax stood tall in a brawl against Shayna Baszler and Asuka. MVP introduces Asuka first. She makes her entrance and is very jovial as usual. Baszler is next to come out and Asuka is giving her dirty looks as she takes her seat at the lounge. Nia Jax completes the line-up.
MVP asks Nia whether she has the skills to climb the corporate. Nia responds that we have all seen how she has dominated each and every opponent put in front of her. MVP asks Asuka next and she replies angrily, repeating Kairi Sane's name time and again. MVP goes to Shayna and asks how she is a cage fighter. Shayna replies that she talks more in the ring. Asuka starts saying something in Japanese.
Shayna and Asuka face-off in the ring now. They look at each other and then at Nia. Nia realizes what is about to go down but still could not save herself from the kicks from the duo. She is sent to the outside while MVP calms down Asuka and Baszler. Nia watches from the ringside as the segment ends.
The Last Chance Gauntlet match is next. Bobby Lashley will start the match. Becky Lynch will appear on RAW to address the MITB winner.
Last Chance Gauntlet Match
Titus O' Niel vs Bobby Lashley
Bobby Lashley enters for the match first. Lana is not there with him as he wants to avoid "distraction." Titus O' Niel will start with him. They lock up and tussle a bit. Lashley hits a knee to the gut. Titus gets the punches going and corners him. Lashley runs the ropes and hits a spear to eliminate him.
Akira Tozawa vs Bobby Lashley
Tozawa runs in quickly to hit a headbutt. He hits the missile dropkick next. Lashley catches him with a spear and eliminate him.
Shelton Benjamin vs Bobby Lashley
Lashley attacks Benjamin at the apron itself. Benjamin recovers and hits a move from the top turnbuckle. Lashley is sent to the apron and Benjamin hits running knee to send him ot the floor. He turns around the match by sending Benjamin into the barricade. Benjamin avoids the spear once but Lashley catches him with another to eliminate him.